www.thegrove-jefferson.com July 2005 ISSN 1558-3252
This is a tiny little free subscription ezine for friends of The Grove - it is by request only. In other words, we NEVER arbitrarily add email addresses. We also NEVER sell or share email addresses with anyone else, for any reason at any time. We hate SPAM as much as you do!
Hello from The Grove, and Jefferson, Texas! It's been an interesting few weeks since the last Grovezine - some wonderful times, and a sad one or two as well.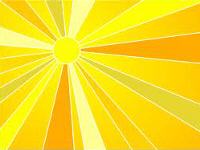 It has been blistering hot in East Texas, and rainfall has been scarce. I'm tempted to reach back into my Cherokee roots and see if there isn't some kind of rain dance that I can do out in front of The Grove every morning, just in case that might help. The day lilies and tiger lilies have finished blooming, so the garden is going to be a little bare until the bright red spider lilies start shooting up all over the place. We just have to keep pumping water on it to keep everything alive and kicking out there.
Now for the sad news. Those of you who have visited Jefferson may remember a brown dog running around downtown that looked sort of like an oversized chihuahua - that was Pup-Pup, the unofficial town dog. We met him on our first trip here, as did many of the folks who came to town. It is with a heavy heart that I report that Pup-Pup has passed away.
He actually belonged to Jeff Fratangelo, the owner of The Bakery restaurant, but the entire town claimed him. His favorite thing to do was to hang around the corner where The Bakery is, greeting people that were walking by. On hot days he'd sit right by the door and dash in when someone opened it. I don't think that dogs are officially supposed to be in restaurants, but very few people minded. Tami and I were sitting at a table eating one day at lunch when we saw him dash in. Jeff picked him up and poked him out the side door - but Pup-Pup simply ran back around front and waited for the next person to go inside. This went on the entire time that we were eating, and just got funnier and funnier by the minute. It was much better than any Las Vegas floor show. Finally, Pup-Pup ducked in without Jeff seeing him, and hid under the seat of one of the booths. At that point, I was dying to see someone come in and sit there... I could just imagine the look on their face when a cold nose touched their leg!
There are hundreds of Pup-Pup stories, but one of my favorite is about the night that he spent in jail. He pretty much had the run of the town, and one day he wandered into the county jail (it's on Austin Street beside the courthouse). It was probably a cool place to lie down for a while. That evening, the deputy locked the main door just like he always did, without realizing that there was an extra guest inside. The next morning when he unlocked the door, Pup-Pup came trotting out just like nothing at all was wrong - it surprised the heck out of that deputy, though.
That dog was loved by everyone in town, and will be greatly missed. His death even made the front page of our town newspaper, the Jimplecute. Rest in peace, Pup-Pup!
Fireworks on the Fourth
This year's Fourth of July celebration here in Jefferson was one of the best ever. There was a brass band in the gazebo at the park downtown, and everyone turned out to hear them play patriotic music. There were contests for the kids, along with hot dogs, ice cream, and all sorts of other goodies. The weather was a little hot, so the ice cream line was VERY long for a while. One of the big events of the day was the cake auction. The ladies of the town bake cakes, and they're auctioned off with all of the proceeds going to buy children's books for the local library. They generally start out at about twenty bucks, but the bidding can become fierce. Tami baked a five-tier coconut red velvet cake that went for one hundred dollars - it's a lot of fun to watch people battling over those cakes.
The day ended with a huge fireworks display over the bayou - everyone gathers down at the boat launch, and it is definitely standing room only. It was breathtaking this year, and everyone had a wonderful time. A lot of the people and businesses in town donate to the fireworks show, and it gets bigger and better every year. If you've never been to Jefferson for the Fourth, you should really make plans to attend one year. It's truly a small-town, down-home celebration.
Ghosts of Savannah and Charleston
We got a chance to get away for a while on vacation, and went to visit Savannah and Charleston. Of course, we were able to work in a little ghost-hunting in both places, and actually had a couple of things happen. In Charleston, we stayed at a B&B named the "1837 Bed and Breakfast". It was very nice, and our room was not part of the main house - we were in one of the rooms in the old "carriage house". On the first night, Tami woke me up and told me that every time she would drift off to sleep, a woman kept waking her up. I asked what the woman looked like, and she said the she had on a very plain dress, and was an African-American lady. She finally managed to get to sleep. At breakfast, we asked about the history of the Carriage House and the innkeeper told us that it used to be the kitchen and slave quarters. That made for some interesting breakfast conversation!
I am really afraid of running too long with this issue of the Grovezine, so please forgive me - but I just HAVE to tell you about the original hotel that we'd booked there in town. Tami is a wonderful vacation planner (it's like a hobby with her) and she spends hours doing research before a trip. She had originally booked us into a placed named "The Country Hearth Inn" - sounds quaint, doesn't it? Their motto is "Home is where the hearth is", and their advertising touts, "At Country Hearth Inn we want your stay to be as close to home as we can make it... That's why we go out of our way to provide service and amenities above and beyond what you would expect." On their website, one photo showed a bed with an antique-looking headboard, and rooms looked very comfortable. I was looking forward to staying there, because they advertised high-speed Internet connectivity, so I was anxious to plug in my laptop and get caught up on email. When Tami was booking the room, she asked how far they were from Charleston's famous "Battery Walk" on the shoreline, and they said, "Oh, we're only five minutes away!" It sounded perfect. Well, we arrived in town, and started looking for the hotel. After we'd actually left Charleston, still heading north, we began to wonder whether we'd made a mistake. We kept going and going and going, and even passed the airport. Finally, we saw the sign for the Country Hearth Inn - it was easily thirty minutes from the Battery Walk, and that's without traffic. The place was a standard two story, low-budget motel made of cinderblocks (in their defense, the cinderblocks had been painted).
There was a man on the second floor who had dragged his chair out of his room and was sitting there with his arms crossed, staring out over the parking lot. He watched us as we unloaded our computer, cameras, etc. I just thought, "Uh-oh". There was only one towel inside the room, some lights didn't work, and the place just looked nasty. Tami immediately said, "Come on - we're leaving." Since it was late in the day I convinced her that it wouldn't be that bad, and the fact that they had a washer/dryer on the pr emesis meant that we could do laundry (it was halfway through the trip, and we needed to). I couldn't find the internet connection in the room, and I soon learned that the "high-speed Internet" they advertised was actually a computer that they had set up in the middle of the lobby, so you would have to sit there and use it. So much for that. As we walked back and forth to the washing machine - which was sitting outside of one of the rooms - we noticed that occasionally a car would drive up, someone would get out, and the creepy man from upstairs would come down, and the two would rendezvous at the back of a pickup truck parked there at the motel. They would rummage around in these large painter's buckets in the back of the pickup, and the person from the car would hand creepy dude some money. We were pretty sure that we witnessed several drug buys. By then, Tami was scrambling to find alternative accommodations for our remaining three nights in Charleston, and that's when she found the "1837 Bed and Breakfast" - but only for the last two nights. We figured that we could tough it out for two nights at the good ol' Country Hearth.
Later that evening, we'd been folding laundry there in our room, unpacking, and things like that, when I happened to take a seat on the edge of the bed and cross my legs. I saw that the bottom of my sock was black with dirt and grime. Not gray, but black. I really weighed telling Tami about that, because I knew that she would literally lose her mind. She was barefoot, so I finally told her to look at the bottom of her feet - I'm surprised that you didn't hear the scream from where you're sitting now. She immediately set about the task of finding us a place for the next night, and got us into a wonderful hotel named The Indigo Inn - a quaint building downtown with a courtyard and very plush accommodations. We knew that all we had to do was get through the night, and we'd be okay. That in mind we went to sleep, figuring that nothing else could go wrong. That was until the police raided the motel around three in the morning. We heard yelling and screaming, loud footsteps as people were running around outside, and several squad cars rolling in with sirens blaring full blast. I don't know if they were arresting creepy dude or one of the motel's other guests, but we just pulled up the covers and hoped that no one started shooting. When the sun came up, we IMMEDIATELY checked out of the place where, "Home is where the Hearth is".
I know that I'm running long this month, and I apologize! It wouldn't be the Grovezine without a few ghost stories, though, and I have a couple to share.
Several issues back, I told you that we feel like Penn & Teller's program on Showtime tricked us into letting them film at The Grove - well, it is airing this week. I haven't seen it yet, so I don't know how much of the footage with us they used. They went to the Jefferson Hotel and several other places, too. I know that they're going to be ridiculing the very idea of ghosts and the people who believe in them. Anyway, we did have something interesting happen here when they were filming the paranormal investigators that they brought along. The three of them were up on the stairs, and two had some sort of meters (I was back in the hall, so I couldn't see exactly what kind). The third investigator said that she felt something there on the stairs, and at that point the two meters pegged simultaneously, and then the batteries died - both at exactly the same time. The investigators said that they had followed their normal procedures and put in new batteries when they first arrived. Although P&T will find some way to make fun of it, that kind of thing happens here occasionally, even with some people's cameras on the tour.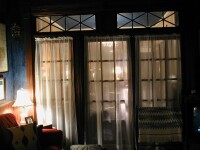 A lot of the things that occur here are very subtle - such was the case on July 2nd, when I got home late from a "Ghosts of East Texas" book signing. Tami had fallen asleep on the couch watching TV, and I thought that I'd just let her sleep while I picked up the den and got things ready for bed. I closed the French doors that go from the den into the side gallery, and decided to check email. The door suddenly swung open; my first thought was, "That's nothing paranormal, I probably just didn't close it good." Just as I had that thought, the television snapped off - and the remote control was sitting right there on the computer table. At that point, I considered the possibility that someone had actually joined us there in the den. After spending a minute straightening up, I went into the kitchen and started washing the dishes. Suddenly I had the distinct feeling that someone was staring at me - you know that feeling. I turned around expecting to see that Tami had gotten up, but that was not the case. The rest of the evening I felt that a presence was definitely there.
We had a couple of interesting things happen on tour this month. The first was in the dining room, where I talk about the Young family that owned the house from 1885 to 1983. As I was telling the story, two people standing in front of the china cabinet, and kept whispering and changing places with each other. It became a little distracting, and soon everyone was watching them. The realized this, and were a little embarrassed by it. Finally one of them said, "The air right here in front of this cabinet is ice cold!" Sure enough, there was a cold spot there, and everyone had to take turns standing in it. The air conditioner was turned off, which I usually do so that I won't have to talk over it. It made for a very interesting afternoon tour.
The other tour-related thing that happened was last weekend. We'd finished up, and everyone was signing the guest book up front when I noticed that one lady was kind of waiting over at the side. When everyone else had left, she said, "I thought that I'd tell you what happened to me." She went on to say that while we were back in the den (the "new" room), she was listening to me talk but was soon distracted by someone whispering. Thinking that someone in the group was doing it, she looked around to find out who it was, and saw that no one but me was talking. The whispering continued, and she soon determined that it was behind her, where no one was - no living person, anyway!

Well, that's this month's edition of the GroveZine. Thanks for being patient with a little longer ezine this month... although I had a wonderful time writing it. Also, thanks for the feedback that I'm getting on the Ghosts of East Texas book. I'm glad that folks are enjoying it, because I had a great time researching it, traveling all over East Texas to visit haunted locations, and interviewing the people who were kind enough to share their experiences with me. If you want a copy, it should be available at book stores all over Texas, and of course you can get a signed copy from The Grove's website.
---
To repeat our words from the beginning, this is a free subscription ezine for friends of The Grove - in other words, we NEVER arbitrarily add email addresses. We also NEVER sell or share email addresses with anyone else.
Feel free to pass the GroveZine on to your friends - all I ask is that if you forward it, please include the header, trailer and everything. Thanks!
To subscribe, just go to The Grove's Website and put your email in the blank at the left bottom of the page.
To unsubscribe, although we'd sincerely hate to lose you, simply follow the directions at the bottom of the this email.