www.thegrove-jefferson.com May 2008 ISSN 1558-3252
This is a tiny little free subscription ezine for friends of The Grove - it is by request only. In other words, we NEVER arbitrarily add email addresses. We also NEVER sell or share email addresses with anyone else, for any reason at any time. We hate SPAM as much as you do!
Happy May, everyone! I hope that everything is going great for you as we're launching full speed into summer. We've already started hitting the 90's here in Jefferson, and the temperature keeps rising. That's okay, though, because the day lilies and tiger lilies are just about to burst into bloom in the gardens of The Grove.
It's been an active month here in Jefferson, starting with a tractor show, then our Pilgrimage, a Civil War Re-enactment, a city election, and even a Christian Music festival taking place here in town. It seems like something is always going on.
We had something new in town this past month - KWKH's "Great Tractor Ride" that stopped over in Jefferson for the weekend. Beautiful old tractors, lovingly restored, were parked all along Austin Street. Trust me, even if you aren't a tractor aficionado, you would have enjoyed this. All shapes, colors, and models left down looking very festive. Back when I was in high school I worked for Mr. Watkins, baling and hauling hay all summer, and mending fences all winter. I recognized two different models like ones that I drove for him way back in the day. The Jefferson High School Prom was also that weekend, and since Tami is a Jr. Class Sponsor I was designated to be one of the chaperones. I was standing at the front door of the Jeffersonian Institute where the prom was held, and was gazing down at the tractors that were about a block away. A father of one of the kids walked up to me and said, "You know, Jefferson is probably one of the few places where you'd find a tractor show at one end of the street, and a prom at the other." Actually, I believe that he was right.
Hold it a second. I just looked up the word "chaperone" to make sure that it was spelled correctly, and according to dictionary.com, it means "An older person who attends and supervises a social gathering for young people." I hereby retract my description of my duties. I was a sponsor, not a chaperone... that's my story, and I'm sticking to it.
What a wonderful Pilgrimage we had this year! All four homes were beautiful, and very unique. As always, we enjoyed being docents at a few of the homes - those of you who were there probably saw me out on the front porch, which is my favorite place to work. And I got to see a lot of familiar faces - one of my favorite things is when someone comes up to me and says, "Hey, I read the GroveZine!" This Pilgrimage was very well attended, and featured the upstairs of the 1880s Terry-McKinnon House that had never been shown on tour, and another home, the 1851 Hileman House whose doors had never been open to the public before. There were craft vendors, and even a heirloom plant sale where you could buy items for your garden or home. We're already looking forward to Pilgrimage 2009, which is going to be an exciting one for us - more on that later, just mark it on your calendar.
Another aspect of Pilgrimage weekend is the huge Civil War Re-enactment of the "Battle of Port Jefferson". It's the battle that never was, but would have happened if the Northern forces hadn't been stopped at Mansfield, Louisiana. Had they won the day, they would have invaded Shreveport, then marched into Jefferson to stop the shipping of goods to Confederate forces, and finally hit Marshall where black powder was manufactured. Had that happened, much of each city would have probably been destroyed. That battle is fought every Pilgrimage, and the troops are mustered all over town. This photo is from a campground at Lions Park just around the corner from The Grove.
I got up one saturday morning this month and ran to the post office, only to notice something strange about the statue of the goddess Hebe that stands atop Sterne Fountain - she seemed to be wearing a bright orange traffic cone on her head! It was probably the work of some locals, since an elderly person here in town told me that these types of things have been going on as far back as anyone can remember. The thing is, everyone loves and respects the fountain, and no matter what tricks are played on it, they are always harmless. For example, one Halloween I saw that someone had inverted a jack-o-lantern over Hebe's head. It's not that they took one from a house and put it up there, though; some careful planning was involved. They carved the face upside down, so that when the pumpkin was inverted over Hebe's head the eyes and mouth were oriented correctly. I do think that occasionally some of our visitors get into the act, though. More than once, the town has awoken to find a set of ladies - ahem - undergarments up on Hebe like someone was playing ring toss. Ah, if only Hebe was able to talk, the stories that she could tell...
I know that there are quite a few writers out there that read the GroveZine, so I wanted to mention an opportunity to be part of an anthology of Vampire Fiction. Whether you're an accomplished author, or have just always wanted to pen a short story, this is a great time to give it a try. It's not a contest, there are no entry fees, it is simply a call for submissions. Those selected for publication will have their short story published in the second edition of this series - the book will be edited by Fantasy/Horror writers Elyse Salpeter and Bob Nailor, so it should be great. The guidelines are posted at www.23house.com/vampire.
Okay, it's definitely time for me to have cable TV removed from The Grove... or at least, my internet connection. It all started innocently enough - I've been looking all sorts of forward to seeing the new "Indiana Jones" movie. In anticipation of it, I've been watching all of the "making of" specials that they've been showing. A week or so ago I watch a special on the Sci/Fi channel about the real-life "Crystal Skulls" that are portrayed in the Indy movie, which mentioned that the ancient Mayan Calendar predicts that the world will end on December 21, 2012. I ran across a reference to it a few days later on another network, so I went online and started reading about the prophesy. Before you know it, I'm elbow-deep in Mayan legend and lore concerning the end of the world. I'd just about reconciled myself not to worry about it, when I saw a reference to something called "peak oil"... and I started down the path again. Folks, I'm spending *way* too much time online. It's time to take up jogging again.
People are always asking how we can live in a "haunted" house. We try to explain that these things that seem so fantastic to everyone else simply become routine around here. Seriously - I can be writing at the computer during the day when the house is silent, and hear footsteps walking through the next room, and I literally think, "Man, I hope that's a spirit and not someone who's wandered into the house." I know that it sounds strange, but one just gets used to the unexplained when exposed to it every day. We don't get scared, but we are occasionally startled. Case in point - a couple of weeks ago we were in the den, the "new room" to the house that was added in 1870. I was on the computer doing some writing, and Tami was grading papers. I heard her cry out, and when I looked up, she was already laughing. I asked her what had happened, and she said, "Oh, just one of our friends visiting." She'd looked up from her papers and saw the face of a man peeking through the French windows/doors into the side gallery. He immediately faded away, but apparently he'd been just standing there watching us for a while. We've seen him several times in the past, and have no idea who he might be. The fellow just shows up occasionally, and always in the side gallery (now the hallway), never anywhere in the house.
The side gallery - which was once a porch looking out into the garden - is the place where quite a bit of supernatural activity takes place. Many times we've looked up and into the game room to see one or more shadow figures going across the room. This month, we saw the same thing walking down the side gallery. We were in the den watching television, when some movement in the hall caught our eye. This time it was a shadowy figure walking past. No real form or substance, just a shadow. That kind of thing has happened since we first purchased the place over six years ago, but we don't understand it any better now than the first time we saw it. It just happens.
Of course, I love telling about the things that happen on the tour. We had a lady who had walked from the parlor into the dining room, near the end of the table, and suddenly felt something against her hand. At first she said that something had touched her hand, but as she was talking more about it, it wasn't like someone had grabber her. Instead, she said that it was like she was standing there and her hand hit against something hard - like she had hit her hand, even though there was nothing there. The thing that I thought was interesting was the place where it happened... at one time in the history of the house, there was a wall there. You could imagine that as she walked across the open room, her hand banged up against the specter of the wall that was once in that location. Who knows for sure - but she was certain that it had happened, and that nothing was near her at the time.
Something happened this month that greatly intrigued me. While we don't have a classic "poltergeist" haunting here at The Grove by any stretch of the imagination, this incident certainly mirrored that type of activity. I was doing a Sunday tour, and we were all moving from the den into the kitchen. Just inside the door of the kitchen we have a metal rack that holds several antique tins that Tami has collected. A lady had walked in before me and was looking at those tins. In fact, she'd bent down to pick one up, and I was walking in I saw her doing that in my peripheral vision. Suddenly, I heard the pineapple tin rock back and forth quickly, and I assumed that she'd hit it. The only thing was that she wasn't close enough to have touched it - and my mind registered that immediately. The lady jumped back and said, "I was going to pick up that tin, and it jumped!" All I can say is that before she said anything, I knew that she wasn't close to the tin when it moved, and then I saw how startled she was when it happened. What was it all about? Who knows - it was certainly interesting, though.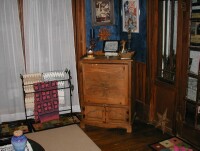 I think that some of the spirits visiting The Grove have a wonderful sense of humor, and that was certainly evident this month. We had a husband and wife that were part of the tour a week ago, and in the den (the "new room"), I always talk about the number of things that have happened on the tour in there - people getting touched, pinched, poked, etc. While we were in there, the husband reached down and pinched his wife's leg. She yelped, of course, and then laughed at what he had done. A few minutes later she turned around and popped him on the arm, saying "Stop it!" The thing was, he didn't touch her after that first time - but someone unseen did... no one else was around them. Yep, just the spirits of The Grove, having a little fun. Sometimes I just love their playful brand of humor.


Well, we'll put the month of May astern, and keep sailing into the summer. Thanks for continuing to read the GroveZine - it's really, really nice to have you along for the ride. We have a wonderful time every month putting the GroveZine together, and sincerely hope that you enjoy reading it.
If you'd like to check any of my books, you can find them at Barnes & Noble, Borders, Amazon.com, or at The Grove's website if you'd like a signed copy of anything.
A month or so ago I announced that my new book was out - a collaboration with my grandfather, an old country preacher - on the 23rd Psalm. This has been a very unusual book for me... very different than any of my others. It seems that every day or so I'm hearing very kind words from readers. I can't take any credit, of course, since the theology belongs to Granddad, even though the words weaving it together are mine. I just wanted to say thanks to everyone who's been sending me emails about 23. If you want any more info on the book, just check out the website:
www.23thebook.com.
If you missed any issues of the GroveZine, you can find them at the GroveZine Archives.
To repeat our words from the beginning, this is a free subscription ezine for friends of The Grove - in other words, we NEVER arbitrarily add email addresses. We also NEVER sell or share email addresses with anyone else.
Feel free to pass the GroveZine on to your friends - all I ask is that if you forward it, please include the header, trailer and everything. Thanks!
To subscribe, just go to The Grove's Website and put your email in the blank at the left bottom of the page.
To unsubscribe, although we'd hate to lose you, simply follow the directions at the bottom of the this email.