www.thegrove-jefferson.com July 2008 ISSN 1558-3252
This is a tiny little free subscription ezine for friends of The Grove - it is by request only. In other words, we NEVER arbitrarily add email addresses. We also NEVER sell or share email addresses with anyone else, for any reason at any time. We hate SPAM as much as you do!
We had another successful July 4th here in town. Even though it was a little warm, everyone took their lawn chairs to the park and listened to patriotic music played by a band in the gazebo. We ate ice cream, hot dogs, and all the standard fare for a party in the park. The big cake auction was held to buy children's books for the library, and Tami's "Chocolate Cherry Jubilee" brought a whopping $85 - she was delighted. After dark, the city was treated to a fireworks extravaganza over the bayou. There's nothing like the Fourth of July in Jefferson - come join us next year!
I told you last month about how we secured a good viewing location for the fireworks, and so five of us had gathered at The Grove to leave from there. A friend and I drove down to the bayou to drop some lawn chairs off at his truck, and when we saw how many people were already gathered, we realized that we were cutting the time a little close. We called the ladies back at the house and told them to hurry and meet us out front, and we headed back to The Grove. I guess that Tami saw the lights out in the street, and was looking for the mosquito spray, because she came running out of the house and yelled, "Do you guys have the bug rub?" Instead of my friend and I in the car, there stood a throng of people who were on the Jefferson Ghost Walk that night. They got quite a kick out of it, and they were still laughing when we pulled up and the girls got into the car. Tami was embarrassed to death, and we got off without the mosquito spray. The fireworks show helped her get over it, though.
Looking ahead to the coming weeks, Jefferson's new Transportation Center is just about ready to open its doors. This is a new $1.4 million facility that's been in the works for some time - it will host various shows, productions, meetings, and the Office of Tourism Development. Tour buses can park there, providing a convenient place for folks to meet back up after a day in town. The annual quilt show has already booked it, and I think that the center is going to be a major addition to the city.
Interestingly enough, there has been a huge game of musical chairs among the businesses downtown. It all started when one couple who'd had a shop here forever decided that they wanted to retire and just take life easy. They liquidated their inventory, locked the front door, and put a "for rent" sign up in the window. One of the other stores saw it, thought that it would be a better size and location, and moved from down the street into the vacant store. Yet another shop saw the second store's empty building and realized that it was bigger than the place that they were in, and quickly moved across the street into it. I'm not sure where it all ended - I just know that I'm no longer sure where all the stores in town are located. When people ask how to get to a particular place, I just say, walk up and down Polk Street, and you're bound to find it!
I also have to mention something that is kind of a "last stand" for an old building on Moseley Street, just a block down from The Grove. It's an old steamboat-era home that was once half-house, half-store, but now is about to fall down. There is a program here in town to raze any condemned buildings, and this one is on the list. It is still for sale, so if anyone is looking for a bargain here in town (that may take 2-3 times as much $$ to restore) then this could be the place. It is a ground-up restoration project, and wouldn't be quick or cheap to restore. It needs a foundation, it needs floors, it needs interior walls, it needs, well, a lot of tender, loving care. If anyone is looking for a challenge, however, and wants a historic old home here in Jefferson, then this might be a (very) long-term solution. The clock is ticking, though.
We had a potential disaster about a week ago - while visiting with friends on an otherwise ordinary Thursday night here at The Grove, something terrible happened... the hard drive on my computer crashed. It wasn't being used at the time, it was just turned on, sitting their quietly. In that one instant - no warning - my hard drive was gone. It contained files for all the books that I've written, the new book that I'm just finishing, research for new books all they way into 2010. It also had all my business files, Tami's school files, and most important of all, years and years of photographs. My disk was a total loss. Thankfully - and this is why I mention this - several months ago I started using a service named Carbonite.com. It does a complete backup of your computer data files onto its remote server, encrypting everything so that no one can hack it or see it. The best part is that it runs in the background while your computer is up, and every time you change a file it takes it and backs it up. I knew that I had everything safe with Carbonite, but I'd never had to do a full restore before. After bringing home a new computer, I hooked up to the internet, went to the Carbonite.com website, and with only a few clicks, data files were flowing down to my computer. It took a day or so to completely restore everything, but now my new computer has exactly the same data as my old one did before the crash. I'm not affiliated with Carbonite in any way, shape, form or fashion, but I had to tell the story in case you're not doing regular back-ups... and they're so easy to forget to do. This service saved me, so I just wanted say a few good words about Carbonite.com.
The computer crash wasn't the only disaster at The Grove this month, though. Three weeks ago we had the storm of the year here in Jefferson - it felled trees, knocked down limbs, tore off some roofs, and wrecked havoc around town. We lost a ton of limbs, and our day lilies and tiger lilies that should be blooming beautifully right now were flattened. It took some time to clean everything up, but we got it done... or so we thought. About a week later I was pulling onto our drive when I looked up at the huge pecan tree standing over the car port - the top was missing! Three or four huge limbs (and I mean HUGE) had snapped off in the storm. As they fell toward the cars, though, a few of the lower limbs acted like outstretched arms and caught time. The tree service that came out to take them down told us that if those limbs had crashed down into the car port, it would have been destroyed along with both cars. It cost a small fortune to have the limbs carefully taken down, but nothing like it would have cost to replace two cars - I guess that there's a bright side to even the darkest cloud!
How about a few ghost stories from The Grove to round out this month's GroveZine? As it turns out, we had a few strange things happen over the month, including one thing that might be the weirdest thing that's happened in a long time.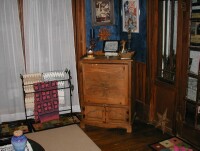 I often mention little things that happen on the tour - and most of them are harmless, mischievous things. We had another occurrence of the "phantom cat" a week ago. You remember that an issue or so ago I talked about someone on the tour who got the back of their leg brushed in the new room like a cat had brushed up against them, even though nothing was there when they looked? Well, it happened again on a tour. I typically don't tell the ghost-cat story, yet a gentleman told me after his tour that he'd felt something brushing up against the back of his calves. It was the exact story that I've heard a hundred times, so obviously there is something that manifests itself like that in the den. This seems to be reserved for our guests, though, since neither Tami or I have had that happen.
Along those same lines, there was another repeat occurrence on a tour the other day. When we got back up front, a lady told me that she'd been poked in the side a few times - on every occurrence she looked to see who might be near her, but no one had done it. This has happened more times than I can count... so why do we have a spirit that delights in poking visitors in the side? Usually it's just a playful jab, although one time it was hard enough that the lady emailed me a few days later to say that her side hurt from the experience all the way home. I don't know if the people who experience such things in a stronger way happen to be more "in tune" to the supernatural world, or if the spirit just acts up more with some people than others.
There is a phenomenon that I don't understand at all called "shadow people"; if you do an online search, you'll find out tons of information, but nothing that really explains it fully. I had an experience with such an entity just a week or so ago, however. It was on a Wednesday night, and our basset Lilly gave her "someone's outside" bark. I grabbed a flashlight and stepped out to see what was going on - walking out the side door, I saw movement beside my Explorer. Before I could swing the flashlight over in that direction, though, something walked beside the car - I could see it with the white fence in the background. Now, in the next few milliseconds several things flashed through my mind. First of all, I reasoned that I was standing on the side porch, so I was looking at the carport from an elevated position - I would have easily seen anyone running away. Secondly, I saw that as I swung the beam of the flashlight around, no one was there. But thirdly, I thought back to the figure and realized that it had been a black, nebulous form - a moving shadow, if you will... certainly not a reflection. Of course I searched the area thoroughly, but there was no sign of anyone. Like I said, from my vantage point, I would have easily seen anyone running away, which I didn't. It all boils down to the fact that Lilly knew that someone was there and let us know, and then I saw a shadow-type person out there, and nothing else. It doesn't strike me as all that strange, though, because we've seen the shadow figures at The Grove before. This wasn't the first time, and I seriously doubt that it will be the last.
Okay, I promised the weirdest ghost story that you've heard in a while, and here it is. We were in the kitchen one evening, and Tami walked from the den to the game room, and then turned right into the stairwell. She said that she happened to be looking down, and as she walked into the stairwell, their at the base of the stairs were two feet - kind of where I placed the shoes in this photo. There were no shoes, though, just bare feet and legs. Tami said that her first thought was, "Who's in here barefooted?" As her eyes naturally raised to see who it was, she saw the ankles, calves, knees... and then the legs faded away. There was nothing else to the body - just the lower legs and feet. In the instant that her mind was digesting that fact, the feet and legs disappeared as well, leaving her alone in the stairwell. Pretty strange, huh? I'd be hesitant to tell most people that story, but many of you GroveZine subscribers have been around with us for years, so you know that some might odd things happen at The Grove. I can't explain why sometimes we see solid, full figures walking across a room, and then later see shadowy beings here in the house... much less why a pair of disembodied feet would show up in our stairwell. We've stopped trying to rationalize such things, though, and just accept them as part of the mystery of The Grove.

Well, that's a good stopping point for the month of July. Even with the temperatures crawling up into the 100-degree level, it's been an enjoyable month. Just yesterday I finished the next book, which I'll now toss over the wall to the editors and graphic artists, but I should be able to talk about it soon. Meanwhile, Jefferson's been full of people, so we have really enjoyed meeting the folks who have come by to take the tour. That, combined with the Fourth, have made this a very enjoyable month in Jefferson, Texas. Before we talk again, I'll have put another birthday behind me; although this one's not exactly a milestone, it's probably one that I will remember. Yesterday an envelope came in the mail, and in it was an invitation to join a club, and it even had a card with my name on it. You can see it in the photo - yep, it was from AARP!
Thanks so much for reading the GroveZine - we really appreciate your interest, and love getting to tell you a few of our stories. We'll be back in a month with a few more things to share!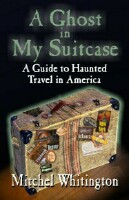 There's still a great summer price on one of my favorite books: A Ghost in My Suitcase. I had a great time traveling around and writing about haunted places all across the nation, and we had a lot of strange things happen... there's even a chapter about The Grove. Anyway, you can now get it at a better price than any bookstore, bn.com, or even Amazon.com - just visit the book's website for all the info.
If you'd like to check any of my other books, you can find them at Barnes & Noble, Borders, Amazon.com, or at The Grove's website if you'd like a signed copy of anything.
If you missed any issues of the GroveZine, you can find them at the GroveZine Archives.
To repeat our words from the beginning, this is a free subscription ezine for friends of The Grove - in other words, we NEVER arbitrarily add email addresses. We also NEVER sell or share email addresses with anyone else.
Feel free to pass the GroveZine on to your friends - all I ask is that if you forward it, please include the header, trailer and everything. Thanks!
To subscribe, just go to The Grove's Website and put your email in the blank at the left bottom of the page.
To unsubscribe, although we'd hate to lose you, simply follow the directions at the bottom of the this email.