www.thegrove-jefferson.com August 2008 ISSN 1558-3252
This is a tiny little free subscription ezine for friends of The Grove - it is by request only. In other words, we NEVER arbitrarily add email addresses. We also NEVER sell or share email addresses with anyone else, for any reason at any time. We hate SPAM as much as you do!
I hope that you're enjoying the transition from August into September. I walked out onto the front porch a few mornings ago and there was a slight - okay, a very slight - cool feeling in the air, and I couldn't help but think that Fall is right around the corner. Of course, the only thing predictable about weather is that it will be totally unpredictable. Just a few days later the temperature was in the high 90s, and then someone started mentioning something about a hurricane...
Of course, the BIG news is Gustav, which is going to affect Jefferson in one way or another. In the best case, we get some wind and rain throughout the first week in September, and that's about it. On Saturday evening of August 30th, though, the Jefferson City Council had an emergency meeting to discuss different scenarios. The worst case that we can expect is 12-14 inches of rain, 60 mph winds, and a few days of no electric power or drinking water.
The city started distributing sandbags, and we're being warned that Highway 59 may be closed southbound and converted to four lanes of northbound only. Hopefully everything will be okay, but we're really not that worried. What we're hearing as the hurricane makes landfall is that we should get hit Tuesday and Wednesday... but I think that we'll just see some rain. And the Grove? Well, the wonderful old place has been standing for about one hundred forty-seven years, so I'll bet that it weathers Gustav just fine.
Speaking of traumatic experiences, though, another birthday came and passed. I mentioned to someone the other day that time seems to be going faster and faster... and it certainly is! My friend gave me an explanation for the phenomenon that seemed to make sense. He said that when you are a kid, summers used to last f-o-r-e-v-e-r. But when you are six years old, three months of summer is a large percentage of your life experience so far. At thirty, forty, or fifty and beyond, three months is *nothing* in the grand scheme of your life. My friend says that's why time passes more quickly as we get older. Who knows - all I can say is that the clock does seem to be ticking faster than it used to.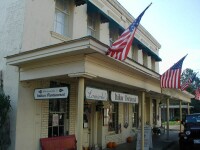 I wanted to mention something that is a little sad for the city of Jefferson, because I know that many of you who have visited here have dined at "Lamache's Italian Restaurant." Well, on August 19th at 5:30 PM, "Mama Lamache" passed away here in town. Her name was actually Marie Licandro, and Tami and I loved that woman. Even at the age of 92, I think that she had more energy than both of us combined. I never saw her that she didn't have a kind greeting for me, and that was the case for everyone in town. I'd defy you to find any person who had an ill word about her, or more energy than she had. Fortunately for the city, her daughter and son-in-law Elise and Mike Lakey keep her memory alive in the restaurant - they've owned it for years, and the food that you eat there comes from recipes that Marie's parents, Vincent and Maria Lamache, crafted in their old Italian family kitchen. God bless you, Marie - Jefferson will surely miss you.
Something very cool is coming up on the horizon: the 2008 Ghost Hunters and Legend Seekers Conference to be held on Saturday, Oct 4, 2008 here in Jefferson. You can get more information by calling 903-665-6289 or emailing jodijodibreck@aol.com. It is shaping up to be a great conference, and they've invited me to speak that morning. Come to the conference and have a little ghostly fun - I think that it's going to be a fantastic day.
Of course, the GroveZine is mainly about the ghost stories here at the house, and I do have some to tell this month.
If you've taken the Grove Tour in the last year, you probably remember hearing a story about our friend Angie in the "new room," or den. As she was going to sleep on the couch where we'd made her a bed, something sat down on her legs. This lasted for about ten minutes, and then it seemed to stand up and leave, but the entire time, her legs were pinned down. Well, Angie and her husband Stan came up to visit this month, and although they didn't stay at The Grove, they spent a lot of time here. She brought her new high-tech, super-duper, digital cameral along and was taking photos all over the place. We were sitting out on the front porch on Saturday night, and Angie was walking around taking some night shots of the house. She wandered over to the East side of the house, which has been a very active area over the years. As soon as she tried to snap a photo, her camera went dead. This was a new camera, with new batteries, that she had been using all over the house and yard - but it wouldn't work on the East side of the house. Tami went over and asked the permission for her to get to take a few photos, and suddenly the camera worked again. Nothing dramatic showed up on the East side photos, but it's definitely interesting that she had to ask permission to get to take them.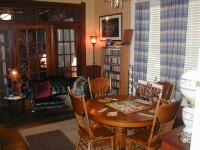 We've talked about smells in the house that may be tied to supernatural events, and the two most unusual are cigar smoke and a sort of "body odor" smell that was especially experienced during the house's restaurant days. This month we had an olfactory experience here at the house - after a tour one Saturday afternoon, in fact. I was walking through the house and turning off lights like we do after every tour. In the game room, the original master bedroom of the house, I walked into a cloud of what smelled like cigar smoke. This wasn't like someone who had been smoking cigars had walked through the room - it smelled like someone had just breathed out a puff of a cigar. I'd been through there just moments before when I was ushering out the folks on the tour, and it wasn't there. I don't know who had come to visit, but it was a very strong smell - I scolded whoever it was, and told them to go smoke outside. We'll see whether it did any good or not.
I've said many times that the sound of footsteps happens in the house, and when the current game room was our bedroom we got so used to it that when we heard them during the night, we didn't even turn on the light to look. Well, Tami was in the game room a few nights ago, and she heard footsteps coming down the hallway and assumed that it was me. Without turning around she started talking to me. I was back in the den and could hear her, but had no idea what she was saying. I walked up to the game room, and told her that I'd heard her talking but had no idea what she was saying. She looked confused and said, "Haven't you been standing there? I heard you walk up here a few moments ago." I assured her that I hadn't, and the pieces of all this started to fit together. Footsteps in the hall had sounded like me, and she assumed that I had come up there. Meanwhile, I was in the back of the house. The Grove is certainly an interesting place to live.
People are often surprised by some of the ghost stories on the tours, but I have to admit that we often get surprised ourselves, like when relatives of Frank Stilley, the original owner of The Grove, were on the tour a month or so ago. Or when some folks that'd had Miss Louise Young as a teacher came here and were able to clear up some stories for us. This month, after a tour we had a lady speak up who had been looking at the house some six years ago when we were. Because she felt some strange sensations here, she brought a friend who was a sensitive to check things out. When they climbed the stairs to the attic, the lady got short of breath and had to go back down. She told the potential buyer that someone would purchase the house, but not her. The interesting thing about this is that a few years ago when a psychic and her husband toured The Grove she waned to go upstairs. Once there, she doubled over and said, "Get me out of here!" Her husband and I literally carried her out of the attic. So what does that mean? Well, there's plenty of things that we still don't understand about the house, and one of them is definitely the attic.

Well, we're off to get ready for whatever Gustav is going to bring us. Next month, I should have details about what happened... I hope that it's nothing more than the yard got watered a little more than usual. Thanks so much for reading the GroveZine - you don't know how much I appreciate you tuning in every month for a ghost story or two, and to listen to my general ramblings. Have a great month of September, and I'll talk to you soon!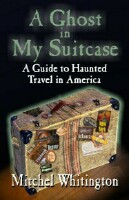 There's still a great summer price on one of my favorite books that I've written: A Ghost in My Suitcase. I had a great time traveling around and writing about haunted places all across the nation, and we had a lot of strange things happen... there's even a chapter about The Grove. Anyway, you can now get it at a better price than any bookstore, bn.com, or even Amazon.com - just visit the book's website for all the info.
If you'd like to check any of my other books, you can find them at Barnes & Noble, Borders, Amazon.com, or at The Grove's website if you'd like a signed copy of anything.
If you missed any issues of the GroveZine, you can find them at the GroveZine Archives.
To repeat our words from the beginning, this is a free subscription ezine for friends of The Grove - in other words, we NEVER arbitrarily add email addresses. We also NEVER sell or share email addresses with anyone else.
Feel free to pass the GroveZine on to your friends - all I ask is that if you forward it, please include the header, trailer and everything. Thanks!
To subscribe, just go to The Grove's Website and put your email in the blank at the left bottom of the page.
To unsubscribe, although we'd hate to lose you, simply follow the directions at the bottom of the this email.