www.thegrove-jefferson.com September 2008 ISSN 1558-3252
This is a tiny little free subscription ezine for friends of The Grove - it is by request only. In other words, we NEVER arbitrarily add email addresses. We also NEVER sell or share email addresses with anyone else, for any reason at any time. We hate SPAM as much as you do!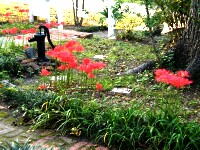 Hello from Jefferson and The Grove! It was recently evident that fall was descending on the city, because the Spider Lilies (or surprise lilies, or naked ladies, or whatever vernacular you'd like to call them) started blooming. They're the last thing to flower before winter shows up. It's a time when the temperature's a little too warm to run the A/C, but cool enough that the heat isn't needed, either. We're going to enjoy a month of low energy bills!
When we left off from the last issue of the GroveZine, Gustav was barreling toward Jefferson and everyone was sandbagged in. As it turned out, we got 2-3 days of gentle rain courtesy of Gustav, and that was about it. Then came Ike. Everyone in town kept their sandbags in place, but it turned out that the rain wasn't the problem - the winds were! We had an impromptu front-porch hurricane party here at The Grove as a few of our friends happened by that evening and chose to ride out the storm here. When Ike had passed, we had a lot of limbs down, but thankfully no damage. We had a pile in front of the house the size of a car, which the city came and carried away. When I saw the damage of some of the other houses in town, I gave thanks for every limb that I got to pick up off the ground. The big photo that you see is one that I took of our limb pile out of my car's side window - it was HUGE! The photos below are from other places around town that weren't so fortunate.
October is probably one of Jefferson's busiest months out of the entire year. There is something going on every single weekend, and the town always seems to be hopping with one event or another. Here are just a few of the things that are going on in town...
We're only a short time away: the 2008 Ghost Hunters and Legend Seekers Conference to be held on Saturday, Oct 4, 2008 here in Jefferson. You can get more information by calling 903-665-6289 or emailing jodijodibreck@aol.com. It is shaping up to be a great conference, and they've invited me to speak that morning. Come to the conference and have a little ghostly fun - I think that it's going to be a fantastic day. Aside from the exchange of information on ghost-hunting and other paranormal topics, the Jefferson Lions Club will be serving hot-off-the-grill burgers with all the trimmings. Come join us!
The next weekend is just as eventful here in town - it's the eleventh annual "Boo Run Benefit" on October 10-11. Whether you own a motorcycle, or just enjoy looking at bikes, this is the weekend that you won't want to miss. The downtown streets are blocked off, except for motorcycles of course, and the town is full of activity. It's a fun time for anyone, though, because there are carnival vendors set up on the streets, and motorcycles of every shape and size to look at - it's a lot of fun even if you aren't into bikes!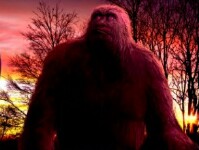 On October 18th the 7th Annual Texas Bigfoot Conference is coming to town once again. It continues to grow every year, and always features a prestigious array of experts and speakers. You can get all the details at texasbigfoot.org. I remember when this conference was just getting started in the Fellowship Hall of the Methodist Church here in town years ago... it's now grown to an event that is covered internationally. At the last one, there was a film crew from Austraila here to shoot a news report about it.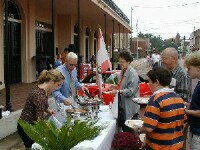 There are even more things to talk about. The weekend of October 24-26 is the 20th Annual ArkLaTex Bayou Thunderbirds Car Show, and on that Sunday is one of my absolute favorite events in town, the Annual Taste of Jefferson. This is the seventeenth year that it's been put on, and all of the area restaurants set up booths and feature some of their best dishes to serve to the public. You buy one ticket, and I promise that you'll be full by the time that it's over.
ANOTHER HGTV UPDATE! Okay, the next airing of The Grove's "If Walls Could Talk" episode will be on the HGTV channel on 10/03/2008 5:00 PM (but check your local listings to make sure). Like every episode of that show, it is thirty minutes long, three houses are featured, and The Grove is the one in the middle. It also features the bassets, Lily and Delaney. If you want to scan HGTV's website for future airings, look for episode WCT-1809 "Hidden Treasure".
With all the news of hurricanes and things happening around Jefferson, I still know that everyone wants to hear about the latest ghostly-goings-on at The Grove... and this month had something that made me laugh out loud. But, I'm getting ahead of myself. Let's delve into a few spirited stories...
We had a wedding to attend in Dallas the last weekend of September, and a friend of ours came to house-sit (and more importantly, dog-sit). On that next monday, Jodi from the Historic Jefferson Ghost Walk called me to ask who was staying at the house over the weekend. I told her that it was a friend of ours, and then Jodi laughed and said that our friend was having fun with the ghost walk on both weekend nights... turning the center front light slowly on and off, switching the front gallery fans on and off, etc. Since Jodi is a friend of ours, we will sometimes go out front just to say hello when the ghost walk is there, but we always try to wait until her stories are finished. We NEVER do anything in the house that might seem "ghost-like" - that's just not our style. When we finally talked to our friend and asked about the late night interaction with the ghost walk, she was puzzled. On that Friday night she didn't get here 'til 10 or 10:30 PM, thirty minutes or more after Jodi and crew had come by. On Saturday night, she was home, but had the front part of the house closed off. Whatever the ghost walk saw wasn't anything that she did. I just have to wonder why the house decided to act up on a weekend when we weren't home. When I heard this, I couldn't help but laugh - at least the spirits of The Grove have a sense of humor!
And speaking of Jodi - and the sense of humor of the spirits here - I have another amusing story with a spectral twist. I think that some folks think that living in a "haunted house" is like the movie Poltergeist or Amityville Horror... but like I've said so many times, sometimes it's simply annoying. Case in point - Jodi from the Ghost Walk is the conference organizer for the upcoming 2008 Ghost Hunters and Legend Seekers Conference. Because I'm speaking there, she delivered a nice gift basket full of Jefferson goodies to the house. It had mayhaw jelly, pecan pralines, candies, salsa and all kinds of local treats. Tami and I weren't home, so she was just going to leave it on the front doormat. She parked her truck out in front of the house, and saw that the basket had spilled out into the seat, so she opened the door and got out to put everything back together. Another item in it was a thank-you card in a white envelope, and she saw it fall out onto the street. Once the goodies were re-assembled in the basket, she bent down to retrieve the envelope but couldn't find it. Her next assumption was that it had slipped underneath the truck, and that she'd have to move her vehicle to find it. Jodi then made the walk up to the front porch to leave the basket, but as she approached, she saw a white envelope laying on the doormat. Then she recognized it - the envelope was the thank-you card that had fallen out of the basket back at the truck. I kid you not. It had literally beat her to the door - not a short distance. Tami and I both talked to her and tried to find any rational explanation, but we were stumped. Even back in hurricane Ike, it would have been extraordinary for an envelope to blow up the walk, up the steps, and then land right in front of the front door. Jodi has an open invitation to come on The Grove tour, but never has... and this incident has probably made sure that she won't be doing so any time soon!
To wrap up this month, I'll tell you about an interesting Saturday evening that we had here at The Grove. We did a special tour for an extended family group after our regular tour, and it was progressing as most any tour does. When we were in the dining room, though, one of the young ladies fainted! It scared all of us, but after getting her some water, crackers, and an icepack for her head, she was fine - other than being a little sore from the fall. Her Mom explained that it had happened before, so it wasn't anything supernatural. When everyone saw that she was okay, the other kids started teasing her, and the tour turned into one with a lot of kidding and interaction. It became one of those that was as much fun for us as it was for the group. We'll remember those folks for a long time - they were great. After the Grove Tour, they later went on the Ghost Walk. Now let's change perspectives to someone else... a few days ago I got an email from someone else on the Ghost Walk to tell me her experience when the group stopped in front of The Grove. Here's what she said: "In an attempt to escape our Ike ravaged city, my husband and I came to Jefferson last weekend. Always keen on visiting a haunted locale and being disappointed in the lack of activity at the Jefferson Hotel, we took the ghost tour with Jodi on Saturday evening. As we finished our tour with a stop at the Grove, Jodi began to share stories of EVP recordings. I briefly looked up to see you come out onto the front walk to talk to Jodi, and suddenly, I blacked out and fell back onto my husband. It was as though someone had taken a black sheet over my brain and pushed me backward. We wobbled up the street to get away, and as soon as we were away from the property, I felt fine. As soon as I tried to walk back to hear the rest of the stories, I felt faint again and had to walk away. Later on, a lady in the group told me that her daughter had had a similar experience earlier that day while touring inside the home.Was I too hot? Doubtful, because it was a pleasant evening. Had I been standing too long? No, I stand all day as a teacher. Who knows? I do know that we're coming back soon!"
That was an interesting weekend, to be sure.

Well, October is officially here, and I'm sure that I'll see many of you here in town this month, whether you're staying at the Jefferson Hotel, visiting a haunted B&B (and our city has its share), or coming into town for the Grove Tour and the Historic Jefferson Ghost Walk. Of course, you may be heading here for the Boo Run if you're a motorcycle enthusiast, or simply coming in to sample our restaurants' wares in the Taste of Jefferson... whatever the event, I'll see you there!
If you'd like to check any of my books, you can find them at Barnes & Noble, Borders, Amazon.com, or at The Grove's website if you'd like a signed copy of anything.
If you missed any issues of the GroveZine, you can find them at the GroveZine Archives.
To repeat our words from the beginning, this is a free subscription ezine for friends of The Grove - in other words, we NEVER arbitrarily add email addresses. We also NEVER sell or share email addresses with anyone else.
Feel free to pass the GroveZine on to your friends - all I ask is that if you forward it, please include the header, trailer and everything. Thanks!
To subscribe, just go to The Grove's Website and put your email in the blank at the left bottom of the page.
To unsubscribe, although we'd hate to lose you, simply follow the directions at the bottom of the this email.