www.thegrove-jefferson.com October 2008 ISSN 1558-3252
This is a tiny little free subscription ezine for friends of The Grove - it is by request only. In other words, we NEVER arbitrarily add email addresses. We also NEVER sell or share email addresses with anyone else, for any reason at any time. We hate SPAM as much as you do!

Hello from Jefferson and The Grove!
October is probably one of Jefferson's busiest months out of the entire year. There is something going on every single weekend, and the town always seems to be hopping with one event or another. Here are just a few of the things that have been happening in town...
The first annual "Ghost Hunters and Legend Seekers Conference" went off well on the first weekend in October. We had a great time, exchanged a lot of information and ideas, and spent the day exploring the world of the supernatural. Jodi wrapped up the event with three different investigations in places around town with ghostly activity. I was honored to be on the speaking agenda with people such as Vicki Issacs, Peter Haviland, and Dr. Rita Louise. I hear that the after-hours investigations were great. Be sure to mark your calendars for the first weekend in October next year, because I think that it's going to be even bigger!
The Boo Run was also held this month - it's a motorcycle rally to benefit child burn victims. Over 30,000 people were here in town on the weekend of October 10-13, and the benefit raised a lot of money for an incredible cause. Austin Street was closed off to auto traffic, and became a giant parking lot for block after block after block of motorcycles - bikes were everywhere, and there were some that were just incredible! Tami and I were bouncing back and forth between the Lions Club booth where we were cooking hotdogs and hamburgers to raise money for the club's scholarship program, and the Jefferson High School Jr. Class booth where we were raffling off an "Orange County Choppers" Schwinn Spider Bicycle to raise money for the 2008=09 prom. The bike was KILLER - every time I looked at it I wished that they'd had those out when I was a kid! If you'd like to see some photos from this year's Boo Run, check Our Boo Rally Page.
The Jimplecute, Jefferson's local newspaper, reported something recently that is a great story about Jefferson and the people who visit here. Bonnie Spellings owns the Austin Street Firehouse, a shop selling everything from hot sauce to tee shirts, and she had something interesting happen this month. Apparently when Miss Bonnie left for the evening a few days ago, she accidentally left the front door to her store unlocked, and the "open" sign displayed in the window. When she arrived the next morning and saw what had happened, she found a few things missing from the store - but on the counter there was a pile of money. Apparently people drifted in, did some shopping, and then left the money for their purchases on the counter. As more people came in and found things they wanted, they added money and took change from the pile. That's a tale of honesty that seems incredible in today's world, but apparently Miss Bonnie's shop did a great business that evening even though she wasn't there.
Here's an important consumer alert! I know that everyone is reading this ezine for a few stories about the happenings around Jefferson, and also some ghost stories from The Grove. If you're a long-time subscriber, though, you know that I've occasionally thrown in a recipe or movie recommendation for good measure as the mood strikes. This month I wanted to share an all-out credit card fraud alert about a company called "AP SHOPPING ESSENTIAL" - they are thieves of the worst magnitude... and they recently hit Tami and I. You can easily search for them online, and you'll find many, many complaints about their tactics. Basically, if you use a credit card, "AP Shopping Essential" has the ability to buy a list containing your credit card number, name, address, and all the pertinent info. They then add you to their "service" - without your knowledge or consent - and charge your card every month for a "membership fee" and then a random dollar here and there. If you use a credit card, this "Shopping Essential" predator may attach onto your account like a tick - that's the way that they did ours. Be aware of the "Shopping Essential" monster - their tactic is to hit your credit card month after month, hoping that you don't notice. They're truly evil and will suck as much money out of your account as you'll let them... check your credit card statement carefully every month, and watch out for these vultures!
News Flash!
"This Old House" names The Grove to
The Top Twelve Haunted!
"This Old House" chose The Grove as one of the top twelve historic haunted houses in America! You can see all twelve by visiting their website, thisoldhouse.com, and scrolling down to the haunted house link. Or you should be able to get there directly by clicking on this link.
In the spirit of Halloween, I truly believe that I've found the absolute, most ridiculous list of Jefferson hauntings on the web. These aren't just incorrect, they're completely insane... and yet they're being passed off as actual paranormal phenomenon. Are you ready? Here goes - and I'm really not making these up - direct from the world wide web, supposedly in Jefferson you'll find:
Ghost security guard with bullet hole in his head watches TV in living room
Male haunt, dressed as a steamship captain, hitchhikes to town.
Man with the head of a pig smokes pipe under a streetlight.
Woman with knife in her chest walks Jefferson Street before sunrise.
Skeleton clothed in dark robes sits at a table in a home.
Headless man sits in a chair in a house.
Specter carrying a bloody axe walks a dog late at night on a dark street.
A lady carrying her head under her arm looks through the fridge in her house.
An army uniform, sans body, walks around in a deserted area outside town.
Ghost of a hobo roams a dark street around midnight.
Teenager in bloody prom dress peeps through house windows late at night.
Woman without a head stands in the middle of the road outside Jefferson.
Young woman haunt in maid uniform drinks gasoline from a gas pump.
It's hard to pick a favorite out of those absurd claims. I might choose the "man with the head of a pig smokes a pipe under a streetlight..." but the "young woman in a maid uniform drinking gas from a pump" is also a potential winner. You have to wonder how these things get started, and why in the world people would perpetuate them.
Getting to some real ghost stories for the month, we did have something happen that simply fascinated us. If you've been reading the GroveZine for a while, you know that one of the spirits in the house that we don't talk about that often is Thomas. We first encountered him several years ago on the stairs, and you can tell when he's around because there is an extremely emotional feeling there - one of apprehension. It was so strong one night that Tami said aloud, "I wonder who this is?" The name "Thomas" popped into her head rather strongly... so that's what we call him. This month Tami was doing a tour, and as the group went through the stairwell, one lady who was apparently sensitive to supernatural things casually said, "You do know that you have someone present here, right?" Tami told her that we seem to have spirits present all over the house at various times, but the lady said, "No, I mean the man on the stairs. His name is Tom and he's a little skittish." You could have knocked Tami over with a feather - I guess that Thomas was just making his presence known.
We had another incident on a tour this month, this one also led by Tami. I wasn't home that day, and they were wrapping things up in the kitchen when the phone rang. She stepped back into the den to quickly take the call, leaving the group in the kitchen. As they were standing there, the door from the side gallery to the kitchen pushed open, and then shut again as everyone was watching it. While we're used to things like that happening, the folks on the tour were a little freaked out... especially because Tami was standing just a few feet away, no one else was in the house, and the basset hounds were in the back yard where they stay during the tour. It was nothing to be alarmed about - just some unseen person walking into the kitchen!
I hope that this is the last time I get to tell a story like this. If you remember from last month's GroveZine, we had a couple of people pass out. One was on the Ghost Walk out in front of the house, another was a young lady on the Grove Tour with her family. Well, it happened again this month. We were doing a Saturday tour, and had made it as far as the dining room, where the other incident occurred. When I got to the same part of the tour, the unfortunate story of the young man who took his life by hanging himself here at the house, a young lady passed out. We took her out to the bench on the front porch, and when she woke up, she asked what had happened. We told her, and she said, "All I remember was that I was talking to a lady..." After that, we had a very serious talk with the house. Nothing like that has happened since, thankfully, and I hope that it doesn't again!


I hope that everyone's had a great October, and don't forget to set your clocks back Saturday night, because Daylight Savings Time ends. Unless you're one of the GroveZine readers in Arizona or Hawaii, in which case, you don't have to worry about it. Fall is creeping in around us, and here at The Grove, we've lighted the heaters and shut down the air conditioner for the year.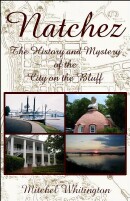 Now for the big announcement... the new book is out! It is titled Natchez: The History And Mystery Of The City On The Bluff. To find out more about it, just Click this Link.
If you'd like to check any of my books, you can find them at Barnes & Noble, Borders, Amazon.com, or at The Grove's website if you'd like a signed copy of anything.
If you missed any issues of the GroveZine, you can find them at the GroveZine Archives.
To repeat our words from the beginning, this is a free subscription ezine for friends of The Grove - in other words, we NEVER arbitrarily add email addresses. We also NEVER sell or share email addresses with anyone else.
Feel free to pass the GroveZine on to your friends - all I ask is that if you forward it, please include the header, trailer and everything. Thanks!
To subscribe, just go to The Grove's Website and put your email in the blank at the left bottom of the page.
To unsubscribe, although we'd hate to lose you, simply follow the directions at the bottom of the this email.