www.thegrove-jefferson.com November 2008 ISSN 1558-3252
This is a tiny little free subscription ezine for friends of The Grove - it is by request only. In other words, we NEVER arbitrarily add email addresses. We also NEVER sell or share email addresses with anyone else, for any reason at any time. We hate SPAM as much as you do!

Hello from Jefferson and The Grove! Sorry that this issue is so late, but a funny thing happened on the way to the GroveZine...
I already had about half of the November issue written, with warm wishes for Thanksgiving, talk of how we've been busy decorating The Grove, etc... and then life suddenly turned upside down! My wife Tami is a department head at her High School, and she had a position open. The department wanted to get someone in with some experience in Language Arts to be a long-term sub. Before I knew it, I somehow got talked into it without realizing what I was committing to. Now, I've volunteered at the high school since Tami started there, working in the concession stand, grilling steaks for the athletic banquet, etc. I've even subbed occasionally if they get in a bind - but never more than for a day or two. This time I discovered that it meant coming up with lesson plans, grading papers, and being at the school all day, every day. My profession, writing, requires about sixty hours a week between everything that it entails. Add into that six hours a week for both of us getting ready for the tours and giving them, and I suddenly found myself going around the clock. So while it's late, I'm delighted that I'm finally getting it out.
This is the first weekend of Jefferson's annual "Candlelight Tour of Homes" and I was docenting on the front porch of the Ford-Vaughn House. We have a lot of folks in for Candlelight from out of town, I can't tell you how many people came up to me and said, "So where is the GroveZine???" So please forgive me being a little tardy with it - I sat down tonight to finish it before the weekend was over.
Like I said, the annual Candlelight Tour of Homes is in full swing, and this is the 26th year. I was excited for it to get here because I'd never seen the inside of any of the four homes on tour; this year the homes are: Sagamore, The Victorian Castle, The Ford-Vaughn House, and 51 Dallas Street (a.k.a. McGarrity's Saloon, which is now a private residence). After going through them, I have to say, they're all beautiful - each in its own way. All are unique and individual, and that difference makes this year's tour very special. The tour runs on Thursday, Friday and Saturday nights the first two weekends in December.
It took us about a week to get The Grove ready for Christmas. There are five trees this year, including the huge glass-blown ornament tree in the parlor, the family tree in the den (the new room), a smores tree in the kitchen, a basset hound tree in the hall, and of course, my little NASCAR tree in the bedroom. One thing that is fun about having a tour home is that we get to go a little overboard decorating. Once we started, though, we noticed a significant increase in the supernatural activity in the house - maybe the spirits that visit here are getting a little excited about Christmas themselves... but more about them later.
The City of Jefferson is full of history everywhere you look. A while back, the Historic Commission launched a campaign to restore the old roadside park on FM 2208 just south of town. It was built by the National Youth Administration that was headed by LBJ from 1935-37 during the great depression. The park was a place where townspeople gathered for sunrise church services on special occasions throughout the 1930s, 40s and 50s. Fences lining the roads there were constructed from native rock. Many people in town have fond memories of the place, but over the last few years it has been falling into ruin. Vandals were stealing the rock from the fences, and it was becoming unsafe. Enter the Historic Commission, who partnered with TX DOT and many concerned citizens to restore the park and its fences to their original beauty. When it was complete a week or so ago, there was a big re-opening ceremony with a reception. Jefferson certainly loves to celebrate its history.
Once the new year starts, the first official festival here in Jefferson will be the 6th Annual Jefferson Quilt Show - "Quilts on the Bayou." It's going to be held on January 23rd through the 25th in the Cypress Valley Education Center located at 120 East Austin Street in Jefferson, Texas. Taking up the entire building, both floors, you'll see over a hundred of the most unique and beautiful quilts that you'll ever find. We go every year, and it's something that we've come to really look forward to.
The first story this month comes not from The Grove, but from Falling Leaves B&B here in Jefferson. Our friends Mike & Lisa Barry are the innkeepers in residence, and they've often shared stories with us about how guests occasionally ask about a middle-of-the-night celebration of some sort out in the main hallway in the wee hours. It ranges from fiddle music, to the sound of people dancing or talking, or other strange noises. I was taking something over to Mike & Lisa one Saturday morning this month; their breakfast was over, and a couple of the guests were standing out in the hall talking to the Barrys. I stood there visiting for a while, and the husband said that he'd woken up a little after 3:00 AM and heard the sound of heavy furniture being moved around in the main hall... but later that morning when they got up, of course, everything was in the proper place. A lot of the activity may come from the fact that in days of old the main hall was the social center of the house - dances were held there, social gatherings, etc. The noises may be a remnant of days gone by. We certainly enjoy it when our friends share stories from their homes, but this time was even more interesting because I was able to hear it from one of their guests first-hand.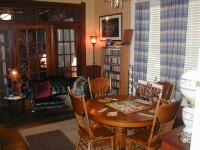 We also love it when people tell us about things that happened to them on The Grove tour, like the following email that we received this month about something that started in the Game Room, and then happened again in the Den: "My husband was standing in 'newer' area of the room when he felt a breeze across the back of his neck, almost like someone blowing on him. Neither of us were near him at the time. He didn't tell me until we were on our way home. When we were in the den, as soon as we walked in (before you even mentioned anything) the hair on my arms and the back of my neck were standing on end and I felt very - aware, for lack of a better word. Then, it felt like something tickling my hair where it was hanging over my ear. I tried to recreate the feeling by moving my glasses, swinging my hair, and gently tugging at my hair, but I couldn't make it feel like that again. At this point you were telling us the story about the lady that got swatted during the Christmas tour. When you said you told 'it' to stop, the eerie feeling went away immediately. I didn't say anything because I just chalked it up to nerves from hearing all the stories." - nerves or not, you'd be surprised how often subtle things like this happen on the tours.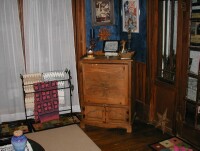 And speaking of things that happen on the tour, we had a couple this month that had an interesting experience. I noticed when we got into the new room (the den) that they were laughing and whispering to each other, and after the tour they shared with me what was happening. In the game room, the gentleman had noticed that the hair on his arms was being pulled, as if someone was reaching out and grabbing it with an unseen thumb and forefinger. He didn't say anything about it, though, but when we got into the den, his wife told him that it felt like someone was gently pulling the hairs on her arms. When she said that, he burst out laughing, because the exact same thing had just happened to him!
You often hear of cold spots associated with supernatural activity, and we occasionally run across them here at The Grove... but there is something that has happened on the tours that is even more strange. We've had people who experience a cold feeling in one arm or another, or a leg, etc. They always describe it the same way, like a sudden chilling that comes over part of their body. It happened again on a tour this month, when a lady said that her back had suddenly become cold - not her arms, legs, or neck, just her back, as if she'd backed up against a block of ice. Earlier in the year, a young lady was complaining of the same thing and when her mother put her hand on the girl's back, she said it felt like ice. This isn't your classic "cold spot," but it happens occasionally on the tour to our guests. It doesn't seem to matter what the outside temperature is, because it's a year-round phenomenon. One of the people that experienced it this year was a paranormal investigator who came on the tour, and she said that with all the haunted places that she'd visited over the years and all the things that she'd experienced, it was the first time that anything like that had happened to her. I expect that we'll continue to get stories like that.
And finally, on the night of November 22nd, we were sitting in the den enjoying a quite evening with a TV program that we watch, when suddenly we heard a noise from the kitchen... it was the sound of the refrigerator door being opened. We looked at each other, and Tami said, "one of us must have left the door ajar." I nodded my head, although I really didn't think that was the case - if the door was already open, even a sliver, it would have just silently swung open. We next heard jingling around in there, as if someone was moving through the ketchup and barbecue sauce bottles looking for something. At that point I stood up and looked around the corner, and there was the door standing wide open, although everything had quietened down. I just laughed, walked over, shut the door, and said to the room in general, "We don't mind you getting into the 'fridge, but please close the door when you're through!" People think that living in a haunted house is like that Amityville Horror movie where the walls bleed and unseen daggers cut their skin... but our house isn't like that. At The Grove, the supernatural activity can occasionally startle, usually intrigue, but always entertain us. It's a great place to live!

Well, the holiday season is upon us, whether you're celebrating Christmas, Hanukkah, Kwanzaa, or Winter Solstice. Our wish for you is that you have a wonderful experience with your friends and family as 2008 draws to a close. Tami and I will celebrate our 30th wedding anniversary here in a week or two, and we have a tradition at our anniversary dinner where we look back over the year and talk about its ups and downs. I'm happy to say that while we're going to have our down moments to discuss, more importantly, we've had a lot of ups... I hope that you have as well. As always, I sincerely appreciate you reading the GroveZine, and for allowing me to be a little late with it when the situation arises. Have a happy holiday!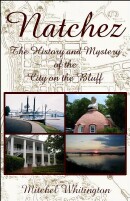 As I announced last month, my new book that just came out is titled Natchez: The History And Mystery Of The City On The Bluff. If you want to find out more about it, just Click this Link.
If you'd like to check any of my books, you can find them at Barnes & Noble, Borders, Amazon.com, or at The Grove's website if you'd like a signed copy of anything.
If you missed any issues of the GroveZine, you can find them at the GroveZine Archives.
To repeat our words from the beginning, this is a free subscription ezine for friends of The Grove - in other words, we NEVER arbitrarily add email addresses. We also NEVER sell or share email addresses with anyone else.
Feel free to pass the GroveZine on to your friends - all I ask is that if you forward it, please include the header, trailer and everything. Thanks!
To subscribe, just go to The Grove's Website and put your email in the blank at the left bottom of the page.
To unsubscribe, although we'd hate to lose you, simply follow the directions at the bottom of the this email.