www.thegrove-jefferson.com December 2008 ISSN 1558-3252
This is a tiny little free subscription ezine for friends of The Grove - it is by request only. In other words, we NEVER arbitrarily add email addresses. We also NEVER sell or share email addresses with anyone else, for any reason at any time. We hate SPAM as much as you do!
Well, 2008 is done... another year in the books. It's amazing, because the year seems to have flown by! I'd swear that it was just a month or so ago I was wrapping up the 2007 GroveZine. It's been a fascinating year, though, full of ups and downs - just like a roller coaster! Of course, one of the most interesting things for us has been spending another year at The Grove, and continuing to have experiences that baffle, amaze, and amuse us.
We wrapped up Jefferson's annual Candlelight Tour of Homes a couple of weeks ago, and it was a huge success - I enjoyed getting to see all four homes, none of which I'd ever set foot in before. Of course, Tami and I always volunteer as docents, so I had the opportunity to work the front porch of some of the homes. It got a little chilly, but I really enjoy getting to visit with everyone that came to Candlelight. I went to Wal Mart and picked up some hunter's glove warmers and foot warmers, these little packets that will stay warm for several hours in your gloves and shoes - those really helped on the front porches for those frosty evening hours.
The next big event in Jefferson will be the annual quilt show in just a few weeks. This gets bigger every year - more people and more quilts. Every year there is a special feature, and this year it will be a collection of the Gee's Bend quilts - a featured part of the show for 2009, and something extraordinary that the quilt guild was able to bring in this year. Not being a quilter, I'm not sure what a "Gee's Bend" quilt is, but you should hear all the excitement about it here in town. You can get all their info at the website www.jeffersonquiltshow.com.
And Mardi Gras will be here before we know it - the city grows from a population of 2,000 up to 20,000+ that weekend! It's a family-friendly atmosphere, with parades, shopping, food, and of course, beads, beads, and more beads! For the grown-ups, there is a beer garden with bands playing and plenty of room for dancing. I enjoy sampling some of the world's most unhealthy (yet delicious) foods that the vendors have. We tried deep-fried Twinkies one year, and batter-dipped Oreo Cookies another... along with standards like corn dogs, turkey legs, and everything else imaginable. It's one of Jefferson's biggest festivals, so come be a part of it and have some fun!
With the hundreds of ghost stories about The Grove, we're limited to what we can tell on the tour since we only have an hour, and it's rare that we get the opportunity to talk about the protector spirit of The Grove - an old man with white hair and a long white beard, usually wearing a dark suit and often toting a gun. On one tour this month, I was telling some of the stories of this fellow, and one of our guests got all excited. It seems that back when the house was empty during the late 1990s, her family had come to Jefferson and had driven by The Grove. They stopped in front, and her two kids got out to take a look around. After walking around beside the west side of the house, they came running back to the car and wanted to leave immediately. She questioned the kids, and learned that they had encountered a man fitting the description of the protective spirit, who said something to the effect of, "You kids don't need to be here - you should leave." Needless to say, they followed his directive, and moved right along. The old fellow always seems to always be watching out for the place.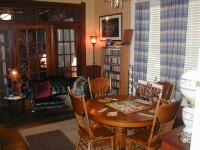 I love it when people who are sensitive to the supernatural world come on the tour, because they often pick up on things that we already know and validate them. For example, we had a couple of ladies on the tour, and we were in the dining room where I was introducing the Young family who owned the house from 1885-1983. The door to the game room was open, and one lady kept looking in there as if she was watching something. I was watching her as I talked, and she finally noticed that. She said, "I'm sorry, but I keep getting distracted; I pick up on supernatural things, and I see people walking across the back of that next room. What she didn't know is that the back of our game room used to be a back porch prior to the 1870 addition to the house, so people probably did step up onto it, and then enter the house through a door that was once there at the back of the room. As it turns out, this just happens to be the exact path of our famous "Lady in White" as well.
You've heard me say a hundred times that the strangest thing about living at The Grove is that you become used to all the weird goings-on. A case in point happened just last week. Tami and I had been working around the house, and we were exhausted by late afternoon. Tami decided to grab an hour's nap, and I sat down at the computer to get caught up on some things. The house was quiet, which made the clicking of my keyboard sound especially loud. After about twenty minutes I heard a door open, which I assumed was to our bedroom. I then heard footsteps walking across the stairwell, and then down the side gallery. I just figured that Tami couldn't sleep, but after a minute she still hadn't come into the room, so I stood up and walked to the bedroom - the door was shut, and she was sound asleep inside. I have no idea who it was that was walking around the house that afternoon, but it clearly wasn't either one of us!
Finally, I wanted to just round out the year by recalling some of our favorite occurrences in 2008. I did this last year and got a lot of good feedback from it. While there were a lot of things that I could count among the best of 2008, here are so of my personal favorites...
Favorite Haunted Place We Visited: I have to think back with very fond memories to Shreveport's Municipal Auditorium. We took the paranormal tour of the place, and it was fascinating - both for its history and hauntings. I'm looking forward to a chance to go back for another visit. There will be a paranormal conference at the auditorium on February 28th, 2009, and you can get the information on their website. I'll hopefully be at the "Author, author!" event there again next year on June 19th, 2009 (get more info here). Both will be great opportunities to visit this wonderful old place.
Favorite Haunted Happening On The Tour: I think that the most interesting thing to me this year have been the "cold spots" that have been experienced in the house. You often hear of cold spots associated with supernatural activity, and we occasionally run across them here at The Grove... but there is something that has happened on the tours this year that is even more strange. We've had people who experienced a cold feeling in one arm or another, or a leg, etc. They always describe it the same way, like a sudden chilling that comes over just a certain part of their body. It happened again on a tour this month, when a lady said that her back had suddenly become cold - not her arms, legs, or neck, just her back, as if she'd backed up against a block of ice. Earlier in the year, a young lady was complaining of the same thing and when her mother put her hand on the girl's back, she said it felt very cold. This isn't your classic "cold spot," but it happens occasionally on the tour to our guests. I don't understand it, but I'm greatly intrigued by it.
Funniest Ghostly Event With Us: Hands down, it was the appearance of the supernatural "feet" back in July. We were in the kitchen with some friends one evening, and Tami walked from there through the den to the game room, and then turned into the stairwell. She said that she happened to be looking down, and as she walked into the stairwell, their at the base of the stairs were two feet facing the staircase. There were no shoes, though, just bare feet and legs. Tami said that her first thought was, "Who's in here barefooted?" As her eyes naturally raised to see who it was, she saw the ankles, calves, knees... and then the legs faded away. There was nothing else to the body - just the lower legs and feet. In the instant that her mind was digesting that fact, the feet and legs disappeared as well, leaving her alone in the stairwell. Now, I know how strange that sounds. We've stopped trying to rationalize such things, though, and just accept them as part of the mystery of The Grove.
Favorite Ghostly Event With Us: As I reported in the August 2008 issue of the GroveZine, our friends Angie & Stan were visiting, and she was trying out a brand new camera. She got some wonderful photos around town, including the "monster" of Round Pond that will be in a chapter of my upcoming 2009 book Jefferson - the History and Mystery of the City on the Bayou. While snapping photos here at the house one evening, she went around to the east side of the house, and her new camera with fresh batteries promptly stopped working. We were watching from the porch, so Tami went over and asked permission for her to take photos - after that, she was able to snap as many as she wanted. The reason that this intrigues me so is that the east side of the house has always been strange, even before we bought the house in 2002. There are stories of events there even before we were here, including an account of a swirling black mass there chronicled on a page called One Haunted Night by a lady who spent the night here. That side of the house seems to always have strange stories associated with it, so I found the fact that Angie was having an issue there while we watched to be very intriguing.
Favorite Non-Grove Ghost Story in Jefferson: Hmmm... where do I start? Our friends at different B&Bs and businesses have been kind to share their ghost stories with us all year long, but I think for my favorite one, I'd have to go with the ghosts of the Great Hall in Falling Leaves B&B. As I mentioned in the November GroveZine, they've had people come to breakfast talking about the partying or commotion out in the hall since they opened the inn, but on that occasion I happened to be there when a visiting couple came out and started relating their own story of noises out in the hall in the early morning hours. Remember that in bygone days the center hallway would be used for parties and dancing, so it's likely that the after-hour festivities that visitors occasionally hear are just a bit of revelry drifting into our world from a time long ago. I was lucky to happen to have been there when they were talking about it, so I got to discuss it with them first-hand. None of the guests ever seem bothered by the activity in the hall... they're just curious about it!

Well, that's the GroveZine for 2008. I know that the year has been full of peaks and valleys for all of us, but it is my sincere wish that you start 2009 on the mountaintop, and just keep going up as the year progresses. Thanks for reading the GroveZine, and for listening to another year of my ramblings. I certainly enjoy getting to share our ghostly happenings with you, though - have a safe New Year's Eve, and a happy and prosperous year!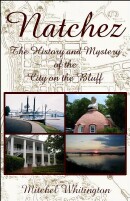 My latest book is titled Natchez: The History And Mystery Of The City On The Bluff. To find out more about it, just Click this Link.
If you'd like to check any of my books, you can find them at Barnes & Noble, Borders, Amazon.com, or at The Grove's website if you'd like a signed copy of anything.
If you missed any issues of the GroveZine, you can find them at the GroveZine Archives.
To repeat our words from the beginning, this is a free subscription ezine for friends of The Grove - in other words, we NEVER arbitrarily add email addresses. We also NEVER sell or share email addresses with anyone else.
Feel free to pass the GroveZine on to your friends - all I ask is that if you forward it, please include the header, trailer and everything. Thanks!
To subscribe, just go to The Grove's Website and put your email in the blank at the left bottom of the page.
To unsubscribe, although we'd hate to lose you, simply follow the directions at the bottom of the this email.