www.thegrove-jefferson.com January 2009 ISSN 1558-3252
This is a tiny little free subscription ezine for friends of The Grove - it is by request only. In other words, we NEVER arbitrarily add email addresses. We also NEVER sell or share email addresses with anyone else, for any reason at any time. We hate SPAM as much as you do!
Happy New Year to everyone! Of course, I realize that all the parties have been over for a month now, and we're well on our way into 2009, but I hope that everyone had a good time ringing in the new year, and then getting up on New Year's Day to watch the parades and football games.
We had a few friends over to see in the year that will be The Grove's 148th birthday, and no one reported any brushes with the supernatural. Of course, that would be hard to have noticed, since the stereo was blaring everything from Robert Earl Keen to AC/DC, depending on who was standing next to the cabinet when the current CD ended. There was also a feast laid out on the island in the kitchen that had to be seen, smelled, and tasted to believe - foods ranging from homestyle to Mexican to Italian. All delicious! Every Grove spirit could have been present blaring out songs at the top of their lungs, and no one would have noticed... and who knows, maybe they were!
Last Christmas seems far away, even though it was only a few weeks back. I have to take a moment and tell you about my favorite gift that I received. Tami and I were opening our presents to each other, and I unwrapped something that totally blew me away. If you've taken the tour of The Grove, you know that one of the owners, Mr. Charlie Young, was a barber here in town who had shaving mugs made for all of his regular customers with their name painted on them in gold letters. One of his mugs is located at the Historical Museum downtown, but I didn't know where any of the others were, since he gave them to his customers in the 1930s when he closed his shop and they dispersed all over Marion County. Well, with the help of our friend Renee, Tami found me one of Charlie's mugs and gave it to me for Christmas. I was beside myself! One of Mr. Charlie's mugs has come to The Grove, and I'm now proudly showing it on the tours.
(Coincidentally, Renee's daughter Kinzie is the young lady who Mr. Charlie visited while she was sleeping in the Game Room one evening during renovation of the house)
In December's GroveZone I mentioned Shreveport's Municipal Auditorium and the annual "Author, author!" book event that takes place there. In the last 'zine I managed to give last year's date, though, so be sure and mark your calendar for the real date, June 13th, 2009. It looks like I'll be there again this year, and I'm definitely looking forward to it. The event was a lot of fun last year. There's a ton of information on their website: www.authorauthorshreveport.com.
One of the most amusing things that I saw this month was a cartoon where a middle-aged guy was pushing a grocery cart down an aisle, looking up at a speaker in the ceiling, and saying, "Man, I didn't realize that they played such cool music at the grocery store!" Of course, the joke was not that they were playing hip music there, but instead that he had aged and the pop tunes of his day are now oldies. I got quite a laugh out of it. A few days ago, I was in our local Brookshire's Supermarket picking up a few items. I noticed that "Come Sail Away" by the band Styx was playing on the speakers, and I was bopping down the aisle to it, singing it under my breath. Tami and I have seen them in concert half a dozen times over the years, and I knew the song (and all of their others) by heart. Just as I was thinking, "Wow, I can't believe that Brookshire's is playing this," that cartoon came to mind. I just stood there laughing. "Come Sail Away" was released back in 1977, the year that I graduated high school... over thirty years ago . The rock-n-roll music of my youth has now become the stuff of supermarket tunes. It took me a long time to get over that one!

Of course, St. Valentine's Day is coming around in just a couple of weeks, and there is no better place for romance than Jefferson, Texas. You can check into your B&B, go out for a romantic dinner, and then take an evening carriage ride through the town. After breakfast the next day, browse through Jefferson's many shops, and then then fill your afternoon with a boat tour of Caddo Lake, or a few ghost stories from The Grove! Close out Saturday night with a moonlight stroll around town, or if you dare, Jefferson's Historic Ghost Walk. By Sunday morning you'll be planning your next trip back to the historic old riverport town - come see us for Valentine's Day!
The annual quilt show in January was quite a success, and almost 1,500 people attended over that weekend. The next event looming on the horizon, however, is the ever-festive Mardi Gras! The town will be full of literally thousands of visitors. From the Doo-Dah Parade on Friday Night that opens the festivities, to the Children's Parade that closes the weekend on Sunday afternoon, Mardi Gras Upriver in Jefferson is a heck of a party. To see a ton of photos, just go to The Grove's Mardi Gras Page. (Go to www.thegrove-jefferson.com, click on the "Visit Jefferson" link on the left, and the Mardi Gras link is near the top)
The first ghost story this month comes not from The Grove, but from The Pride House B&B. Jenny, innkeeper in residence, has been keeping me posted with all the supernatural activity that she's been encountering since she and her husband bought the place. This month, however, she had a visit from the Association for the Study of Unexplained Phenomenon (ASUP) out of Wills Point, Texas. In the course of their stay, Rick Moran, Coordinator of ASUP, snapped a series of photos of the staircase. The photos before and after this frame showed an empty set of stairs, but in this one a swirling mass of vapor in the form of a human is seen descending. So far, they have not been able to explain it. I'm thankful to Mr. Moran and ASUP for allowing me to share it with you in this month's GroveZine.
Well, the story of the "feet" just keeps on getting more interesting. Back in July's GroveZine I told the story of Tami walking into the stairwell and seeing a pair of bare feet connected to legs that went up to the knee, and then disappeared. (where I put the shoes in this photo - for the archive, click here) Last month I chose that as the "Funniest Ghostly Event of 2008". A week or so ago, I received an email from a GroveZine reader whose friend was a waitress here back in the 1990s when the place was a restaurant. As the waitress was walking past a table, she saw a pair of feet under a table... but with no one sitting in the chair! I was delighted to get that email; we'd debated whether to tell the "foot" story or not, because we didn't want folks to think that we are completely crazy, but now I'm glad that we did. Otherwise, we never would have hear the corroborating story from The Grove's past!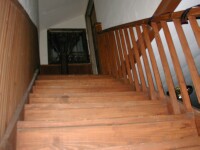 Earlier this month we'd gone out to eat with Lisa and Mike Barry from Falling Leaves B&B, and after dinner we all decided to drive out and check their cows. (I know, I know, it sounds weird... but in a small East Texas town, that's an important thing to do if you own cattle like they do) We stopped by The Grove for Tami and I to pick up jackets since the temperature was dropping, and we all came inside. After grabbing the coats, I walked into the game room where Tami and our friends were, and they were all looking up at the ceiling. I paused for a second, and then said, "Okay, what's going on?" Lisa said, "A loud moan just came from the attic!" I looked over to Tami and she nodded, then added, "I heard it, too." Mike was standing there rather nonchalant, so I asked if he'd heard it as well. He just shrugged and said, "Yeah, but nothing in this house surprises me anymore..." Who knows what it was, but they all three heard it, and said that it was very much of a mournful call. It's amazing how you get used to things like that after all these years. We put on our jackets, and went to check on their cows.
And finally, a young man and his mother were on the tour one day this month, and before we got started, the mother asked if we had and ghost stories about the garden beside the house. Although we don't talk about him much on the tour anymore, since we first bought the house we've seen a man in a dark suit and a hat out in the garden. Sometimes he's just standing around, but most often he's walking through at a good pace. Anyway, the lady told me that they'd been on Jefferson's Historic Ghost Walk the night before, and her son had looked up to see a man in a dark suit and a top hat standing out there. If I remember her story correctly, when people were photographing the house the flashes illuminated the garden and suddenly showed that no one was there, but the young man was sure that he'd seen him. We hadn't heard from the "garden guy" in a while, so we were delighted to know that he is still making his presence known occasionally.

And that's January from The Grove in Jefferson. It's been a great month here in town, and a wonderful start to 2009. The weather has been a little weird - we've gone from the 70s to the teens and then back up to the 70s again. Yesterday we even had fifteen minutes of snow! We have all heard the saying about Texas weather, though (repeat with me)... if you don't like it, just wait a minute.
Thanks for reading the GroveZine - I appreciate the fact that you take time out of your day to read our latest ghost stories, and various happenings around Jefferson. By the time that we talk next month, I'll have a report on Mardi Gras and all the terrible (but delicious) snack food that we encountered in our explorations. Have a great February, a romantic Valentine's Day, a festive Mardi Gras, and I'll talk to you at the end of the month! - Mitchel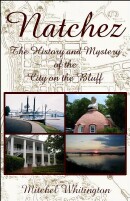 My latest book is titled Natchez: The History And Mystery Of The City On The Bluff. To find out more about it, just Click this Link.

If you'd like to check any of my books, you can find them at Barnes & Noble, Borders, Amazon.com, or at The Grove's website if you'd like a signed copy of anything.

If you missed any issues of the GroveZine, you can find them at the GroveZine Archives.

To repeat our words from the beginning, this is a free subscription ezine for friends of The Grove - in other words, we NEVER arbitrarily add email addresses. We also NEVER sell or share email addresses with anyone else.

Feel free to pass the GroveZine on to your friends - all I ask is that if you forward it, please include the header, trailer and everything. Thanks!

To subscribe, just go to The Grove's Website and put your email in the blank at the left bottom of the page.

To unsubscribe, although we'd sincerely hate to lose you, simply follow the directions at the bottom of the this email.