www.thegrove-jefferson.com February 2009 ISSN 1558-3252
This is a tiny little free subscription ezine for friends of The Grove - it is by request only. In other words, we NEVER arbitrarily add email addresses. We also NEVER sell or share email addresses with anyone else, for any reason at any time. We hate SPAM as much as you do!

Hello from The Grove! I hope that everyone had a great February, a nice Valentine's, and a wonderful start to 2009. Can you believe that the first quarter is almost over? It's certainly flying by, and St. Patrick's Day is just around the corner. We had a nice St. Valentine's Day; our plan was to go out to dinner at Lamache's Italian Restaurant here in town, but we put off calling for reservations until only a few days in advance. Tami called to get us a table, but they said that there wasn't an opening all evening. She soon realized that she was talking to one of her high school students who works there, so she tried everything to get us a seat... but even one of her favorite kids couldn't squeeze us in. We ended up at Swampi's, the new Cajun restaurant on Polk Street, where we managed to snag the last open table... and it was delicious. If you happen to be in town with a taste for Cajun, be sure to check them out.
Jefferson's Mardi Gras went off without a hitch a few weeks ago - thousands and thousands of people, no parking places to be found, three parades, elaborate floats like the one in the photo, lots of food, and of course, BEADS! Of course, there was music on the main stage most every hour of the weekend, and there was a general festive feeling in the air of the old riverport city. We were watching the Grand Parade on Saturday, just enjoying the floats and catching a few beads. I'm not the kind to jump in front of kids and elbow people out of the way just to grab a string of Mardi Gras beads. I looked down the street at one point, however, and coming into view was a Cici's Pizza float. I thought that it was nice for them to be a part of the parade... and then, I saw that they were tossing beads... and these beads had little cards attached to them. The wheels in my head started turning, and it only took a second for me to realize that they must be tossing pizza coupons. I turned from a guy casually watching a parade to a full-blown maniac. I was screaming, "BEADS!!! BEADS!!! THROW ME SOME BEADS!!!" I was jumping up and down, diving in front of people, and snatching them out of the air before they hit someone else's hand. Mardi Gras beads are okay and all, but don't dare get between me and a pizza coupon!
On a more cosmic note, there's more and more talk circulating about the 2012 Prophesy. There was a 2-hour TV special on about it last week, so to summarize it here is tough. Basically, though, the Great Cycle of the Mayan Long Count calendar ends on the winter solstice of 2012 A.D. - December 21. Some people are interpreting this, along with Mayan Prophesy, to mean that the world will end on that day. Others believe that it will begin a cycle of Earth changes. I remember the "Harmonic Convergence" over a decade ago, and then Y2K, so I didn't put much stock in the 2012 thing. Until I made a startling discovery. I was attending the Garden Club's Annual Flower Show held at Excelsior House Hotel here in town, and I'd wandered into the memory room where they have the Wall of Past Presidents. I noticed that the last frame only has three empty spaces left, one for the current club president, and then the next two. Since each president serves two years, and this is the current president's second year, that means that they are out of space in... 2012. If you look at the picture, you'll see that there is is no more wall space for more frames - so they must not be planning on an existence past the year 2012. Coincidence? I think not... I believe that I've stumbled upon incontrovertible evidence that the 2012 prophesy is real, and the little ladies of the Jessie Allen Wise Garden Club in Jefferson, Texas, are somehow in league with the ancient Mayans. Okay, okay, I'm only kidding. But I did have a great time keeping a straight face and explaining this theory to anyone who happened to wander past. And I wonder why my wife doesn't invite me to more Garden Club events...
Coming up on the weekend of March 14th is the Third Annual St. Patrick's Day Irish Stew Cookoff... and the Sandtown Stew Team been working on it all year long. We've been refining our recipe, tweaking it here and there, and playing with the ingredients until we came up with something that we believe is perfect. We recently did a final trial run of the recipe, and as a team, we decided that we're locked and loaded for St. Paddy's Day. If you happen to be in town on the 14th, stop by Otstott Park at 11 AM and give it a sample. And if we win... I promise to post the recipe in the next GroveZine!
Something odd happened a while back - a film producer contacted me to ask if I'd be interested in being part of a documentary. Of course, I assumed that it was about ghosts, but as it turns out... the show was about bigfoot. Now, I tried to tell the fellow that I have enough problems when I tell folks that I live in a haunted house, and don't need to compound it with sasquatch stories. After all, I've never seen a bigfoot. What he wanted to interview me about, though, was growing up in Hooks, TX (my hometown) that was close to Fouke, AR during the time in the 1970's when the "Fouke Monster" was in the news every other day. I agreed, and it turned out to be a lot of fun. More than that, though, "Southern Fried Bigfoot" ended up being an incredible show - and you can see it on The Documentary Channel starting on April 13, 2009 - including me being interviewed in the game room of The Grove. TDC is carried on DISH Network Channel #197. More info on TDC can be found at www.documentarychannel.com, and there's a lot more info on the website www.southernfriedbigfoot.com. Check it out!
It's been an exciting 2009 so far here in Jefferson. We've already had a couple of ribbon cuttings for new businesses in town, and one of my favorites isn't a new place, but one that has expanded into a new location: Kitt's Cornbread Sandwich Shoppe. If you haven't eaten there, they have delicious sandwiches that - and you may have already guessed this - are made with cornbread. It's an exciting time here in Jefferson, and there's a lot of things on the horizon for 2009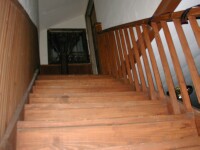 Ah, now for a ghost story or two. I often tell people on the tour that the strangest thing that they'll hear me say is that we've gotten used to all the supernatural things that happen here at The Grove. Seven years ago I couldn't imagine being nonchalant about all the fantastic occurrences, but over time, it just happens. Take a few nights ago, for example. I woke up in the early morning hours to hear footsteps on the stairs, which are just outside of the bedroom. Whether they were going up or down I couldn't tell, but it the steps were heavy. My first thought was that perhaps Tami couldn't sleep and was getting something out of the attic - but I reached over and found that she was in bed. Although they sounded like human footsteps, my next thought was that it was one of the basset hounds. I raised up, and in the moonlight coming in through the window I could see that they were both asleep as well. At that point, I realized that it was one of our spirits who had just dropped in for a visit. I thought about getting up to see what I might see, feel, smell, etc. in the stairwell... but to be honest, I was just too tired, so as I laid back down and drifted off to sleep again, I could still hear someone walking around.
After one tour this month, two ladies came up to me and I could tell that they had something to say. One said, "She needs to ask you something," and pointed at her companion. The second lady was a little hesitant, but asked, "Do you ever see anything strange out in the garden?" I hadn't mentioned about the Garden Guy out on the tour, but at that point I told her that there were some strange things that happened out there, and then asked her what she'd seen. She told me that it was during the ghost walk, and she'd seen someone walking across the garden. The man was all in black, and had come from behind one tree, and disappeared behind the next bush. I know the story well, because it's reported at least once a month, and Tami and I have both seen him strolling across the garden, just like that lady described. It's not like seeing someone dashing from place to place - it's more like someone striding across the garden at a fast pace, but you only see one little snippet of it. If you remember last month, something very similar happened with some folks on the ghost walk. I guess that he's just been in a mood to show himself lately.
Tami and I have owned The Grove for seven years now, and we've been doing the tours for the last six. Over time, as we paused in the dining room for me to introduce the Charlie Young family, I noticed that as I talked about each member (Charlie, Daphne, their daughters Louise & Mable, and their son James) I would unconsciously point to different chairs. I always figured that as time went by I had assigned a seating chart to the Youngs in my head. In fact, I didn't know that I was doing it until someone on a tour asked me, "How do you know where they sat?" The fellow brought to my attention that I was pointing at the chairs. I just laughed about it, and tried in the future not to do that. Just a week or so ago, after a tour, a gentleman told me that he was a sensitive and had picked up on several things around the house. One of them was in the dining room, and he said, "The Young family members sat at these places..." and he proceeded to point out the exact locations that I'd always indicated. That was either a wild coincidence, or perhaps something a little more interesting! By the way, this photo is the Young's table set for Mardi Gras.

And speaking of ghosts, I'll be discussing the spirits of The Grove on two radio shows this month, and I hope that you can catch at least one of them:
For GroveZine readers in the Lubbock, TX area, I'll be on the "Nightfall" program hosted by Joe Griffin - Sunday night 3/22, 6-8 CST PM on KRFE 580 AM.
Later that week, Friday 27, from 7-9 CST, I'll be on "Just Energy Radio" with Dr. Rita Louise. You can listen online at www.justenergyradio.com .

Well, spring is slowly starting to arrive, and the gardens of The Grove are waking up. We have Bridal Wreath and Japonicas blooming at the moment, but more plants are going to be waking up soon... which means that we have to add yard-work back into our schedule.
Thank you so much for reading the GroveZine - I appreciate the fact that you take time out of your day to read our latest ghost stories, and various happenings around Jefferson. Have a great March, enjoy the last few days of winter, and I'll talk to you at the end of the month! - Mitchel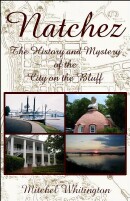 My latest book is titled Natchez: The History And Mystery Of The City On The Bluff. To find out more about it, just Click this Link.
If you'd like to check any of my books, you can find them at Barnes & Noble, Borders, Amazon.com, or at The Grove's website if you'd like a signed copy of anything.
If you missed any issues of the GroveZine, you can find them at the GroveZine Archives.
To repeat our words from the beginning, this is a free subscription ezine for friends of The Grove - in other words, we NEVER arbitrarily add email addresses. We also NEVER sell or share email addresses with anyone else.
Feel free to pass the GroveZine on to your friends - all I ask is that if you forward it, please include the header, trailer and everything. Thanks!
To subscribe, just go to The Grove's Website and put your email in the blank at the left bottom of the page.
To unsubscribe, although we'd sincerely hate to lose you, simply follow the directions at the bottom of the this email.