www.thegrove-jefferson.com March 2009 ISSN 1558-3252
This is a tiny little free subscription ezine for friends of The Grove - it is by request only. In other words, we NEVER arbitrarily add email addresses. We also NEVER sell or share email addresses with anyone else, for any reason at any time. We hate SPAM as much as you do!
Hello from The Grove! March was certainly a busy - but fun - month. First things first. If you remember from the last GroveZine we were entering the big St. Paddy's Day Irish Stew Cookoff here in Jefferson, and Tami & I are part of the "Sand Town Stew Team" every year. We tried a radically different recipe this year, using mashed potatoes instead of whole ones. They were prepared separately, and the rest of the stew was served over a dollop of the potatoes. Alas, another year that we didn't win. We did have a great time, though, and handed out green beads to everyone who came by to sample the stew. We did win for presentation, though! The team is already starting to make plans for next year's entry in the contest. Come to Jefferson for St. Patrick's and sample some delicious stew!
Pilgrimage is right around the corner - the first weekend in May, in fact. The entire town is getting ready; Civil War re-enactors will be setting up encampments in the parks around the city, the Garden Club is planning their annual plant sale, and the four tour homes for the Pilgrimage tour this year have switched into high gear planning and decorating. My parents' place, Whitington's Terry House, will be one of the four homes this year. I hope that we'll see you there - it's the first time in years that it's been on Pilgrimage, and the work that they've done on the place is fantastic. Come check it out, and don't forget to say hello to us while you're there.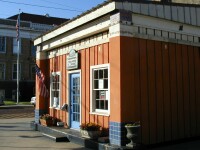 On your next visit to Jefferson you'll find that the Chamber of Commerce has a new home - right at the corner of Austin and Polk streets. In Jefferson's past the building was a Humble gas station, and the little building has been several different businesses over the years since. For a while the place was threatened with being torn down, but it has been saved, and the current owner was kind enough to let the Chamber occupy it. Be sure to stop by next time you're in town!

Last month I mentioned that I had a couple of radio appearances scheduled, and I want to thank you folks who called into the "Nightfall" program - it was great hearing from you. The other interview that was on "Just Energy Radio" is in an online archive, so if you missed it, just go to http://www.justenergyradio.com/archive-pages/mwhitington.htm. Dr. Rita has been to The Grove, so she struck a good balance in the interview between the "Ghost in My Suitcase" book and a discussion of the house and ghosts in general.
Sometimes people who come on the tour of The Grove tell me, "I hope that something happens on the tour!" If nothing supernatural occurs, I feel a little disappointed for them, but that's just the way that things go here. The spirits aren't on our schedule - it's just that sometimes we're fortunate enough to be there when they are present. This past month I saw that very thing myself. Tami & I went to Eureka Springs for a four-day vacation this past month, and we had a great time there. The first two nights we were staying in the Basin Park Hotel, one of the historic old hotels in the city. We checked in, and the bellman was taking us up to our room - number 408. When we got there he hesitated, and quietly said, "This is the most haunted room in the entire hotel... when I'm checking rooms, I just hurry past this one." I thought that was great - we were staying in the most haunted room without even asking for it. What a great coincidence! We stayed two nights, and... not a single thing happened. Oh well, we still had a great time, and the place had lots of atmosphere. We'll be going back, and of course, staying in room 408!
From the Basin Park, we went to the Crescent Hotel for a couple of nights. You may remember reading about the experience we had there before in the book "A Ghost in My Suitcase." We stayed just down the hall from Michael's Room - this is known as a particularly active part of the hotel when it comes to paranormal activity. Much like the evenings at the Basin Park, we had two very quiet evenings. After the trip, I pointed out to Tami that we'd stayed in two notoriously haunted places, but brought no experiences back with us. You know, sometimes that just happens, but we still had a wonderful little getaway.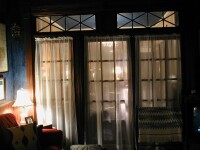 Speaking of Eureka Springs, Tami happened to be in the right place at the right time the night before we left on the vacation. She was in the den - the new room added in 1870 - and happened to look over into the game room. Sheer curtains cover the French doors between the two rooms, but with the lights on she could easily see the next room... and a woman in a white dress walking across it. The Lady in White doesn't show up that often, but when she does, she always takes the same path - stepping up through the wall that was once an open area behind the house, going across the room, and into the stairwell. Since her path never varies, and she never seems to interact with anyone, this is probably what some would call a "residual haunting" - something like a videotape being played over and over, never changing.
As you know, I love it when visitors share their experiences with us. GroveZine readers Jim & Ginger sent the following account of their grandson and his EMF meter while out in front of the Grove one evening:
"We went on Jodi's ghost walk, and I carried my grandson Rome on my shoulders where he soon fell asleep after only getting to the Haywood house. He had an EMF detector I had purchase for him; he'd used it and did not get anything other than the usual stuff that could be easily explained. I let the other kids use it while he slept. We finally made it to the Schluter house and were walking down the road to the Grove where he woke up. He wanted his meter back and started using it as we got on Moseley street, going toward your home. This meter has an analog, light and audible alarms. I could hear the audible beeps but I was listening to Jodi and did not really pay it much mind. Rome started tapping me on top of my head and said 'Papa, this thing is going nuts'. I started paying attention and carrying him up and down the street taking readings - but it would only alert in front of The Grove."
Finally, I have to mention a phenomenon that we experience here at The Grove, and that is experienced at places around the world... Shadow People. I certainly don't understand how one spirit can be so interactive, while another is a residual, and still another appears in shadow form - yet that is certainly the case. Just a few nights ago, it seemed as though there were shadows darting all over the house, and many were small as if they belonged to animals. It was quite an interesting evening when we finally discussed it and found out that we'd both been noticing it. We still don't know what the shadows are, but we do see them here, sometimes much more prevalent than others. I've started researching the topic, so perhaps there's a book in there... who knows. That's a good place to end this GroveZine on, though, so I'll do just that. Thanks for reading!

As I'm writing this, the temperature is dropping and it's supposed to freeze tonight. It's hard to believe that it's the first week in April, and Springtime at that, yet the temperature is plunging. As cold as it is, I'm trying to enjoy it... after all, a few months from now when it's July and over 100 degrees, I'll be wishing for a little cool weather.
Thanks for your interest in The Grove and the GroveZine. I really enjoy sharing our experiences with you, and I appreciate you taking a few moments out of your day for them. I'll talk to you next month! - Mitchel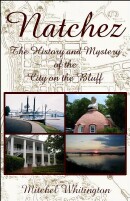 My latest book is titled Natchez: The History And Mystery Of The City On The Bluff. To find out more about it, just Click this Link.
If you'd like to check any of my books, you can find them at Barnes & Noble, Borders, Amazon.com, or at The Grove's website if you'd like a signed copy of anything.
If you missed any issues of the GroveZine, you can find them at the GroveZine Archives.
To repeat our words from the beginning, this is a free subscription ezine for friends of The Grove - in other words, we NEVER arbitrarily add email addresses. We also NEVER sell or share email addresses with anyone else.
Feel free to pass the GroveZine on to your friends - all I ask is that if you forward it, please include the header, trailer and everything. Thanks!
To subscribe, just go to The Grove's Website and put your email in the blank at the left bottom of the page.
To unsubscribe, although we'd sincerely hate to lose you, simply follow the directions at the bottom of the this email.