www.thegrove-jefferson.com April 2009 ISSN 1558-3252
This is a tiny little free subscription ezine for friends of The Grove - it is by request only. In other words, we NEVER arbitrarily add email addresses. We also NEVER sell or share email addresses with anyone else, for any reason at any time. We hate SPAM as much as you do!
Happy Mother's Day, everyone! It's hard to believe that we're already into May, but that's certainly the case. April seemed to flash by, with everyone getting ready for all the Pilgrimage activities. My parents' home, Whitington's Terry House, was on the tour and so we had a lot of fun spending some time helping them to get everything ready. This year's Pilgrimage was one of the best ever... but more about that in a moment.
So, what was a giant rabbit doing in town? You know, even if I didn't know, the sight wouldn't have surprised me. There's always something going on in Jefferson! In this case, it was to promote the annual "Paws on the Bayou" celebration. It's grown bigger every year, and is a time to celebrate the pets of the city. People bring their furred friends to Lions Park, where there are contests and festivities, vaccinations, and all sorts of fun. The day culminates with a "blessing of the pets" by a local minister. Although it is attended mostly by the locals, it is a wonderful celebration of our pets. Plus, it's a chance to take a picture of a giant white rabbit - and that doesn't come around every day.
Another annual event took place this past month - the Crawfish Boil! Several years ago the Chamber of Commerce started it, and that first year it was little more than a deep fryer and a tub of crawfish. It's now turned into a day-long event, with a team of professional crawfish boilers, a beer garden, and live zydeco music to dine by! I'd stopped into a local convenience store to buy gas that afternoon, and as I was paying the fellow asked how my day was going. I said, "Great - I just came from the crawfish boil!" I could tell that he suddenly realized that he'd forgotten about it; he quickly called his wife from the back of the store, got a few bills out of the register, and immediately dispatched her to go get two orders of crawfish. Everybody loves this weekend for the food, but the music and fun have really put the Crawfish Boil on the must-do calendar.
And of course, the annual Pilgrimage Tour of Homes is one of Jefferson's biggest celebrations. Put on by the Garden Club, it's something that we look forward to every year. This year was special because, as I said earlier, my parents' home was one of the houses invited to be on tour. Not only that, though, but I played the part of Sheriff John Vines in the "Diamond Bessie Murder Trial" production. That made the weekend a virtual whirlwind! There was also a re-enactment of the "Battle of Port Jefferson," and the town was full of Yankee and Confederate soldiers camping out in all the parks and demonstrating what life was like in a Civil War camp. Trust me, if you've never been to Pilgrimage, make plans to attend next year - it's the first weekend in May, and is well worth a visit.
I could go on and on about what was one of the busiest months of the year in Jefferson, but hey, what would the GroveZine be without a few ghost stories? As it turns out, I have some interesting ones for you this month...
As I've said before, living at The Grove isn't a scary experience - the place feels warm and comfortable. It's just that things that are a bit out-of-the-ordinary tend to happen. Thankfully, you get used to them. Some are quite dramatic, such as the Lady in White walking across the game room, while others are just curious little things. The latter happened to Tami one night this past month. We were decorating the Cypress Valley Center for the High School Prom, and she had run home to The Grove to pick up a couple of things that we'd forgotten. She was alone in the house so everything was perfectly quiet. While she was in our bedroom, she heard the distinct sound of an outside door opening and closing. She couldn't tell if it was the door on the front or side, but there was no doubt what she'd heard - so much so, that she thought that I'd come back to the house as well. When she started looking around, however, not only was she alone in the house, but the outside doors were still locked. Now, did one actually open and close, locking itself back, or did she hear a sound bleeding through from years gone by? Who knows, but it was just one of the little things that happen around here all the time. When people say that they'd be too scared to live at The Grove, I tell them the stories like this to show how innocent some of the happenings are.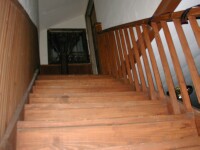 I received a wonderful email from Tom Kennedy of Lone Star Spirits, who was on one of the tours this past month. Here is his story, in his own words... "First of all, I must say that you and your wife have a beautiful home and y'all were very gracious. I am an investigator with Lone Star Spirits. One of my main functions is to play skeptic since I have a scientific background and honestly, I have yet to see any kind of concrete proof of ghosts. Anyway, I was the big guy standing in the 'haunted' corner during you session in the parlor. I did not feel anything unusual there. However, I did have a good look at the top of the stairway. About halfway through your talk, I looked up and saw what looked like 2 legs in black pants take two steps left and go right into the wall. It was only about knee-down. Nothing else was visible above that. I smiled and laughed to myself and dismissed it at first. I know you had told us to let you know of anything we saw, but I didn't even think it was that significant. I told my girlfriend (she was the one who heard the accordion music) and she thought that I should tell you. I still pooh-poohed it and we left. Now, here is where it gets interesting. After Jodi's Ghost Walk that evening, I went up to her and thanked her for the weekend. My girlfriend told her about her experience and then said that I had seen something also. She asked where I had seen something. I told her it was at the top of the stairs. She then proceeded to tell me about people seeing someone in black knee-high boots on the stairs. I turned white and said 'Holy Crap!' That's my story. And next time, I won't keep my mouth shut."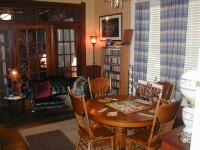 I had my own ghostly little encounter on the tour a couple of weeks ago. If something supernatural is going on during the tour and I notice it, I try not to comment on it. It just seems that if I did so, it would look like I'm simply being sensational for the sake of the tour. On that particular day we were in the game room, and I was standing in front of the closet like I always do. As I was telling the stories of that room, I heard someone call me from inside the stairwell. It was a whispered voice that said only, "Mitchel! Pssssst!" Of course, I assumed that it was Tami and that she needed to tell me something. I stopped talking, and just stood there waiting for her to stick her head into the room. She didn't. In fact, I stood there for what seemed like a terribly long time with our guests just staring at me, and finally I stepped around to look into the stairwell to see what she wanted - as you may have guessed, there was no one there. I looked through the French doors where I could see back into the kitchen, and I could see her moving around back there. I realized that some unseen person had called my name from the stairwell, but since I didn't know whether anyone else had heard it, I just picked back up with my story and went on like it never happened. Still, it was kind of fun, and a little treat for me in the course of the tour.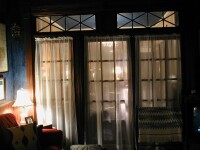 Finally, I have to mention the phenomenon that has occurred on and off since we moved in, and has been especially active the last month or so: shadow people. There's a lot of things that you can read online about them, and there are many different theories as to what they are. Basically, though, it's a shadow darting through a room, often caught out of the corner of your eye - which is why some people call them "corner people." On April 24th, a Friday afternoon, I was sitting in the den working, when the light coming from the dining room suddenly dimmed. That caught my attention, and when I looked up I saw a shadow moving quickly across that room. It was daytime, so I immediately dismissed any reflection or actual shadow, but realized that it was probably one of these "shadow people." I went up front quickly, and when I went into the dining room, the air felt electric - it was a very strong sensation. So what are these things? Ghosts, or something else? I have no idea. They do fascinate me, though, and I hope to continue experiencing them here at The Grove.

Well, we'll put a wrap on April, especially since we're already into May. Since Tami is the head of the English Department here at Jefferson High School, it's going to be a busy month. Prom is over, but we still have the Teacher Banquet, the Athletic Banquet, Graduation, etc. I get tired just thinking about it. By the next 'zine, I'm sure that I'll have a lot of stories to tell.
Thanks for your interest in The Grove and the GroveZine. I really enjoy sharing our experiences with you, and I appreciate you taking a few moments out of your day to read them. I'll talk to you next month, when the summer will be in full swing! - Mitchel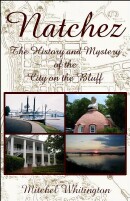 My latest book is titled Natchez: The History And Mystery Of The City On The Bluff. To find out more about it, just Click this Link.
If you'd like to check any of my books, you can find them at Barnes & Noble, Borders, Amazon.com, or at The Grove's website if you'd like a signed copy of anything.
If you missed any issues of the GroveZine, you can find them at the GroveZine Archives.
To repeat our words from the beginning, this is a free subscription ezine for friends of The Grove - in other words, we NEVER arbitrarily add email addresses. We also NEVER sell or share email addresses with anyone else.
Feel free to pass the GroveZine on to your friends - all I ask is that if you forward it, please include the header, trailer and everything. Thanks!
To subscribe, just go to The Grove's Website and put your email in the blank at the left bottom of the page.
To unsubscribe, although we'd sincerely hate to lose you, simply follow the directions at the bottom of the this email.