www.thegrove-jefferson.com May 2009 ISSN 1558-3252
This is a tiny little free subscription ezine for friends of The Grove - it is by request only. In other words, we NEVER arbitrarily add email addresses. We also NEVER sell or share email addresses with anyone else, for any reason at any time. We hate SPAM as much as you do!
Welcome to summer, everyone! May was a wonderful month, and here at The Grove, the day lilies and tiger lilies shot up out of the flowerbeds and are just days away from blooming. We've been making our summer plans, which include an exterior paint job, replacing some boards here and there, and everything that is part of owning an old home. There are a lot of items on the "to-do" list, but then again, summer's just getting started.
Meanwhile, I have some interesting things to pass on this month - a tragedy, a laugh, and of course, a ghost story or two. Ready? Let's get started...
Well, I'll start out the GroveZine with some very sad news - Big Pine Lodge, the wonderful catfish restaurant out in Uncertain, Texas, burned on Saturday June 6th, just as I was finishing up the zine. Apparently it caught fire around 6pm that evening while they had a full dinner service. Everyone thankfully got out unharmed, but the building looks like a total loss. Only a few letters of the giant "BIG PINES LODGE" sign on the front of the building remain. I went out to see it for myself, and there were many people their grieving the loss of the wonderful place. The big question, of course, is whether or not it will be rebuilt... I certainly hope so, because their catfish is incredible!
This weekend - June 12th and 13th - is the annual Author! Author! event in Shreveport. Go to the Municipal Auditorium on Saturday and for just a few bucks you can attend author lectures, panel discussions, and meet individual authors for one-on-one discussion of their works. Last year's was incredible, and this year's promises to be even better! And if you're there, please stop by the Reading Alcove at noon where I'll be talking about one of my favorite subjects... ghosts!
And by the time that the next GroveZine comes out, it will be Independence Day. You just haven't experienced the holiday until you've done so here in Jefferson. There's patriotic music in the downtown gazebo in the afternoon, a cake auction that is a lot of fun to watch (and participate in), all capped by a fireworks display that rivals any other that you've seen. Plan on joining us for an incredible celebration of the Fourth of July - you'll love it, and it's something that we look forward to every year. The big question now is: What kind of cake will Tami make for the big auction? Even I don't know yet, but I'm sure that it will be delicious.
Okay, this first item isn't really a ghost story, but it does border on the supernatural. You see, I run across all sorts of people who not only don't believe in ghosts, but they take a stance against anything that can't be scientifically proven. I try my best to keep from pointing out that in the 15th century they would have just as easily argued that the Earth is flat, and as recent as a hundred or so years ago would have insisted that man could not fly. Folks like this think anything outside of scientific explanation is impossible... whether the subject happens to be ghosts, or even ESP. Well, those people may have to re-evaluate their stance on such things. The Pentagon is now acknowledging the existence of mental telepathy - or at least, they're flirting with the concept. Scientists of the Darpa division have determined that before speech is verbalized, it exists as thoughts in neural signals. They are working on a transmitter and receiver for these signals that can be implanted in the brains of battlefield soldiers, which would allow them to communicate non-verbally. The question then becomes: what if some people have the ability naturally, without the use of electronic transmitters? Like some people have a natural ability for basketball, or computers, or math, I suspect that they'll find in their experiments that some people are more inclined toward swapping those "neural signals" than others... and that's what's called ESP! To read the entire story, check out Wired Magazine's website.
As always, I love sharing the experiences that our visitors have here at The Grove. This past month, we had a couple of ladies who were standing up in the front parlor after the tour waiting for me to get a book for them. I suddenly heard a lot of noise, and when I got back up front, they were both excited over what had just happened. Apparently one of them had been standing in the entry, and had seen a woman walk across the parlor just a few feet away from her. She assumed it was her friend, but she looked up to discover that the friend was in the dining room - and no one was in the parlor at all. She had seen a woman walking across the room, though, and was so sure about it that she had to assume that it was her friend... instead, though, it was apparently one of the spirits of The Grove!
And another instance happened on another tour this month. See, I can usually tell when something strange is going on during the tour, and that was certainly the case on one particular weekend. We had a small group on the tour that day, and we were in the dining room when I saw a lady fidgeting and looking around at the fellow that she was with. She and the gentleman were whispering back and forth, and finally she told me that all the commotion was about the fact that her blouse had been tugged by some invisible hand behind here - standing near the wall, there was no one even close. She was a tiny bit freaked out, a little apprehensive, but totally absorbed by the fact that she'd had what she could only describe as a supernatural experience. Her blouse wasn't being blown by a breeze from the air conditioner, or simply shifting with her movement - something, or someone, was actively tugging on it.
You've probably heard me say a thousand times that I always try to come down on the skeptical side of things - after all, we live in an 1861 home, so every time the floor squeaks it's not a ghost. With that in mind, I can't tell you whether my final story is a paranormal event caused by a ghost with a sense of humor, or a simple case of a door sticking at just the right moment... but I loved it! You see, I have a good friend that reads the GroveZine, and since he apparently doesn't believe in the supernatural, I guess he wasn't that impressed by the story last month of one of our guests seeing the legs of some spectral figure walking down the staircase. We were having a dinner party a week or so ago, and my friend was making fun of that event... "Woooooo, I see feet on the stairs!!! Woooooo!!!" - that kind of thing. Well, when my friend went to the bathroom he shut the bedroom door, and in a few minutes we heard him pounding on it and yelling, "Let me out, let me out!" Tami got up and went into the stairwell; when she tried to open the door, the knob wouldn't turn. She took a step back, and respectfully said, "Would you please let him out?" After that, the door opened as easily as ever - like some invisible hand had simply let go of it. As I said, it could be a total coincidence, but isn't the other possibility much more fun to consider?

As June is already ticking away, we have July 4th right around the corner - if you'd like a taste of Americana, come spend Independence Day in Jefferson, listening to the music in the park's gazebo and watching the firework display above the bayou. Before that, though, I hope to see some of you folks at Author! Author! in Shreveport. No matter when our paths cross, though, I want to thank you for your interest in The Grove and the GroveZine. I really enjoy sharing our experiences with you, and I appreciate you taking a few moments out of your day to read them. I'll talk to you next month! - Mitchel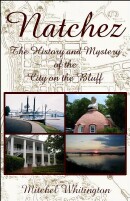 My latest book is titled Natchez: The History And Mystery Of The City On The Bluff. To find out more about it, just Click this Link.
If you'd like to check any of my books, you can find them at Barnes & Noble, Borders, Amazon.com, or at The Grove's website if you'd like a signed copy of anything.
If you missed any issues of the GroveZine, you can find them at the GroveZine Archives.
To repeat our words from the beginning, this is a free subscription ezine for friends of The Grove - in other words, we NEVER arbitrarily add email addresses. We also NEVER sell or share email addresses with anyone else.
Feel free to pass the GroveZine on to your friends - all I ask is that if you forward it, please include the header, trailer and everything. Thanks!
To subscribe, just go to The Grove's Website and put your email in the blank at the left bottom of the page.
To unsubscribe, although we'd sincerely hate to lose you, simply follow the directions at the bottom of the this email.