www.thegrove-jefferson.com June 2009 ISSN 1558-3252
This is a tiny little free subscription ezine for friends of The Grove - it is by request only. In other words, we NEVER arbitrarily add email addresses. We also NEVER sell or share email addresses with anyone else, for any reason at any time. We hate SPAM as much as you do!
Wow, what a scorcher! We're certainly in the "dog days of summer," although I've never really understood that term. The bassets of The Grove, Lilly and Delaney, spend most of the time inside. If they are romping and playing, it's usually down the hall or through the house, protected by the comforts of air conditioning. If I'm over at the warehouse packing books, or running around doing book signings and such, it seems that it only takes a minute outside and I'm soaked in sweat. While I'm miserable in this heat, the bassets are doing just fine... dog days indeed!
Well, it's just one of those things. Back in the frigid temperatures of January I was thinking about the warmth of summer, and now when I'm outside I find myself wishing for even a little gust of Arctic air. The grass is always greener, right? Anyway, things have been going along fine here in Jefferson. We're at one of the busiest times of the year, so all of our friends with B&Bs are always swamped - cleaning the rooms after one couple leaves to get ready for the next guests, or trying out some new gourmet delight to serve at breakfast.
Which, by the way, is a great side benefit to knowing B&B owners. Before they prepare a particular dish for breakfast, they always try it out one some guinea pigs... their friends. Because of that, we get phone calls saying, "Hey, can you guys come over for dinner tomorrow night? We're trying out a new breakfast dish." Of course, it's always delicious, and since it's a "dress rehearsal" of sorts, is served with all the trimmings. Maybe that's why I'm always trying to do things like daily walks, cutting carbs, and anything else to shed a pound or two!
We had a wonderful July Fourth celebration here in town - or as it's called, "Jefferson Salutes America". Patriotic music in the downtown gazebo; traditional food such as hot dogs, ice cream, and more; and of course, the charity cake auction to benefit the children's programs at the Jefferson Carnegie Library. Tami baked a carrot cake using a Paula Deen recipe, and she was thrilled to see that it brought $100. People go crazy when bidding for the cakes - but then again, it's all to benefit the library. The evening was topped out by fireworks over the bayou, and the show was incredible - the best ever. I always enjoy Independence Day in Jefferson!
And of course, there's always something coming up here in town. On July 19th, for example, the 21st Annual Jefferson Heritage Triathlon will be held. I wish that I was in shape to do a triathlon, but at least this year, I'm going to have to sit it out. I started to say that August would be a quiet month, but that's not really the case... it's a major milestone for me. THE major milestone. That's right, in just about a month, the kid is going to turn the big 5-0. The weird thing is, I still mentally feel like I'm eighteen. I hope that feeling doesn't go away! Moving along from that, though, if you happen to be in town on October 3rd, we have the city-wide garage sale, which is always a lot of fun, and the temperatures will definitely be cooler then. And for all you motorcycle enthusiasts out there, make your calendar for the 12th Annual Boo Run Benefit on October 9-11. There's a lot on the horizon!
As with most places that have a lot of supernatural activity, some things are just passing occurrences such as the scent of a cigar, the sound of footsteps, or simply a strong feeling in a particular area. Those things certainly intrigue me, but they are there one moment, and gone the next. We sometimes have more tangible things that occur, however - items that have been moved, lights turning on or off, and so forth. You may remember from a GroveZine a while back that we were getting ready for a tour one Saturday and we were both in the front parlor of the house. A pillow flew off the couch across the room, passing between us and ending up on the floor; neither one of us were near the couch at the time. Well, this past month we had one of those interesting, tangible events. We were preparing for one of the Saturday tours, and Tami was cleaning the glass panes of the French doors that lead from the den into the side gallery. I was up front, and I heard her say, "Mitch, you'd better come take a look at this!" I walked back down the hall, and she nodded at one of the window panes... on it was a child's handprint. Now, I don't mean a smudge that sort of looked like a handprint, or Rorschach blot that you could see a handprint in - no, this was an actual handprint. I tried to take a photo of it, and I'm not sure how well you can see it, but we were doing everything that we could to preserve it without taking out the pane of glass (and I actually thought about that for a second). The thing first that makes this interesting is that there was the fact that there hasn't been a small child in the house for months, and the windows get washed once a week before the first weekend tour. The print must have shown up during the previous week, and there was no one here but us that particular week - we didn't even have any friends or family over. The other thing is that it wasn't on a lower pain - it was on the row one down from the top. To make the handprint, the child would have to be carried by an adult. We didn't know what to make of it, but after taking a bunch of photos, Tami cleaned the pane and we went on getting ready for the tour.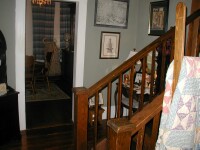 Several times this year I've mentioned shadow people, and I'm not sure why that kind of activity seems to be picking up in the house. It has been pretty steady, and we had one afternoon this past month that was incredibly active. Tami was doing the tour that day, and she later told me that she'd been seeing shadows darting here and there from the time that they came in the front door. If we know that something is happening on the tour we usually don't mention it, because we don't want folks to think that we've set anything up, or that we're just being dramatic, so she just smiled and kept going. By the time that they'd paused in the stairwell, one gentleman looked a little concerned and told Tami, "Something just touched me on my back... and I keep seeing the shadows moving around out of my peripheral vision." She just smiled and told him, "Well, that's probably because I've been seeing them moving around since we started the tour!" Everyone laughed, albeit a little nervously. For the rest of the tour, the people kept looking around, wondering if any little movement that they saw might be one of our uninvited guests that day.
If you've taken the Grove Tour, you know that I encourage people to send any odd photos that they get at the house. The one caveat that I add is that if I can explain them, I will do so. That's always kind of a bummer for me, because if I get a photo that someone is excited about because it may contain something supernatural, but I can explain it, then I have to send them an email and burst their bubble. That said, sometimes we get something that defies explanation... such was the case this past month. A lady who'd been on the tour one Sunday morning called to say that she'd snapped a photo of what appeared to be a man standing on the porch. I was non-committal, but told her that I'd like to see it. She sent it through the postal service, and it looked something like what you see here - except that's me standing there. In here photo, where I'm positioned on the front gallery, was a transparent man. It looks like he's wearing boots with his trouser legs tucked into them. Also, he appears to be wearing a dark sash, which gives him a military feel. I showed it to one person, however, who thought that it looked more like Native American attire. I've tried everything to come up with an explanation for it - I even went out at 12:15 the next afternoon to look at the house from the same angle, but the sun is overhead at that time and there aren't any shadows on the porch. Or anything else that I could use to explain it, for that matter. I'm really, really impressed with it. So why isn't it here? Because I'm a big believer in copyright (as a writer, copyright is my life) and I don't have an email address or phone number to contact her to ask permission to share it. Still, I wanted to mention it because it's a true testament to the fact that things happen during the day at The Grove as often as they do at night - the photo that she took was just after noon!

By the way, in the course of finishing up the GroveZine this month, I went online to Wikipedia to find out what the "dog days of summer" actually were. While it does refer to the hottest time of the year, the term was started by the ancient Romans because they were also the days when Sirius, the dog star, rose in the morning about the same time as the sun. In 1813 someone wrote, "Dog Days were popularly believed to be an evil time when the seas boiled, wine turned sour, dogs grew mad, and all creatures became languid, causing to man burning fevers, hysterics, and frenzies." With all this heat, I'd certainly believe that. Try to stay cool, everyone, and I'll talk to you next month! - Mitchel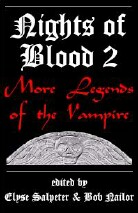 You know that I usually write non-fiction about history and the supernatural, but on a few rare occasions I like to dabble in fiction. I recently contributed to a new anthology of vampire fiction, which I've enjoyed being a part of. The book has some outstanding stories in it. To find out more, just Click this Link.
If you'd like to check any of my books, you can find them at Barnes & Noble, Borders, Amazon.com, or at The Grove's website if you'd like a signed copy of anything.
If you missed any issues of the GroveZine, you can find them at the GroveZine Archives.
---
But before closing, an opportunity...
I know that there are quite a few writers who subscribe to the GroveZine, and here's an opportunity to flex your fiction muscles... with a story about ZOMBIES. That's right, there's a new volume of zombie fiction being gathered for an anthology named, Dead Set: A Zombie Collection. If you'd like to try your hand at crafting a story for it, rent Night of the Living Dead or Dawn of the Dead (the original), and then start working on your story. The guidelines can be found by clicking here. Good luck!
And if you are a writer, let me recommend the monthly newsletter of Denise Vitola, famous Sci-Fi writer and nominee for the prestigious Phillip K. Dick award for excellence in Science Fiction. Her ezine has writing tips and markets every month, and best of all, it's free! To sign up, just click here.
---
To repeat our words from the beginning, this is a free subscription ezine for friends of The Grove - in other words, we NEVER arbitrarily add email addresses. We also NEVER sell or share email addresses with anyone else.
Feel free to pass the GroveZine on to your friends - all I ask is that if you forward it, please include the header, trailer and everything. Thanks!
To subscribe, just go to The Grove's Website and put your email in the blank at the left bottom of the page.
To unsubscribe, although we'd sincerely hate to lose you, simply follow the directions at the bottom of the this email.