www.thegrove-jefferson.com August 2009 ISSN 1558-3252
This is a tiny little free subscription ezine for friends of The Grove - it is by request only. In other words, we NEVER arbitrarily add email addresses. We also NEVER sell or share email addresses with anyone else, for any reason at any time. We hate SPAM as much as you do!
Well, here we are heading into fall of 2009, and autumn is almost in the air - football games are starting, it's a little cooler in the evenings, and the leaves are starting to fall. In the photo, the porch had been swept off not long before, but the leaves kept coming down... which is one of the few bad things about living at The Grove. Still, this is probably our favorite time of year. I'm now waiting for that one magic morning, where I walk outside and feel a small, but definitive, chill in the air. It happens every year, and it is a clear signal that fall has arrived.
There's quite a few things to report this month in the GroveZine - not only has the house been active, but there's lots of things to talk about. Let's jump right in, shall we?
A week or so ago we had some RAIN here in Jefferson - and I don't mean a gentle, soaking shower. According to my friend's rain gage, we had 5 inches fall in less than eight hours. It was a deluge! The photo that you see here is Moseley Street in front of The Grove. The row of Crepe Myrtle trees on the left are about six feet away from the edge of the street, and are on elevated land behind a small retaining wall... all that is under water, though! In seven+ years of owning the house, I've never seen water rise so high and fast. We literally had a river in front of The Grove.
Okay, I told my Jefferson chupacabra story in the July 2009 issue (available in the archives), but guess what... the weird little fellow has surfaced again! I'm a member of the Jefferson Lions Club, and at a recent meeting we were sitting around talking, eating lunch, and just enjoying the fellowship. We had a guest speaker from another organization who would be addressing us later in the hour, and she was sitting a few seats down from me. While I wasn't eavesdropping on her conversation, my ears did perk up when I heard her say, "...and we saw a very strange animal." Knowing that this person was in the farming and ranching community and probably knows every creature in Marion County, this caught my attention. People were questioning her with things like, "Was it a fox?" "Was it a large cat?" and so forth, but she paused and said, "Well, I think that it might have been a chupacabra!" It was all that I could do to keep from jumping up and saying, "Hey, a few weeks ago, a friend of mine saw the same thing..."
That was weird enough, but yet another friend has a little house for their cats in the back yard that is complete with climate control, a feeding area, litter boxes, etc. She made an odd comment a day or so later that, "something strange had been trying to break into it one night..." which of course, could be a fox or other beastie. After all the other talk, though, my first thought was - CHUPACABRA! But who knows... I'm just keeping my ears open in case there are any more stories that surface, and my eyes open in case I see the little fellow darting around at night. I'm just waiting for the next chupacabra story to surface in Jefferson!
In the October 2009 issue, Texas Monthly magazine says: "If you really want to scare your boots off this Halloween, take a look at these eight places, which our bloodcurdling, hair-raising, nerve-racking research has determined to be the state's spookiest." We're thrilled to report that The Grove was not only included in those eight, but was the only private residence in the list. There are actually two pictures of the house in the issue - one in the table of contents (showing the a really cool photo of the east side of the house), and the other in the story itself (an odd photo showing only a back corner). We're very excited to have The Grove in Texas Monthly!
The Grove had another honor bestowed on it this month - we just found out that "Haunted America Tours" selected our "The Haunts & History of The Grove" as number three in the "Top Ten Best Ghost Tours in Texas." The number one position was "Ghost Tours of Galveston Island" led by Dash Beardsley and the "Ghost Hunt Of San Antonio" was #2... we're truly honored to be in such wonderful company. You can see the entire list, and more lists and such dealing with the supernatural in the Lone Star State, by clicking here to jump to their website.
It's almost time for the annual Boo Run in Jefferson - a massive motorcycle rally to benefit burn victims. It's always interesting, even if you don't own a bike. Austin street is completely closed off, and the motorcycles park three deep there. We love walking along and looking at all the tricked-out cycles, and meeting the people who own them. This year the event will be on the weekend of October 9, 10, and 11, so come check out one of Jefferson's most interesting weekends.
Now for my favorite part of the GroveZine... the ghost stories! Although there are several things to report from this month's tours, the first thing that I wanted to talk about is something that interests me greatly... shadow people. That is a phenomenon that we experience here, but this month something really odd happened. I was sitting at my desk in the den, doing a bit of writing, when out of the corner of my eye I saw a black cat walk in from the game room. At The Grove, we have two cats - the white one named Daphne, and the tortoise-shell one named Elsie. The latter is mostly black, so I assumed that Elsie had wandered in. I distinctly saw a black form come in and pass in front of the television. When I looked up to see what she was doing, nothing was there. This made me curious enough to start looking around, and I finally found that Elsie was outside. If it wasn't Elsie, it was certainly a black cat-like form of some kind. With all the shadow people sightings that we have, I wondered about something similar with animals. Looking online, it turns out that there are many instances of animal shadows, which is what I'm now convinced that I saw. The photo that you see is a mock-up of it. I still don't know what I think of the shadow people, but the topic fascinates me.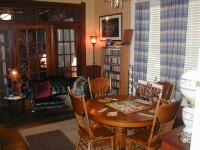 Now for a few tour stories - which are my favorites, of course. I enjoy sharing my own stories, but even more I love telling about the things that have happened to visitors to The Grove. You may recall from a GroveZine some time ago that on a tour one Saturday, a lady felt someone playing with her hair. She thought that it was her husband, but when she turned to look at him, he was taking a photo with both hands on the camera. Well, we've had two occurrences like that this month. They happened on two different tours a couple of weeks apart, but in the same room - the Game Room, which was once the original master bedroom of the house. Both times, a lady on the tour reported that someone seemed to be playing with their hair. The events were a carbon copy of each other - at the end of the tour, they each said that it felt like someone was messing with their hair as they were listening to the tour. They tried brushing whatever it was away, but it kept happening. Usually things happen in the den, the "new room" of the house, so I'm not sure why the game room suddenly became active, but that happens.
You know, it's been a while since we've had any interaction with the "garden guy," a month or so at least, but he turned up on the tour a week or so ago. We were in the den towards the end of the tour, and one gentleman was standing out on the side gallery listening to the tour. He glanced out into the garden through the blinds, and suddenly started saying, "There was a man out there - there was a man!" After talking to him, if I understand his experience, he glanced out and saw a man in a black suit walking along, who suddenly faded away. It apparently freaked him out, because he kept saying, "I saw him... I REALLY saw him!" The most interesting thing is that I hadn't mentioned the him on the tour - our garden gentleman simply chose to show up that afternoon.
Occasionally I'll get an email that poses the question, "Does anything weird happen with electronics at The Grove?" The answer is yes, it does, and more often than you'd think. The stories of this go back to the early 1990s when this was a restaurant - people would try to take pictures, and the camera would fail, even though the batteries were new. We see this on the tour; a camera that worked downtown five minutes earlier might not work when the owner gets to The Grove. Often, the situation is simply fixed by having the person ask permission to take photos. Other times, nothing seems to fix the problem. On a tour this past month, a lady had a digital recorder that she ran throughout the tour, hoping to capture an EVP - Electronic Voice Phenomenon. After the tour she was standing out in front of the house and looked down to see that the audio recorder still had a 3/4 battery charge. She hit the button to start replaying the recording, and it instantly went down from a three-quarters charge to absolutely nothing. As she was leaving, the device had no power at all - even though it had a charge just seconds before. I'm not sure what the connection is between the energy of the house and electronic devices, but there is definitely something there...

Well, it's time to wrap the GroveZine for this month. Things have been quite active throughout the month, which, as always, makes The Grove an interesting place to live. We're honored by the accolades of both Texas Monthly and Haunted America Tours.com as well. We'll start collecting stories for the next GroveZine, but in the mean time, have a wonderful month.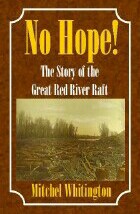 As I mentioned last month, the new book is out. If you've heard the story of Jefferson, or taken the tour of The Grove, you may recall that a massive logjam on the Red River played a strategic role in that history. It was called the "Great Raft," and when explorer Thomas Freeman first saw it, he penned in his journal, "No hope can be entertained of the great raft ever being removed..." While doing research for a different book, I was looking for information on the Raft and found that there was no definitive work documenting its history, which affected everyone from the Caddo Indians to the outcome of the Red River Campaign of the Civil War. I became fascinated with its story, and as I combed books and periodicals from the 1800s, the incredible story of the Great Raft emerged. If you want to find out more, just click this link..
If you'd like to check any of my books, you can find them at Barnes & Noble, Borders, Amazon.com, or at The Grove's website if you'd like a signed copy of anything.
If you missed any issues of the GroveZine, you can find them at the GroveZine Archives.
---
To repeat our words from the beginning, this is a free subscription ezine for friends of The Grove - in other words, we NEVER arbitrarily add email addresses. We also NEVER sell or share email addresses with anyone else.
Feel free to pass the GroveZine on to your friends - all I ask is that if you forward it, please include the header, trailer and everything. Thanks!
To subscribe, just go to The Grove's Website and put your email in the blank at the left bottom of the page.
To unsubscribe, although we'd sincerely hate to lose you, simply follow the directions at the bottom of the this email.