www.thegrove-jefferson.com September 2009 ISSN 1558-3252
This is a tiny little free subscription ezine for friends of The Grove - it is by request only. In other words, we NEVER arbitrarily add email addresses. We also NEVER sell or share email addresses with anyone else, for any reason at any time. We hate SPAM as much as you do!

Here we are with Halloween upon us! All Hallows' Eve, Samhain, Calan Gaeaf, call it what you like, it's the annual festival of candy corn and jack-o-lanterns... and we love it! Since it falls on a Saturday this year, we're gearing up for tours of The Grove all day long. Not that anything special happens here on Halloween - it's just another day. Because people are thinking about ghosts and such, though, it's the one day of the year that we have to schedule multiple tours. It's going to be a lot of fun, though. We'll tell ghost stories, share some of the history of the place, and maybe hear some tales from people on the tour as well.
You know, one of the greatest things about Jefferson isn't just that there are a hundred things to do here in town - it's also that the city is a great base for doing other activities in the area. For example, you can stay at one of our B&Bs, drive the 45 minutes to Shreveport and spend the afternoon enjoying one of their riverboat casinos, and still be back in town for dinner. If you go in the other direction, though, you'll find the Los Pinos Ranch Vineyards in Pittsburg, Texas. We went there for dinner recently and had a wonderful time.
Los Pinos has winery tours and tastings, but our favorite is their incredible menu. We went there with friends, and started out with their Chardonnay Reserve wine and their Tapas Platter - an incredibly delicious appetizer that is almost a meal by itself. Following that we switched to the Grand Reserve Meritage wine, and for an entree had their Tacchino Panini. Delicious food, great wines, and only a short drive from Jefferson. Add this to your "must-do" list for one of your trips here.
As you may have gathered, Jefferson is all about preserving the rich history of the city. Back on April 2, 1945 - which was Easter Sunday, by the way - the Big Cypress Bayou began to rise. The entire town flooded, and there are photos of people in boats navigating the streets of town. It was the worst flood ever, and it led to the building of Lake O' The Pines to help control such disasters in the future. The National Weather Service placed a couple of markers in town to show just how high the water was. The one in the photo is in front of Henderson's Auto Parts downtown - you can see the red line on the sign.

Well, you may have noticed by now, but this edition of the GroveZine is chupacabra-free. That's right, I have no new stories to report about the elusive little beast that's been spotted around Jefferson for the last couple of months. One thing to note, however, is that our friend whose yard was the point of the first chupacabra sighting went to the local vet recently to take her cat, and in the course of things asked the good doctor about the mythical beast. The doctor said that they almost always turn out to be a dog or coyote with a bad case of the mange, but offered the use of a tranquilizer gun in case something strange is spotted in town again... stay tuned!
There's a paranormal event coming up in Jefferson on November 7th - the History, Haunts and Legends conference 2009. Hosted by Jodi Breckenridge, the event will take place at the city's plush, new transportation center. It's a full day dedicated to the supernatural and the unexplained. I'll be there giving a talk on Shadow People, psychic John Cappello will be presenting, and other topics and speakers include: Larry Flaxman "11:11 The Time Prompt Phenomena - The Meaning Behind Mysterious Signs, Sequences, & Synchronicities," Derrell Sims "They Came While You Slept - The Actual Evidence Of Alien Abduction" Ken Gerhardt "Searching for Bigfoot," Pete Haviland and Tom Kennedy "Poltergeist Phenomena," Dr. Rita Louise "Ghosts, Spirits And All Things That Go Bump In The Night," Tonya Hacker and Tammy Wilson "How Not To Be A Ghost Hunter," and Mike McCaskill "Searching For The Truth In Paranormal Activity." It should be an extremely interesting day. For more information, just visit The Historic Jefferson Ghost Walk home page.
As always, I love hearing from folks who've been on the tour and had something interesting happen. Last month I reported about some people having their hair messed with in the course of the tour. After that, I received the following email: "Hi Mitch - After reading the Grovezine for August, I had to write and let you know that my 9-year-old son experienced having his hair played with during the tour, also. He said that whatever it was kept playing with his hair off and on throughout the tour, all over the house! I discounted it when he first told me because he's a little imaginative and suggestible, as most kids of that age are. But now I think there might be something to it. Who knows? Thanks for the tour, Linda"
This is becoming more and more prevalent at The Grove during the tours, so I'm looking forward to hearing watching this unfold!
There was one tour this past month where something incredible happened. A guy was standing in the door of the den leading into the side gallery, and I was talking about the fact that we have lots of things happen to ladies in the den. That makes us wonder, of course, if we don't have a gentleman spirit who still has an eye for the ladies. The guy said at that very time he felt someone walking down the hallway behind him, and heard a deep, male voice say, "Uh-huh..." He turned around, but no one was there. When he told the story, one of his daughters said, "That wasn't you?" She'd heard it as well, and assumed that it was her father. I think that's very interesting - someone behind him commented on my presentation of the tour, and more than one person heard it. I'll have to think about this one for a while - it's something that is a relatively new occurrence.
If you've been reading the GroveZine for a while, you're probably familiar with our friend Renee - I've mentioned her dozens of times. When Renee visits, we make her a bed on the couch in the den. She was spending the night a week or so ago, and told us something strange the next morning. Renee woke up around 2 AM, and heard old-fashioned music playing in the house. She said that she couldn't tell which direction it was coming from, but it was very recognizable. She said that she laid there and listened to it for a few minutes and then said, "Come on, I'm trying to sleep!" She drifted away, not knowing how long the music continued. I wish that she'd had a digital recorder handy - I'd absolutely love to hear the tune that was playing that night.
Okay, we're off to spend Halloween evening here at The Grove. I think that we're going to pop some popcorn, turn off the lights, and watch "Night of the Living Dead" that's playing on one of the movie channels - it's the only horror movie that's ever given me nightmares. After that, we may just leave the lights off a while, and sit in the quiet, still evening and see if we're treated to any visits from the spirits of the house. Not that they do anything special on Halloween, but spending some quiet time here always gives them the opportunity.

As we slip into Halloween of 2009, I'll sign off for another month, and thank you so much for your interest in The Grove's ghost stories. I love sharing them, and I hope that you enjoy reading them. Thanks for being a part of our little world, and I look forward to talking to you next month!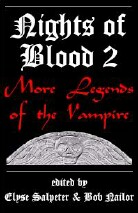 You know that I usually write non-fiction about history and the supernatural, but on a few rare occasions I like to dabble in fiction. I recently contributed to a new anthology of vampire fiction, which I've enjoyed being a part of. The book has some outstanding stories in it about the world of the undead. To find out more, just Click this Link.
If you'd like to check any of my books, you can find them at Barnes & Noble, Borders, Amazon.com, or at The Grove's website if you'd like a signed copy of anything.
If you missed any issues of the GroveZine, you can find them at the GroveZine Archives.
---
To repeat our words from the beginning, this is a free subscription ezine for friends of The Grove - in other words, we NEVER arbitrarily add email addresses. We also NEVER sell or share email addresses with anyone else.
Feel free to pass the GroveZine on to your friends - all I ask is that if you forward it, please include the header, trailer and everything. Thanks!
To subscribe, just go to The Grove's Website and put your email in the blank at the left bottom of the page.
To unsubscribe, although we'd sincerely hate to lose you, simply follow the directions at the bottom of the this email.