www.thegrove-jefferson.com October 2009 ISSN 1558-3252
This is a tiny little free subscription ezine for friends of The Grove - it is by request only. In other words, we NEVER arbitrarily add email addresses. We also NEVER sell or share email addresses with anyone else, for any reason at any time. We hate SPAM as much as you do!
Is that the scrumptious scent of turkey in the air? It must be, 'cause Thanksgiving is just around the corner. What a wonderful Halloween it was, though. We got to visit with a lot of great people, made lots of new friends, and had a wonderful time sharing the spirited stories of The Grove with the folks on the tours. We also heard a few interesting stories from our guests, which I'll be sharing with you. Meanwhile, back to Thanksgiving... 'cause I can hardly wait! I know that I've mentioned this in years past, but Tami prepares the turkey the night before, and then sets the oven timer when we go to bed. Waking up on Thanksgiving morning is something that I can't begin to describe - I roll out of bed, the entire house smells like stuffed turkey, I turn on the TV to get ready for the Macy's parade, and everything seems right with the world. I love Thanksgiving!
That's still a few weeks away, though, so even though my mouth's watering let's get on with the GroveZine...
The recent History, Haunts, and Legends conference here in Jefferson was awesome. I kicked the conference off with my talk on Shadow People, so after that I was able to spend the rest of the day listening to the other speakers. This conference has been good every year, but this time Jodi took it to a national-caliber experience. There was something for everyone, and even topics that I didn't expect to be interested in hooked me; I had a wonderful time. Get ready for next year, sometime in the Oct/Nov timeframe. By the way, this photo is during my talk, and is courtesy of Larry Flaxman and ARPAST.org... and also, I picked up Larry's book "11:11 - The Time Prompt Phenomenon" at the conference, and I can hardly wait to dive into it.
Christmas is obviously just around the corner, because the Jefferson Lions Club is putting up the Christmas trees in Lions Park. A hundred or so trees will surround the gazebo, and each one will be adopted and decorated by different Jefferson families and businesses. It's called the "Enchanted Forest," and is sponsored by the Historic Jefferson Foundation. It is simply beautiful, and one of the highlights of the holiday season in the city. The trees are lighted the Friday evening after Thanksgiving, and it's a wonderful evening that kicks off the Christmas season.
Not to jump off the subject of Thanksgiving and Christmas, but I do have a favor to ask. If you have a "shadow people" story, I'd certainly love to hear it. I promise not to share it, your name, or anything else without your permission, but as I've been gathering data on this phenomenon, first-hand stories are great. If you have a story to share, just reply to this email - I can hardly wait to hear your encounter with the Shadow People!
Oh, and I wanted to mention that people on the tour often ask to see the basset hounds, and occasionally we let them run out on the stairs to greet everyone. Now, the thing about our bassets is that we have one hard and fast rule - we don't spoil them. To us, they're just dogs, and we don't want them to get used to any special treatment. You can tell by this photo, which shows our basset hound Lilly bedded down for an afternoon nap. No special treatment here - not a bit.
This has been a VERY interesting month at The Grove. Along with the regular things that go bump in the afternoon, we've had quite a few people email and share photos and other things with us. Also, some friends stopped by and gave us some EVPs that are simply awesome, to say the least. Some of the photos and things that we get don't work for the GroveZine since the pictures have to be reduced so much, but others tend to reduce well. Anyway, I have some interesting things to share with you...
This picture just blows me away - I have no way to explain it. Obviously there is a white form over my right shoulder. The picture was taken by one of our guests, Darla Shelton, on the Sunday 11/8 tour at 11:00 AM. I was just getting started, and here are a few interesting things about the photo: 1) it was an overcast day, as witnessed by the gray sky visible through the branches, and if you look at the full, large photo, the lack of any shadows at all on the ground; 2) the sun would be above us at that time, not at an angle in the eastern sky; 3) enlarging the photo shows quite a few branches running behind the bright object, so it is actually in front of the tree; 4) there were no birds, large insects, etc flying around, since something that big we would have noticed; 5) it was outside, so not a flash photo, and therefore there are no reflections. The question then becomes... what is the light object over my right shoulder?
And speaking of strange lights, Rhonda sent me this photo that her son, Bodie Mills, took outside the fence at Oakwood Cemetery, near the front gate. The main photo is what they took, but the inset is the interesting part enlarged. It looks like a tiny ball of light was zig-zagging around at a high rate of speed, and part of its movement was caught in the photo. There has long been a huge debate about orbs in the world of paranormal investigation, but photos like this that have a light trail are very interesting. I've seen dozens of photos where the camera strap, or even a hair from the photographer in front of the camera can be blamed, but I honestly can't explain this one. Rhonda and Bodie were kind enough to let me share it with you.
This month I was watching the NASCAR race at Talladega, AL. I was lying on the couch in the den watching the last 10 laps, and let me say firmly that there is no way that I was drifting off to sleep - it was a nail-biting, action-packed finish (until the wreck in the last 5 laps, but that's another story). Anyway, the commentators were talking about whether Jimmie Johnson was going to make his move for the lead, and who would help him move through the pack, and several other exciting points that were developing as the race came to a close. I was glued to the TV - no way was I dozing. As I was watching the television, something above it up in the corner of the room caught my eye. I looked up to the ceiling and saw a white cloud. It was maybe five feet across, and two or three feet high, but the most incredible thing about it was that there were all these lights in the cloud that were beautifully brilliant. As I looked at it, I was certain that I was seeing something divine, or angelic. It was BEAUTIFUL. Suddenly, it just kind of swooshed away. I was so convinced that I'd had a divine experience, that I literally thought that I was about to die. I thought, "Well, Tami's going to come home and find me lying here, dead." It was the only explanation that I could come up with. I stood up and started walking around, just to see if anything felt wrong with my body. It didn't, and I still seem to be alive today. There was something incredible about that experience, though!
And finally, one of my favorite stories... I love tales of music in The Grove! Tami was in one of the rooms adjacent to our bedroom - which used to be the children's bedroom of the house - and suddenly heard the tinkling of the chandelier's crystals. It was clearly coming from the bedroom, but when she looked inside, it wasn't moving at all, and the noise had stopped. She went back to her work, and once again heard the noise of the crystals tinkling... but looking back in, it still wasn't moving. The thing about this particular chandelier is that it came from another old home here in Jefferson, older that The Grove in fact, and it was reported to "make music" here with the tinkling of the hanging crystals. Apparently it hasn't lost that talent, and has brought it over to The Grove. That's fine, of course... we have room for everyone!

I know that everyone's time is about to get crazy with the holiday season upon us. Thanksgiving is just a few weeks away, and Christmas not long after that. We'll have Candlelight here in Jefferson between the two, which seems to make everything go by even faster. Before things get crazy, I do want to thank everyone for reading The GroveZine - you're definitely one of the things that I'm thankful for. The fun thing about writing this ezine is knowing that people like you are out there reading it, and that means a lot to me. Thanks again, and don't forget to send me those shadow people stories!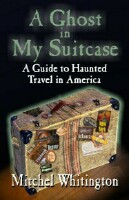 A favorite book that I've written is A Ghost in My Suitcase. I had a great time traveling around and writing about haunted places all across the nation, and we had a lot of strange things happen... there's even a chapter about The Grove. You can get more information about it at the book's website for all the info.
If you'd like to check any of my books, you can find them at Barnes & Noble, Borders, Amazon.com, or at The Grove's website if you'd like a signed copy of anything.
If you missed any issues of the GroveZine, you can find them at the GroveZine Archives.
---
To repeat our words from the beginning, this is a free subscription ezine for friends of The Grove - in other words, we NEVER arbitrarily add email addresses. We also NEVER sell or share email addresses with anyone else.
Feel free to pass the GroveZine on to your friends - all I ask is that if you forward it, please include the header, trailer and everything. Thanks!
To subscribe, just go to The Grove's Website and put your email in the blank at the left bottom of the page.
To unsubscribe, although we'd sincerely hate to lose you, simply follow the directions at the bottom of the this email.