www.thegrove-jefferson.com February 2010 - March 2010 ISSN 1558-3252
This is a tiny little free subscription ezine for friends of The Grove - it is by request only. In other words, we NEVER arbitrarily add email addresses. We also NEVER sell or share email addresses with anyone else, for any reason at any time. We hate SPAM as much as you do!
Wow - the longest delay between Grovezines in years! As I was thinking about the zine a few days ago, I wondered if it might not be easier to list the things that HAVEN'T happened in the last couple of months. We've had illness, a new book, an almost-finished new book that the final touches are being put on, a paranormal conference, a prom (which Tami is the main sponsor for, which means that I get drafted into service as well), a short vacation, a new baby in the family that happened courtesy of our niece (okay, okay, I guess that her husband did have a part in it), an IRS audit of a non-profit organization that I'm on the board of, and well, all that's just the tip of the iceberg. Things have been hopping around here.
The illness came in the form of bronchitis. Tami had a severe bout with it that took three trips to the doctor to overcome. Of course, thirty-one years ago when we married she promised to share everything in her life with me, and so in the middle of her illness, she shared her bronchitis. It was pitiful - we both had our bottles of medicine out on the kitchen counter, and were reminding each other when it was time for another dose, all the while hacking and coughing our lungs out. The doctor said that we'd eventually recover, though, and sure enough, we did.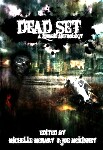 So what's the new book? Not one that I wrote, but one that the publishing house that I work with released. It's an anthology of zombie fiction named "Dead Set: A Zombie Anthology" and I'm fortunate enough to have a short story in it. Between the writing, and the publishing work, and now the promotion, it's taken a lot of time, but has also been fun. While most everything that I write is non-fiction, I do enjoy flexing my fiction muscles occasionally just for a little fun... this time about ZOMBIES! If you want to see more about it just click on the book cover.
Jefferson has been really busy to start out the year. We had the annual Irish Stew cook-off several weeks ago, and the Sandtown Stew Team - the team that I'm a part of - participated... and once again lost. If you've stayed at Falling Leaves B&B, you may recognize our teammates as Mike and Lisa Barry. We keep trying, but always come up a little short. This year, we tasted every stew in the competition, and have a plan for St. Patrick's Day 2011 that I think is VERY promising... but that's all I can say about our new plan. It's double-top-secret, and we expect a win next year. Then again, didn't I say something like that last year?
Jodi (of Jefferson Ghost Walk fame) also had her Spring paranormal conference a week or so ago, and it was a blast. She always has a great lineup of speakers with a variety of topics, and this was no exception. The wine and cheese reception was at the Pride House this time, followed by hands-on investigations of a couple of hot-spots here in Jefferson. Whenever you see one of Jodi's paranormal conferences coming up, make sure to put it on your calendar. They're much more than your standard sit-and-listen get-together!
There has also been a lot of hammering and sanding going on over on Polk Street in the old Licea's restaurant building, and I finally found out what is happening there. A couple purchased it, and are putting in a museum of surveying and measurements. My first response was, "What?!?" But then the more I found out about it, the more interesting it sounded. Now I can hardly wait for it to open to go check it out. I think that it's going to be something that's infinitely interesting for our visitors to town to explore. Several storefronts on Polk Street have undergone a face-lift, and the historic downtown district looks great - including some new stores to browse!
By now, you should know that Jefferson is a city with something for everyone... there's ALWAYS something interesting going on there. Our friend and neighbor, Bobbie Hardy, has Scarlett O'Hardy's B&B and Gone With the Wind museum just half a block away from The Grove. She's put on a lavish Gone With the Wind convention here in Jefferson twice now, and this last one culminated with a musical gala centered around the book/movie. We got tickets for that event, and since everyone was dressing in costume, we did as well. I went as the Yankee deserter that came into Tara - the one that Scarlett shot in the face. My wife Tami came as Scarlett who shot the Yankee deserter. Here we are at the gala, and between us is Cammie King, the actress who played Bonnie Blue Butler in the movie. Just think, some poor folks had to sit at the table next to me for dinner, as I sported my blood-dripping, powder-burned face!
Time for a few ghost stories! So what has been going on at The Grove? Well, just your standard, routine hauntings! Okay, maybe a few that are more exciting than that. Still, I think that some people who visit our house for the tour expect to see a scene out of the movie "Amityville Horror," but thankfully, that's not the case. The walls don't bleed, there is nothing evil here, and as I've said before, what I believe is happening is that former owners are simply coming back to visit because they love the place so much. Experiencing them is kind of like a peek into the other side, lifting the veil between life and death, and that greatly intrigues me.
Mentioning horror movies, though, I have to comment on "Paranormal Activity." We finally rented it, and at first I was a little disappointed. I had thought that it was going to be the ghost version of "Blair Witch Project," but as I quickly found out (and this isn't a spoiler - it is talked about right away) the culprit behind the activity is a demon, not a spirit. Bummed me out when I heard that. On the other hand, once I got past that one thing, it turned out to be a very entertaining show. Check it out - it's a lot of fun. I just wish that someone would make the ghost version of it!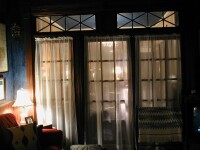 But, as to things at The Grove, we had something new happen that made me think, "Shades of the Myrtles Plantation!" If you've ever taken the Myrtles tour, there is reportedly a spirit of a servant name Chloe who had her ear cut off because of persistent eavesdropping. Female visitors there have reportedly had an earring stolen as they walk through the doorway to the Gentlemen's Parlor where Chloe was caught listening in on conversations. That thankfully doesn't happen at The Grove, but on a recent tour when we were in the den a woman told everyone that she'd just had her earring pulled. Not touched, tapped, but actually pulled down - she felt the strong yank on her earlobe. Now, we don't have a spirit with an earring fascination, but the den is probably the most mischievous place in the house. We've had people get tapped on the shoulder, poked in the side, and unfortunately, patted on the behind. Things almost always happen to ladies, though, which makes us wonder if the spirit behind all the mischief might be a guy. Whoever it is, that ghostly person seems to be having a good time with our guests... and on that tour, an earring happened to catch his fancy!
One thing that happened just as I was wrapping up the GroveZine involved the basset hounds. They'd been playing in the den, and in the hallway, but were finally winding down. As they were walking down the hall, the stationary French door rattled as if someone had hit it. I wasn't watching them at the moment, so I thought that they'd started romping again and simply run into the door. Tami said not only had they not been doing that, but when the door banged in its tracks, they both ran out of the hall like they'd been shot out of a cannon. Things got much more weird from there. Delaney, the youngest basset, ran outside and wouldn't come back in. I had to go out and convince her to re-join the family. Once she came back into the den, she spent the next hour sniffing up in the air all around the room - her nose was going like we'd never seen before. Oddly enough, we never saw or felt anything strange - this was an encounter apparently reserved for the bassets.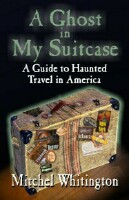 And speaking of our girls, I had someone on the tour ask about our basset hounds, and whether they picked up on the supernatural things. They do, and I told her several stories, but I ended with the ultimate supernatural story about one of our dogs. I realized that I told it several years ago in the GroveZine, but there have been a number of people who've signed on since then, so I thought that I'd relate the tale once again - it's one of my favorite stories. You see, I tell people that my life will be measured in basset hounds. When we first married we got Fred, who lived with us for about fourteen years before his death. Murphy came to us after that, and then Samantha. We had the two of them for thirteen years. Toward the end of that time, I'd signed a contract for a book named "A Ghost In My Suitcase: A Guide To Haunted Travel In America." The idea was for me to visit and write about a haunted place in every state of the USA, which made for some great adventures. Tami and I traveled from the Winchester House in California on the west coast, to Gadsby's Tavern in Virginia in the east, to the Irma Hotel in Wyoming up north, and all the way down to New Orleans. As the deadline approached, I saw that there were some places that I simply wasn't going to make a personal visit to. Those that were left I contacted by email and phone, and set up interviews. One of those was Thayer's Bed and Breakfast in Annandale, Minnesota. Sharon Gammell is the owner and innkeeper, and she was a genuine pleasure. I enjoyed working with Sharon on the project, and in one of my interviews, she told me that there's one room where a spirit leave pennies for the guest. I found that interesting, because both my wife and I have found pennies for years, in really weird places, especially at times when we were looking for direction in our lives. I told her that, and she paused a moment, then said, "You do know that it's your grandfather leaving them for you, don't you?"
Well, we talked further, and I ended up writing a fun chapter about Thayer's B&B and Sharon. The book came out, did pretty well, and I thought that was the end of it. Fast forward some time, and on 1/7/2005, our precious basset Murphy died. It was one of the hardest days of my life, but thankfully Samantha was there to help us through it. In fact, for the next few months as I was writing the book "Ghosts of East Texas and the Pineywoods" she was going with me to do visits, interviews, and investigations. I'll never forget those trips, and every time that I sign one of the East Texas books, I think of Samantha. Anyway, a few months later we got the opportunity to rescue a little girl basset that was in need of a home. Her name was Lilly, and she fit right in at The Grove. Samantha was teaching her the ropes, and life seemed to level out for a while... until Labor Day of that year, when Samantha had a stroke and died suddenly. I think that it hit us both very hard because Murphy had passed just a few months before. Anyway, we were devastated, and we canceled tours and just fell into a funk for the next couple of days. And then an email came in.
It was Sharon from Thayer's B&B, who I hadn't spoken to in over a year, and she wrote something like, "I'm sorry to bother you, but for some reason I'm feeling that something is terribly wrong - something bad has happened to you." I was so intrigued by her email that I called her and related the story about Sam, and she said, "Well, that explains it - I was feeling that you are in a lot of grief, but I see three basset hounds sitting together." Of course, I immediately thought of our three dogs that we'd had in our marriage, Fred, Murphy, and Sam, which she would have no knowledge of. Sharon went on to say, "They're looking for a basset that contains parts of all of them. It won't come through a pet store or breeder, but instead through an individual." A short time after that, our vet told us that he'd gotten a call from a lady with a 1 yr old basset hound who didn't want her anymore, and asked if we'd be interested. Of course, the dog would have to get along with Lilly, so we went to see how the two got along. When they saw each other across the yard, Lilly pulled herself out of her harness trying to get to the other dog, and that dog pulled away from its owner trying to get to Lilly. It was almost as if they knew that they were going to be sisters, and part of our family together. We named the new addition "Delaney," and she and Lilly got along like they'd always meant to be siblings. Delaney is on the dog with the rightmost nose in the photo. Anyway, I never called Sharon back, but I always felt like I should have. After all, she picked up on our grief, even though we'd never met in person, and told me exactly what was going to happen... and it did. In my mind, she's clearly the real thing. But most importantly, we got Delaney, presumably with the help of the previous Whitington bassets.

As I always say - and I sincerely mean it - thanks for reading the GroveZine, and I'll talk to you next month!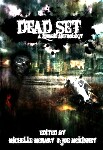 You know that I usually write non-fiction about history and the supernatural, but on a few rare occasions I like to dabble in fiction. I recently contributed to a new anthology of zombie fiction, which I've enjoyed being a part of. The book has some outstanding stories in it. If you want to get really creeped out by some outstanding horror-fiction, just Click this Link.
If you'd like to check any of my books, you can find them at Barnes & Noble, Borders, Amazon.com, or at The Grove's website if you'd like a signed copy of anything.
If you missed any issues of the GroveZine, you can find them at the GroveZine Archives.
---
To repeat our words from the beginning, this is a free subscription ezine for friends of The Grove - in other words, we NEVER arbitrarily add email addresses. We also NEVER sell or share email addresses with anyone else.
Feel free to pass the GroveZine on to your friends - all I ask is that if you forward it, please include the header, trailer and everything. Thanks!
To subscribe, just go to The Grove's Website and put your email in the blank at the left bottom of the page.
To unsubscribe, although we'd sincerely hate to lose you, simply follow the directions at the bottom of the this email.