www.thegrove-jefferson.com May 2010 ISSN 1558-3252
This is a tiny little free subscription ezine for friends of The Grove - it is by request only. In other words, we NEVER arbitrarily add email addresses. We also NEVER sell or share email addresses with anyone else, for any reason at any time. We hate SPAM as much as you do!
Hi everyone! Well, we made it through May, and are cruising into June. Summertime has arrived and the afternoons are getting warmer and warmer, but the front porch of The Grove is still a perfect placed to enjoy in the early morning cool, or after the sun goes down. As the temperature climbs, that means we're getting closer to the annual Fourth of July celebration here in town - something that we call "Jefferson Salutes America!" There will be festivities in the park all afternoon, including patriotic music in the gazebo and (my favorite) a homemade ice cream judging contest. Of course, there's also the cake auction to benefit the children's program of the Jefferson Carnegie Library; I'm not sure what Tami is making this year, but I'll let you know next GroveZine. Anyway, all those things means that we're gearing up to another wonderful story here in Jefferson - come see us!
I've only made a movie recommendation a handful of times in the GroveZine, but I have another one to run by you. It's called The Men Who Stare At Goats, and it's about the top secret parapsychology experiments that the military has been involved in. Don't get me wrong - it's a little strange - but the cast is like an acting "who's who." The thing that intrigued me was that after the movie I went online and did some research on the military and parapsychology, and although it's not something that they talk about, it's historically been a part of their regime. As someone with an interest in the paranormal, I was especially intrigued by the start of the movie, which said, "More of this is true than you would believe..." It's a little odd, but a movie that we really enjoyed. Check it out next time you're at the video rental store!
How long has it been since we've had a good Chupacabra story? Well, that's TOO long! As it turns out, after the sightings of the mythical little beastie back about a year ago, there hasn't been much of a fuss about them in Jefferson. All that changed a few nights ago. I was visiting with one of my most trusted, honest friends, and in the course of our conversation they said, "You know, I saw the strangest thing in my yard last night..." As we talked, my friend described walking out of the house, and over in the corner of the yard seeing an animal standing up on its back legs. It was dark-colored, and had a snoot-face. It was watching my friend, and my friend was watching it. After getting a little creeped out, my friend went back in the house and had someone else come out to look at the thing. The general consensus was that none of them had ever seen such an animal. As it turned to run away, it dropped onto its front feet, but had a large humped back, not the straight back of a dog, coyote, or other well-known beast. I don't know if it was a chupacabra or not, but the description of my friend matches the one that I received several months ago: "I've never seen an animal like that..."
After over a year in the works, the moment for the big announcement has almost arrived... Jefferson: The History and Mystery of the City on the Bayou is just about here! I'll be honest, this has been the toughest book that I've ever written. You see, when researching this wonderful old riverport, I found conflicting dates and facts, so it has been a nightmare digging deeper and deeper to get to the real stories. Of course, I have many friends and acquaintances here in Jefferson that all hold one particular version or another dear... which means that I'm sure to catch some flack over the book from multiple directions here in town! I'm ready, though - this could be the most thoroughly researched book that I've ever done, so I'm prepared for the locals to start taking me to task over it. On the other hand, I've discovered some great stories about Jefferson: The Monster of Round Pond, The Eyes of Jefferson, The Hatchet Lady Comes to Town, and much, much more. Stay tuned for the release date - hopefully it won't be long!
Oh, I do have a favor to ask. If you've taken The Grove tour, and you have a few spare moments, we'd really appreciate you visiting TripAdvisor.com's site for The Grove, and leaving a review of your experience. You can go to TripAdvisor.com and search for "The Grove Jefferson TX," or go to The Grove's website www.thegrove-jefferson.com and scroll down to find the Trip Advisor logo-link, or simply click on the TripAdvisor logo right over there in the GroveZine to take you to the page. I know that it takes a couple of minutes, but we'd sincerely appreciate it.
All right, now it's time for a few ghost stories from The Grove. I mentioned in the last GroveZine that the den has become a very active place on the tours, with most of the attention focusing on the ladies. As it turns out, though, that isn't an exclusive situation. One of our male visitors named Larry had an encounter there that he emailed to me, and was kind enough to allow me to share with you. Here's his story: We visited The Grove and wanted to let you know we really enjoyed the tour and all that Jefferson had to offer! Upon our return home I signed up for the newsletter and looked forward to the reports on Jefferson and The Grove every month. Although nothing out of the ordinary happened on the tour - I thought - we really enjoyed it and you were a very entertaining host. But while reading one of the the newsletters there was a report of someone being touched in the Den. It made me think of something that happened to me while I was in that same room. I looked back through the archives and searched for other reports on activity in the Den, and I certainly found some! My story is that I was standing by the window next to my Wife with my arms crossed. As you were telling a story, I felt a tug on my shirt tail. I looked to my left where my wife was standing to see what was so important. She was standing there with her arms crossed as well, and she was no where in the vicinity of my shirt tail. I dismissed it, and didn't even remember it had even happened until I read about others who have had experiences in there! I thought I would share my little story with you.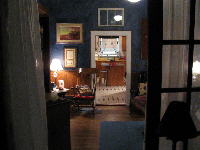 It's weird - the parlor used to be the most active place in the house, but I seriously think that the den is taking over that title. On Mother's Day we had just come in from spending time with our parents, and Tami had laid down for a nap on the couch in the den while I'd retreated to the office to get caught up on some work. She couldn't sleep, so was just lying there watching television, when she saw a man walk across one side of the den to the other, heading toward the kitchen. She assumed that it was me, and since I didn't return back, figured that I was fixing a snack or something. Tami got up and walked into the game room, and then into the kitchen, following the path of the man, but both rooms were empty. She finally showed up in my office and said, "Were you just up walking around?" Of course, I hadn't been, I'd been sitting there working since she she had first laid down. Who was the man who walked through the den? We have no idea, but it's one of the few times that a full-body spirit has been seen in that particular room.
But there was another encounter during a tour, this time with a young man. We had a group on a Sunday morning, and everyone seemed to be having a good time as we went through the house. When we got to the den, a young man sat down on the floor, and was listening intently to the stories that I was telling. Suddenly he jumped - someone had poked him in the back! He was about a foot away from the wall in the northeast corner with no one in reaching distance to him, which amazed him out even more... but only for a moment. When he realized that it was an unseen hand that had been responsible, he was excited - he couldn't stop talking about it. Some people react that way, while others are totally freaked out that they've actually had a supernatural experience. It's amazing to watch people come to the realization that the supernatural does exist, and it is as real as the world that we consider to be "normal."
Okay, one final story, and this one I don't know how to explain. It all started when we bought The Grove back in 2002. Although we're both East Texas kids, we spent twenty years of our life living in Garland, Texas. We built a home in the northern part of town that was undeveloped at that time - it was mostly farming fields. When we finally bought The Grove, we spent a full year split-living. We'd come to Jefferson on the weekends and work on the house, and then return to Garland for the weekdays. After that first year, we sold our Garland house, and moved to Jefferson full time... which is when things got a little strange. We heard from the folks who bought our Garland home several times, and they always said the same thing: after going to bed, they'd hear old fashioned music coming from the living room, as if an old radio from decades ago was picking up a station from that time period. They kept asking if any of the ghosts from The Grove had followed us to Garland that first year. There were times when we lived there that year when I'd hear what sounded like a conversation going on in the living room, but I always wrote it off to our basset hounds snoring or something like that.
The strange thing was that we built that house - I literally have a photograph of me standing on the dirt field where the house would be. So how could the new owners be hearing old radio music in the living room? I certainly don't know.
Back in September of 2009, our friend Renee had come to visit for the weekend and was sleeping on the couch in the den. She woke up and heard what she described as "old fashioned music" playing somewhere in the house, but she couldn't tell where it was coming from. She thought that one of us just wasn't able to sleep, and was listening to an CD somewhere. Of course, we were both fast asleep at the time.
All that said, a few nights ago Tami woke up in the night to hear something strange - the sound of old fashioned tunes playing in the den of The Grove. She sat up in bed, listened for a moment, and then went back to sleep. After all, that wasn't the strangest thing that we've experienced here. We tend to observe the supernatural things that happen, and then just go back to our regular life. Still, when she told me the next morning, we both wondered whether there was a relationship between the music that she heard, what our friend had heard, and what the folks at our old house reported there. Did the spirits follow us to Garland, and then come back to The Grove? To be honest, I'm hesitant to ever try to explain the supernatural experiences in our lives. It's all just part of the magic that we all encounter.

You know that I always say this - but I sincerely mean it - thanks for taking the time to read the GroveZine, and I love to hear your comments. I'll talk to you next month, with a photo or two from July Fourth, and maybe a story from the festivities.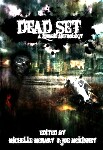 You know that I usually write non-fiction about history and the supernatural, but on a few rare occasions I like to dabble in fiction. I recently contributed to a new anthology of zombie fiction called Dead Set: A Zombie Anthology, which I've enjoyed being a part of. The book has some outstanding stories in it. If you want to get really creeped out by some spine-tingling horror-fiction, just Click this Link.
If you'd like to check any of my books, you can find them at Barnes & Noble, Borders, Amazon.com, or at The Grove's website if you'd like to order a signed copy of anything.
If you missed any issues of the GroveZine, you can find them at the GroveZine Archives.
---
To repeat our words from the beginning, this is a free subscription ezine for friends of The Grove - in other words, we NEVER arbitrarily add email addresses. We also NEVER sell or share email addresses with anyone else.
Feel free to pass the GroveZine on to your friends - all I ask is that if you forward it, please include the header, trailer and everything. Thanks!
To subscribe, just go to The Grove's Website and put your email in the blank at the left bottom of the page.
To unsubscribe, although we'd sincerely hate to lose you, simply follow the directions at the bottom of the this email.