www.thegrove-jefferson.com June 2010 ISSN 1558-3252
This is a tiny little free subscription ezine for friends of The Grove - it is by request only. In other words, we NEVER arbitrarily add email addresses. We also NEVER sell or share email addresses with anyone else, for any reason at any time. We hate SPAM as much as you do!
Ah, with the passing of June, we're into the full heat of summer here in Jefferson. Tami and I have been walking a mile-and-a-half every day, and we're having to get up earlier to do that while there's still a hint of morning cool in the air. We had a wonderful Fourth of July here in town, and it rained just enough - a few sprinkles really - to drop the temperature and bring in a breeze. After attending a wonderful party thrown by our friends from Delta Street Inn (thanks, Bob & Pam), we moved over to Otstott Park downtown where there was a genuine, small-town America celebration. If you want to see photos of the Fourth in Jefferson, just click over to our July 4th website.
The Of course, the big cake auction to benefit the Children's Reading Program at the Carnegie Library was one of the highlights of the day. The bidding was fierce! Tami baked a cake again this year to benefit the kids' program, this time a Paula Deen Carrot Cake, and it actually brought $100 at auction. 100% of that money goes directly to the Jefferson Carnegie Library children's reading program, so it was a terrific day. The bidding started out at a lower price, and some friends of ours were even planning on grabbing the cake once the bidding started, but David Sinclair, the president of the museum board, shut any further bidding down by throwing down the gauntlet with a $100 bid. The cake auction is always a fun part of the celebration of the Fourth, and since it's all for the library, the bidding can go crazy!
Getting to Jefferson itself, I am very happy to announce that the City of Jefferson received a grant that has allowed us to do some work on Lions Park, the large park with the gazebo, playground, and arbor in the middle of town. The sidewalks and retaining walls have been re-done, and although it wasn't bad before, it's now a super place to spend some time. A friend told me that it is a quarter mile if you walk around the park, and many Jeffersonians do use the sidewalk there for their exercise. We're so proud of the way that it looks now!
And speaking of new businesses in Jefferson, the old stone Texaco gas station has now become "Route 49 Motor Clothes." My mother went to school at East Texas Baptist University - because my grandfather was a Baptist minister she got a break on the tuition. She was explaining to me some time ago that Hwy 59 used to come through the center of Jefferson, and went right past that stone gas station and continued down Polk Street. In fact, when she took the bus to ETBU in Marshall, that station was the bus stop in Jefferson, and the last stop before her destination. It seems like such a tiny place, but apparently a major business in town at the time. The owner, Jimmy Moore, has lovingly restored it over the last few years, and I'm now glad to see a business move into it. I hate to use an old cliche, but "if only those walls could talk..."
Well, the release date is getting closer and closer... Jefferson: The History and Mystery of the City on the Bayou is just about here! While the writing process has been long finished, the book has been in the purview of the editors and I've been either changing or defending the things that are coming back to me. You know, I'm really looking forward to the release of this book, because it's been incredibly fun to research and write. Since I live in Jefferson, though, one of the biggest mysteries is who the book will be dedicated to, and at this moment only two people - besides myself - know the answer to that question. All that I can say is that the dedication is well-deserved, and I hope that the "dedicatee" is okay with it. Watch the GroveZine for an announcement for when the book is finally available. Will I get run out of town for writing it? Will my friends rise up because of the stories in the book? To be honest, I hope that the release date is soon... I'm ready for all the suspense to be over!
Last GroveZine I recommended a movie, and while I normally don't do things like that, I got a lot of good feedback. With that in mind I have one more to recommend, and then I'll lay off being a film critic for a while. A couple of weeks ago we rented a movie that actually disturbed me. It was about alien abduction, and let me be the first to say that as far as I know, I've never been abducted. I have, however, had friends that I trust and respect that have had encounters with such things, and not only do I respect what they say, but I believe them. It would be hypocritical of me to tell true ghost stories every month, but then pronounce that any other paranormal activity is false. Anyway, Tami and I rented the movie "The Fourth Kind," and it really, truly creeped me out. The reason is because of the way that it was filmed - the story is reportedly based on actual occurrences in Nome, Alaska, with a series of case studies recorded by a psychologist. The actual filmed events are often put in split-screen mode with the actors, shown the "real" version of what is being portrayed in the movie. All that I can say is that if the real films are genuine, then this is one disturbing film. If you do a web search for the movie, you'll find that it quickly falls into a viper's nest of affirmations and denials, proofs and disproofs, fact and fiction, etc. I won't attempt to rule on the validity of the movie here, but I will say that it's one heck of an entertaining movie. Take it for a ride!
Now for my favorite part of the GroveZine... the ghost stories! I've never actually experienced this first one, but I've heard it told time and time again. One of our Grove Tour guests had taken Jodi's ghost walk the night before, and it was a hot, balmy June evening. She said that they'd been walking all over town, but when the group came to The Grove - the last stop for the evening - the air in front of the house felt suddenly cooler, as if they'd stepped into a cold spot. She didn't say anything about it, but her grandson who'd been a ways away snapping photos came over and mentioned the fact that it felt colder there, before she could say anything about it. Like I said, we've heard this a lot over the years, and if I could only find a way to harness this cool air we might be able to do away with the air conditioning bill! Of course I'm just kidding, but we have had this phenomenon reported as long as we've been in the house.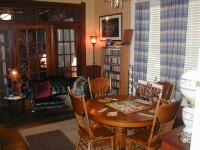 I love it when we hear from folks that have been on the tour. Donna, a GroveZine reader, wrote and said: "I just wanted to let you know that I really enjoy your newsletters and always find myself looking forward to when they pop in my inbox! I wanted to share with you that I have been on your tour 2 times, the last time being this past February. On that tour, I was with my mom and she and I both heard the music you wrote about in this newsletter right in the middle of the tour! I'm not sure which room you refer to as the den, but we were in the room that you take the tour immediately after the dining room (I think you said it's the gameroom). My mom and I were standing to the left side of the room, practically in the doorway right next to the staircase. As you were talking, I heard this same faint old-time music (faint, but so clear!). I looked at my mom and instantly knew she heard it too! We looked at each other wondering if each was hearing the same thing and puzzled as to what it was. As soon as you said to move to the next room, the music stopped. My mom and I looked for where it would be coming from but we never heard it again. We asked the rest of our group (there were 6 of us total) and nobody heard what she and I heard but they were on the other side of the room at the time. When I read this newsletter, I called her immediately and she was reading it at the same time. We were so excited reading it knowing that we heard the music you're talking about! Just for the record, it was NOT the music box that you play at the beginning of the tour! LOL! Thanks again for sharing your home and stories with us!"
Another GroveZine reader, Beth, wrote and told her story: "I would first like to start off by saying that I really enjoy reading your newsletters. I have visited Jefferson many times and I always find something new and interesting every time I go. My daughter sent you an e-mail letting you know about an experience that we had on one of your tours. We both heard music coming from a different room than the one that we were in. It was not your music box but sounded more like a waltz. This trip was in February. What she forgot to mention was that on this particular trip we had invited some of our friends to join us. Everyone was so excited about your tour that we decided to leave a little early and just take pictures of the house and the surrounding area. Since we were the first ones there (about 40 minutes early) we decided to explore the woods across from your house. Jody had told us that there had once been a house on that property but that it had burned down. While we were walking around the old foundation we had our tape recorder on just in case. As we were leaving one of our friends asked "Is anyone here?' We didn't get a response so we decided to walk back to your house and wait for the tour. While listening to the tape that we had made while at the old place we were very surprised and excited by what we heard. When our friend had asked if anyone was there a very clear male voice answered "I'm here every night." We revisited Jefferson about a month ago. We played the tape for Jody and for the people on her tour. We still have the recording and every time I listen to it I get goose bumps. We hope to be back in Jefferson in the next month or two. We will definitely be taking your tour again."
One thing that has been incredibly interesting to me this month is the number of phone calls that I've received from people who live in places that have, well, ghosts. If you've take our tour, you know that I tell our guests that the spirits have become second-nature to us, and don't bother us in the least. For someone who's just starting to experience the supernatural, though, it is quite a different matter. For that reason, I've received a few urgent phone calls from different people over the last month or so who are experiencing supernatural activity, and don't know how to deal with it. My favorite quote from them is, "This is really happening!" I just say, "Yes, I believe you." People don't expect the supernatural to come interfere with their normal lives, and that tends to freak them out a little - and I think that they're surprised by that. When visiting The Grove, I think that many people are expecting to encounter the Adams Family, not an ordinary couple that just happen to have the supernatural as part of their lives. To be honest, though, I think that it's a genuine blessing, because it has truly changed the way that I think about life, death, and what lies beyond. It's not frightening - in some ways, it's very comforting. Until some mischievous spirit takes something that I need, hides it, and then finally leaves it in an obvious place. At that point, it's downright annoying!

I'll wrap things up here in the warm, Jefferson summer. We've had enough sporadic rain to keep the lawns green and the weather a bit cooler, though. I'll have some more ghost stories for you next month, so stay tuned. Thanks once again for taking the time to read the GroveZine, I really do appreciate it, and I love to hear your comments. I'll talk to you next month as we slide into August and the summer is winding down... can you believe that the year is passing this fast? Thanks, and talk to you next month!
By the way, The Grove is listed on Tripadvisor.com. If you've taken The Grove tour, and you have a few spare moments, we'd really, really (did I say really?) appreciate you visiting TripAdvisor.com's site for The Grove, and leaving a review of your experience. You can go to TripAdvisor.com and search for "The Grove Jefferson TX," or go to The Grove's website www.thegrove-jefferson.com and scroll down to find the Trip Advisor logo-link, or simply click on the TripAdvisor logo right here in the GroveZine to take you to the page. I know that it takes a couple of minutes, but we'd sincerely appreciate it.
If you'd like to check any of my books, you can find them at Barnes & Noble, Borders, Amazon.com, or at The Grove's website if you'd like to order a signed copy of anything.
If you missed any issues of the GroveZine, you can find them at the GroveZine Archives.
---
To repeat our words from the beginning, this is a free subscription ezine for friends of The Grove - in other words, we NEVER arbitrarily add email addresses. We also NEVER sell or share email addresses with anyone else.
Feel free to pass the GroveZine on to your friends - all I ask is that if you forward it, please include the header, trailer and everything. Thanks!
To subscribe, just go to The Grove's Website and put your email in the blank at the left bottom of the page.
To unsubscribe, although we'd sincerely hate to lose you, simply follow the directions at the bottom of the this email.