www.thegrove-jefferson.com September 2010 ISSN 1558-3252
This is a tiny little free subscription ezine for friends of The Grove - it is by request only. In other words, we NEVER arbitrarily add email addresses. We also NEVER sell or share email addresses with anyone else, for any reason at any time. We hate SPAM as much as you do!
Well hello, and welcome to the post-BooRun ezine. We just finished with the Boo Run - or Boo Benefit - here in Jefferson this weekend, and a good time was had by all. Charles "Boo" Chaler, who was severely burned in an industrial accident 12 years ago this past May, and for whom the event is named, is one of the true heroes in our world today. The first "Boo Rally" or "Boo Run" was held by fellow motorcycle enthusiasts while he was still undergoing life-saving treatment. His friends and fellow riders held the event to raise money for his medical bills... but as soon as he was back on his feet, Boo took over the event with a goal of raising money for other burn victims. His vision has grown exponentially, and proceeds from the event are disbursed to several burn centers. With every biker registration and every tee-shirt sold, more money is raised for those affected by such a tragedy. But with such a noble cause at the foundation, Boo Weekend in Jefferson is just flat-out fun... even if you don't own a motorcycle. Tami and I enjoy walking downtown and looking at all of the bikes there - and there are thousands. Austin Street, Lafayette Street, and even Walnut Street are blocked off to allow parking for the motorcycles. We had a great time this weekend, and more than one of my meals came from the carney-food trailers parked in the vendor area. I won't be able to get another foot-long corney-dog until Mardi Gras! We were sitting out on the front porch of the Black Swan restaurant on Sunday afternoon, though, and just watching the town slow down. The vendors were packing up and leaving, only a few motorcycles were riding the streets, and Jefferson was returning to the quite, little town that I know and love. Don't get me wrong - I greatly enjoy the Boo Benefit for burn survivors; but after a full weekend of non-stop motorcycles, it's nice when things quieten back down.
I know that I shouldn't talk about this, that I should instead just keep it quiet, but it's been so amusing - and embarrassing - to me that I just can't resist sharing. Over the years that we've been doing the tour, we've had a problem that pops up occasionally. You see, we usually ask people to put on surgical booties before the tour; obviously we don't wear them in the house every day, but we sometimes have large groups that take the exact same path over and over again on the old, hardwood floors of The Grove. The booties help to protect them. The problem is that we wash the booties after every wearing, and they're washed with delicates. On more than a few occasions, something extra has snuck its way into the bootie basket. I'll be handing them out before the tour, and someone will hold up a pair of underwear and ask, "Do I have to put these on as well?" Of course, I'm embarrassed to no end at that point, and just try to recover and keep talking. Recently, though, my wife purchased a package of ladies' undies that had all sorts of nice pastel colors: yellow, pink, green, and of course, blue. The same blue that is the color of the tour booties. Because of that fact, we've had two tours so far this month where the new underwear has shown up in the basket-o-booties. I'm horrified when it happens, but I don't feel completely responsible... after all, look at the two photos in the picture, and tell me which one is a booty and which one is underwear - it's impossible to decide at a glance, and so I never know what's going to show up in the basket of booties on the front porch before a tour. When it happens I'll just shake my head, blush, and then keep going...
Coming up in just a few weeks is The History Haunts & Legends paranormal conference here in Jefferson on Saturday, November 6, 2010. Not only is there a slate of great speakers, but there is always a supernatural investigation scheduled for conference attendees that evening. You can get all the information at the official website: www.jeffersonghostwalk.com. Jodi Breckenridge, the conference organizer, has asked me to speak again this year. In the past I've done some topics that I've enjoyed, such as "Shadow People," or "Ghosts and the Bible," but this year I'm doing a talk that I'm really looking forward to: "Untold Tales of Jefferson's Ghosts!" That's right, I'm going to be pulling back the curtain and telling you spirited stories of Jefferson that you've never heard before. There are stories in Jefferson that people don't want to talk about, and places that folks don't admit are haunted, and while I will respect their privacy as to names and exact places, you're going to hear some fascinating tales. I also have some of the latest happenings in known haunted locations, so this is going to be a fun session. I'll look forward to seeing you on the 6th!
It seems like it's way too early to be talking about it, but the Christmas Candlelight Tour of Homes® here in Jefferson will be here before we know it - after all, December is only about six weeks away (which reminds me... I need to get started on my Christmas shopping!). Anyway, we're honored that The Grove will be on Candlelight this year for only the second time in its history. We're planning lavish decorations with an old-tyme Christmas feeling, so I invite you to come tour The Grove on the Candlelight Tour of Homes®. One more thing, though - if you're in the area, or plan on being in town for one of the weekends, and you'd like to be a tour guide and help tell the stories of The Grove, we'd love to have you - just drop us an email for more information. To find our more info about Candlelight itself, just visit the website for the Historic Jefferson Foundation: www.HistoricJeffersonFoundation.com.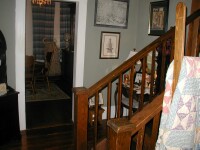 We love hearing from our guests on the tour who have stories about the house. On one tour this week, a gentleman paused in the stairwell as we were walking back up front, and then kept walking into the parlor. He was trying to see if there were any odd feelings to the room, but I guess sensing none, he moved on. We were talking before he left, and he told me that he been at The Grove when the house was a restaurant back in the 1990s. While he dined there, the staff told stories about a creepy feeling in the stairwell, and all the activity that they felt when they walked through that room. His story reminded me of life when we first bought The Grove eight years ago. Of all the places in the house, Tami always felt intimidated by walking through the stairwell. Sometimes it was more pronounced than others, but she'd describe it being as though a creepy man was walking uncomfortably close behind here there. This went on for some time, although I never felt it myself. One day we were visiting with a lady who used to be a waitress at The Grove when it was a restaurant, and she was telling us some of her own experiences there. At one point she said, "Tami, there's one spirit that you're going to encounter, but Mitchel, you'll never have the experiences. All the waitresses felt this dirty old man following them through the stairwell, but the waiters never did!" Whoever he is, the old fellow doesn't come around much anymore. I was in another part of the house one night, and heard Tami yell, "LEAVE ME ALONE, AND GET OUT OF HERE!!!" I ran up to see what was happening, and she told me that she'd encountered the creepy guy in the stairwell again. She paused for a moment, then added, "You know, I think that he may be gone!" At this point, the relationship between the creepy guy and Tami is well-defined. He shows up, she yells at him to leave, and he goes away for a while. I've never encountered him, and I guess that I never will, but I'm very happy that they've worked out their problems.
In a related story, a week or so ago I met a lady at one of our downtown shops who used to be a waitress at the old "Galley Restaurant" (some of you may remember it from about ten years ago - it was a great place). As we talked, she learned that my wife and I owned The Grove, and she said that one of here friends who worked at the Galley as well quit the job to take a waitress position over at The Grove. Although this lady had heard the ghost stories, she didn't believe in that "nonsense," and took the job anyway. After only a few days, she resigned her position at The Grove because of all the things that were happening to her, and it was easier to quit than to face the fact that the supernatural occurrences could be real. I can't help but wonder if she ran across the creepy guy in the stairwell...
And speaking of the stairwell, or more specifically, the stairs, something very odd happened this month. Tami was talking to a friend on her cell phone, and so she'd walked up to the front parlor. As it turns out, the best reception is in the front part of the house. She sat down in one of the parlor chairs, and as she chatted away, she happened to look up at the mirror that reflects the stairs, and she saw a fog slowly rolling down the staircase. Now, this doesn't happen at The Grove every day - in fact, it was the first time that she'd seen it, and I never have. As she talked to her friend it continued slowly down the stairs, and she felt so freaked out by it that she stood up and walked outside. She explained what was happening to her friend, who probably thought that she was crazy, but she stayed out on the front porch for a good ten minutes. When she came back and everything was clear, and there was no trace of anything on the stairs, fog or otherwise. I asked her why she didn't use the cell phone camera to snap a photo, and she said, "Something about it was just freaking me out." The truly odd thing about it is that the stairs aren't that old... only about twenty years - they were added in 1990 by the previous owner. Still, the stories from the attic go back a ways, so maybe the explanation is there. In any case, it was a very odd evening here at the house.
After a tour of The Grove this month, a gentleman asked me if there had ever been any stories about a ghostly little girl out in the garden. I told him that there had indeed - in fact, a little blond girl has been scening playing all over this part of town. People will see her, assume that she is one of the neighborhood kids (even though she is wearing a frilly, old-fashioned dress), but then glance back to see that she has vanished. Most folks attribute this as being one of the Schluter children who died from an illness that claimed four of the family's kids. A visitor to town driving up Line Street saw such a little girl run out in front of his car, and he was sure that he'd hit her. He stopped and jumped out to render aid, but no one was there. He was so rattled that he called the police, but they could find no evidence of a child being hit by the car. Although he was thankful, he was still certain that he'd seen that little girl. At Hale House B&B, which is across the street from the Schluter House, the visitors were awakened one night by a little blond girl knocking on the doors, warning that a storm was coming and that they should get dressed. The guests all gathered downstairs as a storm that was spawning tornados passed over the house. When the storm was over and everyone was safe, the guests told the innkeeper that his daughter had been so thoughtful to wake them up to prepare for what could have been a disaster - but he had no idea what they were talking about. There were no children in the house, and the outside doors were locked for the evening. At The Grove, the little girl was seen by a fell owing living here in the late 1990s when the house was for sale. He looked out to see a young girl playing in the garden. Because of her fancy clothing, he knew that it wasn't a local youngster just out running around, and assumed that a family was here to look at The Grove. He tidied himself up a bit, and then went out to greet them - but there was no one there. No family, no little girl, no one in sight. Getting back to this month, when the gentleman asked me about he girl in the garden, he said that a friend of his had snapped a photo in the garden and there appeared to be a little girl out there - you could see her face, her hair, etc. He was trying to find something that could explain it, and who knows, perhaps it could be one of our lawn ornaments that was causing the illusion... or perhaps, the little blond Schuleter girl was simply back for a visit.

And with those stories, I'll say goodbye for the month of September, with October in full swing. Don't forget that on Halloween weekend all tours are by reservation only, and since The Grove is on the Candlelight Tour of Homes this December, our last tour of the year will be the first weekend in November. After that, we'll be decorating and getting ready for the tour - I hope that you come to see us on Candlelight.
Oh, I want to thank the GroveZine readers in driving distance who are going to be docents at The Grove during Candlelight. We still have a few openings if anyone else wants to participate. We have a great time, and along with your "tour guide" duties you get a ticket to tour all of the homes on the tour. We'll have a break room set up with snacks and sandwiches, and you'll be able to tell some of the stories of The Grove to the people who come through. Drop us an email - just reply to the ezine, in fact - if you want to be a part of the festivities.
The Grove is listed on Tripadvisor.com, so if you've taken The Grove tour, and you have a few spare moments, we'd really, really (did I say really?) appreciate you visiting TripAdvisor.com's site for The Grove, and leaving a review of your experience. You can go to TripAdvisor.com and search for "The Grove Jefferson TX," or go to The Grove's website www.thegrove-jefferson.com and scroll down to find the Trip Advisor logo-link, or simply click on the TripAdvisor logo right here in the GroveZine to take you to the page. I know that it takes a couple of minutes, but we'd sincerely appreciate it.
If you'd like to check any of my books, you can find them at Barnes & Noble, Borders, Amazon.com, or at The Grove's website if you'd like to order a signed copy of anything.
If you missed any issues of the GroveZine, you can find them at the GroveZine Archives.
JEFFERSON CALENDAR
10/17/2010 Taste of Jefferson
11/06/2010 "History, Haunts & Legends" Conference
12/2-4/9-11/2011 28th Christmas Candlelight Tour of Homes
01/21-23/2011 8th Annual Quilt Show "Quilts on the Bayou"
03/4-6/2011 22nd Annual Mardi Gras Upriver "History on Parade"
03/12/2011 5th Annual St. Patrick's Day Celebration & Irish Stew Cook-off
04/9/2011 Spring "History, Haunts & Legends" Conference
05/6-7/2011 Battle of Port Jefferson" Civil War Re-enactment
05/6-8/2011 64th Annual Pilgrimage Tour of Homes & Spring Festival
05/5-8/2011 Diamond Bessie Murder Trial Play
05/28/2011 Cypress River Airport Fly-in
07/04/2011 "Jefferson Salutes America" 4th of July Celebration
10/7-9/2011 13th Annual Boo Run Benefit
---
To repeat our words from the beginning, this is a free subscription ezine for friends of The Grove - in other words, we NEVER arbitrarily add email addresses. We also NEVER sell or share email addresses with anyone else.
Feel free to pass the GroveZine on to your friends - all I ask is that if you forward it, please include the header, trailer and everything. Thanks!
To subscribe, just go to The Grove's Website and put your email in the blank at the left bottom of the page.
To unsubscribe, although we'd sincerely hate to lose you, simply follow the directions at the bottom of the this email.