www.thegrove-jefferson.com October 2010 ISSN 1558-3252
This is a tiny little free subscription ezine for friends of The Grove - it is by request only. In other words, we NEVER arbitrarily add email addresses. We also NEVER sell or share email addresses with anyone else, for any reason at any time. We hate SPAM as much as you do!
Well hello, and I hope that you had a great Halloween - we certainly did! So how do we celebrate Halloween here at The Grove, the house that Texas Monthly called "One of the eight most haunted places in Texas"? Do we invite over one of our psychic friends, and conduct a séance in the front parlor to contact the spirits of the dead? Noooo... Do we set up a ouija board in the game room, assemble a few true believers, and attempt to communicate with the mysterious Lady in White? Noooo... Actually, we have our own little ritual that we follow: pop a bowl of butter-lovers popcorn, plug in our favorite ghost movie "The Changeling" (the 1980 movie directed by Peter Medak, and starring George C. Scott, Melvyn Douglas, and Jean Marsh), turn off the lights, and snuggle up together on the couch for a delightful evening. Even though we've seen the film a dozen times, we still get a chill when the child's ball comes bouncing down the staircase!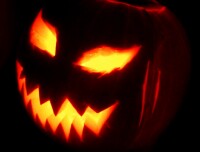 For us, Halloween is about handing out candy to the local kids (Jefferson had a big trick-or-treat event up in the park this year), watching a ghost movie or two, and just enjoying the evening. To be honest, we've never had any additional supernatural activity on Halloween - in fact, the week before, the shadow people have been extremely active here at the house... just not that night. Still, we love the entire celebration, and my goal is to hand out more candy to the kids than I eat myself. I usually fail in that attempt miserably.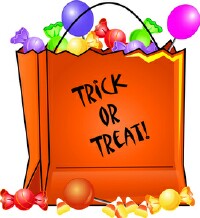 We did have some trick-or-treaters on Saturday night... in fact, the first ones came in the middle of the last tour of the day. We were in the Game Room and I was telling the story of Mr. Charlie's return, and the mysterious Lady in White, when someone knocked on the door. We heard "trick or treat!" called out, and I found myself in a dilemma. I hated to leave the tour, but yet, there were kids at the door wanting treats. I did the next best thing - I pulled out my cell phone and called Tami, who was in another part of the house. She dashed up there and handled the problem, and continued to distribute candy to the local kids as the tour progressed. When the last tour was over, we continued to watch for trick-or-treaters until it was time for the Ghost Walk to show up out front. We figured that they were adults and didn't need any candy, so we shut things down, exhausted from the day's events. And we put in "The Changling," as I mentioned above. It was a wonderful, delightful Halloween!
We did have some excitement in Jefferson this month - a tornado passed right over town! We were visiting with our friends Tom and Stephanie over at the Carriage House B&B, and the weather report was threatening... even though it was a beautiful evening when we arrived. They had us over for one of their famous "test kitchen" breakfasts, which means we were the guinea pigs for a breakfast that they would eventually serve their guests. That's something that we truly enjoy, and happens occasionally with our various B&B owner-friends; they don't want to hit their guests with a new dish cold-turkey, so we get invited over for a trial run... which we LOVE! Anyway, we had an incredible meal of Baked Oatmeal and Sausage Filled Crepes at the Carriage House, and some of you who stay there will certainly be having those delectables in the future.
We drove back to The Grove, only six blocks away, and turned on the television. It was one of those times when we could have called up a friend and told him to turn on the TV... but when he asked "what channel?" we could have said, "ANY channel!" The storm was all over the local networks; when we turned the TV on, we then saw the radar map shown above. The white circle is directly around Jefferson. It looked terrible, and the clouds were swirling around the town. As it passed over, thankfully the rotating clouds didn't touch down, but we heard marble-sized hail hitting windows on every side of the house - which let us know that the winds were rotating. We went out on the front porch and were getting pelted from every angle, but Tami picked up a couple of pieces of hail which you see here. Thankfully it all passed over, and other than some fallen leaves and limbs, everything was normal.
The annual Taste of Jefferson was earlier in October, and I have to say that it felt like old times. It was great! The Taste went through some hard times in the past years, including one where restaurateur Martin Lucia rolled a chip-and-salsa wagon down Austin Street and called that the "Taste of Jefferson." God bless him, he just didn't want the month to pass without something for the city's visitors. Some unfortunate things had happened around that time to diminish the event, and I feared that it might never recover, but I have to tip my hat to the Marion County Chamber of Commerce, who has resurrected this event like a phoenix bird from the ashes! I kid you not, this year was incredible! We started out at one end of Austin Street and worked our way down and back, sampling delectable goodies from various restaurants along the way, and I'll be honest with you - we were stuffed, and didn't even feel like eating dinner that evening! This year proved that the "Taste of Jefferson" is a destination event - folks should be coming in to town specifically to experience it. I think that the Chamber will be making it bigger and better as we move forward, so put this event on your calender and plan to be here. We're already looking forward to it in 2011!
Okay, only one more month until the Christmas Candlelight Tour of Homes® is on here in Jefferson. Like I said last month, we're planning lavish decorations with an old-tyme Christmas feeling, so I invite you to come tour The Grove on the Candlelight Tour of Homes®. Since we're going to be getting ready for it, our last regular tour of the year will be the first weekend in November. After that, we'll be in a decorating frenzy! To find our more info about Candlelight itself, check out the website for the Historic Jefferson Foundation: www.HistoricJeffersonFoundation.com. We hope to see you there!
It's here! Jefferson: The History and Mystery of the City on the Bayou is being released! I posed some questions in a previous GroveZine: Will I get run out of town for writing it? Will my friends rise up because of the stories in the book? Will the ladies in the Garden Club still be speaking to me? Hey, I'm ready for all the suspense to be over... and it almost is! The book is almost available in stores, online at amazon.com and so forth, but if you'd like a signed copy I'd be happy to take care of that for you. I have all the ordering information available at this special website: www.23house.com/jefferson. All you have to do is click on that link, and you can read all the info about the book, along with details on how you can (as they used to say in the toy advertisements of my youth) be the first one on your block to own one! IMPORTANT: If you want the signature personalized to you or anyone else, please email me at the same time that you place the order and tell me who you want the book signed to - otherwise, I'll just put in a generic greeting and signature.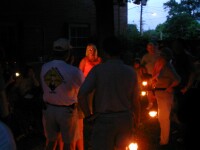 I really enjoyed the first ghost story that I have to tell you this month. We got a call from Jodi, who does the Historic Jefferson Ghost Walk, one evening earlier this month about 10PM. It was a week night and she'd had a small group on the walk that night, maybe about a dozen people, and as she usually does, she took everyone to The Grove and stood out in front of the house to tell some of its stories. She said that her back was to the house and she suddenly felt someone standing right behind here - the hair on her arms and the back of her neck stood straight out. When she turned to see who it was, no one was there at all... she was standing there alone in front of the group. She told the folks about it, and several people stepped up to feel the intense presence there. One person who was a sensitive said that there was a man standing in the empty field beside the house. Jodi asked for details about the man, and the sensitive fellow said, "Who is Frank?" Of course, Frank Stilley was the man who designed and built The Grove... I wonder if Mr. Stilley had come back for a visit that night when the ghost walk was at the house... Whatever the case, it freaked Jodi out enough that she called us that night while running away from the house.
We've heard of a spirit who protects the house when the owners aren't home, but usually he's seen, not heard. Just the opposite happened this month, though. Tami and I had been out one afternoon, and came home about 4:30 pm. There was a small puddle of water on the driveway behind where we park, so it appeared someone had been at the house. I assumed that it was the air conditioning drain from the cars of one of our friends, and didn't think anything else about it. Fifteen minutes or so went by, and there was a knock at the back door - I opened it and saw that it was a lady from our local Terminix office. That's who we use for termite protection here at The Grove, and I have to give them a plug - we've been very happy with their service. Not only does someone come out periodically to spray, but once a year a guy crawls around under the house to make sure that there are no signs of the destructive little bugs. On this trip, the inspector was here for a water inspection to check under the sinks and such to make sure that there weren't any drips that would attract termites. Before she got started, she said, "Did you guys just get home?" I told her that we did, and she told us that she'd been at the house about thirty minutes earlier (which explained the water puddle on the driveway), and had knocked on the doors trying to find someone home. When she knocked on the door that leads into the bedroom, she asked, "Is anybody home?" The lady told us that a voice called out, "I'm here," but no one came to the door. She stepped back and became a little creeped out, and decided to come back later. Once she got on with the inspection, Tami asked me, "What do you think of that?" I just smiled and said, "I don't know who it was, but I'm glad that they were providing a presence here at the house when we weren't home." I then laughed and said, "And besides, I'm thrilled that it happened... the GroveZine is just writing itself this month!"
I know that this is a short ezine this month, and for that I apologize. With the Jefferson book coming out, I seem to be meeting myself coming and going. In fact, if you've sent an email that's gone unanswered, I sincerely apologize. I've missed out on a lot of my normal communication. The debut of a new book is one of the busiest times of my life, and this one has proved even more so. It's kind of like having a baby - you're so focused on the specific events and all the things to get ready for it, that you let normal life just pass by. I hope that you guys like the book, by the way. It's one that I put my heart and soul into, because I was writing about the city that I love so much.
As a preview to next month's GroveZine, though, I have something EXCEPTIONAL to share with you that just happened. I'm still trying to understand it, and while it is very disturbing on one hand, it is very interesting on the other. I'm dying to share it with you. I'll also recap The History, Haunts, and Legends conference held here in Jefferson, but even more important, I'll tell you how on the last day of Grove tours for 2010 I prepared to take the group time-traveling! It's going to be fun, and I can hardly wait to start working on it.

Well, now that November is here, we're officially in Christmas decorating mode at The Grove. For the Candlelight Tour of Homes, the decor has to be lavish, and we're not going to disappoint the visitors to the house. I feel a little bad that we won't be doing regular tours for the rest of the year - I really do enjoy them - but the house is going to be a whirlwind for the weeks to come. We hope to see a lot of you on the Candlelight Tour, and some of you are docenting at the house, which is going to be a lot of fun.
Meanwhile, If I don't talk to you before Thanksgiving, have a wonderful, blessed, happy Thanksgiving Day... my wish for you is that you eat WAY too much, and lay on the couch and enjoy the parades and the football games!
Gotta say it again... The Grove is listed on Tripadvisor.com, so if you've taken The Grove tour, and you have a few spare moments, we'd really, really (did I say really?) appreciate you visiting TripAdvisor.com's site for The Grove, and leaving a review of your experience. You can go to TripAdvisor.com and search for "The Grove Jefferson TX," or go to The Grove's website www.thegrove-jefferson.com and scroll down to find the Trip Advisor logo-link, or simply click on the TripAdvisor logo right here in the GroveZine to take you to the page. I know that it takes a couple of minutes, but you don't know how much we'd appreciate it.
If you'd like to check any of my books, you can find them at Barnes & Noble, Borders, Amazon.com, or at The Grove's website if you'd like to order a signed copy of anything.
If you missed any issues of the GroveZine, you can find them at the GroveZine Archives.
JEFFERSON CALENDAR
12/2-4/9-11/2011 28th Christmas Candlelight Tour of Homes
01/21-23/2011 8th Annual Quilt Show "Quilts on the Bayou"
03/4-6/2011 22nd Annual Mardi Gras Upriver "History on Parade"
03/12/2011 5th Annual St. Patrick's Day Celebration & Irish Stew Cook-off
04/9/2011 Spring "History, Haunts & Legends" Conference
05/6-7/2011 Battle of Port Jefferson" Civil War Re-enactment
05/6-8/2011 64th Annual Pilgrimage Tour of Homes & Spring Festival
05/5-8/2011 Diamond Bessie Murder Trial Play
05/28/2011 Cypress River Airport Fly-in
07/04/2011 "Jefferson Salutes America" 4th of July Celebration
10/7-9/2011 13th Annual Boo Run Benefit
---
To repeat our words from the beginning, this is a free subscription ezine for friends of The Grove - in other words, we NEVER arbitrarily add email addresses. We also NEVER sell or share email addresses with anyone else.
Feel free to pass the GroveZine on to your friends - all I ask is that if you forward it, please include the header, trailer and everything. Thanks!
To subscribe, just go to The Grove's Website and put your email in the blank at the left bottom of the page.
To unsubscribe, although we'd sincerely hate to lose you, simply follow the directions at the bottom of the this email.