www.thegrove-jefferson.com April, May, June 2011 ISSN 1558-3252
This is a tiny little free subscription ezine for friends of The Grove - it is by request only. In other words, we NEVER arbitrarily add email addresses. We also NEVER sell or share email addresses with anyone else, for any reason at any time. We hate SPAM as much as you do!
Sometimes the lights all shinin' on me
Other times I can barely see
Lately it occurs to me
What a long, strange trip it's been.
- The Grateful Dead, 1970
Hello from The Grove and Jefferson, Texas... I have to start out by saying that I'm really sorry that I bailed on the GroveZine for the last month or so. But the Grateful Dead said it best, "What a long, strange trip it's been..." There's probably a fine line between explanations and whining, and I fear that I'll cross over into the latter, but it's been one heck of a bad year. Most GroveZine subscribers will remember that my Dad died back in January, but what I didn't say at the time was that my Mother was fighting stage four breast cancer as well. She fought a long, hard battle, and finally lost to that terrible disease a couple of weeks ago. It really took her down - toward the end, myself, my wife, and my aunt (her sister) were taking shifts sitting with her, and we watched her slowly deteriorate. We were all there when she died, and mercifully it was a quiet, peaceful passing. I'd never watched anyone die before, not even Dad, and as much as it tore me up, looking back I'm happy that I was able to be present for her last minutes on Earth.
Anyway, in the course of it all, my life somehow fell apart in the last couple of months. I'm behind in my business world, I've unfortunately had to ignore way too many emails and phone calls, and it just seems like everything went on hold - including the GroveZine. I have to say, though, that I received a lot of emails asking about the delay, and every one of them made me smile... I love the fact that people look forward to reading it!
There are many nights in the last week or so where I've looked up and the clock was into the wee morning hours and I was still working, trying to get caught up, and yet that continues to be an elusive goal. In many ways I feel like things have been off-kilter for the last year, when both my parents started their roller-coaster ride down. But hopefully I'm slowly getting my head back above water. If I've ignored anything or anybody, though, mea culpa, mea culpa, mea maxima culpa.
That said, I have some ghostly goings-on to share, a little bit about life around Jefferson, and just some general fun, so thanks for enduring my GroveZine delays, and I appreciate you being along on the ride!
The Spring History, Haunts & Legends Conference was held recently, and it was an incredible event. As always, the topics were diverse, and everyone seemed to have a great time. The thing that I love about this conference is the variety of the topics that the speakers bring to the table. I just love sitting back and listening to all the presenters. Over the years we've heard topics such as EVP, time travel, cryptozoology, the UFO/Government connection, many different aspects of paranormal investigations, shadow people, the paranormal and the Bible, and the list just goes on and on and on. It's one of those events where there is something for everyone, and I enormously enjoyed this Spring's conference - I'm looking forward to the one in the fall!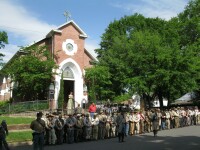 What else has been going on in Jefferson? Well, we also had the annual Pilgrimage Tour of Homes, the "Battle of Port Jefferson" Civil War re-enactment, a corvette show featuring some of the most beautiful cars to ever grace a city street, and even a fly-in at our airport. It's been a busy couple of months! They were all great, and Tami and I were especially busy during Pilgrimage. Not only did we both volunteer as docents in the homes, but I played the sheriff in the Diamond Bessie Murder Trial play. While I can assure you that Robert DeNiro, Harrison Ford, and Al Pachino DO NOT have to worry about me stealing any of their acting roles, it was certainly a good time. Pilgrimage is huge in Jefferson, though, and is well worth a visit for the weekend. The photograph shown here is the "Presentation of the Colors," a re-enactment of when in June, 1861, Captain William M. Duke organized Duke's Company Volunteers – also known as the "Jefferson Guards." As they were preparing to march out of town and off to war, a ceremony presenting the unit its colors was conducted in front of Christ Episcopal Church. A stirring speech was delivered by a young woman named Fannie Benners. A newspaper of the day reported that, "Fanny, dressed in a glittering uniform and riding a spirited black horse, presented a banner and flag to the company during an impressive ceremony with speeches made and a band playing." It's impressive to watch, as is most everything with Pilgrimage weekend, but to me the most interesting thing is that it happened in this very location one hundred and fifty years ago.
We just had our big "Jefferson Salutes America" celebration on the Fourth of July, and the fireworks were incredible. Apparently, as wonderful as the 2010 show was, some of the fireworks exploded prematurely (you never would have noticed it) but the company that puts the show on felt bad about it and gave us an even bigger show this year. The entire day was fun - there was music in the park, there were all of the traditional foods such as homemade ice cream and hot dogs to go along with it, and of course, the big cake auction. Tami's Firecracker Carrot Cake went for $125, with all the money going to the children's reading program at the Jefferson Carnegie Library. The day was topped off by the unbelievable fireworks show that I mentioned, and by the time that the day was over, we were exhausted. What a celebration!

So what's been going on in the world of The Grove's Time Capsule? Well, we're still collecting information. I picked up a Time Magazine special edition covering the royal wedding, and a Dallas Morning News with the story about Bin Laden's death. I have a brochure from Jefferon's Historic Pilgrimage and the Diamond Bessie Murder Trial (with me listed as the sheriff!), and a few more editions of The Jimplecute, our local newspaper, to add to the mix. All in all, things are going well - we're thinking of sealing it toward the end of the year, so there are still several months left in which to collect items.
One new phenomenon that is occurring started with me telling the story of including paper money in the time capsule because it won't be used 100 years from now. On one of the tours, someone asked if they could put a bill in - I said that it would be fine, so they wrote their name, city, and date on it. That has started a trend. Several people from the tour have done the same, so that when the time capsule is opened in 2111, their names will be included in it. If you'd like to do the same, please feel free - just take a sharpie pen and write your name, city, date, or whatever on it, and send it to The Grove at 405 Moseley St., Jefferson, TX 75657. I'll make sure that it goes inside, to be discovered 100 years from now. Or for that matter, feel free to write a letter to the future, or anything like that - we'd love to have it!
First of all, I have to say a big "thank you" to the folks over at Unknown Paranormal Radio for having me on their show. Jeff and Kevin were great hosts, and if you want to hear the program, all you have to do is go to www.blogtalkradio.com/unknownpg. Be sure and check it out - it was a lot of fun, and we had a couple of hours filled with great discussion. I really enjoyed exchanging stories, information, and ideas with them, and the two hour program just seemed to fly by... we were signing off before I knew it! Be sure to download it and give the show a listen.
You know, my life is really weird. In the first place, we keep running across people who believe that since we live in a house that is so supernaturally active, we must be like the Munsters or Addams Family or something. It shocks people that we have a television, a computer, a wifi network, etc. More than that though, since I make my living as a writer, it strikes people as a glorious career, when really it's just another job - one that I love, but a regular job nonetheless. I might spend the morning at the computer writing, and then the afternoon sweating to death in the warehouse shipping books to go out around the country. But all the "glamor" associated with being a writer was best captured right after the Unknown Paranormal Radio Interview. Before I went on to the show, I kissed my wife and told the bassets that I had to go to work. Two hours later, Tami came in and asked how it was. When I finished recapping it for her, she said, "Glad that it went so well. Don't forget, Sunday is trash night!" While I was putting the cans out front, Jeff and Kevin called back to thank me for being on, and when I got back in the house I had to say, "Sorry for the delay - I was taking out the garbage..." So much for being a prestigious author and living the life of the Addams Family at The Grove!
If you've been reading the GroveZine for any length of time, you know that I'm fascinated by the whole "shadow people" phenomenon. Sightings fall into a few basic categories: A shadow of a person wearing a fedora-like hat (commonly called "hat man"), a person wearing a hood or cowl, a shapeless blob, a dashing figure that you see from the corner of your eye, or the shadow of an animal. Personally, I've seen a shadow cat in the house before, as you may recall from a previous GroveZine, but this month Tami had a similar experience in the attic. The stairs in the house don't lead to a second floor, but instead, go up to the unfinished attic - much like any attic that you've seen, with rafters and insulation. Still, with storage being at a premium in the house, it's something that we take advantage of. Tami had gone up to look for something, and when she stepped inside, a small, black "thing" darted along the floor. Her first thought was that it was an opossum or squirrel that had found its way inside, she saw that it was translucent - a shadow. Why was a shadow-animal darting through the attic of The Grove? Who knows... just another mystery to document for future reference, and wonder about now...
If you've been on the tour, you've heard the story about our friend who was sleeping on the couch in the den and had something unseen sit down on her legs and pin them down. It's also been chronicled in the pages of the GroveZine in the past. Well, our friend and her family came for a visit once again, and this time she and her husband were sleeping on an inflatable bed up in the parlor. Sometime during the night she was awoken to the sound of urgent knocking. It wasn't on the front door, though, it was near her head. She woke her husband up, but he hadn't heard anything. My only thought is that the head of the bed was over toward the corner of the parlor where all of the activity is, so maybe it was somehow associated with that. No matter, though - she's experienced things at The Grove before, so just like Tami and I, she turned back over and went to sleep.
To close out this long-overdue GroveZine, I have to say that something wonderful and unique happened just a couple of nights ago at The Grove. Tami, my aunt, and I had been in Hooks, Texas all day cleaning out my parents' house there and getting ready for an estate sale - we were exhausted. Tami & I were finishing up a television program about 10 PM that evening and were getting ready to turn in, when the electricity in the house suddenly went out. The temperature in Jefferson had crawled up to about 105 degrees that day, and it was still in the 90s outside - we knew that the house was going to get very warm, very fast. I walked out onto the front porch and saw that everything was pitch black - the streetlights were out, the surrounding houses were dark, and apparently the power was out all over our part of town. I didn't even bother to call the power company, because I knew that the phone lines would be jammed with all of our neighbors trying to report the problem. I also figured that our local power company repairman had already been woken up, and he was probably in his truck, driving around looking for the problem. When it didn't come back on after a bit, Tami decided to go over to my aunt's house and sleep in the cool - the electricity there was still on. I opted to stay at The Grove, and had a very special evening. I lit a few candles, and spent the next couple of hours just walking around the house. Sometimes I think that I take the wonderful place that I live in for granted. That evening I literally walked from room to room, taking in the feelings from the house. I noticed the floor squeaking in places that I didn't even know made noise, there were different sensations to every single room, and when I walked into the famous front corner in the parlor, it felt like my entire body was charged with electricity. The evening wore on, and it seemed that a bit more light was coming in from the windows - when I walked out onto the front porch, I saw that a full moon had moved out from behind a cloud, and seemed to be reflecting an incredible amount of light.

As I continued my walk through the house, everything was magnified - the shadows from the candles danced around the room, the ticking of several clocks seemed to echo through the house, and the energy of the parlor never waned. I had to laugh, because I could think of a dozen people off the top of my head that would NEVER want to be in The Grove in the dark with a full moon outside. Of course, I could also think of another dozen who would give anything for that opportunity! I spent the couple of hours until the electricity came back on at 12:30 AM just continuing my slow, peaceful trek through the house. It is a wonderfully mystical place, and sometimes I forget that fact... it took a power outage to remind me, which I'll be ever-thankful for.

That's about it for this month (or months, I should say) - I have to say thanks so much for reading the GroveZine - you have no idea how much I appreciate you giving me a few minutes out of your day. I write this in hopes of leaving a record of life in Jefferson and at The Grove for the future, and the fact that you want to be a part of it really thrills me to no end. Bless you for putting up with all my craziness, and unfortunate delays. I will endeavor to be more on schedule with the 'zine.
If you'd like to check any of my books, you can find them at Barnes & Noble, Borders, Amazon.com, or at The Grove's website if you'd like to order a signed copy of anything.
If you missed any issues of the GroveZine, you can find them at the GroveZine Archives.
JEFFERSON CALENDAR
10/01/2011 - Jefferson's Citywide Rummage Sale
10/7-9/2011 - 13th Annual Boo Run Benefit
10/16/2011 - Annual Taste of Jefferson
10/20-22/2011 - Marion County Fair
10/29/2011 - Krewe of Hebe & Auntie Skinners "Monster Bash"
11/11-12/2011 - Trammel's Trace Rendezvous
11/12-13/2011 - Books Alive Conference @ 1st United Methodist Church
11/25/2011 - Christmas Tree Lighting Ceremony at Lions Park & Merchant's Open House
12/1-3/2011 - 29th Christmas Candlelight Tour of Homes
12/8-10/2011 - 29th Christmas Candlelight Tour of Homes
---
To repeat our words from the beginning, this is a free subscription ezine for friends of The Grove - in other words, we NEVER arbitrarily add email addresses. We also NEVER sell or share email addresses with anyone else.
Feel free to pass the GroveZine on to your friends - all I ask is that if you forward it, please include the header, trailer and everything. Thanks!
To subscribe, just go to The Grove's Website and put your email in the blank at the left bottom of the page.
To unsubscribe, although we'd sincerely hate to lose you, simply follow the directions at the bottom of the this email.