www.thegrove-jefferson.com October 2011 ISSN 1558-3252
This is a tiny little free subscription ezine for friends of The Grove - it is by request only. In other words, we NEVER arbitrarily add email addresses. We also NEVER sell or share email addresses with anyone else, for any reason at any time. We hate SPAM as much as you do!
First of all, let me thank everyone for hanging in there with me... I know that it's been several months since the last GroveZine came out. It's not really an excuse, but this has been the toughest year of my life. I've lost several family members over the course of the year, which has been sad and complicated. I was saying, "This can't all be happening in the same year, can it? Really???" In the course of the last couple of months I kept thinking, "Wow, I really need to get the GroveZine out," but it kept getting pushed onto the back burner. I've received emails from one side of the country to the other, and even had a reader stop me in the local grocery store to ask what was going on, and I have to say how much I sincerely appreciate all the folks wanting to read the 'zine. So, all that said, here we are! There are several things to tell you about, and it's all been one heck of a whirlwind.
To start things off, we got a call from a national television show at the first of 2011 wanting to feature The Grove in a segment. There have been so many personal issues this year - specifically the loss of my folks and other family members - that I simply kept putting them off. We finally connected in August, and the show flew Tami and I out to L.A. to do the studio filming (that trip is a story in itself). A cameraman then came to Jefferson and spent an evening at The Grove, and now we're just waiting for the show to air. Unfortunately, they couldn't tell us when it will be on, so we're now DVR'ing the show every week to see if we happen to show up. At this point you might be asking what the name of the program is, and I'd love to tell you, but for some reason I don't understand, we're not allowed to give that information out prior to airing. They really told us not to put the news out on any social network - can you believe it? I have no idea why they'd make that one of the stipulations of being on the show, but they did! I'd assume that they would want all the publicity that they could get. Anyway, while I may not be allowed to say the name of the show, "my Grove story" is going to be on an un-named A&E Biography Channel program that airs on Saturday nights... watch for it, especially the first couple of weekends in December!
I guess that the biggest topic that you've heard about was the fires that surrounded Jefferson a month or so ago. Known as the "Bear Creek Fire" (named for the location where it is supposed to have started), it threatened the city for almost two weeks. Tami and I had gone to Natchez for Labor Day weekend, and coming home, we were driving into smoke as we left Marshall heading for Jefferson. By the time that we got to town, we could see it billowing ahead of us. There were days when Jefferson looked like it was in the middle of an early morning fog, when it was really being choked out by smoke. Ashes were falling on the city like snow, and I even found a warm ember the size of a dime that had fallen here at The Grove. Very scary times. Once the fires were out, the entire city joined together in thanking all of the firemen who fought the fires day and night to protect Jefferson and the surrounding area.

Life finally got back to normal in Jefferson. October is the month for the Boo Benefit, a motorcycle rally where all of the proceeds go to benefit children burn victims. It is an amazing weekend here in Jefferson - bikes are parked three-deep on many of the downtown streets, and there are contests, bands, events for the bikers, vendors, and my favorite... carney food! Our standard pattern is to go downtown and look at the motorcycles, then have a corney dog and head back to The Grove. A few hours later, we go back downtown, buy a tee-shirt, look at the motorcycles, and then have a sausage on a stick. Then go back to The Grove. A few hours later, back downtown, listen to a band or two, then have more carney food. The Boo Benefit is a wonderful event in Jefferson, and although we don't own bikes, we love seeing these tricked-out machines and enjoying the festive atmosphere.
Also, the Jefferson Lions Club held its annual Vintage Car Show a couple of weeks ago, and had a record turn-out of cars. The profits earned by this event went to the Jefferson Volunteer Fire Department 100%, so the Lions were doing everything to raise money for the cause. Along with the car show, there was a raffle and auction, and a concession featuring flame-broiled burgers and sausage-on-a-stick. Entrants love this car show, because the trophies feature a fire-department emblem on top, and is something to be very proud of. The show gets bigger every year, and the Lions Club can hardly wait to see what happens next October. I love looking at these restored old cars, and to be honest, I can't help but think how much fun it would be to buy an old car and restore it, then take it to car shows like this, and... Well, it's probably better that I watch from afar.

The days of 2011 are ticking away, and the time to "entomb" the time capsule is nearly at hand. We have the column that will hopefully hold it for the next 100 year out in the gardens of The Grove - it's made of treated wood, and will be covered in bakerboard, and finally brick. It's been interesting collecting all kinds of things to go inside of the time capsule, and I think that the folks who open it in the year 2111 are going to find it to be fascinating. We've got a full set of 2011 baseball cards, TV Guides with the spring & fall lineups, posters from all of the events that have taken place in Jefferson this year, most of the Jefferson Jimplecute newspapers from 2011, etc, etc. A sturdy framework of treated lumber is the first layer, which will be covered by masonry board, and finally by brick. I just wish that I could be here to see it opened a century from now... and who knows, maybe I'll be hanging around The Grove as a spirit then.
We now have the bronze plaque that will be on top of the column. It is beautiful, and was manufactured by a company named Aura Bronze Plaques (www.aurabronzeplaques.com). They did an incredible job, and if we ever need another plaque made we'll be going back to them. I don't know how many owners of The Grove will come along over the next one hundred years (there have only been eight in the 150 year history of the house so far), but whoever has it then, this plaque will steer them to what we buried. The text of the plaque reads: "Herein lies a time capsule sealed in 2011 on the 150th anniversary of The Grove. Placed by Mitchel & Tami Whitington, this capsule shall be opened only after one full century, in the year 2111."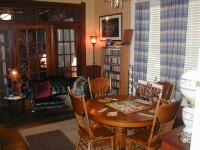 Some of the most interesting things happen on the tour, and we recently had something new occur - a necklace got snatched off someone's neck in the game room. We had several on the tour, including a young lady. As I was telling the story of the appearance of Mr. Charlie (the barber who purchased The Grove in 1885), the young lady's necklace fell to the floor. She looked surprised, and as she was putting it back on I just said, "Strange things seem to happen in this room." After the tour she told me that she was listening to my stories then suddenly felt very cold, and then the necklace was pulled off of her neck. It apparently didn't just slip off - the clasp was fastened - she literally felt something snap it off of her.
I've talked before about ghost cats at The Grove, and even a shadow animal that Tami saw, but this month I had an experience that I have no explanation for. I was in the game room, taking down the Halloween tree (yes, we had a fun little Halloween tree this year) and I looked down and saw a cat run past my feet and under the table. I don't mean that I caught some movement out of the corner of my eye, and felt like it was a cat, I mean that I ACTUALLY saw a cat. There are two cats at The Grove, a tortoise-shell (black with gold spots) named Elsie, and a white cat named Daphne. Whenever they come inside the dogs immediately want to play with them, which delights Elsie and terrifies Daphne. The cat that I saw was white, and I assumed that it was Daphne... until I realized that the tail and hindquarters were black. I then figured that some other neighborhood cat had found its way into the house, so I bent down to look under the table... and there was nothing there. I got down on my hands and knees and quickly looked across the floor of the room, and again, nothing there. I called Tami in to tell her what I'd seen, and she couldn't find a feline presence, either. We called in the bassets, who just sniffed around and looked at us like we were crazy. There is no doubt in my mind that I saw a white and black cat run past my feet, and I have to think back to the fact that Louise Young, who spent her entire life at the house and died here in 1983, kept a house full of cats. If you've been reading the GroveZine for any time at all, you may remember several stories about ghostly cats that show up from time to time. While I don't understand how animal spirits figure into the grand scheme of things, I have to say that on that evening at The Grove, I saw a cat that wasn't there!
I also have to tell a tale on our female spirit in the parlor that is so often present in one particular corner. We most often encounter her by an intense "feeling" in that area of the room. It's difficult to describe, but is something that has become stronger over the years - and also that we've found at other haunted locations. There are other signs as well, though; that part of the room gets cooler, and there's a strong feeling that someone is watching. A week or so ago, I walked into the dining room and the feeling that is usually relegated to that one corner of the parlor was spread throughout the front of the house. It was almost like the front two rooms of the house were packed with people... as if our lady in the corner was having a party! I called Tami, and when she walked into the room she said, "Whoaaaaa - what in the world is going on up here?!?" We stayed there for a minute or two, and then left the party. After all, we hadn't been invited, and we didn't want to spoil their fun.
Finally, we are so blessed to have such wonderful friends of The Grove - almost everyone who visits seems to develop a connection to the place. We often get pictures in the email that people have captured at The Grove, and we love looking at each and every one of them. I'd love to share them all with you, but there are so many that we can only send out one or two here and there. This one caught our eye immediately when it came in - it shows an arc of light flowing across the hallway, either terminating in the mirror, or originating from it... either way, it's very interesting and defies explanation. I want to thank our friend-of-The-Grove who sent it. We're still marveling at it.

I have to take a second to recommend a new book that I've actually read twice now (once wasn't enough). If you enjoy reading AT ALL, then you will love this book - The Sounding. It's one of the most riveting, exciting books that I've read in a while, so I have to give it props. The author, Carrie Salo, is something like a cross between Dan Brown and Frank Peretti... and WOW can she hold you on the edge of your seat. There's one scene in The Sounding that takes place in the stacks of a college library, and it could be the most suspenseful scene that I've ever read. This is a book that everyone will be talking about in a few months, and it wouldn't surprise me at all to see it on the big screen. You have to check out a quick summary of the story - it's incredible! Click to visit the author's website... including a video trailer for the book!.
Well, it's time to put the turkey in the oven, open the can of cranberry sauce, and turn on the TV to catch the parades. That's it for this GroveZine this month - and at this time of Thanksgiving, I have to say a SPECIAL thanks so much for you reading the GroveZine - you have no idea how much I appreciate you giving me a few minutes out of your day, and for sticking with me through all of the delays. I write this in hopes of leaving a record of life in Jefferson and at The Grove for the future, and the fact that you want to be a part of it really thrills me to no end. Bless you for putting up with all my craziness.
If you'd like to check any of my books, you can find them at Barnes & Noble, Borders, Amazon.com, or at The Grove's website if you'd like to order a signed copy of anything.
If you missed any issues of the GroveZine, you can find them at the GroveZine Archives.
JEFFERSON CALENDAR
11/25/2011 - Christmas Tree Lighting Ceremony at Lions Park & Merchant's Open House
12/01-03/2011 - 29th Christmas Candlelight Tour of Homes
12/08-10/2011 - 29th Christmas Candlelight Tour of Homes
11/25/2011 - Christmas Tree Lighting Ceremony @ Lions Park
11/25/2011 - Merchant's Open House
12/01-03,08-10/2011 - 29th Christmas Candlelight Tour of Homes
12/05/2011 - Jefferson's Old Fashioned Christmas Parade
12/31/2011 - Jefferson Carnegie Library New Year's Eve Dance
02/04/2012 - Krewe of Hebe "Queen Mab Ball"
02/17-19/2012 - Mardi Gras Upriver
04/07/2012 - Jefferson's City Wide Rummage Sale
04/21/2012 - Paws on the Bayou
04/20-22/2012 - Outlaw Nationals Classic & Antique Car Show
04/20-22/2012 - 10th Annual Diamond Don's National Vintage Motocross
05/03-06/2012 - Diamond Bessie Murder Trial Play
05/04-06/2012 - Battle of Port Jefferson Civil War Re-enactment
05/04-06/2012 - 65th Annual Historic Home Tours & Spring Festival
05/26/2012 - Cypress River Airport Fly-In
06/01-02/2012 - 2nd Annual Big Cypress Corvette Classic
07/04/2012 - "Jefferson Salutes America" 4th of July Celebration
07/15/2012 - Krewe of Hebe "Jefferson Heritage Triathlon
10/06/2012 - Jefferson's City Wide Rummage Sale
10/12-14/2012 - 15th Annual Boo Run Benefit
10/21/2012 - Taste of Jefferson
10/25-27/2012 - Marion County Fair
10/27/2012 - Krewe of Hebe & Auntie Skinner's "Monster Bash"
11/09-10/2012 - Trammel's Trace Rendezvous
11/23/2012 - Christmas Tree Lighting Ceremony @ Lion's Park
11/29-30/2012 - 30th Annual Christmas Candlelight Tour of Homes
12/01,06-08/2012 - 30th Annual Christmas Candlelight Tour of Homes
12/03/2012 - Jefferson's Old Fashioned Christmas Parade
---
To repeat our words from the beginning, this is a free subscription ezine for friends of The Grove - in other words, we NEVER arbitrarily add email addresses. We also NEVER sell or share email addresses with anyone else.
Feel free to pass the GroveZine on to your friends - all I ask is that if you forward it, please include the header, trailer and everything. Thanks!
To subscribe, just go to The Grove's Website and put your email in the blank at the left bottom of the page.
To unsubscribe, although we'd sincerely hate to lose you, simply follow the directions at the bottom of the this email.