www.thegrove-jefferson.com April 2012 ISSN 1558-3252
This is a tiny little free subscription ezine for friends of The Grove - it is by request only. In other words, we NEVER arbitrarily add email addresses. We also NEVER sell or share email addresses with anyone else, for any reason at any time. We hate SPAM as much as you do!
Greetings from The Grove in beautiful, historic Jefferson, Texas! April was a busy month, with the History, Haunts and Legends Paranormal Conference, the Jefferson High School Prom (which my wife is in charge of), and of course, my favorite, TAX DAY! It all made for a busy month, but in the end everything worked out perfectly: Uncle Sam should be happy that we got our taxes in on time, the Jefferson High School Juniors and Seniors danced the night away at the prom, and the paranormal conference was incredible... but more about that later. And FINALLY, the long-awaited appearance of The Grove on the Biography Channel's My Ghost Story!
The weather has been part of the big news for the month - several times we've spent the evening tuned in to the local TV channels, watching the storm warnings as they swept past us and headed across the country. Thankfully, we've been blessed only with rain, but our hearts and prayers do go out to all those across our nation that have experienced the more violent forces of nature. We've become very used to sitting and watching the radar as a storm moves through - in this photo, the blue dot in the middle is Jefferson, and you can see the weather that we were experiencing at the time. While we don't want any high winds or tornadoes, we will take ALL the rain that we can get - I have a feeling that as we get into summer, we'll be wishing for it.
The Spring 2012 History, Haunts & Legends conference was held this month, and as usual was quite an event. The diversity of topics never ceases to amaze me. If you've never been to a paranormal conference, read on (and have a look at the photos) to discover the kind of information that was discussed!
On this particular weekend, I opened the conference with a presentation about the ancient tribal storyteller, and how all of us can fulfill that role. The guys from Cold Fact Paranormal were up next with a presentation on how historical research can enhance paranormal investigations - as you know, that's a topic that's near and dear to my heart, so I loved it. Dr. Rita Louise gave a talk on 2012 and the end-of-the-world scenario, showing how it got its start, and what the likely outcome will be... her assessment after examining the facts is that the sun will rise on Dec. 22, the day after the supposed end, just like it always has. I completely concur, and loved what she had to say. Next up, the rock-and-roll ghost-man Dash Beardsley took everyone on a wild, supernatural ride through the city of Galveston, Texas. You know, not only is Dash a genuinely nice guy (and quite the paranormal historian), he also has quite a flair for life; I went to Brookshire's Grocery here in Jefferson right after the conference, and up rolls Dash, behind the wheel of a large, black hearse - ya gotta love his style.
As long as the conference was doing a little supernatural traveling via the speakers and their visual presentations, Cathy Nance and Mike Ricksecker from Society of the Haunted took everyone on a ghostly, whirlwind tour of some of Oklahoma's more mysterious locations. I was in the back taking notes, and planning a few summer excursions across the Red River. Now, I mentioned earlier about the diversity of conference topics, and two investigators from the Louisiana Spirits group gave a great photo presentation on when a ghost photo ISN'T a ghost photo - I think that it was the type of grounding that all ghost-hunters need occasionally, but it was also a lot of fun to watch and hear! As the afternoon continued, author Olyve Abbot spoke about many specific cases that had inspired her books - in the lighthearted, humorous way that only she can... she had the crowd on the edge of their seats. Next, Pete Havilan of Lone Star Spirits led a discussion of the actual case that inspired the movie The Exorcist... you know, I always thought that it was just a story (albeit a terrifying one) that had come strictly from the mind of William Peter Blatty. As it turns out, the author seeded his imagination with actual events! And finally, Larry Flaxman wrapped things up with an amazing theory that he's been researching for several years - he calls it "The Grid," and is part quantum physics, part The Matrix movie, but all about how everything in the natural world and all aspects of the supernatural are interconnected. There's no way to discuss it in just a sentence or to, so join me in looking forward to his book on the subject.
That evening, conference attendees were able to explore several of Jefferson's haunted locations in teams led by paranormal investigators. By the time everyone crawled into bed for the evening, it had been an exhausting, but thoroughly enjoyable, experience. There are a couple of paranormal conferences coming up in East Texas in 2012, so get ready for more incredible times. Watch the GroveZine for details, but wherever you're located (and I know that there are GroveZine readers from around the world), check out a paranormal conference near you... you'll have an amazing, educational time!
One of our favorite charities to assist is the "Blessings of Grace Food Pantry" here in Jefferson. Our county of Marion is one of the poorest counties per capita in the entire State of Texas, and the pantry provides food assistance to families with members ranging from infants to the elderly. One major fund-raiser for Blessings of Grace this year was "Canstruction" - teams use cans of food to construct sculptures, and the public votes for its favorite in the show by placing a donated can of food in the voting box for a particular team. After the event, every can of food - the ones used to make the sculptures, and the ones used in voting - are all taken to the food pantry. Since its inception in 1992, Canstruction has contributed over 17.5 million pounds of food to community food banks, demonstrating that we can win the fight against hunger... and it had a great turn-out here in Jefferson. Below are three of the sculptures:
On the left is Riverport Barbecue, the beloved local restaurant that burned a couple of months ago (you may remember reading about that in the GroveZine); the second is the Mittie Stephens, a riverboat that burned on Caddo Lake back in 1869 - it's one of the legendary stories from the area; and finally, the Cross and Flame, the emblem of the Methodist Church - the First United Methodist Church of Jefferson sponsors not only Canstruction, but the Blessings of Grace Food Pantry. I also took a photo of Mjolnir, Thor's hammer, which was another entry, but that picture didn't come out for some reason. Canstruction in Jefferson was a great success, and we're looking forward to seeing what people come up with next year! To find out more about Canstruction, click here to visit their website.

2012 Historic Pilgrimage & Civil War Re-enactment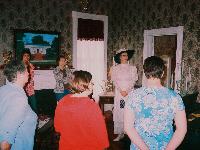 Jefferson's Historic Pilgrimage has been taking place for 65 years now, and is an extremely popular event. You can buy one ticket, and tour four historical homes that are adorned with fresh flowers throughout, and staffed by docents in period costumes to guide visitors along. The four homes that are on tour this year are The Captain's Castle, Chez Lafayette, The Dotson-King House, and Singleton's Virginia Cross... it should be a beautiful Pilgrimage! We'll be helping out wherever we're needed, so watch for us as you go through the homes.
In early January of 1877, a couple registered at the Brooks House hotel in Jefferson as "A. Monroe and wife". Their fine clothes and Bessie's diamonds made an immediate impression on the townsfolk. Because of her jewels, the townsfolk began to refer to her as "Diamond Bessie." Monroe was seen leaving town alone, and on Jan. 21st, Bessie's body was discovered just south of downtown Jefferson in the woods... shot through the head. A warrant was issued for A. Monroe, who was discovered to be Abe Rothschild, heir to the Rothschild diamond fortune. He was brought back to Jefferson for trial, and Diamond Bessie's murder trial is re-enacted every year in town. It's a fun play that is performed Pilgrimage weekend, and tongue is firmly planted in cheek for the entire proceedings. The performances sell out every year, so get your tickets early... and you'll see me playing the part of Sheriff John Vines!
During Pilgrimage weekend, Jefferson also hosts "the battle that never was..." - the Battle of Port Jefferson. The interesting thing about this is that if the Confederate troops had not turned back the Union army in Mansfield, Louisiana to end the Red River Campaign, this battle could have been fought not only in the same way that you'll see in the re-enactment, but possibly in the very same place. This event is much more than the actual battle, though - there's also a living history display, skirmishes in town, and an all-around good time for everyone.
Finally... our episode of My Ghost Story aired this month! They kept pushing it back more and more, but what we didn't know is that they had decided to use it for the season premier. That surprised us, and we were more than a little excited about it. After filming both of us for an hour each in their L.A. studios, and then having a camera crew here at The Grove for several more hours, it was cut down to just a few minutes in the program. That's happened every time we've been on TV, though. Still, the My Ghost Story folks treated us well, and we were delighted with the outcome. It is episode #28, and it will be available on re-runs and possibly on-line soon.
If you remember some of the electrical-anomaly stories from the last GroveZine, then this will be especially interesting. I received an email from GroveZine reader Rachel, who started out with a story about our cat Elsie, who had shown up out front during the Ghost Walk to get a little attention, but went on to say, "Another thing happened while we were in front of your home. My batteries drained, and I had just put in new ones just before the Ghost Walk. A teen-aged girl also had the same thing happen to her at the same time. She was looking at my camera screen to see if mine was working, but it wasn't. She had been standing beside me while we were both trying to take pictures or record video of the house. Our batteries drained at the same time." That's strangely similar to what happened to the two paranormal investigators who were at The Grove with the Showtime crew, that I mentioned last month!
But Rachel's story gets even more interesting; after sending the email with her Jefferson Ghost Walk experience (above), she then came on The Grove tour and had yet another battery incident, this time in the den - the new room in the house, that wasn't added until 1870. Here's what happened, in her own words: "When I toured The Grove last Saturday I had to change the batteries...and you helped open the compartment on my camera that wouldn't open for me, for whatever reason. I had just put in new batteries just before the tour; they should have lasted longer than that." I remember that not only had her batteries died, but she couldn't even open the compartment to change them - something that she said was usually an extremely simple process. I started trying to help, and we did finally get it open. The compartment flap was interesting, but not as much as the fact that brand new batteries kept dying...
She also had some electrical issues in the formal parlor of The Grove, as she reported, "Also when we were just getting started in the room with the 'strange' corner, my mother was holding one of my recorders and turned to me since it had stopped. I thought she may have accidentally hit a button. I hit record again for her. Then I noticed that the recorder I was holding was on pause. So I also had to get the one I was using recording again. That was a little weird, too." Perhaps both she and her mother happened to hit buttons at the same time on their audio recorders to stop them, and that's perfectly understandable... but in looking at her experiences over the weekend with her electrical devices, it certainly appears that she was having a rash of electronics-related experiences like so many people do at The Grove.
But just a few days after I wrote the above entries, we had a family on the tour one day this month. As we were starting the tour, I said the same thing that I always do: "If you brought your camera, please take all the photos that you'd like, but if there's anything anything interesting we'd love to see it." One of the ladies went back to the car, and came back a little puzzled - not only was her phone dead (which she used as a camera), but so was her ipad, both of which had been freshly charged. Electrical problems abound with visitors to The Grove!
Now for a photo that I've studied, enlarged, enhanced, and tried (unsuccessfully) to reproduce and explain. GroveZine reader Beth was touring The Grove recently, and took a photo of the formal sitting parlor at the front of the house - specifically, the 1800s pump organ with the mirror above it. In going back through the pictures, she noticed something odd in the mirror - there was a small light trail going from one side to the other. Take a look at these photos:
The picture on the left is the original that was taken. On the top right is an enlargement of the mirror, which shows the light trail - it isn't just moving along, but it does a loop as well. In the bottom right picture I traced over the light trail so that you can clearly see what's going on. The fact that the light trail stops on both sides of the mirror means that this was taking place across the room - it wasn't something being reflected onto the surface of the mirror. Quite strange...

Thank you SO much for reading another issue of The GroveZine; I sincerely appreciate it, and I hope that the month of April has been great for you... hopefully, you didn't wait as long to do your taxes as I did. Next year I'm going to be on top of it at the first of the year - at least, that's what I'm saying now.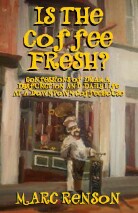 I usually recommend a book to read at this point, sometimes mine, sometimes by other people, but this month I have to mention one of the most entertaining books that I've read in a while. It's called Is the Coffee Fresh? and was written by bistro owner Marc Renson. I'll promise you, you'll never look at dining in a restaurant in the same way. The book is funny, poignant, and something that you'll definitely enjoy. Click on the book cover to get more info - it's a book that you'll be recommending to your friends!
And if you'd like to check any of my books, you can find them at Barnes & Noble, Borders, Amazon.com, or at The Grove's website if you'd like to order a signed copy of anything.
---
Once again, please allow me to say...
GroveZine Readers are AWESOME!!!
I'd like to say thank you so VERY much to everyone who's taken the tour of The Grove, and posted their review on Tripadvisor.com. We so appreciate the four-star reviews, but we absolutely LOVE the five-star reviews! so if you've taken The Grove tour, and you have a few spare moments, we'd really, really (did I say really?) appreciate you visiting TripAdvisor.com's site for The Grove, and leaving a review of your experience. You can go to TripAdvisor.com and search for "The Grove Jefferson TX," or go to The Grove's website www.thegrove-jefferson.com and scroll down to find the Trip Advisor logo-link, or simply click on the TripAdvisor logo right here in the GroveZine to take you to the page. I know that it takes a couple of minutes to do this (although not many more), but we'd sincerely appreciate it. Thanks, folks... you're so wonderful to us.
---
If you missed any issues of the GroveZine, or if you'd like to find out what's been going on for the last several years here at The Grove, you can find past issues at the GroveZine Archives.

05/03-06/2012 - Diamond Bessie Murder Trial Play
05/04-06/2012 - Battle of Port Jefferson Civil War Re-enactment
05/04-06/2012 - 65th Annual Historic Home Tours & Spring Festival
05/26/2012 - Cypress River Airport Fly-In
06/01-02/2012 - 2nd Annual Big Cypress Corvette Classic
07/04/2012 - "Jefferson Salutes America" 4th of July Celebration
07/15/2012 - Krewe of Hebe "Jefferson Heritage Triathlon
10/06/2012 - Jefferson's City Wide Rummage Sale
10/12-14/2012 - 15th Annual Boo Run Benefit
10/21/2012 - Taste of Jefferson
10/25-27/2012 - Marion County Fair
10/27/2012 - Krewe of Hebe & Auntie Skinner's "Monster Bash"
11/09-10/2012 - Trammel's Trace Rendezvous
11/23/2012 - Christmas Tree Lighting Ceremony @ Lion's Park
11/29-30/2012 - 30th Annual Christmas Candlelight Tour of Homes
12/01,06-08/2012 - 30th Annual Christmas Candlelight Tour of Homes
12/03/2012 - Jefferson's Old Fashioned Christmas Parade
---
To repeat our words from the beginning, this is a free subscription ezine for friends of The Grove - in other words, we NEVER arbitrarily add email addresses. We also NEVER sell or share email addresses with anyone else.
Feel free to pass the GroveZine on to your friends - all I ask is that if you forward it, please include the header, trailer and everything. Thanks!
To subscribe, just go to The Grove's Website and put your email in the blank at the left bottom of the page.
To unsubscribe, although we'd sincerely hate to lose you, simply follow the directions at the bottom of the this email.