www.thegrove-jefferson.com May 2012 ISSN 1558-3252
This is a tiny little free subscription ezine for friends of The Grove - it is by request only. In other words, we NEVER arbitrarily add email addresses. We also NEVER sell or share email addresses with anyone else, for any reason at any time. We hate SPAM as much as you do!
Welcome to (as the old poem calls it) the merry month of May! We didn't have a significant winter in Jefferson, but as spring winds down, it looks like summer is coming in with a vengeance - we've already hit the mid-90's! This month's GroveZine has some very interesting ghost stories from The Grove, a dinner entree that I promise that you're going to love, a report on life in Jefferson for the past month, but to begin with, I have... (cue the eerie, melodrama organ music) ...a couple of horror stories.
An odd (and scary) thing happened this month... nothing to do with ghosts, though - instead, it was with humans. We were sitting in the den at The Grove, having a very peaceful evening, when I heard my phone chirp that it had received a text message. Assuming that it was from one of our friends, I went over and took a look, only to find out that it was from our credit card company. It said something like, "Did you just charge $180.74 at Footlocker #045? Text Y for yes or N for no, or call our 800 number." Well, we were sitting at home not charging anything anywhere, so I called the 800 number and was routed directly to their fraud department. To make a long story short, it turned out that someone in South Caroline - quite a ways away from Jefferson, Texas - had a duplicate of my credit card and was going through a mall there charging things on it. While they couldn't be sure how the duplicate had been obtained or manufactured, the thief literally had a card that was a duplicate of mine that they were using store-to-store. Kudos to CitiCards, who blocked the account immediately, credited us for the renegade charges, and then overnighted us brand new cards (with brand new numbers). It's just amazing how technologically-efficient these techno-thieves have become. Thankfully the credit card companies are keeping up with them.
As if THAT wasn't enough, a few days later I had another pirating incident, this time with the computer that I work on every day. I usually don't worry about problems since I have Norton Anti-Virus running, and as I was working away a window popped up in the corner with a message that a virus attack had been blocked. I didn't think much about it - Norton blocks them all the time. Another window then popped up saying that my computer was infected and that I needed to run my anti-virus software. Suddenly there was a new icon on my desktop: "SmartFortress 2012." Never having heard of that program before, I suspected that a trojan virus had somehow snuck onto my computer. I immediately tried to run "Malwarebytes," which is an incredible malware-cleaner - it removes all kind of sinister things from a computer. The trojan was literally stopping it from running, though. When I'd click on it to run, this trojan named SmartFortress would shut it down. To make a long story short, I ended up shutting down the computer, and just as it came up I ran Malwarebytes before SmartFortress could stop it. A few minutes later, that nasty trojan was gone. I couldn't imagine that this one was sophisticated enough to sneak past Norton Anti-Virus, but it did. Anyway, the lesson here is to make sure that you have Malwarebites on your computer - and believe me, I don't make one thin dime for recommending them... their basic product is free! So far I haven't found any malicious software (a.k.a. malware) that the program can't take care of. Go to www.malwarebytes.org and download their free version, install it, allow it to update to the latest virus signatures, and then scan your system. After that, run it every week just to be sure, but most importantly, if you ever pick up an infection like I did this month, you'll already have it ready to go into action to clean the nasties off of your system.
It seems like every day there are more and more cyber-criminals preying on innocent people, trying to steal their credit cards, computer information, even their identities. It pays to be very vigilant in the world today. If you've been reading the GroveZine for any length of time, you know that I love those immortal words that were spoken every week by Sgt. Phil Esterhaus on the legendary television show Hill Street Blues... "Let's be careful out there!"
I know that most everyone is here for the ghost stories, but hey, we all have to eat, and so I'm including the recipe for one of my favorite dishes in the world for your culinary delight. As we call it in my family... Shirley's Chicken! We prepared it on Mother's Day, which was a bittersweet weekend for me. It was good because we had family here at The Grove to celebrate the occasion, but sad for me because I lost both my folks last year - it was the first Mother's Day in my life without her. Our family that was here made it such a special occasion, though, and I'm glad that we prepared this dish that is so popular in our family. I love it - it's not only incredibly delicious, but also very unique. Your family or guests will go crazy over it. Since I'm not trying to take over Gordon Ramsey's or Rachel Rey's role in life, I'll only bore you with the details of Shirley's Chicken if you really want me to - just click on the following link for a separate page that you can print off and use to make one of the most interesting and tasty chicken dishes in the world. Click here for the secret to Shirley's Chicken!
Jefferson had another successful Pilgrimage this month - four homes were on the tour, complete with docents in period costume to guide the guests through the houses. I was on the front porch of Chez Lafayette, and it was great to have the GroveZine readers who were in town for the festivities stopping by to say hello. The Civil War re-enactment of The Battle of Port Jefferson not only featured two full battles over the weekend, but skirmishes that spilled over into the streets of downtown Jefferson, making for a very exciting time. The play based on the Diamond Bessie murder trial, which has been held every Pilgrimage for the past fifty-eight years, was sold out every performance. I played Sheriff John Vines again this year, and in this photo I'm on the stand testifying (there's more about the play at diamondbessieplay.com). All in all, it was a wonderful weekend - plan on coming to Jefferson next May, when Pilgrimage comes around again!
This month we were contacted by a producer for the Home & Garden Television (HGTV) show Home Strange Home (the title of which is a play on the old term "home, sweet home"). It's a great show that features unique homes across the country; so far they've filmed a revolving house, a house shaped like a giant shoe, and even one made from a 747 airplane. When they heard about The Grove, I guess that the folks at AMS Pictures, the production company for the show, thought that it might be interesting to do a show about a house that has a lot of supernatural activity.
The film crew was here taping for a couple of days as you can see from the photos, and we enlisted some of our friends to help with dramatizations of some of our favorite ghost stories. I'll keep you posted for the air date, but it will be later in the year. Meanwhile, keep an eye out for HGTV's "Home Strange Home" - the houses that they feature are fascinating. And if you happen to have a lead on an interesting home, they're still casting... click here for the details.
It's been a fascinating month here at The Grove, and a couple of things even happened on the tour. If you've been reading the GroveZine for any length of time, you've heard me say that if I detect that something supernatural is happening during the tour, I won't call attention to it. To me that would make the tour seem contrived... imagine being on the tour and hearing me say, "Oooo... a spirit just walked through the room!" or something like that. It would just seem a little fake to me, so I don't call attention to any activity that I may pick up on during the tour. That said, on a Sunday tour this month we had made it into the game room of the house, and as I was talking about the Lady in White I looked up at a gentleman standing in the doorway back to the dining room. A shadow walked across the dining room from the east side to the rest, passing just behind the man that I happened to be looking at. I started to say something - I really did - but I knew that it would just seem fake. So I kept quiet. I would have loved to find an excuse to dash up into the dining room, and feel the energy that was probably there. We've found over the years that there's an intense feeling associated with the shadow people.
We have many sensory experiences at The Grove - sights, sounds, scents, etc. - but one of the most interesting things to me are the feelings that we sometimes get. On a tour this month, one guest got a sample of what sometimes happens here. After the tour was over, he told me that while standing in the dining room near the painting of Ms. Daphne during the tour, he felt an extremely heavy feeling come over him, as if someone had placed a heavy coat on his shoulders. As I understand his experience, this lingered over him until we moved away and into the next room.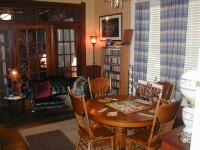 That last experience made sense to me, because I had a similar thing happen to me on the tour. I had taken our guests into the game room, and I was getting ready to tell the story of Mr. Charlie's return for a visit. Before I got to that point, though, I saw one lady on the tour start looking very, very strange - as if something was suddenly troubling her. She was visibly bothered, and whispered something to her husband. She walked out of the room and toward the front door of the house; her husband said, "We have to leave," and he followed her out. I knew that something was wrong with them, and I'd give anything for her to have told me what was going on. The weird thing was that a few moments later a feeling of extreme sadness sadness washed over me, and I felt like bursting into tears. I was in the middle of the tour, though, and with my rule of not anything that I pick up on in the course of things, I just sucked it up and kept going. I finished the tour, and that sad, distraught feeling was with me for hours - I couldn't shake it! I don't know what it was, or if it had anything to do with why that couple left the tour just before I felt it, but it was something that didn't go away for quite a while.
Finally, I wanted to share a little ghost story that happened just a few nights ago. Some friends of ours had come over for dinner one evening, and after the meal we all retired to the front porch for dessert. My buddy stood up and offered to take the plates back to the kitchen, so he gathered them all and went into the house while the rest of us kept visiting. When my friend came back outside, he looked at us and seeing that we were all still sitting outside, said, "I don't want to start telling ghost stories or anything, but when I was just inside, I heard the footsteps of someone walking through the house... I'm kind of surprised to see you all out here. I would have sworn that one of you was inside!" To be honest, it didn't surprise me a bit - we started hearing footsteps in the house from the time that we bought The Grove ten years ago. It's a common occurrence, but in can still raise the eyebrow of someone who isn't used to it.

And with that, I'll thank you SO much for reading The GroveZine; I hope that May has been a great month for you and your loved ones. I have something really, really special planned for the June issue, so stay tuned, and definitely try to stay cool in the summer heat!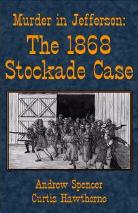 Whether you're interested in Jefferson history, or you're a Civil War buff, or you just like a good ol' tale of murder and courtroom intrigue, there's a new book that documents one of the landmark trials from Jefferson's past... the infamous "stockade case." In 1868, Jefferson was occupied by Federal troops and Northern carpetbaggers, while locals were organized into a supposed peacekeeping organization called the "Knights of the Rising Sun." On a moonlit evening, three men were murdered in town, and two more escaped that fate; the fallout of these killings shook the foundations of post-war Jefferson. Arrests were made, a stockade was built to house the accused (just a few blocks from The Grove, in fact), and the proceedings that followed made headlines across the country. The book is available in stores and on Amazon.com, and you can get more info by clicking here.
And if you'd like to check any of my books, you can find them at Barnes & Noble, Borders, Amazon.com, or at The Grove's website if you'd like to order a signed copy of anything.
If you missed any issues of the GroveZine, or if you'd like to find out what's been going on for the last several years here at The Grove, you can find past issues at the GroveZine Archives.

06/01-02/2012 - 2nd Annual Big Cypress Corvette Classic
07/04/2012 - "Jefferson Salutes America" 4th of July Celebration
07/15/2012 - Krewe of Hebe "Jefferson Heritage Triathlon
9/14-15/2012 - Trammel's Trace Rendezvous
10/06/2012 - Jefferson's City Wide Rummage Sale
10/06/2012 - Cypress River Airport Fly-In
10/12-14/2012 - 15th Annual Boo Run Benefit
10/20/2012 - Lion's Club presents: Mustang Car Show
10/21/2012 - A Taste of Jefferson
10/25-27/2012 - Marion County Fair
10/27/2012 - Krewe of Hebe & Auntie Skinner's "Monster Bash"
11/09-10/2012 - Trammel's Trace Rendezvous
11/23/2012 - Christmas Tree Lighting Ceremony @ Lion's Park
11/29-30/2012 - 30th Annual Christmas Candlelight Tour of Homes
12/01,06-08/2012 - 30th Annual Christmas Candlelight Tour of Homes
12/03/2012 - Jefferson's Old Fashioned Christmas Parade 12/16/2012 - Uncertain Floating Christmas Parade
---
To repeat our words from the beginning, this is a free subscription ezine for friends of The Grove - in other words, we NEVER arbitrarily add email addresses. We also NEVER sell or share email addresses with anyone else.
Feel free to pass the GroveZine on to your friends - all I ask is that if you forward it, please include the header, trailer and everything. Thanks!
To subscribe, just go to The Grove's Website and put your email in the blank at the left bottom of the page.
To unsubscribe, although we'd sincerely hate to lose you, simply follow the directions at the bottom of the this email.