www.thegrove-jefferson.com September 2012 ISSN 1558-3252
This is a tiny little free subscription ezine for friends of The Grove - it is by request only. In other words, we NEVER arbitrarily add email addresses. We also NEVER sell or share email addresses with anyone else, for any reason at any time. We hate SPAM as much as you do!
"The supernatural is the natural not yet understood." - Elbert Hubbard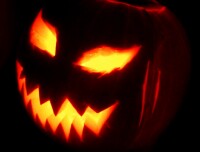 Greetings from The Grove in Jefferson, Texas! I hope that everyone's had a wonderful September, and that it continues right on into the mysterious month of October. I was writing a check at the local Brookshire's grocery store the other day, and the date shocked me so much that I had to stand there a minute and think about it. I can't believe that 2012 has flown by like it has! Still, September was a great month, with a little rain and some cool weather moving in. There have also been a lot of people in town this month, and we've made many new friends on the tour of The Grove. We've had a lot of fun, and of course a few supernatural experiences that I'll be sharing as well.
During one of their concerts, Emily Saliers of the Indigo Girls once made the observation that "you have to laugh at yourself... otherwise, you'll cry your eyes out." That is so true, and I've been trying to do a whole lot of laughing over the last few months! Most GroveZine readers will remember that last year I lost both my parents, and through many shortened (or downright missed) GroveZines, I got a tremendous outpouring of love and support from everyone. As it happens, my wife and I have spent the last year closing out their affairs, and the last remaining thing has been to sell their house in Hooks, Texas. With the housing market being what it is, we've had very few people looking at it, but every time that we do, wouldn't you know it... something seems always seems to go wrong. A while back the gutters had filled up with leaves, which caused an overflow the next time that it rained - and a subsequent flooding of the den. Yep, the real estate agent was showing the prospective buyers the house, and when they stepped into the den it was right into Lake Whitington. An extremely painful $3600 later, we had the problem corrected. I kept telling myself, "Laugh, dude, laugh..."
Okay, I get it, into every life a little rain must fall. But the real estate agent texted me last Saturday to say that the house was being shown again, and when they walked into one of the bathrooms, they stepped into yet another large body of water. It turns out that the toilet, unused for a year, had started leaking. Okay, this one I can fix, so today we went to Lowe's and bought a new toilet with all the necessary hardware. I just hate that it was discovered while potential buyers were looking at the house! But I have the new toilet and I'm going to correct the problem in the bathroom. But on a completely different note, I've noticed that almost all of our latest home purchases connect to wifi (for software updates if nothing else). I am pleased - and a little relieved - to find that you can still purchase a toilet that doesn't require a wifi connection.
And speaking of my parents' house, and since the GroveZine is about things that are a little on the, well, unusual side, I have to tell you about a fellow named St. Joseph. One of our friends here in town who was selling a house in another city made the comment that she couldn't understand why it wasn't selling, because she'd buried a statue of St. Joseph on the property. I said, "What in the world are you talking about?" She went on to explain that legend has it that if you bury a small statue of St. Joseph (the patron saint of building and construction) on the property of a house for sale, he will aid your efforts. You can read all about it by clicking on this link for the internet-legend-debunking website "Snopes". Who knows if it works, but we badly want to close out this final part of my folks' estate, so what did I do? Well, I got a St. Joseph statue and buried him out in the yard. Rest assured, if the house sells we'll dig him back up, and give the little fellow a place of honor at The Grove. By the way, if you're selling a house, the good folks over at the Jefferson General Store sell those little St. Joseph statues, or you can find them at www.stjosephstatue.com.
BEWARE... THE STREETS OF JEFFERSON AREN'T SAFE!!! ...at least, not for Bill Rose and Jesse Robinson, who have a shoot-out and kill each other the first weekend of every month throughout the year. They're at it again in this photo, with Skip Miller and Preston Taylor playing the roles of the two gunfighters. Skip & Preston are part of the Riverport Ambassadors, a wonderful group of folks that you'll see downtown in period clothing providing entertainment and assistance to our visitors. But who are Rose & Robinson? They're two notorious ne're-do-wells who had a gunfight downtown back in 1871. After an argument in a bar, Jesse Robinson drew first and shot Bill Rose, who fell dead... but not before getting a shot off. Robinson holstered his gun and walked across the street - then put his hand in his vest, and pulled it out covered in blood. As he fell down, his last words were, "That rascal has killed me!" The townsfolk buried them side-by-side at our local Oakwood Cemetery - their graves are marked only by two black posts, joined by a heavy chain. The townspeople said that their hate and mean-spirited ways had chained them together in life, so they should be chained together in death.
The Corkyard in Jefferson - There are several new businesses opening up in Jefferson including an art gallery, a steak house, and a wine bistro. The latter just opened its doors, and The Corkyard is a wonderful specialty wine and beer bar located on Austin Street just across from the General Store. They have one of the largest wine cellars in East Texas, with over fifty varieties. That's not all, though - there are also twenty-five specialty beers chilled and waiting for the clientele. Their menu ranges from a tapas platter called "The Board" featuring meats, cheeses, olives and peppers with a French baguette, to a selection of scrumptious, specialty panini sandwiches that will blow your mind and tempt your tastebuds. There are also seasonal specialties, such as their Octoberfest selections of bratwurst, kraut and German potato salad. Be sure to check it out next time you're in Jefferson.
October is arriving in Jefferson once again - wow, this is going to be a crazy month. There is something going on every weekend, and over the course of the month there will be thousands of people in town. From the Taste of Jefferson to the Boo Motorcycle Rally to Cryptopalooza, a Cryptozoology Conference, the city is going to be packed every weekend (check the schedule at the end of the GroveZine). You can see the calendar at the end of the GroveZine below, and there are a ton of things going on. Jefferson also celebrates Halloween all month with the Historic Ghost Walk, the Fright Train, and of course, we'll have our usual Grove tours. One thing that will be a bit of a change is that the last weekend of the month, tours of The Grove will be by reservation - there are just so many people in town for Halloween!
As I mentioned in the last GroveZine, Jefferson's Fall "History, Haunts and Legends" Conference is coming up in just a few weeks. It's going to be held at the Jefferson Visitor's Center (a great facility) on Saturday, November 3rd. The day will be filled with a slate of speakers talking about all things paranormal, and that evening there will be investigations of some of Jefferson's most haunted places led by some of the region's top teams. During the past conferences, the evening investigations have yielded some incredible experiences. I'll be speaking that weekend, and of course visiting with everyone throughout the day... I'm really looking forward to it! We won't be having a Grove tour on Saturday, but if you're in town for the conference, be sure to stop by Sunday morning at 11 AM to round out a perfectly paranormal weekend. The conference is sponsored by the Historic Jefferson Ghost Walk, and there is more info at jeffersonghostwalk.com.
A few weeks ago, a reporter from Texas Monthly was on the tour of The Grove - she was working on an article about Jefferson for the November issue, so she was visiting different places around town. We were delighted to have her on the tour, but as someone in the writing world myself I know that you really can't determine exactly what's going to become part of the piece that you're working on until it's done. Today, however, an editor from the magazine called to verify some facts - so it looks like The Grove will be getting at least a mention in next month's Texas Monthly... The National Magazine of Texas!
If you remember from the May issue of the GroveZine, a new HGTV show called Home Strange Home was here filming. We just got an email from the producer, and the series will premier on Home & Garden Television on Friday, October 19, and The Grove's episode is tentatively scheduled for Friday, November 23. The show airs at 9PM EST/8PM CST on HGTV... and we're really looking forward to it. It sounds like such a cool show, however, that we're going to be watching the series from the start, and you may want to check it out as well!
We hear incredible things about The Grove from people all the time, but a few days ago a local businessman described the house in a very unique way - it made me burst out laughing, in fact, and I just had to share it with you. I was in the courtyard of the Corkyard (say that three times fast) and he came up to me with the story. It seems that an acquaintance of his was visiting in town, and the lady was supposed to be very sensitive to the supernatural. She'd heard about The Grove, and wanted to come by and see it. It was during the week and we weren't home at the time, so he brought her over and let her look around in front of the house. As he put it (and this is what I loved so much), "It was like you set a squirrel-hound loose on the courthouse lawn." We have sensitives visit occasionally who describe the strong feelings that they have, but I've never heard it put in such a delightful manner.
But now to a few ghost stories... I happened to be surfing the 'net the other day, and ended up finding a video on YouTube about The Grove - an EVP captured on the Historic Jefferson Ghost Walk out in front of the house one evening (click on the photo to hear it). You can hear Jodi, the ghost walk guide, talking about the place, and then the fellow holding camera coughs, and then a female voice comments on Jodi... "Poor bitch!" Now, I'm not sure that I like that, because Jodi's a friend of ours!!! Hopefully the voice was talking about someone else. Still, it's an interesting EVP. The thing that makes it all the more interesting for me is the group that posted it on YouTube: Unknown Paranormal. These folks are a very professional investigation group, and look at everything with a healthy degree of skepticism. For them to have posted it with their name, I know that this clip has been properly and professionally vetted... even if the voice on the EVP is being rude to our friend Jodi!
But let's go inside the house for a moment. From the first day that we bought The Grove over a decade ago, strange things have been happening here... as you probably know from reading the GroveZine. A week ago I was working in my office, which is in the old Children's Bedroom of the house, and I took a break to go get the mail. I walked up front through the dining room, out the front door, down the steps, and found that the mailman hadn't made it by just yet. I went back to the office, worked another half-hour, and went back to check it again. As I walked through the dining room this time, the chair at the head of the table had been laid down as you see it in the photo. Our bassets were blocked off from the room so they hadn't been up there, and both cats were outside, but most importantly, the chairs themselves are balanced like any other chairs and designed to sit upright, and in all these years not a single one has fallen... not once... which means that some hand must have pulled it over. Not that it would be altogether uncommon - we've found pillows tossed off the furniture in the parlor, the fireplace utensils thrown across the room, and any number of other things that have been moved by someone that we don't see. To us it isn't a frightening thing - it's more annoying... I wish that the spirits would focus on keeping the house picked up, and not torn apart! Still, it is always interesting to have something like that happen - a tangible episode - that no matter how hard we try, we simply can't explain.
I do understand that casual kind of attitude strikes people as extremely odd. Watching a closed door open in front of you, finding a light that you'd turned on to be clicked off, or hearing footsteps in the next room when you're alone... all these things happen at The Grove. Instead of being freaked out, though, we love it, because it's a peek into that other side that lies just beyond this world. So many people struggle with whether or not anything beyond our mortal lives even exists, so we're thankful for these regular affirmations that there is another realm that is there not only beyond this life, but also bleeds over into our reality for those who are willing to accept and experience it.

And with that, I'll bid my farewell for another month, and wish you a happy, safe, and prosperous month of October! I really appreciate you taking the time out of your schedule to read the GroveZine. I love sharing a little bit of life in Jefferson, and of course, The Grove. Talk to you next month!
Before I forget...
The Grove says "Thanks!"
We would like to say thank you so very, very much to everyone who's taken the tour of The Grove, and posted their review on Tripadvisor.com. We so appreciate the four-star reviews, but we absolutely LOVE the five-star reviews! so if you've taken The Grove tour, and you have a few spare moments, we'd really, really (did I say really?) appreciate you visiting TripAdvisor.com's site for The Grove, and leaving a review of your experience.

You can go to TripAdvisor.com and search for "The Grove Jefferson TX," or go to The Grove's website www.thegrove-jefferson.com and scroll down to find the Trip Advisor logo-link, or simply click on the TripAdvisor logo right here in the GroveZine to take you to the page. I know that it takes a couple of minutes to do this (although not many more), but we'd really, really appreciate it. Thanks, folks... you're so very wonderful to us, and to The Grove.

If you missed any issues of the GroveZine, or if you'd like to find out what's been going on for the last several years here at The Grove, you can find past issues at the GroveZine Archives.

Here's what's coming up around town...

10/06/2012 - Jefferson's City Wide Rummage Sale
10/06/2012 - Cypress River Airport Fly-In
10/12-14/2012 - 15th Annual Boo Run Benefit Motorcycle Rally
10/19-20/2012 - Cryptopalooza! - a Cryptozoology Conference
10/19-20/2012 - Marion County Fair
10/20/2012 - Lion's Club presents: Mustang Car Show
10/21/2012 - A Taste of Jefferson
10/24/2012 - "Soup's On" Cooking Class and Luncheon Benefit for Ruth Lester Memorial
10/25/2012 - Cold Soup and Wine Tasting Experience Benefit for Ruth Lester Memorial
10/27/2012 - Krewe of Hebe & Auntie Skinner's "Monster Bash"
11/09-10/2012 - Trammel's Trace Rendezvous
11/23/2012 - Christmas Tree Lighting Ceremony @ Lion's Park
11/29-30/2012 - 30th Annual Christmas Candlelight Tour of Homes
12/01,06-08/2012 - 30th Annual Christmas Candlelight Tour of Homes
12/03/2012 - Jefferson's Old Fashioned Christmas Parade
12/16/2012 - Uncertain, Texas' Floating Christmas Parade
12/31/2012 - New Year's Eve Party @ Jefferson Carnegie Library
2/8-10/2013 - Mardi Gras Upriver
3/22-24/2013 - 2nd Annual Route 49 Motorcycle Rally
4/19-21/2013 - Outlaw Nationals Classic & Antique Car Show
5/3-5/2013 - Battle of Port Jefferson Civil War Re-enactment
5/3-5/2013 - 66th Annual Pilgrimage Historic Home Tours & Spring Festival
5/25/2013 - Cypress River Airport Fly-In
5/31/2013 - 3rd Annual Big Cypress Corvette Classic
And Finally,
A Big Announcement...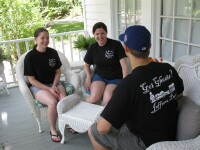 Oh, and finally, there's now an official Grove Tour t-shirt! To find out more about it, click on the photo of the stylish young folks modeling it. It's black with white letters - like any respectable ghost tour t-shirt - and the front has our tour name: "Haunts & History of The Grove, Jefferson, TX." The back has the famous view of Austin Street here in town, framed by the slogan, "Got Ghosts?" and "Jefferson Does!" They just came out this summer, and we're really excited about them. Click the photograph of the models for more information.
---
To repeat our words from the beginning, this is a free subscription ezine for friends of The Grove - in other words, we NEVER arbitrarily add email addresses. We also NEVER sell or share email addresses with anyone else.
Feel free to pass the GroveZine on to your friends - all I ask is that if you forward it, please include the header, trailer and everything. Thanks!
To subscribe, just go to The Grove's Website and put your email in the blank at the left bottom of the page.
To unsubscribe, although we'd sincerely hate to lose you, simply follow the directions at the bottom of the this email.