www.thegrove-jefferson.com October 2012 ISSN 1558-3252
This is a tiny little free subscription ezine for friends of The Grove - it is by request only. In other words, we NEVER arbitrarily add email addresses. We also NEVER sell or share email addresses with anyone else, for any reason at any time. We hate SPAM as much as you do!
"I think the supernatural is a catch-all for everything we don't understand about the vast other parts of life that we cannot perceive." - William Shatner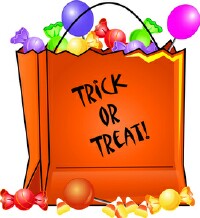 Hello, all... I hope that everyone is ready for a happy Halloween! With the October issue of the 'zine, the most haunting month of the year, you may be expecting an especially ghostly issue... and I hope that you'll find that to be true. Starting out, though, you may be wondering whether you're reading the GroveZine, or Robert Ebert's movie review journal, or Martha Stewart's email recipe guide. Although it's outside of the norm, I have a movie review to share with, well, at least a couple of you, and then one of my favorite recipes in the world to pass on to everyone. After that, we'll get around to a little news from Jefferson, Texas, and then some incredible ghost stories from The Grove - including a couple of photos and some fantastic tales. I've been looking forward to this GroveZine... ready? Well, get a comfortable seat, grab your bag of Halloween candy, get a handful of candy corn, and let's get started!
First of all, please allow me to wax nostalgic for a moment or two... Tami and I were married over 30 years ago (which is strange because I don't think of myself as even being 30 years old), and not long after that blessed occasion came yet another blessed occasion - the birth of the slasher movie. The movie Halloween was an overnight sensation, followed closely by Friday the 13th, and of course, the Nightmare on Elm Street series. They were immediately a part of our pop culture, and so my wife and I watched and enjoyed them all over the years, cringing with every knife through the torso, and cheering when the innocent girl somehow managed to survive the killer's rampage. Those films are now campy and almost funny, but we still enjoy renting one every now and then. When a new one called Cabin in the Woods came out, we put it on our list of movies to rent, expecting another re-hash of the same old slasher film... not that it would be a bad thing. The reason that I'm reviewing it here at all is that if you're a fan of the old slasher genre, then this movie was done in homage to you. I realize that won't be a huge percentage of the GroveZine readers, but if you're one of those few - and ONLY if you're one of those few - then you have to rent this movie. Immediately. Go into it knowing that it's not what you think it's going to be, suspend reality even more than you do for a Friday the 13th franchise movie, and sit back with the popcorn and enjoy Cabin in the Woods... not your typical slasher movie, but definitely made for slasher movie fans!
And now for one of my favorite recipes of all time - we just prepared it for a friend on the occasion of his birthday, which is what made me want to share it with you. I found this recipe back in 1984, when I was working as a software engineer at Northern Telecom in Richardson, Texas. We had a customer site at Central Michigan University in Mt. Pleasant, Michigan, and we were all flying up for week-long duty there. When my plane landed, my buddy Brian picked me up and on the drive back, told me that I simply HAD to get a pork chop at The Embers restaurant there in Mt. Pleasant, the home for CMU. A day or so later I went there and ordered their "one-pound pork chop," but they had already sold out. Since it takes 24 hours to prepare, once they sold the last one, they were done for the evening. The next day I took an earlier dinner, and finally had the opportunity to taste this culinary delight. It's an incredible entree, and although it takes a little trouble to prepare, that's just something else to brag about. When I was paying my tab for the evening, I saw that chef Clarence Tuma had a stack of recipe cards beside the register - he wanted folks to prepare his signature dish at home, and come back to discuss it with him. Trust me, if you make these, you'll be a rock star at the dinner where you serve them. These one-pound pork chops take at least 24 hours to prepare, involve two sauces, and must be baked and finally grilled... and they're DELICIOUS!!! Click on the photo for the recipe - and get your tastebuds ready!
Note: If you prepare the One Pound Pork Chop for friends or family, when they compliment the dish, be sure to say, "Oh, it's one of my favorites... but the chops have to be specialty-cut by a butcher, and it takes 24 hours to prepare, including 2 sauces with baking, and then grilling, so it's not something that I do all that often!" That will make the dish sound all the more labor-intensive, which combined with the DELICIOUS taste, will make you an absolute hero... if not a local legend!
I have to say hello to a new block of GroveZine readers this month - the wonderful ladies of Zonta District 10! I do a lot of speaking around the region, and some time ago I was contacted by Zonta District 10 to speak at their annual district conference this year. I didn't know anything about Zonta International, but learned quite a lot about the group before it was time for my talk. They are a worldwide organization of professional women that stand up for women's rights, against violence toward women, and fight human trafficking, to name but a few of their causes. Their work is incredibly impressive. While their conference is full of serious planning and discussion, I got to speak at their fun-banquet where everyone had a chance to relax and visit.


All the folks there were having a great time - there was a fashion show from a local clothing shop called "Dressing Gaudy," a wine tasting, a photo booth, an incredible meal, and then my presentation about the supernatural. My wife and I had such a wonderful time that we talked about it all the way home, and I have to say a special thank-you to these ladies not only for the incredible work that they do in Zonta, but for being such gracious hosts. As we were about to leave, they insisted that we dive into the photo booth, where there were all kinds of crazy accessories to use in the photos... I think that we may have found our Christmas Card picture!


On a more serious note, to find out more about the wonderful ladies of Zonta, visit their website. In conversations with the Zonta members there, I was shocked to find out that human trafficking exists in today's world - not just on faraway shores, but right here in our area. It was both shocking and frightening. The women of Zonta are a dedicated group undertaking a very, very important mission!
Introducing... The Gallery in Jefferson

There have been several new businesses cropping up in Jefferson over the past few months, and the latest is a wonderful art gallery opened by local artist Mieko Hathaway. It features works not only by Mieko, but by many other local artists as well. It's a perfect place to find a beautiful painting for above the couch, that empty wall in the dining room, or the blank space in your bedroom. Next time you're in Jefferson, stop by and say hello to Mieko and check out some of the beautiful artwork in her gallery.
We're only a few days away from Jefferson's Fall "History, Haunts and Legends" Conference. It's going to be held at the Jefferson Visitor's Center (a great facility) on Saturday, November 3rd. The day will be filled with a slate of speakers talking about all things paranormal, and that evening there will be investigations of some of Jefferson's most haunted places led by some of the region's top teams. During the past conferences, the evening investigations have yielded some incredible experiences. Oh, I wanted to be sure and mention that one of the places open for investigation during the conference is an old 1860 home called The French Townhouse. This is a rare treat - I've only been in the house once in the past ten years, so be sure to take advantage of this opportunity. I'll be speaking that weekend, and of course visiting with everyone throughout the day... I'm really looking forward to it! The conference is sponsored by the Historic Jefferson Ghost Walk, and there is more info at jeffersonghostwalk.com.
I was on my way to Longview, Texas, to a speaking engagement this month, when I heard my phone chirp - a text message had come in for me. I was just pulling into a store to pick up some Tums (note to self: never eat sweet & sour meatballs before a presentation) so before getting out of the car I picked up my phone and took a look. It was a message from my cousin, who said, "Hey, just got the new Texas Monthly and saw that there was an article about Jefferson, along with a mention of you and The Grove." The store happened to have a magazine rack, so I picked it up and found a very nice write-up about Jefferson by a reporter named Jordan Breal. It was a very nice treatment of the city... including The Grove. If I didn't already live in Jefferson, I'd definitely want to visit based on her recommendation. Thanks so much, Jordan!
Tickets are going fast... because Rahim Quazi is doing an intimate concert at the Pride House here in Jefferson. I have his first two CDs, Big Black Box and Supernatural and love Rahim's music. He'll be bring his laid-back, jazz guitar sound to Jefferson on November 17th along with Nicholas Altobelli. It's a BYOB arrangement, so it will be a great opportunity to bring a bottle of wine, kick back and mellow out, and listen to some wonderful music. Like I said, though, the tickets are going fast - call 903-665-8845 or email stay@thepridehouse.com to reserve a place.
We decorate The Grove for fall, but not a lot for Halloween. The one exception is the Halloween tree that we've had for the last few years. Throughout the year we keep our eyes open for ornaments, and this year we bought a new, 4-foot tree to display them. We've really enjoyed it - and shortly we'll take it down and start decorating for Christmas, and then after that, once 2013 rolls around, we'll get ready for Mardi Gras. And who knows... I think that it may be time for The Grove to have a Mardi Gras tree!
To begin with, I received an email from a lady named Jessi who was kind enough to share her first experience with The Grove. She is obviously a person who is sensitive to the supernatural, and this is her experience when she went on the Historic Jefferson Ghost Walk...
I had never been on a ghost walk before, nor have I ever been on a ghost tour. My dad had decided for Halloween to treat my sister and I to the Jefferson Ghost Walk. Throughout the whole walk I was unconvinced of spirits (I had never experienced anything paranormal at the time). Being a skeptic at only 12, I was about to get what I was asking for next. The tour guide begin to tell us of the next location. It was called "The Grove". She had mentioned we would feel a temperature drop within two blocks of the location - she was right. It felt like walking through a wall. Once at the location, I felt sort of disorientated. Then able to focus on what seemed like a innocent little house...then I noticed figures. They seemed everywhere. Some were shadowy, but three were clear as day to me. I saw what appeared to be a African-American man. He looked like a slave or possibly a farmer - wore a red shirt with the sleeves pulled up to his elbows and tan pants that were flooding on him (ending a few inches past his knees). A straw hat was tilted down on his head, covering his face. I saw him standing there nearly the whole time in the garden as the tour guide spoke about a man supposedly having a unmarked grave there. He seemed to be watching us and didn't move if any at all. The other two ghost are the ones that have seriously burned into my mind. (NOTE FROM MITCHEL: the Young family, who purchased The Grove in 1885, was an African-American family whose son took his own life by hanging on the back porch - which later became our bathroom. Because of the suicide, he couldn't be buried at the cemetery in the family plot, so there is speculation that his body was interred in the garden of The Grove.)
The second ghost I saw for sure was a confederate soldier on the front porch. He seemed sort of angry but also fearful. Like the face of a man who knew he was about to have to defend his life. He stood on the west side of the front porch. He walked back and forth in a pacing manner as if he was patrolling or guarding, holding his rifle up laying against his right shoulder. I could not make out his face. (NOTE FROM MITCHEL: see the photo of the figure that a guest of our snapped on the front porch on the TV show My Ghost Story... the man has a sash, which many believe to be military, but his face is not visible.)
Lastly was a lady in a white dress. Before they added her into the tour, I saw her and asked about her. The tour guide didn't seem like she wanted to talk about it. But, she did confirm even then I was not the only person to see her. I had felt something pulling me...I turned to notice something white on the right side of the house. I then saw what appeared to be a woman not older than early twenties... I felt like she was staring into my soul. I saw a old-fashioned porch early 1900's and it appeared to be painted a faded green. She had walked out and looked straight at me. She appeared worried and crying. Her hair was up but distressed. She wore a long old fashioned late 1800's/early 1900's high collared white dress. When she realized I was looking at her, she went from a sad face to a gentle one. She then turned around and walked nearly the length to the back of the house then turned and disappeared into the wall. I felt frozen to the bone. (NOTE FROM MITCHEL: If you listened to the the Metaphysically Speaking interview that I did (the link is below), the host tells a similar story to this about seeing the Lady in White... although these two people are completely unrelated)
Wow, a special thanks to Jessi for sending in this account of her visit to The Grove - VERY interesting stuff!

---
I sent out an email last week about my appearance on the show "Metaphysically Speaking" with Ladean Snodgrass, and I had a great time there. Ladean was a wonderful host, and we had the opportunity to discuss some of my favorite places from my book A Ghost in My Suitcase: A Guide to Haunted Travel in America... The Crescent Hotel in Eureka Springs, AR; Thayer's Historic B&B in Annandale, MN; and of course, The Grove in Jefferson, TX. I know that we had a number of GroveZine readers listening that night, but if you missed it, here's a link to the recording that I made on my end: Metaphysically Speaking.

---
I've got to give a shout-out to Nick Groff, and his wonderful book Chasing Spirits: The Building of the "Ghost Adventures" Crew. This is an excerpt where Nick talks about, "What is a Ghost?" - I love what he has to say about energy. You'll find even more interesting observations in his book, but first check out this little preview...
One lesson Ghost Adventures has taught me is that this stuff is real, and it's a lot more prevalent than I'd previously thought. I've picked up a lot of ideas on how to investigate and how to get results from each location. Does it work every time? No. I've had plenty of misses, but I've also had a lot of successes in gathering profound evidence of spirit contact.
Going to so many haunted places has caused me to think about what might be out there and why our equipment helps us make contact.
When I was a kid, I thought a ghost was some apparition that comes into our world to scare us. That's what ghost stories taught me, and it's the theme that Hollywood ran with. But now I realize an apparition is only one version of the ghost experience. It's also the most rare.
Here's an experiment you can try right now: Think of a friend from your childhood. Go ahead - close your eyes and envision that friend. You can actually see that person. Your memory fired some electrochemical impulses in your brain that allowed you to visualize your friend. Energy made that happen.
Energy can't be created or destroyed; it can only change forms - that's a law of physics. Not a theory of physics - a law. It's called the law of conservation of energy. It means that if you take an isolated system, such as a person, the energy contained in that person can't be destroyed. It can change forms from chemical energy - like the signals that travel down your nerve pathways - into kinetic energy, the energy required to move your arm, for example, but the energy is always there.
This law makes sense to me. It means that when we die, our energy must go somewhere. The flesh and bones - the empty vessel - is left behind, but the energy survives.
Every time we remember someone who has passed on, we are using an electrical impulse in our brain to call up that person's image. That memory and image gives you a connection to that person. This is why so many people have visitation experiences involving their deceased loved ones.
The ghost experience isn't just seeing an apparition. People can sense ghosts, like the way you can tell when someone walks into the room behind you. People can smell ghosts - I can't tell you how many times witnesses have reported smelling perfume or a cigar when no source can be found. Smell is closely related to memory, so that scent may call up something specific in the case of a deceased loved one. People hear ghosts - sometimes we hear disembodied voices in a location. And then, of course, there's actually seeing something. The ghost experience involves our senses. There's no way around it.

This is a great book for anyone with interests in the paranormal, and is well worth a read!

---

And now for a couple of great photos...
On October 20, some folks had walked down to The Grove and were taking a few photos from the street. Melody Ford ended up with a couple of incredible pictures, which she was kind enough to share with the GroveZine readers - and here they are:


These photos just blew me away - I have no way to explain them. I took them and followed the path of the light, and came up with the enhanced photos below. Take a look at them, and then look back at the originals. I have no idea what this moving lighted object was, but I've never seen anything like it before... I find it INCREDIBLY interesting. Notice on the top photo that there is an inner core of the sphere as it moves, and traces the path that the sphere moves.

---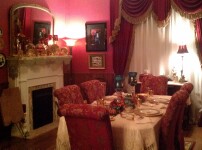 A week or so ago, I had just taken the folks on the tour from the parlor to the dining room, and as I was starting to introduce the Young family who purchased The Grove in 1885. I saw a lady whisper something to her husband, and they quickly turned and exited through the front door of the house. I wondered what had happened, and hoped that I hadn't bored them into leaving, but I continued on with the tour. We had two more tours that day, and before the last one, my wife told me that she'd been on the phone with a lady who left the first tour and wanted to come back and try it again - she'd gotten ill on the tour she was on. I was delighted to have them back; at the start of the tour she told me that she was fine until we walked into the dining room, but she started feeling sick and dizzy. They quickly left, but she felt better by the time that she got out to the street, and was fine by the time that they were down the block from The Grove. She made it through the tour that next time, and in the Game Room I asked how she was doing - she said that she was fine, since she'd made it through the Dining Room. After the tour was over I spoke with her when we went back up front to the Dining Room again, and she was starting to feel a little weird again. I've come to believe that the Dining Room is a place that affects some people who are extra-sensitive to the supernatural... some more intense than others. Twice we've had people faint in that room, in fact. Thankfully, it's not something that happens on every tour; I was just happy that the lady from that particular day was brave enough to come back and try again - I believe that she may find that she has a special sensitivity to the supernatural world!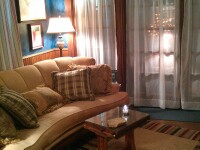 The Den of the house - a new room that wasn't added until 1870 - has a lot of fun, mischievous things that happen there. We've had people get their hair pulled, hear their name called from out in the hallway, and (to our horror) a lady even had some unseen hand pat her on the bottom. We've had a light turned off while we're reading, and seen the lid to a storage tin open by itself. That's why it doesn't surprise us when something like that happens on the tour. We had a group in the Den this month on a Saturday, and a young lady had taken a seat on the couch while I was telling some of the stories from that room. She had her phone out, and suddenly it flashed; I didn't think anything about it, assuming that she'd taken a picture. The girl suddenly tossed her phone to the coffee table, where it flashed again. She squealed, "My phone's taking pictures all by itself!!!" and she quickly jumped up and dashed to the other side of the room. Everyone laughed - albeit a little nervously - and she cautiously picked her phone up and put it away. I didn't hear back from her, but I'd love to know what was the pictures showed.
One of the most entertaining things to do when visiting town is to take the Jefferson Historic Ghost Walk given by Jodi Breckenridge. It starts at 8PM at the corner of Austin & Vale streets in the empty lot across from the Jefferson Hotel and the Bakery. Jodi's a wonderful guide, and an authority on the supernatural side of the city. With that, though, I have to report that she's terrified of The Grove. Before this month, I can only think of three times that she's been in the house. I'm happy to report that this month she came inside for a fourth time! The local NBC affiliate out of Shreveport was filming a ghostly segment for the news, and Jodi had agreed to be a guide. When they came to The Grove, she and the host came inside, and both of them began experience cold spots in the front parlor. It was a pleasant Fall afternoon, so the air conditioning wasn't running in the house... in fact, there was no physical explanation for the pockets of cold air. Both of them were reporting them, though, and it was seriously frightening both of them!
This last story for the month is actually second-hand, but because it is something that I've heard variations of first-hand several times before, I found it to be very interesting. It seems that on the Jefferson Historic Ghost Walk a couple of weeks ago, there was a family standing on the edge of the group. A young girl was standing in the street looking at the garden of The Grove, and suddenly she started shaking and becoming very agitated. She began carrying on about a man that she saw in the garden that was freaking her out. No one else could see him, so her mother took her away to calm her down. I don't think that this is our regular garden guy that we see out there, because he has a peaceful, almost jovial demeanor. What people have occasionally described seeing out there is a frightening man who is sometimes re-enacting a terrible scene of beating another person. I've never seen this, and in many ways, I'm quite thankful. I wish that everyone could instead see our mischievous garden guy, because he is very pleasant. Clearly, however, some more sensitive people - usually children - see something much more disturbing. But that's all part of The Grove, and with that story, I'll close out for the month. Have a Happy Halloween, and start preparing yourself for a delicious turkey for Thanksgiving!

Oh, and as I close for the month, I have to remind you that it's time to "fall back" this weekend - set your clocks back an hour before you go to bed. And that said, most of all, have a very Happy Halloween!!!
The Grove... been there, done that... but DON'T have the T-Shirt?!?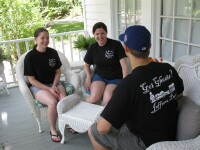 Well, now there's now an official Grove Tour t-shirt! To find out more about it, click on the photo of the stylish young folks modeling it. It's black with white letters - like any respectable ghost tour t-shirt - and the front has our tour name: "Haunts & History of The Grove, Jefferson, TX." The back has the famous view of Austin Street here in town, framed by the slogan, "Got Ghosts?" and "Jefferson Does!" They just came out this summer, and we're really excited about them. Click the photograph of the models for more information.

And by the way, if you own a Grove t-shirt, send us your photo wearing it, hopefully in front of a famous haunted place! We'd love to see where The Grove t-shirts are going!

Here's what's coming up around town...

11/03/2012 - History, Haunts & Legends Paranormal Conference
11/09-10/2012 - Trammel's Trace Rendezvous
11/23/2012 - Christmas Tree Lighting Ceremony @ Lion's Park
11/29-30/2012 - 30th Annual Christmas Candlelight Tour of Homes
12/01,06-08/2012 - 30th Annual Christmas Candlelight Tour of Homes
12/03/2012 - Jefferson's Old Fashioned Christmas Parade
12/16/2012 - Uncertain, Texas' Floating Christmas Parade
12/31/2012 - New Year's Eve Party @ Jefferson Carnegie Library
1/25-27/2013 - Quilts on the Bayou, Jefferson's 10th Annual Quilt Show
2/8-10/2013 - Mardi Gras Upriver
3/22-24/2013 - 2nd Annual Route 49 Motorcycle Rally
4/19-21/2013 - Outlaw Nationals Classic & Antique Car Show
5/3-5/2013 - Battle of Port Jefferson Civil War Re-enactment
5/3-5/2013 - 66th Annual Pilgrimage Historic Home Tours & Spring Festival
5/25/2013 - Cypress River Airport Fly-In
5/31/2013 - 3rd Annual Big Cypress Corvette Classic
---
To repeat our words from the beginning, this is a free subscription ezine for friends of The Grove - in other words, we NEVER arbitrarily add email addresses. We also NEVER sell or share email addresses with anyone else.
Feel free to pass the GroveZine on to your friends - all I ask is that if you forward it, please include the header, trailer and everything. Thanks!
To subscribe, just go to The Grove's Website and put your email in the blank at the left bottom of the page.
To unsubscribe, although we'd sincerely hate to lose you, simply follow the directions at the bottom of the this email.