www.thegrove-jefferson.com November 2012 ISSN 1558-3252
This is a tiny little free subscription ezine for friends of The Grove - it is by request only. In other words, we NEVER arbitrarily add email addresses. We also NEVER sell or share email addresses with anyone else, for any reason at any time. We hate SPAM as much as you do!
As a young man I was scornful about the supernatural but as I have got older, the sharp line that divided the credible from the incredible has tended to blur; I am aware that the whole world is slightly incredible. - Colin Wilson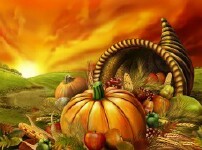 First and foremost, let me wish you a Happy Thanksgiving from The Grove! I can't believe how fast this year's gone by, and that turkey-day is already upon us. In Jefferson that's the gateway to Christmas; the following Friday evening everyone will gather in the park for the annual lighting of the Enchanted Forest Christmas Trees, and the Candlelight Tour of Homes begins the weekend after that. When that's complete, Christmas is only a week or so away, followed by New Year's Eve, and then we toast with a glass of bubbly and start it all over again with a new year. I don't want to rush it, though... it's going to be a wonderful holiday season, and I want to enjoy every single minute of it.
And speaking of turkey, well, I believe that I'll be eating it for the next full month. You see, a couple of weeks ago I was at the grocery store and my wife called to tell me to get a Thanksgiving turkey. I asked her how big a bird she wanted, and she just said, "Well, we're looking at possibly seven people coming, so get the biggest one that they have." I tend to take instructions quite literally, so I went through every single turkey in the store's freezer, finally fulfilling my directive - the largest one was 21.39 pounds. I was very proud of myself. I called home as I was leaving the store, but my wife was a little shocked... "It weighs HOW MUCH?!?" I countered with, "But dear, you said..." Oh well, after all, there would be seven of us.
Then two made other plans, and two more got stuck in Austin with the flu that's going around, taking us down to only three people at the table. Three, that is, and a 21.39-pound turkey. Like I said, we'll be eating it for a long time... turkey sandwiches, turkey quesadillas, turkey wraps, turkey omelets... you get the idea. That's it in the photo, taking up the entire top shelf of the 'fridge. Oh, boy...
Meanwhile, this is the month! The Grove is supposed to be on the November 23 edition of HGTV's Home Strange Home. Check your local listings, but I believe that the show airs at 8PM Central Time (do check me on that). They were here filming two straight days to get about fifteen minutes' worth of air footage, so we can hardly wait to see how it all came together. The Home Strange Home folks were wonderful to work with, though, and it was our pleasure to play host to them. Be sure to watch the program Friday evening as you're having leftover turkey!
This is awesome... the website that I'm always encouraging people to visit to rank their tour of The Grove - TripAdvisor.com - recently gave Jefferson, Texas an incredible accolade. We were named one of America's Top Ten Spookiest Getaways! TripAdvisor described Jefferson by saying, With ghost stories dating back more than 100 years, this northeast Texan spot is rumored to be the most haunted small city in the Lone Star state. The TripAdvisor editors say the 10 destinations provide guests with spooky experiences, from spotting the Headless Horseman to ghost hunting at in a historic mansion, and even exploring the site of a suspected UFO crash. The other nine destinations are Salem, MA; Anoka, MN; Sleepy Hollow, NY; Roswell, NM; Tombstone, AZ; Alton, IL; Monticello, FL; Ellicott City, MD; and Adams, TN. I was really excited by that announcement!
And as long as we're talking about TripAdvisor.com, if you've toured The Grove in the recent past and you wouldn't mind leaving us a review, we'd greatly appreciate it. We're thankful for the four-star reviews, but we ABSOLUTELY LOVE the five-star reviews! It's simple to do - just click on the ghost-themed TripAdvisor.com logo above to go to their website and leave your review. Thanks so much - we sincerely appreciate it!
I have sad news for any GroveZine readers who've been to the annual Diamond Bessie Murder Trial play here in Jefferson. I know that there are some folks who make it every year as part of the annual Pilgrimage here in town. This month we lost the wonderful old fellow who has portrayed the defense attorney in the play for as far back as anyone can remember - William J. Cornelius. This past year marked his 50th year in the production. The dear old fellow died of a heart attack just a few days ago, and the town is in mourning. Not only was he a delightful person, and a pillar of the Diamond Bessie Murder Trial play, but he was also the cornerstone of the "Table of Knowledge" - that's a table at our local City Drug where a handful of men meet for coffee and solve all the world's problems on a daily basis. Back in the day, he was the Chief Justice of the Criminal Court of Appeals for the district. I'll certainly miss Judge Cornelius, and the interaction that we had in the play every year. Rest in peace, my friend.
This month I have some very interesting ghost stories for you, and even a photo that - try as I have - I simply can't explain! Let's get right into them...
I was cooking out on the grill one evening when I saw a gentleman walking up the driveway. I walked over to greet him, and he introduced himself. He told me that he had moved away from Jefferson for a while, but had moved back some time ago. After pausing for a moment, he said, "Do you ever have anything weird happen in your house?"
I assured him that while we didn't find it to be necessarily weird, we did have some interesting things occur. He went on to tell me that almost twenty years ago he worked in the house when it was a restaurant. He was kind enough to tell me a number of things that he had happen to him at The Grove:
* When he first came to work there, Patrick (the chef and owner) was showing him around the house. He had dreadlocks at the time, and some unseen hand kept messing with them, pulling the ends and flipping them up. It was a little unnerving, so he told Patrick, who immediately stopped and introduced him to the house, explaining that he would be working there and for the spirits not to mess with him. After that, things were fine.
* He was standing out in the yard one evening with Patrick and a couple of other employees when they saw what first looked like a white mist in the front part of the garden. They watched it because it was moving - it seemed to glide across the property, and more and more began to resemble a woman's long, white dress. It vanished into the night as quickly as it had appeared. [Note from Mitchel: Remember this when you're looking a the photo below!]
* Another evening after they restaurant had closed he was outside talking to Patrick before they both left, and suddenly there was a loud thump from inside the house. They went back inside, turning lights on, but could find nothing that could have caused the noise. They decided to check the attic, and climbed the stairs; once there, nothing seemed out of place, but they noticed two wet footprints in front of the attic windows on the west side of the house. It wasn't raining, there is no water in the attic, so they were mystified as to where they'd come from, and who had made them - the house was locked up tight.
* Yet another night a similar group was standing out in the garden just visiting after the restaurant had closed, including Patrick and several of his staff. Everything inside had been turned off and the place was locked for the evening, when a light went on in the kitchen. Patrick got his keys, opened the side door, and found that the light switch had been turned on. He flipped it off, locked the door, and went back outside. After a few minutes of conversation, they noticed that the light was back on, so Patrick repeated the process. When it happened a third time, he just shrugged and said, "Oh well, I guess the house wants that light on!" and the group broke up to head to their homes.
I've heard - and experienced - very similar things, but it's always interesting to have a stranger with a past experience with The Grove share his stories. The gentleman seemed happy to meet me and hear that we had things that continue to happen. He confessed that when he first moved back and was out walking, he'd often go a block out of his way to not have to pass by The Grove. I assured him that even with his past experiences and the things that continue to happen in the house today, he didn't have to do that.
As the comedy troop Monty Python used to say, "And now for something completely different..." Because of schedules and such, it's sometimes tough to plan weekday tours. On November 1st, though, everything worked out and we had enough advance notice to accommodate three ladies who wanted to tour The Grove. For all of you who've taken the tour before, you may remember that when we first come inside, I make a production of locking the top, eye-level deadbolt on the front door and always make the same joke: "I lock the door behind us, so if anyone needs to run out screaming, you have to turn this key to the right." I do that because there is one area of the house were people who are particularly sensitive to the supernatural have become ill, and they sometimes have to leave the house immediately. It doesn't happen every tour, but at least a few times every year, and I want people to know that to leave they must unlock the door. Anyway, on the November 1st tour the three ladies and I had made it back into the den when I saw a figure moving around up in the game room through the sheer curtains on the French doors separating the two rooms. My first inclination was not to say anything about it, because I do not call attention to any supernatural activity that I pick up on during the tour. I soon saw another figure, and the way they were looking around the room I realized that these were real people. I excused myself and stepped out into the hallway in time to meet two young ladies who asked if we were doing tours that day. I explained that one was in progress, and almost over, in fact; since I had an appointment right after that I couldn't do another one, so the ladies asked if they could join and just finish out the current tour. I told them that would be fine, and we went back into the den. Before starting the tour back up, I said, "I don't mean this like it's going to sound, but how in the world did you get into the house?" The young women shrugged and said, "We just opened the door and walked in." The three ladies that had been on the tour all this time looked at each other and said, "But we saw you deadbolt the door! It was locked!" The young women looked confused and said, "No, it wasn't locked - we thought we were supposed to just come on in." I continued the tour, but when we were finished and had returned to the front of the house, I explained to the two young women that the reason for all the surprise was that at the start of the tour, I always locked the door and made a little joke about it... and as I was doing that, I reached up to lock the deadbolt, and found that it was actually still locked. That surprised the girls, because they assured us all that they hadn't locked the door when they came in. I told them that apparently The Grove must have wanted them on the tour that day!
On one of the Grove tours this month I'd led the group into the game room of the house - which was once the master bedroom back in the 1800s - and I noticed that one man had stepped back into the dining room. He stood just a few feet inside for some time, looking around, and especially up at the ceiling. He finally came into the room where we were, whispered to one of the people in his party, and they accompanied him back into the dining room. Before long they were both looking around and up, but they followed us when we finally continued on. After the tour he asked me what was upstairs, and I told him that there was just raw attic - rafters, insulation, and that we used it for storage. He assured me that after everyone left the kitchen, he'd heard footsteps up there. Even though no one has ever lived in the attic (at least to our knowledge), that's not the first time that such a thing has been reported. My wife and our friend Angie heard it one evening, and it was so pronounced that they took a video camera upstairs to investigate. We have no idea what - or who - it could be... just another mystery of The Grove.
Now for a very interesting photo submitted by one of our visitors...
This was taken around midnight or so on a Saturday evening. A group that had toured The Grove earlier was driving past, stopped in front of the house, and Ginny Ashwood rolled down the window and hit the photo button on her camera. It was set on multi-burst, taking about ten pics at a time. When they got home and were looking at them, the figure at the far right of the frame caught their attention... and I found it to be EXTREMELY interesting. First of all, there is nothing there that should be showing up as what most decidedly looks like a human figure. Believe me, I went outside and looked - and even got my own camera at midnight to try and recreate it (but couldn't). There are other factors that make this even more interesting, though. It wasn't on the ghost walk or when people were outside at The Grove - the street and the front of the house were both deserted. Even more, in looking at the series of photos, whoever or whatever it is appears to be moving, and has vanished by the last shot... yet the burst of photographs took place in just a second or two. [Note from Mitchel: Remember what the former Grove restaurant employee said earlier?] This one is very, very, interesting.

And with such a cool photo that they allowed me to share, it's time to wrap up this GroveZine. At this time of Thanksgiving, how can I express an adequate thanks for all of the GroveZine readers... We have folks from one coast of America to the other, and many different countries around the world, and I never cease to be humbled that you take a little time out of your busy schedule every month to read the GroveZine. I enjoy meeting you, receiving your emails, and hoping that I've been able to bring you an occasional smile... and of course, a little exploration into the supernatural world that is around us. On this holiday I am so thankful for my family, the wonderful place known as The Grove, and for you folks that keep coming back every month for another dose of the GroveZine. May you be be truly happy and blessed this holiday season. Thank you, and Happy Thanksgiving!
Looking ahead, here's what's coming up around town...

11/29-30/2012 - 30th Annual Christmas Candlelight Tour of Homes
12/01,06-08/2012 - 30th Annual Christmas Candlelight Tour of Homes
12/03/2012 - Jefferson's Old Fashioned Christmas Parade
12/16/2012 - Uncertain, Texas' Floating Christmas Parade
12/31/2012 - New Year's Eve Party @ Jefferson Carnegie Library
01/25-27/2013 - Quilts on the Bayou, Jefferson's 10th Annual Quilt Show
02/08-10/2013 - Mardi Gras Upriver
03/22-24/2013 - 2nd Annual Route 49 Motorcycle Rally
04/06/2013 - Jefferson History, Haunts & Legends Paranormal Conference
04/19-21/2013 - Outlaw Nationals Classic & Antique Car Show
05/03-05/2013 - Battle of Port Jefferson Civil War Re-enactment
05/03-05/2013 - 66th Annual Pilgrimage Historic Home Tour
05/25/2013 - Cypress River Airport Fly-In
05/31/2013 - 3rd Annual Big Cypress Corvette Classic
---
To repeat our words from the beginning, this is a free subscription ezine for friends of The Grove - in other words, we NEVER arbitrarily add email addresses. We also NEVER sell or share email addresses with anyone else.
Feel free to pass the GroveZine on to your friends - all I ask is that if you forward it, please include the header, trailer and everything. Thanks!
To subscribe, just go to The Grove's Website and put your email in the blank at the left bottom of the page.
To unsubscribe, although we'd sincerely hate to lose you, simply follow the directions at the bottom of the this email.