www.thegrove-jefferson.com February 2013 ISSN 1558-3252
This is a tiny little free subscription ezine for friends of The Grove - it is by request only. In other words, we NEVER arbitrarily add email addresses. We also NEVER sell or share email addresses with anyone else, for any reason at any time. We hate SPAM as much as you do!
"The Paranormal is entirely NORMAL. Furthermore, I believe the Supernatural is both SUPER and NATURAL. Paranormal and Supernatural experiences happen to ordinary folk like you and I, every day. Ain't it cool?" - JoLynne Valerie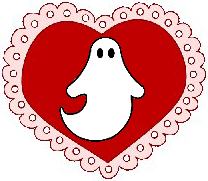 Here we are already in February, the month of love! I've noticed that a recurring theme in my personal GroveZine comments is about how fast time is passing - but it's true! Time is flying, and more so every year. I keep telling myself that I'm going to enjoy and appreciate every single day of 2013, and to savor every single minute. That said, I hope that you had a happy Valentine's Day, Mardi Gras, Fat Tuesday, and a wonderful rest of the month for that matter. I think that the best news of the month is that asteroid 2012-DA14 sailed right by Earth without crashing into us, and ending life on the planet as we know it. All in all, that's not a bad conclusion to its visit, and a great Valentine's Day present. By the time that the next one is coming at us, I hope that NASA has the technology to zap it out of our way.
Speaking of Valentine's Day, my wife and I had a wonderful evening out here in Jefferson. We made a reservation at one of the newest restaurants in town, Memories and More, a piano bar with steak and seafood. While my wife selected the grilled chicken breast, I had the "Angels on Horseback" - grilled shrimp wrapped in bacon, with a jalapeno spear inside. Our experience was incredible - great atmosphere, wonderful piano music, and the food... well, it was delicious to say the least. We had a wonderfully romantic evening at Memories & More, and we'll be going back soon. It's located right on Austin Street across from the Jefferson Hotel.
Now for my favorite story of the month... somewhere around my mid-30s, it suddenly dawned on me that I would soon be approaching that era of life known as "middle age." The realization hit me a little hard, and for a while I was in full-crisis mode. Some guys deal with this crisis by purchasing a snappy little convertible sports car, but I just couldn't afford that. I took the path of least resistance, which was to grow my hair long like the rock-and-roll heroes of my youth: the Stones, the 70s-era Beatles, Alice Cooper, Bob Seger, etc. I've had it like that ever since, although nowadays it's a bit grayer, but I suppose that happens. One morning a few days ago I was walking into the Kroger grocery store in Marshall, and my path was converging with this old fellow. When we got closer, he frowned at me and said, "You afraid to get your hair cut, boy?" I laughed and replied, "No, I guess it was just my mid-life crisis." He frowned again, added a snarl, and growled, "Well, you ain't nothin' but a hippie from Mississippi!!!" In the moment before he stomped off, mad at me for some unknown reason, I thought about replying to him. I could've pointed out the flaws in his logic - that I'm actually, by definition, not a hippie. I haven't dropped out of society (as enticing a thought as that sometimes might be), I don't take drugs (unless you count my daily blood-pressure medication), and I'm certainly not protesting anything... unless it's the fact that I'm getting older. I'm also not from Mississippi, although we love visiting Natchez whenever we can, and love to get up to Vicksburg. Instead, I decided not to interfere with his judging and dislike of me because I happen to look a little different from him. Hey, I'm not one to rain on anybody's hate-filled parade, so I just got out my grocery list and headed inside.
But getting to more life in Jefferson, not long ago I went into the General Store here in town. This is something that I do all the time - after all, they have a full-blown, old-fashioned soda fountain, they serve famous Jefferson Moody Dogs, their selection of snacks and goodies is second to none, and they make incredible pecan pralines. I love the place! On that particular day, however, I was there to sign their stock of my books, which is something that I do every week. Little did I know that Tyler's KLTV television station was there filming, and I somehow got brought into the program (not that I'm complaining - I love promoting my books). You can click on the photo to play the news clip that they shot. When I saw it, I almost died laughing... I enjoyed the line: "Author Mitchel Whitington is only one of dozens of celebrities like Don Henley, Laura Bush and Joe Nichols who have indulged in the authentic atmosphere of the store..." While I loved being mentioned in the same sentence as Eagle Don Henley, I'm sure that his attorneys are currently on the phone with KLTV saying, "Why did you speak my client's name in conjunction with this commoner, this Whitington guy?!?" Oh well, all's well that ends well, and I loved being in the General Store's television segment. And having my name said next to Don's... and who knows, maybe that can get me backstage next time he's in the area. On the other hand, if G.W. and Laura were sitting on the couch watching this segment, the former First Lady probably said, "Why, they just said my name on TV... but who is this Don Henley, and who is the big fellow with the long hair..." At that point, a secret service agent probably leaned down and whispered, "Ms. First Lady, both of those fellows are just hippies from Mississippi..."
A special February shout-out and thank you to Kathy Patrick of Beauty & the Book here in Jefferson, the world's only beauty shop and bookstore. Kathy is also the Queen Mother of the Pulpwood Queens, a network of reading clubs that span not only the country, but the globe. Every year they have their annual convention here in Jefferson - an event known as "Girlfriend Weekend" - and Kathy was nice enough to invite me to be a part of the festivities. Saturday was an all-day event consisting of author panels, and I was fortunate enough to share one with Robert Leleux, author of The Living End and Jan Reid, author of Ann Richards. That's us in the photo, with Kathy on the far right. Everyone there had a great weekend talking about writing and the publishing world, and sampling of the incredible cuisine and shopping that Jefferson has to offer. It was great to meet several GroveZine readers there as well! If you love to read, check out Kathy's website pulpwoodqueen.com and get involved in the year-long celebration of the written word. A special thanks to Tammy Doriet, Pulpwood Queen and owner of White Oak Manor B&B for providing me with the picture!
We just finished celebrating Mardi Gras in Jefferson, and had a wonderful time. The theme this year was "Superheroes", and it really was a lot of fun - consider this to be your invitation to come join in the festivities next year in 2014! Parades, music, beads, more music, food, even more music, and just a lot of fun. Jefferson's Mardi Gras is safe and family-friendly - you'll feel perfectly secure walking down the street at night, and you won't be exposed to, well, exposures of the kind that are so prominent at other celebrations. The only problem is getting a room in Jefferson... they fill up early! Many folks book their room for the next year as they're checking out this year. If you're thinking about this at all, you can't start looking for a room early enough!
If you've been reading the GroveZine for a while, you probably remember that one of my favorite things about Mardi Gras is to find the weirdest food that is being sold by a food trailer vendor. You can pretty much get deep-fried anything, or also, anything-on-a-stick, so the selection was tough. I missed the chocolate bacon last year, so this Mardi Gras I made the full round, surveying each and every food trailer to check out their wares. This year my pick was (drum roll please)... a Deep Fried Snickers Bar! Yep, you heard that right. They take a Snickers, dip it in batter, and then deep-fry it. While I was waiting for my delicacy to be prepared and served, I was discussing it with other gourmet samplers and everyone was divided between two distinct camps: "Ooooo, that sounds delicious!" and "Ugggggghhhh, that sounds disgusting!"
As it turns out, I loved it! The milk chocolate and caramel of the Snickers melted into a gooey center for the item, which was surrounded by the fried pastry casing, and then dusted with powdered sugar. I'd compare it to a chocolate-filled donut on steroids. The one thing that was missing was a big glass of ice-cold milk when I finished it. I can hardly wait for Mardi Gras next year, to see what culinary delight I can feature in the GroveZine! (and on a related note, I have a surprise for you in next month's GroveZine, but more about that in March)
And now for my favorite part of The GroveZine - a few ghost stories... This month, I've got a number of things to share that occurred in the den - a new room to the house, that wasn't added until 1870. The original builders and owners of the house, Frank & Minerva Stilley, added this room to join the kitchen on to the rest of the house (the kitchen was originally a stand-alone building out back).
One evening this month we were winding down for the evening, sitting in the den of The Grove with just a lamp or two on, watching television, and talking about our schedules for the next day. We both noticed that music was playing, and it was just barely audible over the sound of the television. Tami thought that perhaps a band was playing downtown, so I walked out onto the front porch to check it out - after all, it was 11:00 pm, and a little late for someone playing in the middle of the week; that almost never happens. Everything was quiet on the front porch - there wasn't even a hum of traffic out on the highway several blocks away. It seemed like the world was still. I went back inside, sat down in the den, and sure enough, the music was still playing. I went out onto the back porch, walked around the outside of the house, and the evening was perfectly still. In the den, however, you could still hear music playing. Trying to be thorough, I checked the stereo in the game room, the CD player in the bedroom, even the computer in my office... there was no physical explanation for the music, so we shrugged our shoulders and went on with the evening. This wasn't the first time that this has happened at The Grove - over the years, some of our friends who have spent the night here have slept on the couch in the den, and the next morning have talked about the music that they've heard playing in the night. It's never been an unpleasant experience... just interesting!
But there's more information about the music in The Grove. For the last few months, we've had Sinatra music playing in the Den of the house during the tour just as a nice, mellow background. A lady asked me if this was the house where the owner kept music playing 24 hours a day, and if it ever stopped, bad things would happen. I laughed and assured her that it was not - that I worked in silence all day, and the only sound at night is the occasional snoring of a basset hound. I went even further and said that I wish that it was our house, because that would make a wonderful story for the tour. A few days ago the previous owner of The Grove, Patrick, stopped by for a visit. I asked him if he knew which house had the ghost story about the music, and he just smiled and said, "This one!" He went on to explain that when he purchased the house back in 1990 it had such an ominous feel to it that he always kept music playing and one light on - both things seemed to calm the house. I never knew that before.
Patrick also reminded me about a couple who came to look at the house when it was for sale. They arrived before the real estate agent, and found that the front door was unlocked. The couple came in to look around, and heard music playing in the back of the house. They traversed it room by room, much like folks do on the tour, and the old-fashioned music seemed to be coming from the kitchen (which is the back-most room). As soon as they got back there, the music stopped, so they looked around to see where it might have been coming from. The only possible explanation was a clock-radio, only it wasn't plugged in. There were no other possible sources, which freaked them out more than a little bit.
You know, perhaps the explanation for all this goes back to Charlie Young, who purchased the house in 1885 with his wife Daphne. He was a musician who played clarinet in Hamp Walker's Band, a famous ensemble of the day in Jefferson - in fact, it was said that if Hamp Walker's Band wasn't playing at your party, then it really couldn't be considered a party! Today, Charlie's clarinet is on display in the Jefferson Historical Museum (that's it in the photo), but who knows, perhaps its music, along with the rest of Hamp's band, still plays on at The Grove.
On another topic, it's not uncommon at all to hear footsteps in the house when no one else is there; in fact, that is one of the first things that we experienced here years ago... and it continues. On one of our tours this month, we were wrapping up and the group had moved from the den into the kitchen. Everything at that point is fairly routine - I stand over between the sink and the stove so that I can tell the stories about both items, and everyone generally stands around the island, which is what happened that day. I noticed a lady had hung back in the den, taking photos, and when she stepped into the kitchen she kept glancing back into the other room... enough that I noticed it - she seemed truly puzzled. After the tour, she told me that as the last one out of the den, she snapped a few photos, and then turned around to join us. She then heard footsteps going across the room behind her, and glanced back to find that there was no one there... the room was empty. She was trying to find any explanation, but could not. Everyone in the kitchen was standing still, and we later found that my wife was sitting out on the front porch reading, so there was no human explanation for the steps. But as she was telling me about her experience, I already knew that she'd experienced the phantom steps; we've heard them so many times in the past that it is just second nature to us.
If you've been reading the GroveZine for a while, you may remember that the occasional, albeit rare, rocking of a chair in The Grove has been observed by our visitors. We've had that reported on the front porch with the wicker chair there, and Miss Louise Young's chair when it was in the front parlor, but this month we had something different. In the den there is a wooden rocker that we brought into the house over a decade ago, and it's never been the subject of any odd behavior before... although it is in the most mischievous room of the house. Which may explain what happened on another tour this month. We had a small group in the den, and after finishing there, I turned and walked into the kitchen, and waited for everyone to join me. People were snapping photos and talking, and delayed a minute or so before following me. Suddenly someone called out and pointed at the chair, which was suddenly rocking. I assumed that I'd hit it as I passed by, but several people told me that they'd seen the rocker sitting still as they were all standing in the den, and it suddenly began moving back and forth with no one near it at all. I just laughed - I'm used to the prankster in the den.


As much as I'd love to continue regaling you with stories from The Grove, I'd hate to overstay my welcome, so I'll say my goodbye for the month and wish you a happy and prosperous March. I hope that the luck of the Irish is with you over St. Patrick's Day, and that you have a truly wonderful month... Erin Go Braugh! By the way, there are a couple of great paranormal conferences coming up in April, so start thinking about them as well (the info is below). Talk to you in a month!
If you missed any issues of the GroveZine, or if you'd like to find out what's been going on for the last several years here at The Grove, you can find past issues at the GroveZine Archives.
In the mean time, here's what's coming up around town...

03/16/2013 - Jefferson Carnegie Library St. Patrick's Day Dance
03/22-24/2013 - 2nd Annual Route 49 Motorcycle Rally
04/06/2013 - Jefferson History, Haunts & Legends Paranormal Conference
04/19-21/2013 - Outlaw Nationals Classic & Antique Car Show
04/19-21/2013 - Diamond Don's 11th Annual Vintage Motorcross
05/03-05/2013 - Battle of Port Jefferson Civil War Re-enactment
05/03-05/2013 - 66th Annual Pilgrimage Historic Home Tour
05/25/2013 - Cypress River Airport Fly-In
05/31/2013 - 3rd Annual Big Cypress Corvette Classic
07/04/2013 - "Jefferson Salutes America" 4th of July Celebration
10/11-13/2013 - 16th Annual Boo Run Benefit
10/20/2013 - A Taste of Jefferson
11/29/2013 - Christmas Tree Lighting Ceremony @ Lionís Park

Spring is just around the corner, which means that it's time for the Jefferson "History, Haunts & Legends" Spring Conference. If you've never been, it's a full, info-packed Saturday. April 6th will be filled with expert speakers talking about all things supernatural, including Larry Flaxman, Mike McCaskill, Dr. Rita Louise, Jennifer Broussard, Dash Beardsley, Cathy Nance, Jeromy Jones, Lyle Blackburn, Ian & Erin Powell, and yours truly, the "hippie from Mississippi," will be there as well. There are vendor tables to browse, and the lunch provided is always delicious. In the evening, attendees get to participate in actual paranormal investigations of four different locations, led by the paranormal experts. Watch the Historic Jefferson Ghost Walk website as things develop: www.jeffersonghostwalk.com.

On April 20th, I'm heading over to Tyler, Texas - the "Rose Capital of the World" - for the Tyler Paranormal Conference. It has a great lineup of speakers, and topics for the day include: "Life After Death," "Ghost Hunting 101," "Texas UFO Sightings," "Speaking with the Dead," "Paranormal Investigating from a Police Forensics Perspective," "Living in a Haunted House," "Journey Guidance - A Spiritual Perspective on This and Past Lives," and "Bigfoot Sightings in Texas." As you can see, it's going to be a very interesting day! You can check out their website at www.toursoftyler.com/. There are hotel discounts on the webpage, the conference agenda, and all the information that you need. See you there!

To repeat our words from the beginning, this is a free subscription ezine for friends of The Grove - in other words, we NEVER arbitrarily add email addresses. We also NEVER sell or share email addresses with anyone else.
Feel free to pass the GroveZine on to your friends - all I ask is that if you forward it, please include the header, trailer and everything. Thanks!
To subscribe, just go to The Grove's Website and put your email in the blank at the left bottom of the page.
To unsubscribe, although we'd sincerely hate to lose you, simply follow the directions at the bottom of the this email.