www.thegrove-jefferson.com March 2013 ISSN 1558-3252
This is a tiny little free subscription ezine for friends of The Grove - it is by request only. In other words, we NEVER arbitrarily add email addresses. We also NEVER sell or share email addresses with anyone else, for any reason at any time. We hate SPAM as much as you do!
"Yet, despite all, it is a difficult thing to admit the existence of ghosts in a coldly factual world. One's very instincts rebel at the admission of such maddening possibility. For, once the initial step is made into the supernatural, there is no turning back, no knowing where the strange road leads except that it is quite unknown." - Richard Matheson
Ah, Mora na maidine dhuit, as the Irish say! (we'd interpret that as "Top of the morning to you!") And by the way, the proper response is "And the rest of the day to yourself!" Yes, March is the time of St. Patrick's Day, and as Adrienne Cook said, "St. Patrick's Day is an enchanted time - a day to begin transforming winter's dreams into summer's magic."
If you've taken our tour, or heard me speak at a paranormal conference, you may have heard people ask me whether or not my wife and I are freaked out to live at The Grove. I've always said "Absolutely not!" While on a few occasions we've been a little startled, we've never really been scared here. I can no longer say that. This month, my wife and I were both heart-pounding, breath-stealing terrified. But let me explain the events of that particular evening. I'd been gathering the trash to put outside for collection, and so I was going through the house emptying the receptacles in different rooms. I suddenly heard Tami screaming in the kitchen... "Help - come here now!" She sounded frightened, so I dropped everything and ran back there. She was standing in front of the 1930s Chambers stove, pointing at one of the cabinets beside the sink. "THERE'S SOMETHING IN THERE!!!" she squealed, and I immediately started trying to calm her down. I said, "Look, there's no way that there could be anything in that cabinet - it's..." and that's when I heard scratching on the inside of the cabinet door. We looked at each other, and I said, "THERE'S SOMETHING IN THERE!!!" It took a moment for both of us to calm down, and we finally concluded that some critter must have found its way into the cabinet. After all, Jefferson is a very rural town; we've seen deer out in the side garden (which is why we no longer plant Caladiums - it's their favorite snack), and if you're a longtime GroveZine reader, you may remember that we had to cancel a tour one day because an opossum was in the house. In this case, I was figuring an opossum, armadillo, or even worse, a skunk. I didn't want to get bit by any of those creatures, but I knew that we had to do something about the situation. We closed the kitchen door into the hallway, set up a dog gate in the doorway to the den, and safe in the knowledge that the basset hounds were at least protected, began to hatch our plan. I got a round laundry basket to try to trap the beast, and so we began to get ready for battle. As we approached the cabinet door that we'd heard the scratching from, it suddenly sprung open about an inch, and then slammed closed again. We jumped back, and had to take a moment to re-group - it freaked us both out. I finally gathered all of my nerve, courage, and resolve, and reached down to open the cabinet door. I had the laundry basket positioned in the other hand, ready to go. When I carefully grasped the cabinet handle and threw the door open, ready for the absolute worst, our tortoise-shell cat Elsie came flying out. She ran across the room, lept over the doggie gate, and disappeared somewhere in The Grove. As my wife died laughing, I said, "I'd love to find this amusing, but I'm about to have either a heart-attack or a stroke." It turns out that in this house, it isn't the ghosts that freak me out... this time it was that crazy cat of ours.
But now for a bit of history... Looking back into Jefferson's past, there is a connection between The Grove and a culinary delight known as the "Moody Dog." Back in 1885 when Charlie & Daphne Young purchased The Grove, Charlie was a well-known barber here in Jefferson, and was a leader of the African-American Community. Charlie even provided the land for the African-American cemetery known as Cedar Grove in Jefferson - in those days, there was segregation even in death. Charlie's barber shop was on Austin Street across from the Jefferson Hotel (there is now a vacant lot there). He cut hair in a 3-piece Prince Albert suit, only during banker's hours (9am - 3pm), regular customers each had a customized shaving mug, and Charlie charged three times what any other barber did in Marion County. It was truly a status symbol to get your hair cut by Mr. Charlie. When he retired, the Moody family purchased the building and began to sell their popular "Moody Dogs" there... chili dogs that were incredibly delicious.
Moody Dogs faded from Jefferson's culture for a while, but finally surfaced when Mike and Pam Watts purchased the recipe and began to sell them in their store on Walcott Street in Jefferson. They sold them just as the Moody family did... "with, or without." That phrase means with or without a wiener - because the chili was the star of the entree. The neon sign above their establishment advertised them, and the citizens of Jefferson were once again treated to the tasty treat known as "Moody Dogs."
Today, you can still enjoy a Moody Dog in Jefferson from the original recipe. You'll find them on Austin Street at the General Store. Not only can you get them "with or without," just like in the old days, but they also have additives like hot sauce, mustard, and cheese to dress them up. If you happen to come in on Thursday, you can even get them for $1.00 each - and you'll find the locals lined up, because Jeffersonians love Moody Dogs... including me! I grab a couple of the culinary delectables all the time - they're delicious. While you're in Jefferson, be sure to include a Moody Dog in your plans... it's a tradition!
I'm willing to do most anything for the GroveZine... take a bullet for the team, go where no one has gone before, to face my fears and forge forward... and this month, I did just that. You may remember that a years ago at Jefferson's Mardi Gras I missed trying one particular snack food... and this year I was looking for that interesting little item again, but did not find it. I couldn't stand the fact that I wasn't able to share it with the GroveZine readers, so I went online and found a recipe... and believe it or not, tried it out right here at The Grove. Click on the curtains, or on this link, to see exactly what I cooked and how it went (the story isn't as smooth an operation as you might expect).
While this isn't about The Grove, it does sort of delve into the realm of the supernatural. I don't know if I've ever written about Edgar Cayce in the GroveZine, but I thought that I'd mention him - there are several things about this man that I find very, very interesting. He was born on March 18, 1877 in Kentucky, and many consider him to be one of America's most famous psychics. As Wikipedia notes, throughout his life, Cayce was drawn to church as a member of the Disciples of Christ. He read through the entire Bible once a year for every year of his life, taught at Sunday school, and recruited missionaries. He is said to have agonized over whether his psychic abilities and the resulting teachings were spiritually legitimate. To use his gift, Cayce would lie down and go into a trance, and then an assistant would read letters that people had written to him with questions. He would answer the questions while in the trance, and many found him to be incredibly accurate.
With that in mind, one day a fan of Cayce wrote him a letter and asked how to prevent cancer. Cayce's reply from his trance? Eat almonds. He mentioned them on more than one occasion, in fact, saying, "And know, if ye would take each day, through thy experience, two almonds, ye will never have skin blemishes, ye will never be tempted even in body toward cancer nor towards those things that make blemishes in the body-forces themselves." And on another occasion, "...And, just as indicated in other suggestions, - those who would eat two to three almonds each day need never fear cancer." Fast-forward to our world today, and there is mounting evidence that almonds - like other foods such as broccoli and red wine - seem to have certain cancer-preventing properties. How accurate is this? Well, while I don't know for sure, it is certainly easy, economical, and tasty for me to eat a handful of almonds every day. I don't know... just a little food for thought!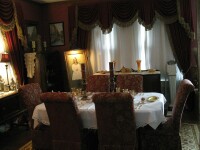 Moving on to The Grove, over the years we've encountered several unexplainable scents in the house, but perhaps the two most common are a sweet tobacco smoke like a pipe, and that of pungent body odor. The body odor doesn't smell like someone who's simply worked up a sweat mowing the yard, but instead like someone who hasn't bathed in a while. Neither is very common, but when they do happen, it's usually in the dining room at the front of the house. Since they aren't a regular occurrence we don't often mention them on the tour - they're therefore not something that a lot of people know about. On one of our Saturday tours this month, the group had moved from the Dining Room into the Game Room, and as I began telling the stories of the mysterious Lady in White, I noticed that a couple of guys had stayed behind. They were looking up, walking around a bit, and whispering back and forth. One fellow then stepped into the Game Room, said something to his wife, and led her back into the Dining Room. They continued moving around up there, before finally joining the rest of us. After the tour was over, they told me that as everyone left the dining room, the distinct odor of tobacco smoke was in the air. It seemed to be hanging high, they said, so that they almost had to stand up on their tip-toes to smell it. They all three did so, and told me about it after the tour was over. By the time the group got back up front, though, it had unfortunately dissipated. There was no physical explanation for what they experienced - we never have candles burning in the Dining Room, but I double-checked just to make sure. It would certainly have been more interesting if our phantom smoker had decided to show up while the entire group was in there, though.
At the beginning of the tour of The Grove, one thing that I often tell our guests is that living here isn't scary - sometimes it's down right annoying. This story is a perfect illustration of that fact - it shows that our spirits aren't evil or sinister... in fact, they have a mischievous side that often comes out. And sometimes their antics are so confusing that we have no idea what they're trying to tell us. Now, to begin with, when we travel we are extremely selective about where our basset hounds will stay. They're our kids, after all, and so we have a place where we board them that pampers them. By the same token, we won't leave The Grove in the hands of just anyone. We have a person who takes care of it who not only loves the house, but also has a very strong sensitivity to its supernatural side. This person will come in every day, feed the cats, talk to the house, and just make sure that everything's okay. Our friend is so in tune to the house that when we took a trip to Pennsylvania last summer (you may remember the stories from the GroveZine back then), she were able to calm the house down after our departure. Usually that isn't a problem - we tell the house where we're going, how long we'll be gone, who'll be inside during that time, etc. An hour before leaving my wife found that water was standing in the kitchen, and a pipe under the sink had sprung a leak. We called our friend, the local plumber, and left while he was still working on the problem. It was a hurry-up-and-dash kind of thing, so when our friend came in later in the day, they said that it was if The Grove was disturbed by the activities - a stranger being left here alone as we ran out carrying our suitcases. It took her some time of walking through the house and reassuring it before things felt normal.
This month we took a trip to Eureka Springs, Arkansas, to the notoriously haunted Crescent Hotel for a few nights, and left the house in the hands of our friend again. She was coming over every day to water the plants, check the house, and feed the cats. Something happened to our friend two days before our return that defies explanation. As I said, our friend was feeding our cats, and if you've taken the tour of The Grove you may have met one or both of them. Daphne is a small white cat with one blue eye and one green, and is very shy. Occasionally she'll hang out on the front porch, but more often she's tucked away somewhere in back of the house. Our other cat, Elsie, is a tortuous-shell black and gold cat, and she LOVES to greet our guests out in front of the house. Many of you probably remember her (she's also the one who caused all the commotion in the pantry that I told you about earlier). Anyway, Daphne has a bowl just inside the front door of the house, and Elsie has a bowl in the laundry room at the back of the house on top of the washing machine. When our friend came in the house one of the days to take care of things, the spirits of The Grove had done something, well, strange to say the least. When she walked into the kitchen, our friend saw a neat line of cat food spread out from the chair to the island in the middle of the room. Now, that makes no sense at all, which puts it into the category of many of the odd things that have happened here over the years. But thinking about it only brings up more questions. The food didn't come from either cat's bowl (which were in different parts of the house), because they were full except for the small indentions where they'd been eating. The main store of food is kept in the laundry room, in a plastic bin whose door has a snap-lock on it that for eleven years our dogs or cats have never been able to open (and it wasn't open that day when our friend looked at it). But even if the cats had opened the bin, they wouldn't have been able to transport the food to the kitchen and arrange it into such a neat line. And why hadn't the cats started eating the food that had been arranged on the floor? Questions, questions, questions. Our friend told the house, "Looks like someone is being mischievous today," and began to clean it up. I have no idea what that episode was about. When we returned from our trip, I told the house, "If you're going to give us messages like that, you're going to have to be a lot more clear, because we don't understand what you're trying to tell us!"

If you missed any issues of the GroveZine, or if you'd like to find out what's been going on for the last several years here at The Grove, you can find past issues at the GroveZine Archives.
In the mean time, here's what's coming up around town...

04/06/2013 - Jefferson History, Haunts & Legends Paranormal Conference
04/19-21/2013 - Outlaw Nationals Classic & Antique Car Show
04/19-21/2013 - Diamond Don's 11th Annual Vintage Motorcross
05/03-05/2013 - Battle of Port Jefferson Civil War Re-enactment
05/03-05/2013 - 66th Annual Pilgrimage Historic Home Tour
05/25/2013 - Cypress River Airport Fly-In
05/31/2013 - 3rd Annual Big Cypress Corvette Classic
07/04/2013 - "Jefferson Salutes America" 4th of July Celebration
10/11-13/2013 - 16th Annual Boo Run Benefit
10/20/2013 - A Taste of Jefferson
11/29/2013 - Christmas Tree Lighting Ceremony @ Lionís Park

It's almost here - the Jefferson "History, Haunts & Legends" Spring Conference. If you've never been, it's a full, info-packed Saturday. April 6th will be filled with expert speakers talking about all things supernatural, including Larry Flaxman, Mike McCaskill, Dr. Rita Louise, Jennifer Broussard, Dash Beardsley, Cathy Nance, Jeromy Jones, Lyle Blackburn, Ian & Erin Powell, and yours truly will be there as well. There are vendor tables to browse, and the lunch provided is always delicious. In the evening, attendees get to participate in actual paranormal investigations of four different locations, led by the paranormal experts. Watch the Historic Jefferson Ghost Walk website as things develop: www.jeffersonghostwalk.com.

On April 20th, I'm heading over to Tyler, Texas - the "Rose Capital of the World" - for the Tyler Paranormal Conference. It has a great lineup of speakers, and topics for the day include: "Life After Death," "Ghost Hunting 101," "Texas UFO Sightings," "Speaking with the Dead," "Paranormal Investigating from a Police Forensics Perspective," "Living in a Haunted House," "Journey Guidance - A Spiritual Perspective on This and Past Lives," and "Bigfoot Sightings in Texas." As you can see, it's going to be a very interesting day! You can check out their website at www.toursoftyler.com/. There are hotel discounts on the webpage, the conference agenda, and all the information that you need. See you there!

To repeat our words from the beginning, this is a free subscription ezine for friends of The Grove - in other words, we NEVER arbitrarily add email addresses. We also NEVER sell or share email addresses with anyone else.
Feel free to pass the GroveZine on to your friends - all I ask is that if you forward it, please include the header, trailer and everything. Thanks!
To subscribe, just go to The Grove's Website and put your email in the blank at the left bottom of the page.
To unsubscribe, although we'd sincerely hate to lose you, simply follow the directions at the bottom of the this email.