www.thegrove-jefferson.com April 2013 ISSN 1558-3252
This is a tiny little free subscription ezine for friends of The Grove - it is by request only. In other words, we NEVER arbitrarily add email addresses. We also NEVER sell or share email addresses with anyone else, for any reason at any time. We hate SPAM as much as you do!
"I shall not commit the fashionable stupidity of regarding everything I cannot explain as a fraud." - C.G. Jung
Hello from The Grove in Jefferson, Texas! I'm sorry that this is a little late, but as April came to a close I discovered that my "to-do" list had suddenly spiraled completely and totally out of control. First of all, the registration sticker on my car was expiring and had to be renewed; I've known this since January, but have been putting it off (that's SO easy to do, isn't it?). Next, the inspection sticker was also expiring, so I would have to take the car for a state inspection by our local mechanic. I've also known for some time that the front tires needed replacing and probably wouldn't pass inspection this year, but again, it's an easy thing to put off. I finally took the car to the tire store, where they were out of the correct size and had to order them - as the time on my inspection sticker was ticking down. I also needed to renew my medical insurance, which means a physical exam, and of course you can't just show up at the doctor's office for one of those any time that you want. Okay, I'll stop there... to continue on would simply seem like whining. Oh, but about that time my wife got pneumonia (she's fine now, but that was an ordeal). Throw in income tax season, several speaking engagements in April, a business meeting out of town on the 30th, and the Historic Jefferson Pilgrimage Tour of Homes and Diamond Bessie Murder Trial Play just around the corner, and I feel (for those of you who remember it) like the fellow who used to spin plates on sticks on the old Ed Sullivan show, like in the photo. But here we are, and this month's GroveZine is finally finished. Okay, I've officially achieved whine mode... sorry. You know, you just have to laugh at yourself when everything hits at the same time like that and you feel like you're sinking in quicksand... If you didn't, well, you'd cry your eyes out!
To start out with, I'm very, very close to changing the name of this publication from "The GroveZine" to "Ways My Crazy Cat Freaks Me Out." You read what happened last month (and if not, it's in the archive in the "Around Jefferson" section). Thanks to Elsie, our tortoise-shell colored cat, I now have another story to tell. A couple of weeks ago, before the Sunday morning tour, I went out front to let our white cat Daphne out. As I was doing so, I heard something else jump down onto the floor; I assumed that it was our other cat Elsie. Suddenly, a squirrel dashed out from under the dining room table. Now, if you've ever owned a cat, you know that they like to bring you "presents" - dead birds, snakes, squirrels, etc. We've unfortunately found them laid out nicely for us by Elsie here at The Grove. In this case, she had apparently caught a squirrel and brought it into the house to finish it off, when the little critter somehow escaped. Suddenly that particular Sunday morning, it became less important to make the house look beautiful for the tour, and more important to get rid of the squirrel. I looked like one of the old-time Keystone Cops from the silent movies, chasing it around the room while it was climbing the drapes, skittering across the top of the windows and jumping around like an acrobat. I finally managed to shoo it out the front door, and exhausted, I got back to the business of preparing the house for the tour. Back in the kitchen I ran across our cat Elsie, and I sternly said, "PLEASE stop bringing animals into the house!!!" She just looked up at me as if to say, "Who, me? I have no idea what you're talking about..." Arrrrgggg! Crazy cat.
Now for some big news in Jefferson! When we first looked at The Grove with a real estate agent twelve years ago, the agent told us that there would soon be a river walk down by Big Cypress Bayou. There's been whispers, rumors, and random small-talk about it as the years have gone by - and the Army Corps of Engineers has even come into town for an occasional meeting. Several months ago, construction began in earnest - pylons were being driven into the ground, walkways were being built, and concrete was being poured. It looks like the Big Cypress Bayou nature trails are really going to be completed! There've been so many discussions as to how it will finally look that no one knows for sure, but we're all anxious for the wildlife area to open up. It should be a great family attraction for Jefferson, and one that I'm looking forward to exploring. Stay tuned, and I'll have more to report in the near future.
This month brought along Jefferson's annual Twilight Cemetery Stroll that is put on by the Riverport Ambassadors. It's a wonderful production that is a walk through historic Oakwood Cemetery, where you encounter some of Jefferson's famous people who are buried there... well, technically they are actors portraying those people and dressed in period costume. It's certainly dramatic and entertaining and lasts about an hour. This year, visitors got to meet the legendary Diamond Bessie, a shipwreck victim who recounts her tragic voyage, a former slave telling about her journey to freedom, famous singer/songwriter Vernon Dalhart, and lumber tycoon Gus Schluter. Every year is different, so watch the GroveZine for information about the next Twilight Cemetery Stroll - it's an event that gets bigger and bigger by the year, and well worth a trip to town for.
Every now and then restaurants come and go in Jefferson. The owners of one place will retire and shut it down, while another venue will open up down the street. Recently the Hamburger Store - a place that's been in Jefferson even longer than I have - shut its doors. Someone may take it over and open it up anew in the future, but in the mean time, Diamond B's Franchise is the city's latest eatery. It's on Austin Street near the railroad tracks, in the building that used to be called Diamond Bessie's Saloon, and the owner has been working on it for months now. The building has been given a face lift (while keeping the old 1800s appearance), a new outside dining patio has been added, and inside you'll find bigscreen TVs playing all the sports events. It features Cajun food, and everyone has been giving it rave reviews. Unfortunately, it's not open all week, and when it has been there have been people lining up - we simply haven't been able to catch it open and with ready accommodations available (it's like that when any restaurant opens in Jefferson). I wanted to give you a review of their food, however, and asked regular Jefferson visitors and friends-of-The-Grove Paula and Mike to relate their experience there. Paula wrote, "As far as the food at The Franchise... we had the fried cheese sticks (smoked Gouda, mozzarella, and pepper jack) served with a hearty marinara sauce. They were HUGE! They were the size of a really fat hot dog or sausage the length of a hot dog. The biggest cheese sticks we have ever seen, and quite good. Mike had the catfish and said he really enjoyed it. It came with spicy Cajun slaw, hush puppies and fries. He ate it with a spicy mayo instead of tartar sauce. I had the fried shrimp... came with the same sides as Mike's plate. It was seasoned just right and was more than enough food. My youngest had the chicken strips and said it was the best she had ever had (she loves chicken strips, so that must have been pretty good). My older daughter had an appetizer and we can not remember the name of it. It was some kind of fried potatoes (can't remember if it was fries or chunks of fried potatoes) and it was covered in cheese, bacon bits, etc. She loved them although it was a huge portion and there was no way she could eat all of it. We don't usually take home leftovers, but my husband and youngest both took their extra food home." Okay, after hearing her review, we're DEFINITELY going there this weekend. Be sure to try it when you're in town!
Some friends of ours were in Jefferson this month, and had an interesting stay at the Jefferson Hotel (which is famous for its ghost stories). They were staying in room #6 and had gone out for the evening, when the people across the hall in room #17 heard the cry of a baby. These folks went out into the hall, and the baby seemed to be coming from inside room #6. Afraid that someone had left a baby alone in the room, they went down to the front desk to report it. The lady there told them that a couple was staying in the room (my friends) and that they didn't have a child with them. She went on to say that she'd seen them leave the hotel, and that the room was empty. The people went back to room #17, and after a little while they heard the baby crying from inside room #6 again - this time loudly, like it was hungry. Concerned, they went back down to the front desk and told the clerk what was happening. This time the clerk went upstairs, opened room #6, and as she suspected, no one was there. The TV was off, there was no radio, and no explanation for the crying infant. When my friends came back later in the afternoon to get ready for dinner, they heard the story from both the guests and staff - yet during their stay, they never heard the baby themselves. You know, there are many, many interesting stories that come out of the Jefferson Hotel.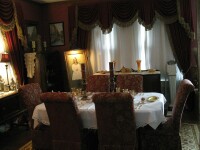 Unfortunately, we don't always hear about the experiences that people have at The Grove. Case in point was one weekend this month - we had a couple on the Sunday tour who came because of all the talk at their B&B's breakfast table that morning. It seems that one of the other guests there was a psychic, and came on the tour of The Grove on Saturday afternoon. We didn't know about that person's abilities, since they didn't say anything to us in that regard while they were here, but apparently the psychic had a bit of a problem on the tour. He told the guests at the B&B over breakfast that as he went through The Grove, he was getting woozy in a few of the rooms. I do wish that he'd told us about it, because I'll bet that I could guess the places - specifically in the Dining Room and in the Game Room. We've had people pass out in the Dining Room, and when we revived one young lady she told us that the last thing she remembered was talking to "a woman" - although she wasn't saying anything to anyone, and was simply listening to me tell the stories of the room. Oh well, a dizzy feeling is very common in the two rooms that I mentioned, and it seems to happen quite often to people with a sensitivity to the supernatural... whether they know that they have it before coming to The Grove or not.
UPDATE: I'd finished the GroveZine and was just about ready to send it out after I added a photo or two. We had the regular weekend tour, and a gentleman who had been standing at a spot where we'd had people have become suddenly ill in the dining room stopped me. He said, "I need to go outside and get some fresh air," and left. He joined us about fifteen minutes later after we'd moved on to the game room, and after the tour I had the chance to talk to him for a few minutes. He said that even though it was cool - almost cold, in fact - in the house due to the air conditioner running on a humid day, he suddenly felt warm and clammy, like he was sick. As soon as he went outside, everything was fine. He recovered nicely and was able to finish the tour... but we had moved on from the dining room by then.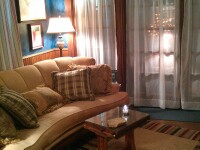 If you've been reading the GroveZine for a while, you may remember back in May of 2012 (click on this link to read it in the archives).I was doing a tour when a couple suddenly turned and left the tour. I wondered what was going on with them, when from the direction of where they'd been, an incredible feeling of sadness washed over me like an ocean wave. I felt like I was going to burst out in tears, and wasn't sure that I would be able to finish the tour. As tough as it was, though, I managed to finish the tour without anyone knowing what was going on with me. The feeling continued well into the afternoon. Well, whoever that particular spirit is, he or she came back this month. My wife was sitting on the couch in the den doing some work, when she felt the same overwhelming wave of sadness pour over her. She began to cry and couldn't stop, without knowing why. I'd been at play practice for the Diamond Bessie Murder Trial play, and when I came in she was still crying. We don't know who the spirit is that brings such a sadness to the people that he or she encounters, but it is truly an emotional experience. I'm always intrigued by the different ways that the spirits manifest... sometimes in forms that we can see, others in odors and scents, and even sounds such as footsteps and voices. But to me, the emotions attached to the encounters could be the most interesting of all.

And with that, I'll wrap up the April issue. As I always say, thank you so much for reading The GroveZine... it's my pleasure to share it with you, and I hope that you enjoy it. April was an incredibly busy - but very interesting - month for us at The Grove. I've already been making notes for the May issue, which I hope will be more on time.
If you missed any issues of the GroveZine, or if you'd like to find out what's been going on for the last several years here at The Grove, you can find past issues at the GroveZine Archives.
In the mean time, here's what's coming up around town...

05/31/2013 - 3rd Annual Big Cypress Corvette Classic
07/04/2013 - "Jefferson Salutes America" 4th of July Celebration
07/14/2013 - 24th Annual Jefferson Heritage Triathlon
08/2-8/11/2013 - Theater Festival
08/17/2013 - 2nd Annual Civil War Symposium
09/14/2013 - 5th Annual Fire brigade Benefit Classic Car Show
09/28/2013 - 2nd Annual Medieval Wine Faire
10/5/2013 - Jefferson City Wide Rummage Sale
10/5/2013 - Cypress River Airport Fly-In
10/11-13/2013 - 16th Annual Boo Run Benefit
10/20/2013 - A Taste of Jefferson
11/2/2013 - History, Haunts & Legends Paranormal Conference
11/5-14/2013 - 31st Annual Candlelight Tour of Homes
11/9/2013 - Toys for Tots Casino Night
11/29/2013 - Christmas Tree Lighting Ceremony @ Lionís Park

Before I forget...
The Grove says "Thanks!"
We would like to say thank you so very, very much to everyone who's taken the tour of The Grove, and posted their review on Tripadvisor.com. We so appreciate the four-star reviews, but we absolutely LOVE the five-star reviews! so if you've taken The Grove tour, and you have a few spare moments, we'd really, really (did I say really?) appreciate you visiting TripAdvisor.com's site for The Grove, and leaving a review of your experience.

You can go to TripAdvisor.com and search for "The Grove Jefferson TX," or go to The Grove's website www.thegrove-jefferson.com and scroll down to find the Trip Advisor logo-link, or simply click on the TripAdvisor logo right here in the GroveZine to take you to the page. I know that it takes a couple of minutes to do this (although not many more), but we'd really, really appreciate it. Thanks, folks... you're so very wonderful to us, and to The Grove.
---
To repeat our words from the beginning, this is a free subscription ezine for friends of The Grove - in other words, we NEVER arbitrarily add email addresses. We also NEVER sell or share email addresses with anyone else.
Feel free to pass the GroveZine on to your friends - all I ask is that if you forward it, please include the header, trailer and everything. Thanks!
To subscribe, just go to The Grove's Website and put your email in the blank at the left bottom of the page.
To unsubscribe, although we'd sincerely hate to lose you, simply follow the directions at the bottom of the this email.