www.thegrove-jefferson.com May 2013 ISSN 1558-3252
This is a tiny little free subscription ezine for friends of The Grove - it is by request only. In other words, we NEVER arbitrarily add email addresses. We also NEVER sell or share email addresses with anyone else, for any reason at any time. We hate SPAM as much as you do!
"The dark dangerous forest is still there, my friends. Beyond the space of the astronauts and the astronomers, beyond the dark, tangled regions of Freudian and Jungian psychiatry, beyond the dubious psi-realms of Dr. Rhine, beyond the areas policed by the commissars and priests and motivations-research men, far, far beyond the mad, beat, half-hysterical laughter... the utterly unknown still is and the eerie and ghostly lurk, as much wrapped in mystery as ever." - Fritz Leiber
Hello from The Grove in Jefferson, Texas! May has been an incredible month, starting with the Pilgrimage tour of homes and all of the associated festivities, the Civil War Re-enactment, and one of my favorites, the Diamond Bessie Murder Trial play. We've had a lot of kids in town as schools have brought busloads to experience the history of the town, and there have also been a lot of people just coming to Jefferson for a quick weekend getaway. You have to be careful in doing that, however... it's how we started years ago, and it's easy to fall in love with the old riverport city. But that said, let's get on with the stories that I have to share with you this month.
We did see something a little out of the ordinary this month - a group had called for a tour, and as I was waiting outside to greet them, I saw a stretch limo SUV carefully turning the corner onto Moseley Street. They stopped in front of The Grove, and a delightful group of people piled out to tour the house. We had a great time...
...but as I watched them leave, I only had one thought - I really wanted to ride in that limo!
I thought this first thing was kind of cool - this month was the second annual "Canstruction" here in Jefferson, which is a fund-raiser for the local Blessings of Grace Food Pantry. Teams of schoolkids use cans of food - donated by people and organizations of Jefferson - to build artistic displays. When it's over, all of the food cans go to the charity food pantry. I have to admit (and I'm not proud of this) that I was initially skeptical about the food pantry a few years ago when it started - I cynically thought that it would be a place where addicts and such would go to get food, while spending their family's money on bad things. The reality of it is that there are a number of elderly people who depend on the food pantry - they are trying to survive on a monthly retirement income that has not kept up inflation and all the other problems of the world today. Without Blessings of Grace, there would be some days when they simply didn't get to eat. There are also single parents who go there, both dads and moms who work hard but just barely get by; the food pantry gives them a boost in putting food on the table for their families. The folks at the pantry don't pass judgment - they simply distribute food to the people who show up, and from what I can tell they are genuinely doing the work of angels on Earth. It's a charity that my wife and I support, and we especially enjoyed helping them with Canstruction this year - here are the displays that they built from canned goods. They are, from left to right, 1) a Texas flag, 2) the old Jefferson railroad trestle and riverboat turning basin, 3) a support-our-troops ribbon, and 4) a diesel truck and trailer.
Something that I mentioned in the last GroveZine was that after many years of planning, re-planning, and planning even further, the Big Cypress Bayou nature walk is just about finished. In the last zine I had a photo of a portion of the raised wooden walkways that they've installed, but they've now opened up the main trail. This picture is standing out behind the new courthouse (as opposed to the old one, which houses the museum), and is looking southward. Not long ago this was all thick foliage, but it has now been cleared out as an entranceway. I hope that this means the project is nearing completion - it's going to be very interesting, and a genuine asset to Jefferson.
I mentioned earlier that this month was Jefferson's Annual Pilgrimage Tour of Homes, the Civil War Re-enactment, the Diamond Bessie Murder Trial play, and many other events from an heirloom plant sale to a quilt show. The town was packed, and everyone seemed to have a wonderful time going in all of the different directions. Be sure to mark your calender for Pilgrimage in Jefferson next year - it's always the first weekend in May. The photo is me playing the part of Sheriff John Vines in the Diamond Bessie play. In life he was a respectable fellow, not only the official that went to retrieve Abe Rothchild for the murder of Diamond Bessie, but also a community servant; he was even on the committee to oversee the building of the old courthouse downtown. In the play poor John is more of a bumbling bad guy, and so this year I exchanged my gray hat for a black one to accentuate that fact. I got a wonderful compliment when I was working on the front porch of one of the Pilgrimage tour homes, when a group of ladies came up to me and said, "Oh my, you're much nicer today than you were in that play last night!" I just laughed and said, "Yep, I love playing the bad guy in the production - it's the one time that I get to yell at my friends, who are also in the play, and they can't yell back at me."
Last month I also mentioned that we had a new restaurant in town, a Cajun-food sports bar called "The Franchise." At that point I hadn't been there, so I incorporated the experiences of a GroveZine reader family that they'd been kind enough to provide me. I can now say that I've been there twice, and I'm happy to report that the food is simply incredible. Both times I've had the fried catfish, but different people in our parties have tried different things, and we did a lot of tasting around the table, so I can safely say that I have yet to hear a complaint about the food. When we ordered the cheese sticks, they were different gourmet cheeses, and were the size of Twinkies! The service, on the other hand, has been a bit sporadic based not only on my experience but that of my friends; I hope that The Franchise will eventually get the level of service up to that of their cuisine, and when that happens, they're going to have an incredible restaurant. Check it out on your next trip to Jefferson.
And now for some of this month's ghost stories... and with The Grove, there are always a few to tell!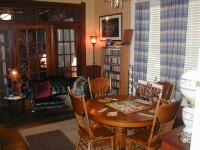 On one of the final tours of the month of May, while we were in the game room of The Grove I saw a few people in a family starting to whisper among themselves, but it didn't appear that anything was terribly wrong, so I just went on with the stories. When we moved on to the den - the new room of the house added in 1870 - I told a story about a lady whose hair was tugged by an invisible hand, and the family that I mentioned lit up. Apparently in the game room, a young lady's hair had been pulled when there was no one near her to do it! She was freaking out for a second and considering leaving the tour, but the others persuaded her to hang in there. When I later mentioned about other guests having their hair pulled, she said, "That just happened to me in the last room!" Her family were just as excited, adding, "It did - she was about to leave!" Several people, including the lady whose hair had been pulled, also reported feeling woozy and sick - a couple of them almost left the tour, as many have in the past... especially lately.

We really enjoy getting photos from our guests. Some we can explain, but others, like this one, we can't...

These photos were both taken on a May tour of The Grove by one of our visitors. The photos of The Grove's 1870 closet (added using the wood from an armoire from the Stilley Family, the original owners of the house) were taken a short time apart under the same lighting conditions, temperature conditions, from almost the exact same vantage point. Both were flash photos, and in both photographs you can see the reflection of the flashed in the polished closet door. The big question is about the light anomalies in the left photo - what is it, where did it come from, and why isn't it in the photo on the right? This is one of those I don't have an explanation for. The lights seem to be framing the photo on both sides, and they are emanating as spheres of light, yet there's no explanation that I have for them. With all the conditions the same, if it was a reflection or some other natural explanation, the photo on the right should have had them as well... but it doesn't. One curious thing to add is that while the lady was taking the photo on the left, her husband was starting to feel sick to his stomach - not an altogether uncommon occurrence in the game room. It suddenly passed, however.

I received an email this month not only from a visitor to The Grove, but one who had been featured in a past GroveZine. She was kind enough to allow me to share her story in her very own words with you...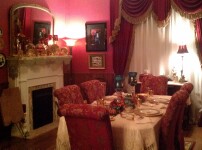 I just read your newsletter tonight [note: the April GroveZine] that made me recall almost my exact same experience from a year ago, that gave me the courage to finally reply to you. I am the person that you wrote about in the third paragraph of the Spirits of the Grove section in the May 2012 GroveZine. (view it here) Here is a bit of my story - I have been visiting Jefferson with my family since I was a teenager in the 80s. I am a history and Civil War buff, and have a deep love for Jefferson - we come every year or more if we can. I had never been on a tour of the Grove, but had been on the Historic Jefferson Ghost Walk twice where we ended up in front of the house. I have wanted to tour it for many years, but we usually come up for Dallas for the night and never catch the touring hours right.
Last year, my husband and I finally had the right timing, and made a tour. I was so very excited. We got our booties and were inside. We stepped to the left, and you were speaking, everything was absolutely fine, I felt nothing creepy.
We walked to the dining room and I hung back a little to look at a piece of furniture as most of the group filed around the table. I ended up being at the far end of the table, opposite of you, behind a pillar, I believe, by the front door. That is where I started getting warm... then down right hot and dizzy, sweating, and I started losing track of your story. And I could feel myself almost inching backwards towards the door, but I remembered it was locked, and I didn't want to interrupt the story... right about then we all started walking to the next room. I walked around the chairs to my left, took about two steps into that threshold and instantly felt like someone poured a bucket of ice water on me. Kinda shocking - cold chills and about to faint! I leaned over to my husband and told him I was falling. I think he looked at me like I was nuts. I had no idea what you were talking about at that point. I have no idea how my husband got me out of the locked door, or how the booties ever got off my feet, but... by the time I got off that beautiful porch and down the walk to my bright yellow car, I was 100% perfectly normal. And it only took me a year to talk about it. I really love Jefferson and that house, and your writing, and what you have done for that town.... and I really hope I can see The Grove one day - if it lets me!
I assured her that The Grove would welcome her back, and invited her to come on the tour again. Many times we've had people who've had similar experiences, only to return and feel perfectly welcome. Personally, I believe that some people are more sensitive to the supernatural than they're aware of, and the feeling of a sudden paranormal presence gives them a feeling that they interpret as feeling sick. This has happened more times that I can count at The Grove, but as I mentioned before when the people return, everything seems to be fine. More than that, though, if they can hang on until the next room, that feeling suddenly passes and doesn't return.
I guess that's just part of the mystery of The Grove...

If you missed any issues of the GroveZine, or if you'd like to find out what's been going on for the last several years here at The Grove, you can find past issues at the GroveZine Archives.
In the mean time, here's what's coming up around town...

05/31/2013 - 3rd Annual Big Cypress Corvette Classic 07/04/2013 - "Jefferson Salutes America" 4th of July Celebration
07/14/2013 - 24th Annual Jefferson Heritage Triathlon
08/2-8/11/2013 - Theater Festival
08/17/2013 - 2nd Annual Civil War Symposium
09/14/2013 - 5th Annual Fire brigade Benefit Classic Car Show
09/28/2013 - 2nd Annual Medieval Wine Faire
10/5/2013 - Jefferson City Wide Rummage Sale
10/5/2013 - Cypress River Airport Fly-In
10/11-13/2013 - 16th Annual Boo Run Benefit
10/20/2013 - A Taste of Jefferson
11/2/2013 - History, Haunts & Legends Paranormal Conference
11/5-14/2013 - 31st Annual Candlelight Tour of Homes
11/9/2013 - Toys for Tots Casino Night
11/29/2013 - Christmas Tree Lighting Ceremony @ Lionís Park
---
To repeat our words from the beginning, this is a free subscription ezine for friends of The Grove - in other words, we NEVER arbitrarily add email addresses. We also NEVER sell or share email addresses with anyone else.
Feel free to pass the GroveZine on to your friends - all I ask is that if you forward it, please include the header, trailer and everything. Thanks!
To subscribe, just go to The Grove's Website and put your email in the blank at the left bottom of the page.
To unsubscribe, although we'd sincerely hate to lose you, simply follow the directions at the bottom of the this email.