www.thegrove-jefferson.com September 2013 ISSN 1558-3252
This is a tiny little free subscription ezine for friends of The Grove - it is by request only. In other words, we NEVER arbitrarily add email addresses. We also NEVER sell or share email addresses with anyone else, for any reason at any time. We hate SPAM as much as you do!
"I don't believe that ghosts are 'spirits of the dead' because I don't believe in death. In the multiverse, once you're possible, you exist. And once you exist, you exist forever one way or another. Besides, death is the absence of life, and the ghosts I've met are very much alive. What we call ghosts are lifeforms just as you and I are." - Paul F. Eno
You know, sometimes taking out the trash is a spiritual experience for me. I know, I know, that sounds crazy, but hang in there with me for a minute. We've owned The Grove for eleven years now, and over all that time, twice a week I haul our two trash cans from the back of the house to the little wooden bridge out front. The cans have to be out by 10 P.M. and I'm usually pushing that time, so it's always dark when I'm moving them around. Over the years I've taken to looking up and marveling at the night sky. I'll try to find Venus, then Mars, and then the constellations Orion and the Big Dipper. It's amazing to watch the constellations move across the sky with the time of night, and even with the seasons. The City of Jefferson doesn't have a lot of light pollution, so by stepping away from one of the street lights you can easily study the heavens above. At the risk of sounding a little crazy, there have been many, many nights where I've just stopped and looked up at Orion, and wondered how many owners of The Grove who came before me over the last hundred and fifty years did the same thing - Charlie Young, Daniel Rock, Frank Stilley, and all the others. They probably looked up at the same stars, worrying about the problems of their day, contemplating the mysteries of the unknown. All that is a little humbling, because it reminds me that there will be Grove owners who come after me, long after I'm gone, who will do the same thing. As I'm writing this, I just came in from putting the trash cans out front, and that's when I stopped to look at the stars. It occurred to me that I haven't done that in quite a long time, and that's a shame. I should do it more often, and I am resolved to do so... it's a great way to keep life in perspective.
Come on down and celebrate Halloween with me... let's get together for a visit in the Metroplex! I'm going to be doing a talk about the supernatural in the Dallas/Ft.Worth area in a few weeks, specifically on Tuesday, October 29 at 7 PM, and I'd love for you to come. It will be at the Grand Prairie Memorial Library at 901 Conover Dr., and for info you can contact them at 972-237-5730. Admission is free to the public - I'm going to be talking about ghosts for an hour, including The Grove of course, and with a Q&A session so that we can talk about whatever aspect of the supernatural is on everyone's mind. I think that it's going to be a great chance to get us all in the mood for Halloween, and I'm really, really looking forward to it. If you're in the D/FW area, put October 29th on your calendar... it would be great to see you there!
Coming up in October is an HGTV special program called America's Spookiest Homes, and The Grove is going to be one of the homes featured. They haven't told me the date yet, but it will be sometime during the month - I'd guess that around Halloween would be the perfect time. If I find out in time, I may send out an email with the date - although I try to never send out more than just the regular GroveZine, because I don't want to be a bother. I think I've only done it twice - one of those being last month with the sad news about the Pride House, because I know that a lot of you have stayed there when visiting Jefferson. I may make another exception if I get the date early enough - I'm looking forward to not only seeing The Grove, but also to checking out the other houses that they feature.
It's an incredible time here in Jefferson - two new building projects are going on simultaneously, a new restaurant just opened, and three of our current restaurants are getting a makeover with new owners. It seems like the city is buzzing with excitement. Rumor has it that one of the construction sites is going to be an Executive Inn & Suites, as reported in the GroveZine a couple of months ago, and while that hasn't been confirmed the progress certainly looks like a hotel being built. The rumor about the second construction site is that it will be a Subway restaurant, but at the moment they're just moving dirt so it's a little hard to tell. Either way, the town is abuzz with speculation and anticipation.
As to the restaurants, well, we've been watching them with great interest... we love the local cuisine. Mildred's Chicken and Waffles has already opened, and we've already eaten there twice. The Bakery (now called the Bayou Bakery), Hamburger Store, and Side Street Diner (previously Stacy's Home Fries Cafe) have all closed, remodeled and renovated, and are now open and I'm hearing glowing reviews from them all. Don't worry, over the next few weeks, I'm going to be hitting each one of them personally!
Many of you will remember that last year the Texas travelin' TV show The Daytripper with Chet Garner came to visit The Grove. Chet has a section that he does for Texas Highways magazine, and in the October issue he wrote a story called, "Haunting Hospitality in Jefferson" - and it has a section about his visit to The Grove. The banner photo, however, is of the front of the house with Chet dressed up as our mysterious "lady in white," but when I looked at the photo I was delighted to see one of our living residents - Elsie the cat! Many of you have met Elsie as she's out front trolling for attention prior to the tour, or have read about her antics in the GroveZine, and I was happy to see that she is being featured from one corner of the Lone Star State to the other. Thankfully she doesn't know that she's famous, or she might get a big head over it; no, instead she's just prowling around The Grove as always, looking for mischief to get into. Many, many thanks to Chet Garner for coming to The Grove, and not only featuring it on his television program, but in the incredible Texas Highways magazine.
As most of you know, Jefferson lost one of its grand old ladies last month - the Pride House, a home built in 1888 that became the first B&B in Texas. It burned from a blaze that started in the kitchen. It was a massive fire, one that they had at least three alarm calls, and everyone in town felt the loss of the beautiful old place. Jenny, the owner, is a wonderful lady that many of the GroveZine readers have met, and I read on her Facebook page that she is hoping to re-build - there is even going to be a fundraiser for her at the upcoming History, Haunts, and Legends Conference in November. There was a fire at the Pride House back in 1968, and you can see the black & white newspaper photo here. The damage looks much worse in this latest fire, but everyone is wishing Jenny the best, and really missing The Pride House.
One thing that happened after the Pride House tragedy was that there was a buzz building on Facebook about one of the photographs that seemed to show a young lady standing on the front porch as it was engulfed in flames. This was all the more mysterious because according to the history of the house, back in 1900 a young girl was unwrapping Christmas presents in front of the fireplace, throwing paper into the grate. Suddenly a downdrift came from the chimney and blew one of the wrappings into the girl's full-skirted dress. Quickly she became a flaming torch and ran screaming, terrified, through the house out into the yard. After lingering for a painful month, she mercifully passed on Jan. 28, 1901. Some speculated as to whether the young lady who had lost her life to fire was present to mourn the burning of the house. Our local newspaper, the Jimplecute took on the task to investigate the photograph, and finally determined that the figure of the young woman was actually a fireman who was fighting the blazes. Even though it was a mystery solved, it didn't soften the blow of losing such a wonderful old place that has been such a part of Jefferson history. In reality, it wouldn't have surprised me a bit to have seen the young lady mourning the loss.
People are always telling me things like "I'm not sure if I believe in the supernatural," or an outright, "I don't believe in ghosts." I don't argue with them, because even though my experiences over the years have taught me that the world goes far beyond the natural part that most people restrict themselves to, it's not my job to force anyone's eyes open or change their beliefs. In that vein, though, one of the things that I found really interesting this month was a couple of news stories about belief in the supernatural. Here are some of the stats from the book Paranormality (Macmillion, 2011) by Richard Wiseman, a University of Hertfordshire psychologist:
So of the 34% of Americans who believe that reports of ghost are real, 56% believe that they are spirits of the dead. You can read the entire article on the livescience.com website. That data was from a couple of years ago, though, so the numbers may have changed. A similar poll in England showed that belief in the supernatural has risen significantly over the last few years - from about 40% in 2009, to 52% in 2013. You can read about the U.K. study on the unexplained-mysteries.com website. I wonder if the trend is the same in the U.S.?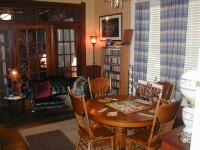 And speaking of ghosts, I often talk about the mischievous spirits of The Grove. Visitors, friends, and even my wife and I fall prey to little nips, grabs, and hair-pulling occasionally. This month the house was very active with our tour guests as far as these playful little things, and I jotted down notes about a few of them. During one tour this month, for example, we were in the Game Room of The Grove and I was telling stories of Mr. Charlie's visit a while back (the barber, and owner of The Grove in 1885), and the mysterious Lady in White who walks through that part of the house. One of our guests was standing there listening, while her daughter leaned her head on the lady's shoulder. The lady suddenly started rubbing her forearm, and after doing it she glanced over at her daughter, then whispered something to her. After the tour the lady told me that as she was listening to my stories, she felt someone touching here forearm with their fingers, and it was kind of tickling. She assumed it was her daughter since the young lady was leaning against her, but quickly discovered that it wasn't - but something was unmistakably touching her arm. That seems to happen a lot - little taps and touches, and almost always to a woman. That seems to indicate that we might have a guy spirit that still has an eye for the ladies, and you may remember last month's GroveZine where my wife got pinched on the bottom out in the hallway!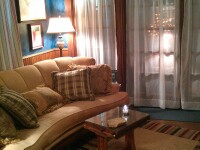 The den - the "new room" that was added in 1870 - is one of the most active rooms in the house, especially during the tour. As I was saying before, we've had people get their hair pulled, get poked in the side, hear their name called from out in the hallway, little playful things like that. It seems to be a very mischievous spirit there, and for us, it's like living with a prankster. On one of our tours this month, a lady came up to me after we got back up front and told me that someone was pulling her foot back repeatedly in that room. She would be in the normal standing position, when she would suddenly feel something like a hand grab her foot and move it involuntarily backwards, and then she'd move it back in place. This apparently happened over and over while we were in the room, but when she told me about it, that didn't surprise me in the least - strange little things like that are happening all the time in there, although the foot thing was something new.
In that same room we've had something that occurs with a bit of regularity that I don't think is the work of our joker... instead, although I don't completely understand it, there seems to be another possible explanation. But first here's what happens; someone is standing in the den, and they feel pressure on the back of their lower leg, usually on the calf. This happened just a week ago, in fact, as I was telling some of our stories in the den - a lady kept brushing the back of her leg, and then started laughing with her friend because something was tickling the back of her leg. Some people fell like it's a person rubbing the back of their leg, others have no idea what it is. One lady had a definitive opinion, though - she told me that she'd always had cats, and that the rubbing she felt was exactly like a cat does when it's trying to get attention from you. This was really interesting to me, because I met a guy several years ago who worked for Louise Young, the school teacher daughter of the Young family who bought the house in 1885. He told me that he always laughed at all the cats that she had in the house... could a cat or two be coming back to The Grove in spirit form? It might explain a lot, and certainly wouldn't be the strangest thing that's happened around here!

There's been a trend over the last couple of years that has really concerned me. We've had guests on the tour - mostly ladies - who have become sick or faint in either the Dining Room or the Game room. A number of people have had it happen, usually beginning with a faint or ill feeling. Some have left the tour, others have taken a seat quickly and tried to let the feeling pass, but in the worst cases it has culminated in the person actually losing consciousness. Putting on my investigator hat and looking at statistics, it's happened to people regardless of their age or ethnicity; it has occurred in the Spring, Summer, Fall and Winter. Other than the fact that it has happened in the vast majority of cases to women, there doesn't seem to be a pattern. I continually lecture the house about this - I don't want anyone having a bad experience at The Grove.
Stephen Sterbenz, a visitor to Jefferson a couple of weeks ago, came on the tour of The Grove and then spent the night in notorious Room 19 of the Jefferson Hotel. He had a digital audio recorder with him that was automatically activated by sound, and left it out in the room when he went to bed. At about 1 AM the recorder woke up and captured several seconds of noise in the room - noise that Stephen didn't hear until he listened to the recording when he got back home. It is curious, if not downright puzzling, and he was kind enough to share it with the GroveZine readers. Click here to listen to the audio that Stephen's recorder captured.
And as long as we're talking about ghostly things, I should mention that I'll be speaking at the History, Haunts and Legends Paranormal Conference on November 2nd, along with a number of authors, investigators, explorers, and experts in the field. I can hardly wait to spend the day immersed in the study of the supernatural - come and join us! If you've been to one of these before, you know that it's an informative day, followed by actual paranormal investigations led by investigators from the region. You can get more information on the Historic Jefferson Ghost Walk website: http://www.jeffersonghostwalk.com.
And to continue the supernatural theme long past Halloween and into November - don't ya just love it! - there is a paranormal conference in Marshall, Texas on the second weekend - November 9th. It's called the "Marshall Haunted Holidays," and features an all-day conference with a great slate of presenters, an investigation, and a separate museum tour and cemetery tour. For more info, check out their Facebook event page.

Thanks so much for reading another GroveZine - I've been collecting stories over the last month, and sincerely hope that you enjoyed hearing them. Perhaps by the end of the next month I'll have more info about the construction sites, more details about what the places will be, and some reviews of the new restaurants. And of course, ghost stories... what would the GroveZine be without a few haunted tales!
Here's what's coming up around town...

10/4-10/5/2013 - 2nd Annual Medieval Wine Faire @ Knightlight Theater
10/5/2013 - Jefferson City-Wide Rummage Sale
10/5/2013 - Cypress River Airport Fly-In
10/11-10/13/2013 - 16th Annual Boo Run Benefit (The Last Ride)
10/20/2013 - A Taste of Jefferson
11/2/2013 - History, Haunts & Legends Paranormal Conference
11/9/2013 - Marshall Haunted Holidays, Marshall, Texas
11/9/2013 - Toys for Tots Casino Night
11/29/2013 - Christmas Tree Lighting Ceremony @ Lion's Park
11/30/2013 - Hustler's Ball @ Auntie Skinner's
12/5-14/2013 - 31st Annual Candlelight Tour of Homes
1/24-1/26/2014 - Quilts on the Bayou
2/28-3/2/2014 - Mardi Gras Upriver
4/10-4/13/2014 - Diamond Don's Vintage Motocross
---
To repeat our words from the beginning, this is a free subscription ezine for friends of The Grove - in other words, we NEVER arbitrarily add email addresses. We also NEVER sell or share email addresses with anyone else.
Feel free to pass the GroveZine on to your friends - all I ask is that if you forward it, please include the header, trailer and everything. Thanks!
To subscribe, just go to The Grove's Website and put your email in the blank at the left bottom of the page.
To unsubscribe, although we'd sincerely hate to lose you, simply follow the directions at the bottom of the this email.