www.thegrove-jefferson.com October 2013 ISSN 1558-3252
This is a tiny little free subscription ezine for friends of The Grove - it is by request only. In other words, we NEVER arbitrarily add email addresses. We also NEVER sell or share email addresses with anyone else, for any reason at any time. We hate SPAM as much as you do!
"Ghost hunting is kind of like fishing; you don't really know if you're going to catch anything or not, and most of the time you're just waiting." - Ron Thorne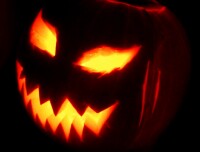 Happy Halloween from The Grove! It's been a busy season this year, but it always seems to be as All Hallows Eve approaches. A special thanks to the GroveZine readers who came out to the Grand Prairie Public Library in the DFW Metroplex earlier in the week - we had a wonderful evening talking about the supernatural. There are a couple of conferences coming up over the next couple of weekends where we'll be doing a lot more of that. It's always fun to spend time with people who share my interest in the paranormal. While the vast majority of people in the world only think about such things on Halloween, it's a topic that the rest of us - especially the GroveZine readers - are immersed in throughout the year.
I love living in Jefferson - it's not only a peaceful little city, but it has a very rural flair because it is surrounded by the pineywoods of East Texas. Case in point - just the other day I was driving down Soda Street (which is the only street in town named for a Caddo Indian word) and I turned onto Henderson to head back to The Grove. Suddenly I saw that someone was blocking my path! I didn't know if I could get a photo before the little guy fled, but as it turned out, he was very brave... I even had to shoo him out of the way just to get by!
Just a few days later I had taken care of a few errands in town - the post office, the bank, the grocery store, all the usual stops. I was headed home to get back to work, and just turned onto Moseley Street when I saw some movement in the wooded lot across the street from The Grove. I slowed the car, took out my phone, and snapped this photo before all four turned and ran - two of them can be seen already running away (look for the black stripe on their tails), another is almost completely concealed by the foliage, and only the last brave one is still looking at me to see what the heck is going on. Seeing the foursome was quite a treat.
I need to give a special shout-out to the members of the Panther Creek chapter of the Harley Owners Group. I got to see and meet a number of them this past month - and I absolutely love the reason why. It all started one quiet afternoon when I was sitting at my computer, typing away, when I heard a motorcycle coming down the street. It stopped in front of the house, so I stood up to see if it was someone that I knew who'd stopped by for a visit. Looking out through the window of the front door, I didn't recognize the fellow, but saw that he was holding out his camera taking a photo of himself in front of The Grove. I stepped outside to offer to take it for him, and I actually think that I startled him. He seemed to be a little apprehensive when he explained that he was part of a Harley club who had a challenge for members to take their photos in front of haunted places across Northeast Texas. The idea sounded very cool to me, but I didn't get to talk to him much more about it before he left. The next weekend, the same thing happened - this time a couple had parked their bike out front and were taking each others pictures in front of the house. When I went out to talk to them, they told me the same story, but they had the printed booklet with the list of places. They were great folks and I visited with them for a while, and as I looked through the booklet I saw places that I'd been to in the past - I knew that the group was in for a treat with all of those interesting locations. They told me the name of their club, and I went online to look at their website. I even found the "Haunted Hog Run" challenge in their ezine; for those that could photographically prove that they'd been to all the places, they would get a really cool patch to commemorate the event and their achievement. You can see the patch here - but now I really want one for The Grove's archives, since it was a part of it! Oh well, since I don't know anyone in the club I guess that I'll have to make do with the photo. But what a great idea!
In honor of Halloween, I have a few spirited tales for you this month from places around Jefferson. The first one comes from The Bayou Bakery, a newly remodeled and renovated restaurant on Austin Street (you may remember it as just "The Bakery"). Not only does it have delicious food, but it's known for its pastries and homemade bread (you should go by and pick up a loaf as you're leaving town to take back home with you - and they'll be happy to slice it for you). Earlier this month I was in the Excelsior House Hotel when a trio of ladies ran up to me and said, "Mitchel, you should have been in the Bayou Bakery at lunch today!" I assumed that they were talking about the lunch entrees there, so I said something like, "Yeah, isn't the food great?" They said, "Yeah, but it's not that - while were were eating there, a loaf of bread flew across the room!" One of the ladies, a friend of mine, went on to explain that they were at a table near the pastry display case when she saw a shadow go by out of the corner of her eye. As she turned to see what it was, a loaf of bread hit the floor... a few yards from the case that it had been resting on. No one was near the case at the time so it couldn't have been tossed by human hands, and if it fell off naturally it would have simply hit in front of the case and rolled a few feet at best. In this case, it apparently sailed from the top of case, past a table or two, before dropping to the floor. There's no logical explanation for it to go flying across the room. Although, in the remodeling they moved things around a bit - perhaps any spirits there are just adjusting to the new surroundings.

The bread at the Bayou Baker isn't the only thing that moves around in downtown Jefferson, though. I hear stories like that all the time where items seem to move on their own - and I have for years. One such story was back in the early 1970s, as the story goes, when Stephen Spielberg and a few members of his production crew for the movie Sugarland Express were traveling Texas scouting locations. They stopped in Jefferson and took several rooms at the Excelsior House Hotel. He told a reporter, "We dragged ourselves upstairs after a rough day. I swear my room was haunted. I made everyone wake up, pack up, and get back in the cars at about 2 A.M. in the morning. We had to drive twenty miles to the nearest Holiday Inn, and everybody was hot at me. I should add that I am not normally superstitious." Spielberg had reportedly been staying in the Gould Room of the hotel.

And speaking of the Excelsior House, we had some guests on the tour a week or so ago who stayed there, and they said that at 3 AM their phone started ringing. At breakfast, the talk among all the guests was that everyone's phone rang at exactly the same time... although no one was on the other end for those who picked up. Two things about this really piqued my interest. The first one is that for about 20 years, I was a telecommunications engineer while I was trying to build a career as a writer. Although I was a writer at time, at least in one sense, because I wrote software for telephone systems. I'm not saying that the 3 AM calls to every phone in the hotel couldn't be a glitch in their phone system, but from my experience I would say that it would be a highly unusual one. It would be something that would have already been happening not only with their system, but with phone systems by the same company installed all over the country. That's just a former telecommunications engineer's opinion. The second thing that interests me is that our guests have electronic events here at The Grove all the time. Some readers will have experienced it themselves, while others will remember reading about them in the GroveZine over the years. All I can say about the middle-of-the-night phone calls at Excelsior is that our guests thought that it was very, very strange... and so do I.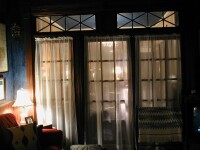 While I love to share stories from our guests, we always have things happening to us around The Grove. One phenomenon that we've observed since first moving in is the presence of shadow people. They're usually seen out of the corner of your eye darting about, but occasionally one has appeared as just a shadow, standing there still for a moment before moving away or simply disappearing completely. My wife was in the Den - the "new" room that was added in 1870 - and some movement in the Game Room caught her eye. Sheer curtains are on the French doors that separate the two rooms, so when she looked up to see what it was, there was a large shadow standing in front of the corner closet. Like most sightings of shadow people (at The Grove or anywhere else) it had no discernable features. It was simply there for a moment or two, before it moved away. While the presence of the whole concept of shadow people freak some folks out, we just find it to be another interesting part of The Grove.

I've received quite a few photos from the tours lately, and as busy as this month has been, there are some that I haven't even been able to respond to yet. We love getting your pictures, though! Tammy from Garland sent one in that, no matter how hard we try, we simply can't explain. She had taken a photo of our staircase, and when she examined the picture a bit closer, saw a light anomaly in it. It is a small streak, as if some particle of light was moving quickly through the air and the camera caught the trail of it in the instant that the lens was open - which would mean that it was moving at a nice little clip. Often times these streaks of light can be explained by a hair hanging down in front of the lens, a camera strap, etc, but in this particular photo it is a vary isolated streak of light. I have no explanation for it.

And finally, I have a last-minute story to share... this one from Halloween night at The Grove. It's not spooky or dramatic, but it is the perfect illustration of the kinds of things that happen all the time in our lives. I was doing an evening tour, and after Tami put the finishing touches on the house she went up front to do some work on her laptop and hand out candy to the neighborhood trick-or-treaters. I'd just taken the tour group into the Den, and noticed that the television was off. Sometimes we leave it on with soft background music, which is why I saw that not only was the TV black, but so was the satellite receiver and all of the other equipment. I began telling stories about the mischievous spirit in the room, and after a few minutes - right in the middle of one of my stories - all of our video equipment snapped on at once and the television started blaring. If the TV had come on by itself there would have been no signal, so we wouldn't have noticed it. If the satellite receiver came on, without the TV there would be no noise. Everything had to activate, which it did. I just smiled, stepped between the folks in that corner of the room, and picked up the remote controls and started turning things off. I didn't want to make a big deal out of it, so I said, "Sorry about that!" and continued with my stories. Just another day at The Grove.

And as long as we're talking about ghostly things, I should mention that I'll be speaking at the History, Haunts and Legends Paranormal Conference on November 2nd, along with a number of authors, investigators, explorers, and experts in the field. I can hardly wait to spend the day immersed in the study of the supernatural - come and join us! If you've been to one of these before, you know that it's an informative day, followed by actual paranormal investigations led by investigators from the region. You can get more information on the Historic Jefferson Ghost Walk website: http://www.jeffersonghostwalk.com.
And to continue the supernatural theme long past Halloween and into November - don't ya just love it! - there is a paranormal conference in Marshall, Texas on the second weekend - November 9th. It's called the "Marshall Haunted Holidays," and features an all-day conference with a great slate of presenters, an investigation, and a separate museum tour and cemetery tour. For more info, check out their Facebook event page.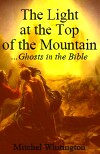 Well, that's it for Halloween 2013, and another issue of the GroveZine - thanks so much for taking time out of your day to read it. I hope that you found it to be enjoyable... I had a wonderful time writing down all the stories. Before I go I did want to mention that my new book is out: The Light at the Top of the Mountain: Ghosts in the Bible. This book takes a look at what the Scriptures have to say about spirits and the supernatural. While many believe that the Bible condemns such things, you might actually be surprised at what it really says. Click here, or on the book cover to check out this interesting - and somewhat controversial - new book!
Here's what's coming up around town, if you're thinking about a visit...

11/2/2013 - History, Haunts & Legends Paranormal Conference
11/9/2013 - Marshall Haunted Holidays, Marshall, Texas
11/9/2013 - Toys for Tots Casino Night
11/29/2013 - Christmas Tree Lighting Ceremony @ Lion's Park
11/30/2013 - Hustler's Ball @ Auntie Skinner's
12/5-14/2013 - 31st Annual Candlelight Tour of Homes
1/24-1/26/2014 - Quilts on the Bayou
2/28-3/2/2014 - Mardi Gras Upriver
4/10-4/13/2014 - Diamond Don's Vintage Motocross
---
To repeat our words from the beginning, this is a free subscription ezine for friends of The Grove - in other words, we NEVER arbitrarily add email addresses. We also NEVER sell or share email addresses with anyone else.
Feel free to pass the GroveZine on to your friends - all I ask is that if you forward it, please include the header, trailer and everything. Thanks!
To subscribe, just go to The Grove's Website and put your email in the blank at the left bottom of the page.
To unsubscribe, although we'd sincerely hate to lose you, simply follow the directions at the bottom of the this email.