www.thegrove-jefferson.com December 2013 ISSN 1558-3252
This is a tiny little free subscription ezine for friends of The Grove - it is by request only. In other words, we NEVER arbitrarily add email addresses. We also NEVER sell or share email addresses with anyone else, for any reason at any time. We hate SPAM as much as you do!
"The more enlightened our houses are, the more their walls ooze ghosts." - Italo Calvino
Happy Holidays, Merry Christmas, Happy New Year! It's amazing that 2013 is already coming to a close. It seems like just a short time ago we were welcoming in the new year - but time seems to be speeding by. It's been a wonderful Christmas season here in Jefferson, and having survived it, everyone is trying to decide which New Year's Eve party to attend; there's one at the Carnegie Library, Auntie Skinners, The Corkyard, Knightlight Theater, and probably a few more that I haven't heard about yet. Since all of the folks throwing these parties are our friends, you might just find us hopping from place to place over the course of the evening. Thankfully, none of the locations are more than a block or two apart. It's going to be quite the festive New Year's Eve! Before that time, though, I have a few things to share...
"Woe to you, oh Earth and Sea, for the Devil sends the beast with great wrath, because he knows the time is short... Let him who hath understanding reckon the number of the beast, for it is a human number; its number is six hundred and sixty-six." And so says the Book of Revelation, a passage that I haven't thought about in a while. On a different note, when I fill up the car, I try to remember to reset the trip mileage counter so we can determine how many miles we have left on a tank of gas. Sometimes I remember, sometimes I don't. The other day I pulled into the driveway, stopped the car, and as I was shutting it off I glanced at the dashboard instruments. The Odometer trip counter caught my eye - I thought, "Did I really just see that???" Yep - our little Nissan Altima was sporting the mark of the beast. I realize that this might have freaked some people out, and made them drive around the block to change the setting, but I just laughed and took a photo for the GroveZine... I think that the Devil's way to busy to be bothering with my car, but the mark of the beast was on our trip odometer overnight!
How Y'all, Youse and You Guys Talk - If you'd like to have a little fun, take the NY Times dialect survey. It's an online freebie, 25 questions that tell you where in the country your way of speaking is most associated with. It's entertaining... for example, do you see a difference between "dinner" and "supper," or are they the same thing? Do you call that insect with a flashing light for a tale a "lightning bug" or a "firefly"? I took it, and the website reported that this East Texas boy's dialect is most similar to the three cities Shreveport, Baton Rouge, and New Orleans. All Louisiana places, although I've never lived there... who would have thought? Have some fun and take it for yourself by clicking on this link to the dialect questionnaire.
One more thing before we get to the ghost stories, and this is just a health tip that I ran across. Time Magazine reported last month that those who reported regularly consuming nuts - pretty much any kind - were less likely to die from a variety of diseases, most significantly cancer, heart disease and respiratory diseases. People who ate nuts seven or more times a week, in fact, enjoyed a 20% lower death rate after four years than individuals who did not eat nuts. Nut eaters also tended to be leaner, more physically active, and non-smokers. Prior studies found similar connections between nuts and longer life, but the large size of this study gives the association more support. Now, this is a supernatural-themed newsletter, not a health report, but things like this interest me because I love peanuts, macadamia nuts, sunflower seeds, cashews, well... you name it. And if eating a handful a day is healthy, I'm on board! Here's the article that you can read for yourself: Eat Nuts, Live Longer.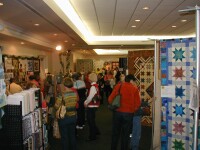 One more Jefferson thing to mention - the annual "Quilts on the Bayou" show. It's become so popular that it's the city's biggest January draw. Folks come from Shreveport to Dallas to see the collection of quilts on display, to attend the lectures and workshops, and to browse the array of vendors that have booths set up. It's grown into a huge event over the years, and I have a special hint for guys attending with their wives or girlfriends - be sure to bring your pocket knife, because the scissor-sharpening guy can put one heck of an edge on your blade. It's become a ritual with me every year. For you quilters out there, this is also a chance to show off your quilts and have them judged in competition. Also, your gift bag will contain the information that you need to be a part of the Million Pillowcase Challenge. You can find all the details at the event website, Quilts on the Bayou.
You may remember that Chet Garner and the Daytripper television show came to The Grove a while back. This fall they did an episode called "Spooky, TX" that featured (as the title implies) some mysterious and haunted places around the Lone Star State. This one included not only The Grove, but Baby Head Cemetery in Llano, the Driskill Hotel in Austin, Longhorn Cavern State Park in Burnet, the Ghost Railroad Tracks in San Antonio, and many more interesting locations. It's a lot of fun (but aren't most of their episodes?), has many tales of the paranormal, and best of all you can watch the episode online by clicking on this Daytripper Episode Link.

We spent Christmas at the beautiful old 1886 Crescent Hotel in Eureka Springs, Arkansas. If you've been reading the GroveZine for a while, you know that it's one of our favorite haunted locations in the U.S. (outside of The Grove, of course). You may have seen it featured on a rather dramatic episode of Ghost Hunters some time ago. We requested a room where we had several unusual experiences before, but plumbing problems had closed down that section of the hotel. We were upgraded to a suite with a semi-private balcony at no extra charge, and I certainly can't complain about that! We didn't have any supernatural experiences on this trip, but I've discovered over my years of paranormal research that it's a "right place at the right time" kind of thing, so that's not all that unexpected. Still, the stay was incredible. The Crescent is an interesting place - it's been a resort hotel, a girl's finishing school, a hospital for terminally ill cancer patients, and all of those episodes of its past have contributed to its haunted history.

But getting to The Grove, one of the things that we usually don't talk about on our tours are the odors that seem to appear in the house - although they do show up occasionally, and very unexpectedly. One of them is the smell of pipe tobacco, even though we don't smoke nor allow smoking in the house. The other is that of a very pungent body odor. Not like someone who's just mowed the yard and worked up a sweat, but instead like someone who hasn't bathed in a while. We had a tour this month where one of our guests was standing beside the dining room table and suddenly got an unpleasant scent that seemed to manifest right in front of her. It was so strong that she mentioned it to the rest of us, and I told her that it sometimes happened, especially in that room. Before we left the room it happened again, right in front of her before slowly dissipating. With it coming and going like that, at least it was thankfully clear that the odor wasn't coming from any of the rest of us in the room!

The same lady who experienced the smell must have been especially sensitive, or at least the house took a liking to her and wanted to show out. As we continued on the tour she started fiddling with her camera, and I could tell that she was having some kind of problem with it. I assumed that she was having battery issues, as many have experienced in the past (even professional film crews with freshly-charged batteries). She finally discovered the problem, and was amazed. She told the group that her camera had started recording audio/video on its own, which it had never done before. In fact, she only used it to take still photos, so this was completely out of the norm. I can hardly wait to hear back from here to see if anything strange turned up when she played it back. Problems with cameras, recorders, and other electrical devices at The Grove go all the way back to the days when there was a restaurant here in the 1990s, and possibly even before that - I'd really love to have that conversation with some of the owners who have passed on over the years. And who knows - perhaps they're responsible for some of the things that we experience here.

The final story that I wanted to tell for the year was very reminiscent of something that happened several years ago. We had three friends helping us decorate the game room for Christmas, including a live Douglas Fir tree that we'd put up that year. We had finished for the afternoon, and we had invited everyone out to sit on the front porch and relax for a while. Before we did that, one of our friends noticed a single ornament on the tree rocking back and forth. The rest of the tree and all of the ornaments were perfectly still, but as the five of us watched the ornament and the branch that it was on began to shake more and more. Finally, the ornament fell to the floor and shattered, and the limb of the tree was instantly as still as the others. While it freaked our friends out a bit, I started yelling at the house to leave things alone - after all this time that's just the relationship that we have. Well, we had something similar happen this year - my wife and I were in the front parlor where our glass-blown ornament tree is, and some movement caught our eye. We both looked at one of the glass-blown ornaments that was swaying on the limb by itself. We looked at each other, then back at the tree, and that one piece was the only thing moving. There is an A/C vent in that room, but it was back by the far wall, and we were easily between it and the tree - but if it was responsible, more than that one ornament would be affected by the air. All we could determine was that it was an occurrence like we'd seen before. And based on what happened a few years ago, we knew what was coming next, so we IMMEDIATELY told the house NOT to break any ornaments, and we left the room right away so that whatever was playing around wouldn't have an audience. So far, we've had no breakage... just that little bit of teasing.

As I said earlier, it is SO hard to believe that 2013 has zipped by so quickly. You have no idea how much I appreciate you reading the GroveZine month after month; it's a pleasure to write it, and I hope that you've enjoyed it this year. That said, I guess that it's time for us to bid farewell to 2013, and get ready to ring in the new year of 2014. My sincere wish is that it is happy, healthy, and prosperous for you and your loved ones. I also hope that we'll see you in Jefferson sometime during the year. I'll talk to you on the other side of New Year's Eve!
---
Here's what's coming up around Jefferson in the new year...

1/16-1/19/2014 - Girlfriend Weekend
1/24-1/26/2014 - Quilts on the Bayou
2/8/2014 - Queen Mab Ball
2/28-3/2/2014 - Mardi Gras Upriver
3/8-3/9/2014 - Jefferson Gun & Knife Show
4/3-4/5/2014 - Jefferson City-Wide Rummage Sale
4/5/2014 - History, Haunts and Legends Conference
4/10-4/13/2014 - Diamond Don's Vintage Motocross
5/1-5/4/2014 - Jefferson Historic Pilgrimage, Civil War Re-Enactment, Diamond Bessie Murder Trial Play
5/17-5/18/2014 - Jefferson Train Days

---
To repeat our words from the beginning, this is a free subscription ezine for friends of The Grove - in other words, we NEVER arbitrarily add email addresses. We also NEVER sell or share email addresses with anyone else.
Feel free to pass the GroveZine on to your friends - all I ask is that if you forward it, please include the header, trailer and everything. Thanks!
To subscribe, just go to The Grove's Website and put your email in the blank at the left bottom of the page.
To unsubscribe, although we'd sincerely hate to lose you, simply follow the directions at the bottom of the this email.