www.thegrove-jefferson.com March 2014 ISSN 1558-3252
This is a tiny little free subscription ezine for friends of The Grove - it is by request only. In other words, we NEVER arbitrarily add email addresses. We also NEVER sell or share email addresses with anyone else, for any reason at any time. We hate SPAM as much as you do!
"In fact, I think I have had a ghost in my house. Although not active lately, unexplainable things would happen and the kitties were particularly sensitive - especially, Marlon Brando... the cat, not the man." - Tippi Hedren
Greetings from The Grove! Well, even though the weather isn't all that warm yet, the plants are starting to bud and bloom. Because of that, my sinuses have been going crazy. A lot of mornings, I've woken up to feel like I'm starring in the horror movie Alien, with one of the facehuggers attached firmly to me - yep, just like in the photo that you see. It feels exactly like that. Anyone that has taken the tour over the last couple of weeks probably saw me chugging water from a bottle, blowing my nose, and even chewing coughdrops like candy just to be able to talk. Fortunately things have normalized over the last week or so, and although I still have an occasional sniffle or cough, the sinuses are starting to return to an operable mode... at least for now!
I do have a real injury to report - I was getting something out of a high cabinet, and instead of using a step-stool I just pulled a chair over. I put my foot in the chair, saw that there wasn't anything for me to grab onto with my hand, so I just launched up which put all my weight on my knee. I felt a knife of pain going through it, and I've been limping around ever since. My wife had to remind me that I'm no longer fifteen years old, and things that I could easily do as a kid aren't so easy anymore. That said, I went outside one morning to see that my neighbor was having a birthday party for one of their kids, and had rented a giant bouncy-house. This wasn't your typical bouncy-house, it was very elaborate with all kinds of extras. As the tour was assembling that day, I even made our guests the offer that instead of going through The Grove, we go over and see if they'll let us inside the bouncy-house for just a few minutes. But then I felt a twinge in my knee, and realized that wouldn't be a great idea. Oh, to be young again!
This past month we received kind of an odd Trip Advisor review... You know, I am SO appreciative of all the wonderful Grove fans who have posted stellar reviews on TripAdvisor. We love those 5-star reviews! This month, however, we received an email notification of a strange review with the title: "Steak Salad Rocks." As I mentioned, we sincerely appreciate any reviewer that gives The Grove five stars, but when I read this review, it said: "It's true, a steak salad with a glass of wine here was perfect... I've been several times; it's delicious. The paninis are good, too." This was really confusing, because as you probably know, The Grove is a tour home, not a restaurant. But even when we're preparing dinner during the week, we don't do steak salad or paninis, although we might have an occasional glass of wine. I'm assuming that one of our visitors got his or her locations mixed up on the review, but since it's so nice, I hate to correct it! I guess that I'll have to anticipate a phone call from future visitors saying, "What time is the tour? How long does it last? And what kind of paninis do you have?" Oh well, we'll survive. By the way, though, if you've toured The Grove and haven't posted on TripAdvisor.com, we'd be honored to have you do so. We're thankful for the four-star reviews, but absolutely love the five-stars!
We took a trip to Natchez, MS this past month, and one of the places we always look forward to is a stop into Turning Pages Books. It's an old-fashioned, independent book store that has somehow survived the assault by the mega-bookstores and online giants. It's a wonderful place, and a joy to visit. On this trip, I found a book called "Death by Petticoat" by author Mary Miley Theobald - the title alone made me pick it up off the shelf. I started reading it immediately and simply couldn't put it down. It examines myths from history that have been perpetuated for years, debunking them and explaining the real story. As I read the book, I recognized many stories that I'd heard repeatedly over the years while touring old homes. Even worse, I found a couple of myths that we tell as fact on the tour of The Grove! Since it was Natchez' Pilgrimage, we spent several days touring homes there, and I would stand behind my wife and as the docent spoke, whisper "THAT's a myth..." and "THAT's a myth..." It was amazing how many of these have been re-told so many times that people believe them to be true.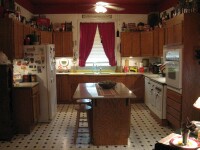 The question then becomes, exactly how many of those myths have I been espousing during the tour of The Grove? Well, two, as it turns out. I was simply repeating stories that I'd heard at antebellum homes throughout the South, and had no idea that they weren't based in fact. The first is that the kitchen, which was originally built as a separate building, was done so to prevent fire. But if the homeowners were that concerned about fire, they wouldn't have fireplaces in the house to begin with, which they did. No, instead, a separate kitchen was done to protect the house from the heat while cooking meals. We experienced this during a trip to Savannah, GA, where we stayed in a B&B; the air conditioning went out, and the heat from the stove cooking breakfast was so intense that we left and went out to a restaurant. That's probably why the kitchen of The Grove was build separately.
The other thing is the closet in the original master bedroom (now the game room) that was added in 1870. For years I've been telling the story of the "closet tax," which meant that a closet was taxed the same as any other room. The book that I mentioned addresses this, saying that there is no evidence of a closet tax at all. It's simply that homes typically didn't have closets in the 1800s. To begin with, people didn't have as many clothes, so closets weren't necessary. Beyond that, though, clothes hangers weren't even invented until 1869, and prior to that everyone's clothes were simply folded and put in a wardrobe or armoire. When the Stilley family - the builders of The Grove - added the closet, it was probably because it was just becoming stylish to do so.
Since we want our tour to be as accurate as possible, those stories have been modified to tell them in their true light. Still, though, I'm enjoying touring other homes and pointing out the things that are incorrect - at least quietly, to my wife. I'd never bring them up during a tour of another home!
While this isn't a ghost story, it is paranormal - which, after all, means "outside of the normal." Check out this photo of a footprint - Michael Tellinger shows off what could one of the best pieces of evidence that there were giants on Earth a long, long time ago. Geologists have marveled at this giant foot print in rough granite, about 4 feet long. It is located in South Africa, near the town of Mpaluzi, close to the Swaziland border. It is estimated to be between 200 million and 3 Billion years old because of our current understanding of the formation of granites in Earth's history. Is it controversial? Hey, you betcha - a lot of people attack it from the idea that "since giants can't exist, we have to find another way to explain this." Do I believe that it's a giant footprint? Well, we have many similar footprints from dinosaurs that aren't challenged by science. But a giant footprint is something that scientists are going to get a little agitated about... after all, we can't admit that there were once giants on the Earth, can we? Personally, I don't know. But I do have to think back to the book of Genesis, chapter 6, verse 4, which says, "There were giants in the earth in those days..." Seriously, check it out. And since Genesis is the first book of the Bible, describing the beginnings of the world, maybe it's something to consider.
Now moving on to The Grove, if you've taken our tour, read about The Grove, or are a GroveZine subscriber, you've probably heard about our "Lady in White." I received the following email this month after one of our tours: We had seen a person walk behind you (between the stairs and into your 'tv' room (the 3rd room on the tour). I am normally pretty skeptical and was in fact going to stop you when we were in the first room and ask if it was your wife, but at that point I was pretty sure it was your wife until I saw her later in the kitchen cleaning. For what it's worth the lady I saw pass behind you had blond or whiteish hair that was longer than shoulder length. She was slight of build and was wearing a white top (I couldn't only see from the shoulders up as the stairs were blocking the view (I am 6'1" and was standing by the small couch by your front door as you were speaking. Age-wise she appeared to be someone who might be 20-30's (i.e. she didn't look really young like a teenager but she didn't appear to be older either). He initially shared this with me right after the tour, and another lady piped up and said, "I saw that, too!" I thought it was very cool that two different, unrelated people both saw our Lady in White go by!
I just received another email from one of our guests named Alan, someone who was on a tour of The Grove this month with his wife. He wrote me to say, "I just wanted to relate a couple of experiences I had while touring your house Sunday. As we were in front of the house before the tour I felt several rapid tugs on my shirt sleeve. The best I can describe it was like a squirrel climbing my sleeve, but of course there was no squirrel. A hundred thoughts ran through my mind as to what could have caused that. I thought perhaps I was against a tree limb or bush that was snagging my sleeve, but there was nothing close. I thought maybe it was the wind blowing my sleeve, but it was very still that morning. The sleeve had an elastic band around the bottom so I thought it had gotten twisted while driving and was simply straightening out, but the tugging was just too pronounced for that. Iím not going to stand up and announce that I was touched by a 'haint,' but on the other hand, Iím at a loss to explain what it actually was."
As a reader of the GroveZine, you probably know that we encounter the pulling of clothes and hair quite often - just a mischievous little thing that happens. I had a couple on the tour a while back and I'd see the lady swat the back of her hand with her head, then glare over at her husband and whisper, "Stop it!" About the third time it happened several people looked around at her, and she apologized, saying something like, "I'm sorry, I didn't mean to cause a scene. It's just that my husband's messing with me, tugging at my hair to try to scare me." I had to tell her that I had been watching them the whole time, and her husband had been standing there with his arms at his side!
Alan went on to say: "The second was in the first room. I was standing in the corner where the most activity is felt, and at one point my left arm and shoulder blade got very cold as if I were standing in front of an open refrigerator. I dismissed it as possibly a draft from the old fireplace or even more believable power of suggestion. The interesting part was that my arm felt cold for the rest of the tour, and I would have assumed that if it were a draft it would have warmed up in a few minutes after I moved."
The cold spots happen as well - I had a lady tell me after the tour one day that in the dining room she had been standing right in front of a window air conditioning unit, and described a similar sensation to Alan's. While twelve years ago there were window units in the house, we've had central heat and air here for quite some time; there was no window unit there. It was an experience much like Alan described, in that it was like there was a source of cold air right beside her. Oh, and about the thought that it was a draft from the old fireplace - they've actually been sealed up since the 1930s - there's no flue or chimney there. I have to say that Alan had an interesting experience or two at The Grove!

One of the perks of Springtime is that the gardens of The Grove are starting to come alive. Daphne Young, the lady who planted the gardens (she lived here and was the lady of the house from 1885 until the 1950s) designed it so that something was always blooming. My absolute favorite has just come out - the wisteria. We have two varieties, both purple and white, and both are beautiful. Maybe the beauty of the garden this time of year makes all the sinus problems worth it! Meanwhile, thanks so much for reading the GroveZine, and I'll talk to you next month.
---
Here's what's coming up around Jefferson...

4/18-4/20/2014 - Outlaw Nationals Vintage Car Show
5/1-5/4/2014 - Jefferson Historic Pilgrimage, Civil War Re-Enactment, Diamond Bessie Murder Trial Play
5/17-5/18/2014 - Jefferson Train Days
6/6-6/7/2014 - Corvette Car Show
6/6-6/8/2014 - Route 49 Biker Rally
7/4/2014 - Jefferson Salutes America, Otstott Park
8/23-8/24/2014 - Jefferson Gun & Knife Show
...and more throughout the rest of the year!
---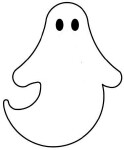 Come join us for a paranormally good time! On Saturday, April 26, the Tyler Paranormal Conference - Paracon 2 - will be held, and there's an incredible slate of speakers. I'm going to be presenting there, and I'm really looking forward to the day. Tyler is especially convenient for all the folks from East Texas to the D/FW area, because it's only about an hour away. It's an incredibly interesting way to spend a Saturday! You can get all of the info on the conference website: http://toursoftyler.com/paranormal_conference I hope to see you there!
---
To repeat our words from the beginning, this is a free subscription ezine for friends of The Grove - in other words, we NEVER arbitrarily add email addresses. We also NEVER sell or share email addresses with anyone else.
Feel free to pass the GroveZine on to your friends - all I ask is that if you forward it, please include the header, trailer and everything. Thanks!
To subscribe, just go to The Grove's Website and put your email in the blank at the left bottom of the page.
To unsubscribe, although we'd sincerely hate to lose you, simply follow the directions at the bottom of the this email.