www.thegrove-jefferson.com May 2014 ISSN 1558-3252
This is a tiny little free subscription ezine for friends of The Grove - it is by request only. In other words, we NEVER arbitrarily add email addresses. We also NEVER sell or share email addresses with anyone else, for any reason at any time. We hate SPAM as much as you do!
"Ghosts seem harder to please than we are; it is as though they haunted for haunting's sake - much as we relive, brood, and smolder over our pasts." - Elizabeth Bowen
Greetings from The Grove! May has been a busy month, starting with the annual Diamond Bessie Murder Trial play. I play Sheriff John Vines, and that's me on the witness stand in the photograph. The play itself is a comedy, although based on real events that happened right here in Jefferson in the late 1800s. I have a great time in the production, because I get to yell at all my friends who are in the play (Sheriff Vines is a mean guy). This year every single performance sold out, and the crowds were delightful. I had a wonderful time, and it was a great way to start the month of May!
May's been an exciting month for me personally. When it comes to my writing world, most of it is spent in the nonfiction arena, specifically in the arena of the supernatural. For some time (years actually) I've been working on a fictional novel, however, and it crosses several boundaries - life, death, reality, the supernatural, and more. "The Midnight Saint" has just been released, and is out on Kindle right now, but the print version will be working its way into the book distribution chain over the next few weeks. If you have a Kindle, you can get "The Midnight Saint" now, and best of all, if you happen to be an Amazon Prime customer, it's free! It's really something special to me... I'd love to hear your thoughts on the book.
And speaking of writing, if you're anything from a writer at heart to a published author, there's a writer's conference coming up in Tyler in just a few weeks that promises to be a very interesting weekend. There is a slate of speakers that cover every aspect of the writing world, and the price is unbelievably affordable. It's a short drive from the Metroplex, or most anywhere in East Texas. If you're traveling a bit further, you can get a room at the conference hotel where a lot of the speakers and participants will be staying as well. You can find all the info at the Tyler Writer's Conference website, but advance reservations are DEFINITELY recommended.
I have an announcement for the GroveZine readers who are Boo Benefit fans. In 1998, Boo Chaler was burned over 95% of his body in a welding accident. It was a long, painful, expensive recovery, and many of his friend who were motorcycle enthusiasts banded together to hold a benefit for him. After such a recovery, most of us would have retreated into seclusion and bitterness at the world, but Boo took a different path. He launched the annual Boo Benefit Motorcycle Rally in Jefferson, where all of the proceeds went to the children's burn victim charities "Percy R. Johnson Burn Foundation" and camp "I'm Still Me." The name of the latter comes from the fact that although a severe burn may have altered their appearance, each child need to understand that, "I'm still me!" After all these years of service, Boo and his wife retired from the event, but the mantle has been picked up by Auntie Skinner's Riverboat Club here in Jefferson. The charities are the same, the events are basically the same, so if you're a motorcycle enthusiast who's enjoyed the Boo Benefit in the past, make plans to attend the Burn Benefit on October 10-12.
I was excited to learn that Jefferson was named to the list of "Top 15 Small Cities in Texas" by CitiesJournal.com - quite an honor! In reading the article, though, I'm not quite sure where they got their information. Here are a few quotes from it, along with my comments in [brackets]: "Jefferson is so historic that nearly every building on its main road has a historic marker" [Jefferson does have a good number of historical markers, but technically only one on the "main road," which would be Highway 59]; "The town was founded in about 1841 along the Red River" [Well, not so much. The town was founded on the Big Cypress River. We're about an hour's drive from the Red River]; "The land upon which the town was built was given to white settlers by local Native Americans" [Uh... what? That's just plain wrong. The two founders of the city, Alan Urquardt and Daniel Alley, purchased the Steven Smith land grant from Texas to found the city]; "town leaders tried for years to remove the log jam (on the Red River) in order to restore the natural flow of the river" [this refers to the logjam on the Red River called the "Great Red River Raft," the clearing of which was done by Captain Henry Shreve and the U.S. Army Corps of Engineers, not the town leaders of Jefferson]; "Today, a railcar from the proposed railroad through town is displayed as a tourist attraction" [in reality the historic railroad car belonged to the railway baron Jay Gould, and didn't come to Jefferson until brought here by an 18-wheeler several years ago]. Okay, so they made a few mistakes. I think that I'll still take the top-15 ranking without much complaining.
Okay, I'm not one of these paranoid, conspiracy-theory guys. I mean, I do believe that an alien craft crashed at Roswell, NM (read UFO Crash at Roswell by Randle & Schmitt), and I don't believe that Oswald killed Kennedy (read They Killed our President by Ventura), but these aren't things that I obsess on or even really think about at all. I'm just not that big into worrying about conspiracies... but then I ate at Chili's a few days ago. I know, I know, this probably sounds crazy, but stick with me for a second. In the publishing world, I regularly deal with co-workers who range from a few blocks away to half a continent away. Although we meet regularly by phone and internet, I meet with a partner from Dallas in person once every month or so, and we rendezvous halfway between Dallas and Jefferson, at a Chili's restaurant in Sulpher Springs, TX. When we met there a few days ago, I arrived a few minutes early and noticed a small, iPad-looking kiosk device on every table. I watched it after sitting down, and saw food displays cycling through on the screen, along with similar features for the restaurant. I was very impressed - what a great idea! It definitely kept me entertained. When my friend arrived, he said that they're in every Chili's in Dallas, and not only can you pay your bill using the kiosk, but you can order a drink or even pay a buck to play games on it while you're waiting. We had our lunch and business meeting, and as we used the kiosk to pay with a credit card, something caught my eye. On the top of the kiosk device was a camera. Now, if there was a camera there, I can only assume that there was a microphone as well. All kind of wild thoughts were going through my head - was Chili's actually doing surveillance on its customers? Who could watch us, the local waitstaff, or the corporate office? Why would they want to be able to watch and listen to their customers' personal conversations? For a moment it freaked me out. I finally decided that the camera was probably (and hopefully) not being used, and was probably there to allow patrons to interact with their waitperson via camera and microphone in the future. Still, it kind of creeps me out a little bit. Since then, whenever I'm in Chili's, I turn the kiosk and its camera away from me... I mean, you never know who's watching you.
You know, this is an ezine about ghosts and the supernatural, but I have to mention something else that's outside of the normal world (I know that I probably shouldn't, having already mentioned aliens and JFK in this issue). Still, I found this to be odd and wanted to just throw it out there for whatever it's worth. I was visiting with a good friend of mine the other day, and he said, "I'm not supposed to tell anyone this, but I guess that it's okay since I won't use any real names..." He'd run into another friend of his a few days ago, and the guy said that saw something that he swore that he'd never talk about, but it was just too much to keep to himself. He was going to work early one morning while it was still dark, taking a shortcut through a rural area. His car lights were illuminating the pavement ahead, and he suddenly saw something run across the road. It was an animal, covered in dark hair, but it ran on two feet exactly like a man does. It was much larger than a person, though, and while the guy wasn't sure exactly how tall it was, the thing that freaked him out was that it covered the road in only two or three steps. He wouldn't pin a name on the creature that he saw, but after I talked to my friend, it was clear that the word that wasn't being spoken was "bigfoot." I'm not sure exactly what I think of bigfoot - some people that I truly respect tell me that they've seen such a beast, but I do have questions about how those creatures have kept so secretive for all this time. I find it interesting, but much like aliens and JFK, I just don't dwell on bigfoot all that much. The fellow that saw it, though, certainly believes that it was something out of the ordinary. And sometimes, when you see something out of the ordinary, it can be unsettling.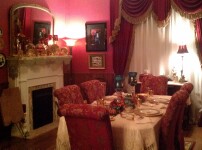 Speaking of things that are out of the ordinary, the Saturday before Mother's Day was a very interesting - and active - tour. It's very seldom that we have so much activity on one single tour. The first thing that happened is becoming quite commonplace. The group had moved from the dining room into the game room, but one lady was hanging behind. Since she wasn't readily joining us, I began to tell the story of Mr. Charlie (the barber who owned the house in 1885) and his visit one evening. As I talked I could see that she'd gone outside, and was standing on the porch. After a few minutes she came back in, and we continued on. When the tour was over, several of the people were standing in the entry to the parlor with me, and the lady apologized for having to leave, but said that she'd become nauseated in the dining room and had to go outside for some air. Another lady joined in and said that the same thing had happened to her, but she just kept going and it passed when we got into the game room. I began to relate to them how often this happens; if you've been reading the GroveZine for a while, you know that it's becoming frequent, happening in the same room and always to ladies. As I've pondered many times, I don't know whether to caution people or not, because I don't want to plant that seed in their head. I'm still not sure what to do. On a related note, the former of The Grove, Patrick, stopped by not long ago. I always enjoy getting to visit with him, and we share our experiences at the house. When I was telling him about our guests getting a sick feeling there, he said that he had a psychic come in when he had his restaurant at the house, and one of the areas that she felt was very strong was the dining room. I guess that makes sense - I believe that the people who encounter that ill feeling are just more sensitive to the supernatural than most folks, but may not know it. At this rate, I'm going to have to stop writing about this particular occurrence in the GroveZine... it's becoming quite commonplace!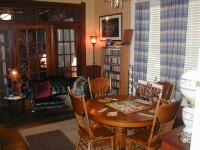 On that same tour, when we were all back up front and the ladies were talking about their experiences in the dining room, another lady spoke up and said, "That didn't happen to me at all, but as we moved from there onto another room, someone began poking me in the back." She went on to say that she first thought that the person with her was just playing with her, to get her all freaked out, but she looked around to find that there was no one behind her. Still, the poking continued. It wasn't painful, but as if some unseen, mischievous hand was having fun messing with her. I've got to hand it to the lady, though - instead of being scared, she was very good-natured about it, which is the way that we take all of the things that happen to us here.
As you saw from those last two things, people usually tell me about their encounters after the tour is over, but this one I learned about in real time. I was just finishing up in the kitchen, when several people standing by the door started getting very excited - they were whispering, pointing back through the doorway into the den, and causing everyone to look over at them. I stopped talking, and just tried to see what was happening. One fellow said, "Sorry to interrupt, but the rocking chair in the den is rocking all by itself!" After all these years at the house, that is something that I've never seen, and unfortunately I was on the far side of the kitchen so I didn't see it that day, either. These folks were very enthusiastic, to say the least. It slowly stopped, and I can only assume that whatever unseen person that was in it stood up and walked away. After the tour I went back to the den and was looking at the chair, analyzing what had happened. We'd all been in the kitchen for several minutes, so if someone had hit it (on purpose or not) as we left the room, it would have stopped on its own by then, but when those folks saw it the chair was actively rocking. Everyone had come into the kitchen several minutes before, so no one was back in the den who could have hit it. When it started rocking, the movement caught their attention, and multiple people saw it at the same time. A very interesting occurrence, and a great way to wrap up May at The Grove!

In closing this issue, I have to say that we're in one of our favorite times of year. Although the pollen has been terrible (remember the face-hugging alien photo from the last issue?), the flowers that are starting to come out are simply beautiful. I've been taking photos, so that I can share them over the next few months. Oh, I almost forgot to mention that Jefferson has a new Subway restaurant, which has caused quite a sensation in town. That's one thing about small towns - a new fast-food restaurant causes as much excitement as a new Broadway opening in New York city. It was impossible to get in there for the first week, and they literally ran out of food. You gotta love life in the tiny little town of Jefferson, Texas!
---
Here's what's coming up around Jefferson...

6/6-6/7/2014 - Corvette Car Show
6/6-6/8/2014 - Route 49 Biker Rally
7/4 - "Jefferson Salutes America" Celebration & Fireworks
8/16 - Jefferson Civil War Symposium
8/23-8/24/2014 - Gun & Knife Show
10/4/2014 - Cypress River Airport Fly-In
10/10-10/12/2014 - Burn Benefit Motorcycle Rally
11/29/2014 - Christmas Tree Lighting in Lions Park
12/4-12/6/2014 - Candlelight Tour of Homes
12/11-12/14/2014 - Candlelight Tour of Homes
...and more throughout the rest of the year!
---
---
To repeat our words from the beginning, this is a free subscription ezine for friends of The Grove - in other words, we NEVER arbitrarily add email addresses. We also NEVER sell or share email addresses with anyone else.
Feel free to pass the GroveZine on to your friends - all I ask is that if you forward it, please include the header, trailer and everything. Thanks!
To subscribe, just go to The Grove's Website and put your email in the blank at the left bottom of the page.
To unsubscribe, although we'd sincerely hate to lose you, simply follow the directions at the bottom of the this email.