www.thegrove-jefferson.com September 2014 ISSN 1558-3252
This is a tiny little free subscription ezine for friends of The Grove - it is by request only. In other words, we NEVER arbitrarily add email addresses. We also NEVER sell or share email addresses with anyone else, for any reason at any time. We hate SPAM as much as you do!
"When I see ghosts they look perfectly real and solid -- like a living human being. They are not misty; I canít see through them; they donít wear sheets or bloody mummy bandages. They donít have their heads tucked under their arms. They just look like ordinary people, in living color, and sometimes it is hard to tell who is a ghost." - Chris Woodyard
Welcome to the GroveZine! Hey, here I am with my good friend Matt Damon, who's just signed to play the lead role of Adam in the big screen production of The Midnight Saint, my latest book! Okay, okay, Midnight Saint isn't being made into a movie, at least not yet, and believe it or not, that's not me in the photo. And of course, I don't know Matt Damon. I mean, it looks a lot like me... and I mean a LOT like me... but it's not. A friend sent it to me and I assumed he'd photoshopped me into a picture, but I was puzzled - why put me with Matt Damon instead of someone like Cortney Cox or Nichole Kidman? What was my buddy thinking? As it turns out, this is a real photograph and the Mitchel look-alike is writer-director Paul Greengrass who's working with Damon on the latest "Borne" franchise. Amazing... he looks a LOT like me. I wonder if this means that I can sneak onto the set of the latest Borne movie, meet Matt Damon, and talk him into playing "Adam" from The Midnight Saint...
As I'm contemplating that, let me quickly say that if you live in the DFW Metroplex, I'll be speaking at the Grand Prairie Library on Monday evening, Oct 27, and I'll also be giving a presentation at the History, Haunts & Legends paranormal conference here in Jefferson on Saturday, Nov 1 - if you can make either one, I'd love to see you there and hang out for a while! I'll be telling some of my most memorable and dramatic ghost stories from the road - but I'll have more details later in the GroveZine.
If you've been reading the GroveZine for a while, you know that the house is a very active place for the supernatural. Some people seem to get it in their head that it's a dark, evil, foreboding place like you see in The Amityville Horror or Poltergeist - but nothing could be further from the truth. It's just a historic, old home that happens to have an abundance of supernatural activity. My wife and I have lived there for over a decade, and not only is it our home, but we love the place... and we have the same mishaps that all homeowners do. Case in point... last week my wife was cleaning our bathroom, and was working on the jacuzzi tub that we put in when doing the initial remodeling. Once a month, we run it with a cleaner first, then bleach water. Apparently this time the cleaner didn't get flushed completely out of the system before she put the bleach in, and you can see in the photo what happened. I heard her yell, "Mitch, you better come see this!!!" With the urgency in her voice I wondered if some dramatic, supernatural event was taking place, but when I ran in I saw this giant blob of bleach bubbles pouring over the tub. We both went into instant panic-mode, moving the shower curtain, the towels, the bathmats, anything that the bleach could ruin. After the event was over, we had a good laugh; people think our lady in white, or the garden man, or the shadow people are scary... but they're nothing compared to a bleach bubble blob!

I have to say a huge "thank you!" to the GroveZine readers who donated kids' tickets to the Jefferson Lions Club circus. It was an incredible day - they raised the tents on that Wednesday morning, and by afternoon the park had been converted into a full-blown circus, with a big top, pony rides, sideshows, and all of the accoutrements that you'd expect. There were two shows, and both were packed. Because of the generosity of the GroveZine readers and others around Jefferson, many children who otherwise wouldn't have been able to attend had an amazing time... I'm sure that it will be a lifetime memory for them. Thanks again for being so giving - I wish you could have been there to see the faces of the kids.

The Grove received a couple of ghostly accolades this month! First of all, we were notified that The Grove was selected as one of Houston Press' "5 Best Texas Haunted Road Trip Destinations" - you can read about it by clicking on this link to the news story... at the Houston Press.
---
Also, ViralNova.com - the site for trending stories on the web - selected the most haunted place in every state in the union. For Arizona it was the Bird Cage Theater in Tombstone, for Arkansas it was the Crescent Hotel in Eureka Springs, and in Colorado, it was the Stanley Hotel in Estes Park. What was the selection for the Lone Star State of Texas? You guessed it... they chose The Grove! You can see the selections for all fifty states by clicking here to visit the ViralNova website.
---
I've told you about the mischievous spirit who loves to play tricks on us... well, he struck again. The last fifteen minutes before a tour of The Grove is one of the most hectic times in the world for us. We're touching up with a vacuum or duster, picking up any last-minute items that are out of place, getting our basset hounds settled in the bedroom so they won't be a nuisance, and a hundred other things. It's even worse if my wife or I isn't home, leaving only one person to deal with everything. A week or so ago, my wife was holding a leadership workshop for students at the high school on Saturday, so the duties of the house fell to me. I was running around at warp speed, and as I was checking the front parlor, I noticed that one of the clocks apparently hadn't been wound so I took care of that and re-set the time. It made me think that I'd better check our other two pendulum clocks to see if they were in the same state. The grandfather clock in the parlor was fine, as was the wall clock in the hallway - I didn't have to touch either one, and I was thankful not to have to expend the time. I did a few more things, and was almost ready to go out front and greet our guests. I made one final pass through, and as I dashed down the hall, I glanced at the wall clock that I'd just set. It had been re-set about six hours off. I just stopped, shook my head, and started the re-setting process. I was complaining the entire time, and I hope that the mischievous spirit who loves to play jokes on us heard me.
---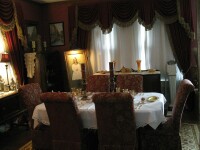 I know that you've heard about this phenomenon before, because I have a new occurrence of it every couple of months, but it happened again just a week or so ago. I really feel compelled to document it, though, because one of the reasons for the GroveZine is to record our lives here for future generations of owners. I was doing a tour, and we'd made it to the dining room. One young lady suddenly wasn't looking very good, and I saw her whisper to her friend and start for the door. I stopped what I was saying and asked her if she was feeling ill. When she said that she was, I asked her to take a seat and told her that it would pass when we moved into the next room. We talked for a minute, and I told her that this sort of thing happened periodically. She said that she'd been feeling fine, and even though she'd been a little cold, suddenly she was feeling hot and broke out in a sweat. She was doing better as the tour continued on through the house. I've always felt like this was simply people who had a sensitivity to the supernatural that they weren't aware of, who were reacting to being in a very active place. It's very odd that it continues to happen only to women, though. We had a friend who's a psychic stop by and I related the occurrences to her, and she seemed to feel that it began because of some new piece of furniture or something that we brought into the house about the time that it started. We're going to have to look back at things and research that. Meanwhile, I keep an eye on ladies who start to appear a little ill in the dining room... we don't want anyone to have a bad experience at The Grove.
---
If you've read my Ghosts of East Texas or Ghosts of Tyler book, you've heard of the Killough Monument. It's a WPA-type rock structure and graveyard that commemorates the worst massacre of Texas settlers in its history. You can read all about it by clicking on this Killough Monument link. It's an interesting place that I've been to a number of times, but I had someone on the tour this month who had a story about it. This lady lives near it, and was visiting the monument with a little girl who lived near her. As they approached the monument, the little girl said something like, "Look, there's a naked man in the woods!" The lady laughed about it, but the little girl was very serious - she said "It's not funny... he doesn't think it's funny." I think that frank, serious answer gave the lady a bit of the chills. As soon as she told me the story, I wondered if the little girl hadn't seen an Indian warrior out in the wooded perimeter; if he was without a shirt, she might have described him as "naked." After all, it's always been said that children are much more open to the supernatural than adults.
---
Finally, I wanted to pass a news story on to you that someone sent me. If you remember the video from a New Mexico police department surveillance camera that I gave a link to, there was a ghostly figure walking across the area surrounded by fence and locked up for the evening (if you missed it, that issue is in the GroveZine archive). This month, a very similar thing happened at Dover Castle, half a world away over in Dover, England. I find the most interesting thing to be that an ordinary person filmed it, but it must have shown up on the castle's security camera as well - just after the figure passes, a security guard comes to the area and looks around to see what had happened. Read the story and watch the video by clicking here.

If you are in the Dallas/Fort Worth area, let's get together for a Halloween visit in the Metroplex! I'm going to be doing a presentation about the supernatural on Monday, October 27 at 7 PM, and I'd love for you to come. It will be at the Grand Prairie Memorial Library at 901 Conover Dr., and for info you can contact them at 972-237-5730. Admission is free to the public - I'm going to be talking about ghosts for an hour, including The Grove of course, with a Q&A session so that we can talk about whatever aspect of the supernatural is on everyone's mind. I think that it's going to be a great chance to get us all in the mood for Halloween, and I'm really, really looking forward to it. If you're in the D/FW area, put October 27th on your calendar... it would be great to see you there!
And later that same week, I'll be speaking at the History, Haunts, and Legends paranormal conference in Jefferson. It's on Saturday, Nov. 1, and you can get more information by watching the HHL video trailer. It's always a great event, and this year it's on Halloween weekend, making it even more of an appropriate time. I've done a different presentation every conference, but this one is something special. I'm really looking forward to it, and I hope that everyone enjoys my session. I have some very personal stories, including one that I've never been able to tell without tears coming to my eyes (I'm going to try really hard not to let that happen, but if I do, feel free to make fun of me). There's another story that, if I were in the audience, I would have to call B.S. on... but I was there, and it REALLY happened, and I'm going to share my story along with photos and video. I look forward to everyone's questions and comments!
And with that, I'll wish you a Happy Halloween! from The Grove. I sincerely appreciate you reading the ezine, and coming along on this journey through the world of the supernatural with me. See you next month!
---
Here's what's coming up around Jefferson...

10/25/2014 - Antiques Appraisal Fair
11/1/2014 - History, Haunts & Legends Paranormal Conference
11/7-11/9/2014 - Medieval Wine Faire
11/29/2014 - Christmas Parade & Tree Lighting in Lions Park
12/4-12/6/2014 - Candlelight Tour of Homes
12/10/2014 - KCS Holiday Train
12/13/2014 - Holiday Gun & Knife Show
12/11-12/14/2014 - Candlelight Tour of Homes
12/31/2014 - Carnegie Library Annual New Year's Eve Party
1/23-1/25/2015 - Quilts on the Bayou annual quilt show
2/6-2/8/2015 - Mardi Gras Upriver celebration
4/30-5/3/2015 - Jefferson's Annual Pilgrimage
6/5-6/6/2015 - Annual Corvette Show
...and much more throughout the coming year!
---
---
To repeat our words from the beginning, this is a free subscription ezine for friends of The Grove - in other words, we NEVER arbitrarily add email addresses. We also NEVER sell or share email addresses with anyone else.
Feel free to pass the GroveZine on to your friends - all I ask is that if you forward it, please include the header, trailer and everything. Thanks!
To subscribe, just go to The Grove's Website and put your email in the blank at the left bottom of the page.
To unsubscribe, although we'd sincerely hate to lose you, simply follow the directions at the bottom of the this email.