www.thegrove-jefferson.com October 2014 ISSN 1558-3252
This is a tiny little free subscription ezine for friends of The Grove - it is by request only. In other words, we NEVER arbitrarily add email addresses. We also NEVER sell or share email addresses with anyone else, for any reason at any time. We hate SPAM as much as you do!
"We are born, we live, we die among the supernatural." - Napoleon Bonaparte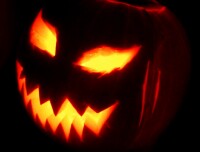 Hello from The Grove, and I hope that you had a wonderful October and a delightful Halloween! I certainly did - but it was a whirlwind. Over the course of the month I found myself speaking at a couple of conferences, lecturing at a library, doing some radio, having a book signing or two, and just generally hanging out at all of those places with some really cool people... many of them GroveZine readers. We also had a couple of Halloween tours of The Grove, including some guests who were in costume! It was a genuine pleasure to get to see everyone and say hello.
We did have an issue at Halloween that is worth mentioning, though, and that is the trick-or-treat candy that my wife bought. Of course, I understand why she bought what she did, because if she'd brought home a mixture of chocolaty goodies like Twix and KitKats, they would have probably never made them into the candy bowl. Instead she purchased something that neither one of us really care for - lemon drops (with their various companion flavors). It's not that these hard candies are bad... they're just not the most scrumptious items on the candy shelf (IMHO). Anyway, we didn't have a lot of trick-or-treaters because there was a huge community trunk-or-treat in the park, so we were left with a bowl-full. I spent Halloween weekend trying to pass them off to people who were touring The Grove, but they were having none of it. One family even had some teenagers with them, and when I asked if they wanted some candy, they said, "Yeah! We're too old to trick-or-treat so we didn't get anything!" When I brought out the bowl, they just peered inside, and then took a step back. While this was clearly the worst year for Halloween candy at The Grove, at least I didn't put a huge dent in the supply like I normally do... and calorie-wise, that's probably not a bad thing!
My buddy Sean Whitley is an aficionado of weird signs, so I recently sent him this one. (as an aside, if you saw me on a bigfoot program on TV, it's Sean's fault. He's a TV/film producer and we met over a discussion of The Fouke Monster) Anyway, I took this photo in our local grocery store because it cracked me up. Apparently the item wasn't really on sale, so the savings is 0 cents, but still a sign got somehow automatically printed out. The weird thing to me is that it was placed out by employees without any questions asked! Oh well, pick up some Hormel boneless pork chops for ten bucks, and save zero cents!
But forgetting weird signs, the big news for Jefferson, at least as far as The Grove is concerned, is the fact that the slate of homes for Historic Pilgrimage 2015 has been announced. The first weekend in May you can purchase one ticket and tour four historic, antebellum homes: Moseley Manor, The Claiborne House, The George Todd Home, and... (drum roll, please)... The Grove! That's right, we're going to be on the Pilgrimage tour for the first time in over a decade.
Pilgrimage is the first weekend in May - Friday the 1st and Saturday the 2nd, and both days will have a ton of things to do. There's a Civil War Re-enactment that includes a town skirmish, a Pilgrimage Parade, the Quilt & Heritage Fiber Arts Exhibit, a Craft Fair and Heirloom Plant Sale. You'll also be treated to a Twilight Garden Stroll through some of Jefferson's most beautiful home gardens. And don't forget the Diamond Bessie Murder Trial play, where I'll be playing the mean, crooked sheriff again (I love the role - I get to yell at all of my friends and they can't talk back). The photo here is from the play; it sells out every year, so get your tickets early. Pilgrimage is a wonderful time in the historic city of Jefferson... put the first weekend in May on your calendar, and book your accommodations in town early... the B&Bs and hotels fill up fast.
The tour homes for 2015 - it's gonna be an incredible Pilgrimage!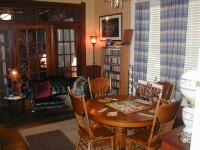 A very nice young man and his mother came up to me at one of this month's events with a question about The Grove's famous Lady in White who walks through our game room and into the stairwell. The mother told me that the young fellow had been in a rollover bus accident, and ever since that event, has "known" things. That's not all that unusual - there are many, many instances of traumatic experiences unlocking extra gifts and dimensions in people's lives. Anyway, the lady and her son had been to The Grove, and he had a question to ask me. He queried me as to whether or not our famous lady in white speaks french. I told him that I had no idea - we really don't know much about her, other than the fact that because of the path she always takes through the house, we believe that she is the original Lady of the House, Minerva Stilley. The young man got the impression that she spoke french, though, which I find very interesting. The area was settled by a number of people who came upriver from New Orleans, so it's perfectly feasible that Minerva spoke a bit of French Creole, but we'll never know for sure. It's certainly possible, though!
This month we were treated to a visit on a tour from a family who actually looked at The Grove to buy it about a year or two before we did - something like fifteen years ago. He said that they were genuinely planning on making an offer on it so that they could put a Cajun restaurant here - once they decided that, though, he started having bad dreams. He dreamt of the house, but with a disturbing presence in it that was following them. These dreams continued for three months, and the gentleman told me that he'd heard of other people having such dreams for three months as well. We never experienced that - once we looked at The Grove, we spent a year trying to talk ourselves out of buying it, but kept seeing signs indicating that we should do so. One year after looking at it, we did just that, and never looked back.
On another tour, we had a repeat guest who brought a few friends with her. After the tour was over, she told me that on her previous visit she walked back into the parlor and approached the corner where we have had so much supernatural activity and suddenly experienced a queasy stomach. As she walked away from that corner it got better, and when she moved out of the room everything was fine. Since she thought that was very odd she went back into the parlor, and the feeling came over her again. It was so interesting to her that she brought some friends back on this visit to Jefferson, and one of them tried the same thing, but instead of a sick feeling instead had trouble breathing. You know, I think that there are some people who are simply much more sensitive to the supernatural than they know, and when they visit a very active place like The Grove, it brings those feelings out.
I really love this one. We got a photo this month from one of our tour guests, and I found it to be fascinating. You can see it below on the left. First of all, the majority of the photograph is in focus, not blurred at all. Still, there are streaks of light through it that I can't explain. In studying it, though, something else caught my eye. I enlarged a portion of the picture that you can see in the middle below - it appears that a cone of light is emanating from the mirror. I highlighted it in the third photo just so that you see what I'm talking about. To make it all the more interesting, that mirror has been the subject of quite a bit of paranormal activity over the years. Perhaps it was just acting up a bit again.
Since this is the October GroveZine, but more importantly, since it's almost the end of the year and you may be thinking about travel plans for 2015, here are a couple of links that you may want to follow. Both are published by TripAdvisor.com, and the first is the Top Ten most haunted hotels in the United States, and for those of you thinking about traveling abroad, the Top Ten most haunted hotels in the World. If you visit any of these places, I'd LOVE to hear about your experiences there.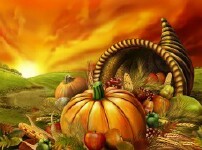 Thanks so much for reading the GroveZine - I really enjoyed all the wonderful comments I heard from people about it over the course of October. You folks really make it a pleasure to send out the stories and all things supernatural from The Grove every month. There's one thing concerning my new book The Midnight Saint that I'm dying to share with you, but unfortunately, I'm still sworn to secrecy. Stay tuned, though, because it's something that I'm really, really excited about! I keep wanting to put in just a hint, a clue, but I'd better not. Rest assured, I'll be talking about it in the GroveZine very soon.
Have a wonderful, blessed Thanksgiving, and my wish for you all is that you stuff yourself to the gills with turkey and all the trimmings, and then hit the couch for a long, restful nap before the football game. Enjoy!
---
Here's what's coming up around Jefferson...

11/29/2014 - Christmas Parade & Tree Lighting in Lions Park
12/4-12/6/2014 - Candlelight Tour of Homes
12/10/2014 - KCS Holiday Train
12/13/2014 - Holiday Gun & Knife Show
12/11-12/14/2014 - Candlelight Tour of Homes
12/31/2014 - Carnegie Library Annual New Year's Eve Party
1/23-1/25/2015 - Quilts on the Bayou annual quilt show
2/6-2/8/2015 - Mardi Gras Upriver celebration
4/30-5/3/2015 - Jefferson's Annual Pilgrimage
6/5-6/6/2015 - Annual Corvette Show
...and much more throughout the coming year!
---
---
To repeat our words from the beginning, this is a free subscription ezine for friends of The Grove - in other words, we NEVER arbitrarily add email addresses. We also NEVER sell or share email addresses with anyone else.
Feel free to pass the GroveZine on to your friends - all I ask is that if you forward it, please include the header, trailer and everything. Thanks!
To subscribe, just go to The Grove's Website and put your email in the blank at the left bottom of the page.
To unsubscribe, although we'd sincerely hate to lose you, simply follow the directions at the bottom of the this email.