www.thegrove-jefferson.com November 2014 ISSN 1558-3252
This is a tiny little free subscription ezine for friends of The Grove - it is by request only. In other words, we NEVER arbitrarily add email addresses. We also NEVER sell or share email addresses with anyone else, for any reason at any time. We hate SPAM as much as you do!
"Houses are not haunted. We are haunted, and regardless of the architecture with which we surround ourselves, our ghosts stay with us until we ourselves are ghosts." - Dean Koontz
Hello from the historic little riverport city of Jefferson, and of course, The Grove! Fall has definitely arrived, and the colors of the leaves have been wonderful this year. Someone told me that it was because of all the rain that we've been having; I don't know if that's true or not, but we have been blessed with a lot of rainfall over the summer and early autumn months. Whatever the case, I've been enjoying the oranges and reds in the trees, like the one that you see in the photo here outside of The Black Swan restaurant downtown.
The 32nd Annual Candlelight Tour of Homes was held, and the Historic Jefferson Foundation did a beautiful job of putting it on again this year. There were four homes open for the tour, and one of them was very unique in that it was railroad baron Jay Gould's private railroad car - his mansion on wheels when he was traveling on business. Like the other three homes, it was beautifully decorated for Christmas, but if you've never seen the "Atalanta" (as Gould named it, for the Greek goddess of speed) you can tour it year-round. I highly recommend checking it out when you're in Jefferson.
If you've been reading the GroveZine a while, you're aware that I've never mentioned Jefferson's secret underground tunnel system. Well, I feel compelled to talk about it now, because at one of the Candlelight tour homes, a docent divulged that a panel was found in a wall that was an entrance to the secret network of tunnels. It freaked the owner out, so he sealed the entrance, and put a fireplace over it. If you wonder why I've never mentioned it... well... it's because it isn't true! There isn't a secret tunnel system below the city! First of all, the streets go up and down on small hills leading down to the river, so digging the tunnels would be a nightmare. And speaking of the river, as close as it is, the water table would flood any such tunnels in short order. My wife and I were touring the Candlelight homes one night, and when the docent began to talk about the tunnels, I felt my wife grab my arm in a vice grip to keep me from saying anything. I wanted to point out that the wall she was talking about was in an interior room of a pier-and-beam house, which would preclude a tunnel entrance like she was describing. She also had a story about slaves using the tunnels, but since I've co-authored a couple of books about old houses in Jefferson, I knew that the one we were in wasn't built until some thirty years after the civil war. Slavery had been abolished by that time, so the entire story was false. A bunch of us have been laughing about it, though - I called up a friend the next day and said, "I'm in the tunnel system and I think I'm right under your house. I'm going to thump on the ceiling, so tell me if you can hear me." He laughed and said, "I hear you - you're just beneath the master bathroom. Be careful, I'm just about to flush the toilet!" I guess you have to laugh at stories such as the secret tunnel system, or they'd drive you crazy.
That said, a tunnel actually was discovered in downtown Jefferson a number of years ago. At the Haywood House, which was a hotel during the Civil War years and is now a private residence downtown, workmen were digging up a stump and found a small drainage tunnel. By small, I mean it was only one foot across and about two feet high. The owner of the local newspaper put his camera in it, and with the wide-angle lens it made it look really cool (you can see it in the newspaper photo that I scanned in). It looks big in the photo, but it's really only big enough for one of my basset hounds to walk through.
Since it was to small to walk or even crawl through, speculation in that it was put in for drainage purposes. But who knows - maybe the little drain inspired the whole underground tunnel legend. The author Jacqueline Stem wrote a children's book that takes place in Jefferson called The Haunted Tunnel which could have easily been inspired by it. In the book, some bullies put two young boys into an abandoned tunnel that was used for the Underground Railroad in the years before the Civil War, and the kids have to find a way to escape. Underground tunnels make for fascinating stories, and no one would like such a network running under Jefferson more than me. I'd spend so much time exploring it and mapping it out, that I wouldn't have a spare moment to even write the GroveZine. It's probably a good thing that we don't have tunnels like that.
This first thing is merely an observation... not a ghost story by any stretch of the imagination. Still it's something that I find fascinating. It goes back to the 1990s when I had a friend who was really into UFOs... and I mean really into UFOs. He often talked about "black helicopters" - dark helicopters that have no markings or numbers, which would make them illegal to fly in U.S. airspace. They were often connected to UFO sightings and other paranormal encounters. Of course, the Air Force and other government entities denied their very existence, and continually pointed out that flying unmarked black helicopters would be a violation of the law. Anyone talking about black helicopters was ridiculed - even Vice President Biden used the term to ridicule some folks, calling them, "the black helicopter crowd, who think that the government is going to swoop down..." Don't misunderstand me - the GroveZine has always been non-partisan - and I only quote the VP because he is the 2nd-highest-ranking elected official in the nation and he was joking about black helicopters. Believe me, politicians on both sides of the aisle equally ridicule people who discuss UFOs and black helicopters... but then a funny thing happened recently. Black helicopters have been seen flying over Dallas and other cities, and are being written off by the press as perfectly normal. Here's a link to a story by NBC's Dallas affiliate that talks about black helicopters just as casually as if they were talking about a New Years Day parade - click here for the story. You can search online and find many more stories about them. I just think that it's odd that one minute black helicopters were a ridiculous topic and people who talk about them are crazy, but now they're perfectly real and everything about them is fine. Hmmmmmm...
Okay, that was for my friend who's into UFOs - I'm sure that he's running around Dallas with his camera, getting photos of the phenomenon that he's been talking about for years, and saying, "I TOLD you so!!!" But let's get on to some of the activity for the past month at The Grove. If you've been reading the GroveZine for a while, you know that it's very common for people to get physically touched on the tour. For example, one weekend this month a lady told me that she felt like someone was stroking the back of her hair in the parlor, while another said that someone had been touching her back. Another thing happened on a different weekend that did catch my attention, though. A lady went into the northwest corner of the parlor where most of the activity in that room occurs, and as she stood there listening to me tell the history of the house, someone was touching her arm. She described it as if the person was gentling stroking it down toward her hand in a very welcoming way, as if they were happy that she had come to visit the house. I remember that my grandmother would do just that - rub your arm, pat it, just let you know that she was happy with you coming to see her and Granddad. Maybe the lady in the corner was feeling the same way!
I had someone ask a question this month for only the second time in all the years that I've been doing tours and talking about The Grove at paranormal conferences. The tour group one day had been discussing the lady in white, and I mentioned that we believe she is a residual haunting - an impression of something from the past, that takes place like a video being played over and over. One of our guests asked me, "So, do you think that you're making residual hauntings right now?" I have to wonder about that... a hundred years from now, will the owners of The Grove glance up to see a group of people go by, led by a big fellow with long hair? Who knows. I know that I really enjoy our tours, and our guests seem to as well, so maybe we're leaving some positive energy behind. Someone asked me that question at a conference a while back, and I'd really forgotten about it. It is something that's more than a little interesting to contemplate, though.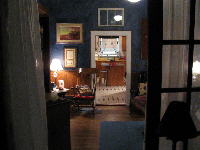 After a recent tour wrapped up in the kitchen, a young lady and her mother stopped in the den to tell me their story. It was really intriguing, and something that I'd never personally had happen, or even heard from a guest before. They each had a similar, but completely opposite experience. When we were first entering the den earlier in the tour, the young lady said that she had followed everyone in, but as she stepped inside, something pushed her back outside into the hallway. This happened a couple of times before she was able to make her way in. She didn't say anything about it, but later in the tour as we were going back up front, her mother tried to leave the den, and felt a heaviness on her chest like something was pushing her back inside - the opposite of what had happened with her daughter. When they compared notes, they were amazed and excited by the experience. Since it was such a unique happening, I was, too. Our mischievous fellow hangs out in that area, so I have no doubt that he was having a little fun with them, and they didn't seem to mind a bit.
To finish up this month, I wanted to pass on a ghost story out of the New York Times that a GroveZine reader from Oklahoma sent me. I mentioned a few months ago that we'd been in OKC visiting a few haunted locations, and I even wrote about the Overholser Mansion in the July GroveZine. Another place that we visited was the Skirvin Hotel, and we spent some time talking to the bartender there about some of the "spirited" stories of the place. One common tale concerns Effie, who was reportedly a housekeeper at the Skirvin who had an affair with the owner, W.B. Skirvin. She became pregnant, and W.B. sequestered her in an upstairs room with the baby, caring for them, but not allowing them to leave. To make a long story short, Effie jumped from the top floor with her child, killing them both. It is now said that Effie walks the halls of the hotel, stopping into various rooms and playing tricks on the guests. Since NBA teams who are in town to play the OKC Thunder stay at the Skirvin, many of these athletes have ghost stories of their own. The Knicks blamed creaks and groans for a sleepless night before a loss. A Bulls player could not explain why his bathroom door slammed shut. A member of the Phoenix Suns woke to find his bathtub filled with water. They say that everyone in the NBA knows about Effie - and if you'd like to learn more about her ghostly presence at the Skirvin, just click this link to the NY Times story.

Well, as I close this issue of the GroveZine, I have to wish you all a wonderful end of 2014. It's been an incredible year in many ways, with triumphs, disappointments, surprises, a few tears, and thankfully a lot of joy. My wish is that you have a blessed, prosperous 2015. The community of GroveZine readers encompasses many different faiths, so however you celebrate this season, I hope that it is filled with happiness for you, your family, and those that you love. May God richly bless you all.
---
Here's what's coming up around Jefferson...

12/31/2014 - Carnegie Library Annual New Year's Eve Party
1/23-1/25/2015 - Quilts on the Bayou annual quilt show
2/6-2/8/2015 - Mardi Gras Upriver celebration
4/30-5/3/2015 - Jefferson's Annual Pilgrimage
6/5-6/6/2015 - Annual Corvette Show
...and much more throughout the coming year!
---
Oh, I have to mention that just a few days ago, December 13th, was St. Lucia's Day. After writing The Midnight Saint, that's become a day with some meaning to me. I continue to hear wonderful things about the book, so I have to say a big "thank you" to everyone who's emailed with such wonderful words.
I'm hoping that 2015 will be an interesting year for this little book!
---
To repeat our words from the beginning, this is a free subscription ezine for friends of The Grove - in other words, we NEVER arbitrarily add email addresses. We also NEVER sell or share email addresses with anyone else.
Feel free to pass the GroveZine on to your friends - all I ask is that if you forward it, please include the header, trailer and everything. Thanks!
To subscribe, just go to The Grove's Website and put your email in the blank at the left bottom of the page.
To unsubscribe, although we'd sincerely hate to lose you, simply follow the directions at the bottom of the this email.