www.thegrove-jefferson.com January 2015 ISSN 1558-3252
This is a tiny little free subscription ezine for friends of The Grove - it is by request only. In other words, we NEVER arbitrarily add email addresses. We also NEVER sell or share email addresses with anyone else, for any reason at any time. We hate SPAM as much as you do!
"While yet a boy I sought for ghosts, and sped through many a listening chamber, cave and ruin, and starlight wood, with fearful steps pursuing hopes of high talk with the departed dead." - Percy Bysshe Shelley
Welcome, everyone, to 2015! It's a time of new dreams, new hopes, new opportunities, new experiences and new joys. I sincerely hope that you have the best year of your entire life... and it's just getting started! It's going to be a busy year here at The Grove - Mardi Gras in Jefferson comes early this year, the first weekend in February; the History, Haunts & Legends Paranormal Conference is on April 11; and the first weekend in May, The Grove is on the Pilgrimage Tour of Homes! There are all kinds of things in between that you'll find in the calendar at the bottom of the page, so it's going to be an exciting 2015.
And speaking of an exciting start to 2015, I had something incredible happen. I sat down at my computer one morning, and opened an email to find that my latest book The Midnight Saint had won an Illumination Book Award! The awards are given for the best Christian books of the previous year, and it's quite an honor - I was speechless. Readers' support for this book has been incredible, and of course, greatly appreciated... but this is an honor that I've never had before, and may never again. It's a lifetime experience kind of thing, and I've been walking around hovering about a foot off the floor. I really appreciate everyone who's supported The Midnight Saint!
Like I mentioned before, Mardi Gras here in Jefferson is just around the corner... the first weekend in February, actually. Most Mardi Gras celebrations are a week or two later, but since Valentine's Day is a huge weekend here in town, it was pushed up a week so that there wouldn't be a conflict. We won't be having any Grove tours that weekend because of all the festivities, but I will be on my annual quest. If you've been reading the GroveZine for a while, you know that my objective every year is to find the strangest thing being sold out of a food truck or trailer and take photos for the GroveZine before eating it. In the past we've talked about deep-fried Oreos, chocolate bacon, and other delectables, so I can hardly wait to see what this year brings. Stay tuned... ah, the lengths of personal sacrifice that I'm willing to go to for the GroveZine readers. Meanwhile, the opening event to Mardi Gras - the Queen Mab Ball - was held a week ago. It's the coronation of the Mardi Gras king and queen for the year, as shown in the photo.
Jefferson's annual Pilgrimage is coming up quickly - the first weekend in May - and as you can see from the four homes shown here, The Grove will be on the tour. We're already making lists and plans, with only a few months to get everything done! That weekend there will also be a Civil War re-enactment, a heritage plant sale, a quilt display, and much more... there's something for everyone. And don't forget the Diamond Bessie Murder Trial play, which sells out every performance - get your tickets early.
Oh, and before we get to some ghost stories, I have a really scary story to tell you. My wife and I were sitting in the den of The Grove having a quiet evening this month when the phone rang. I glanced over at the caller ID and saw that it was an 800 number, so I figured it was just a solicitation call and let it go. It rolled over to the answering machine, and the automated voice said, "This is your credit card company, and we have just denied a suspicious charge. Please call at once." Before I could say anything an email popped up with the same information, and I heard my phone ding with a message. My credit card company was really trying to get hold of me. I called their 800 number and was immediately routed to the fraud department. As it turns out, someone in Illinois was at a grocery store and presented a clone of my card to pay for $75 worth of groceries. Thankfully, it set off all kinds of red flags - a state I've never used that card in, a store I've never charged in, etc, etc. The credit card company denied the charge and contacted me immediately, so the identity thief didn't get a single dime. The scary thing is that the thief had a physical card in hand that they'd cloned. It's getting frightening out there!
People are always sending me cool things, and I wanted to share this one... I received a link that I found very interesting. It is from the New York Daily News, and shows footage from a security camera in The Old Crown pub in Birmingham, England. Click on the photo to watch it - the action is in the upper right-hand corner, were a bottle is on the back bar. What makes this fascinating is that the Old Crown is a place where the ghost stories there date back all the way to 1368.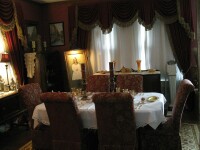 We had some folks on the tour this month who've been here a couple of times and are GroveZine readers, and they came back to bring another family member. We were in the Dining Room when I saw him step outside; one of the other guys in their group went to check on him. They came in while we were in the Game Room, and after only a few minutes went back outside. This happened a couple of times on the tour, and after the tour was over I asked if everything was all right. As it turned out, the gentleman had been experiencing the dizziness that some people have in the house. I've written about it a lot in the GroveZine. The really strange thing with this instance was that this is one of the very few times that it happened to a guy - it almost always happens to ladies!
You may remember that in last month's GroveZine there was a photo of a shadow person on the front porch of The Grove (it's in the 'zine archives if you want to take another look at it). Just after that issue went out, I received an email from a reader who had visited the house about a month later. Much like the person who took the first picture, he was driving past The Grove at night, and snapped a few pictures. The first three show a shadow person in the same position as the one taken last month... but it shows movement of the figure. As he drove forward, the fourth photo (taken just seconds later) doesn't have the figure at all - he's suddenly and inexplicably gone.
As with last month's photo, I've tried to duplicate it with my camera, explain it away, or come up with anything that debunks the photos... but I can't. Which makes it something that I find very, very interesting, especially in light of the photo last month!

As January comes to a close, Mardi Gras is here and the house is decorated in festive purple, gold and green. So is the entire city of Jefferson, for that matter! It's a festive time that I'll be reporting on next month. Meanwhile, have a great month and try to stay warm. February always seems to be the coldest month of the year, and although Jefferson's had it rather mild so far, I fear that we're due for some chilly weather before we see Spring. As fast as time is flying by, though, it'll be Summer before we know it. Talk to you next month!
---
Here's what's coming up around Jefferson...

2/6-2/8/2015 - Mardi Gras Upriver celebration
3/20-3/22/2015 - Route 49 Biker Rally
3/21-3/22/2015 - Jefferson Gun & Knife Show
4/11/2015 - History, Haunts & Legends Spring Paranormal Conference
4/16-4/19/2015 - Diamond Don's Annual AHRMA Vintage Motocross
4/30-5/3/2015 - Jefferson's Annual Pilgrimage
5/16-5/17/2015 - Jefferson Train Days
5/20-5/22/2015 - Paddle Fish Festival
6/5-6/6/2015 - Annual Corvette Show
7/4/2015 - Jefferson Salutes America
8/1-8/8/2015 - Texas Sounds International Country Music Awards
8/15/2015 - Jefferson 4th Annual Civil War Symposium
10/9-10/11/2015 - Burn Run Benefit Bike Rally
11/7/2015 - History, Haunts & Legends Fall Paranormal Conference
12/3-12/5/2015 - Annual Candlelight Tour of Homes
...and much more throughout the coming year!
---
---
To repeat our words from the beginning, this is a free subscription ezine for friends of The Grove - in other words, we NEVER arbitrarily add email addresses. We also NEVER sell or share email addresses with anyone else.
Feel free to pass the GroveZine on to your friends - all I ask is that if you forward it, please include the header, trailer and everything. Thanks!
To subscribe, just go to The Grove's Website and put your email in the blank at the left bottom of the page.
To unsubscribe, although we'd sincerely hate to lose you, simply follow the directions at the bottom of the this email.