www.thegrove-jefferson.com February 2015 ISSN 1558-3252
"We are merely here to research, prove or disprove spirits exist and enjoy our journey." - Julie De Stefano
The winter has been relatively mild in Jefferson, Texas... until the last week in February, that is! As you can see from the photograph, the snow and ice came in with a vengeance. Since this rarely happens in East Texas, we're not really equipped to deal with it, so things just basically shut down. To make matters worse the storm knocked the power out - we were in the dark for only six hours, but some areas were down much, much longer. Believe me, I know that we don't get to complain... I've been watching the news reports from other areas of the country that have it so much worse than we do. It was a great chance to drive around town and take show photos, though!
And just like the snow slowed down East Texas for a while, SPAM has been causing me very similar problems. I have 50-60 emails every morning thanking me for taking the Chili's survey, for filling out an application for a Wal Mart gift card, and a million other things. Most are VERY well done, and look like the real deal - except that I don't take surveys, get awards points from Walgreens, or need lottery secrets (actually, I'd love lottery secrets, if such things existed). I delete all these, but another 50 or so are back by the afternoon, and then again in the evening. I do have a SPAM filter, but these folks are getting so good that they bypass it and go straight to the inbox. Unfortunately, I'm sure that sometimes real emails get caught up in that process, but hopefully not that many. Meanwhile I'm looking for a good solution to the problem.
One of the big events of the month, of course, was Mardi Gras Upriver. There were thousands of people in town for the weekend, bands playing day and night, parades, and of course, food trailers selling all kinds of goodies. Everyone was sporting beads, wearing crazy hats and costumes, and generally just having a great time. One of the things that I like about Jefferson's Mardi Gras is that it's family-friendly, and also a safe place. The theme of the Grand Parade was TV Land, and the floats all focused on television shows like Gilligan's Island, M*A*S*H, and other classics - along with a few new programs as well.
As always, I go looking for the weirdest food that I can find to eat, and this year the selection wasn't all that different. In the past I've had deep fried Twinkies, deep fried Oreos, and this year I found a repeat from a couple of years ago... a deep fried Snickers bar. They take the chocolate bar, put a stick in it, dip it in batter, and once fried, sprinkle powdered sugar all over it. This confection was SO sweet that when I was eating it, I could feel a rush of sugar. Also, my front teeth began to hurt as I got further into it. I'm not sure what that means - maybe a GroveZine reader in the dental profession can tell me. I'm not saying that it wasn't good, but I probably wouldn't want to eat two or three in a row. Also, a big glass of cold milk would have made it a much better experience. It was one of those things that just couldn't be passed up, though.
Here in just a couple of months Jefferson will have its 68th Annual Pilgrimage, which includes the tour of homes, a Civil War Re-enactment, the Diamond Bessie Murder Trial play, a Quilts & Heritage Fiber Arts Exhibit, a Craft Fair and Heirloom Plants Sale, and much, much more. The first weekend in May is jam-packed with events, and is the perfect time for a getaway to Jefferson. You can read all about it by clicking on this link to the Pilgrimage website. The hotels and B&Bs book up quickly, so make your plans early. Also, the Diamond Bessie play is a sell-out every year, so buy your tickets well in advance. It's going to be a busy weekend for me - not only is The Grove one of the four tour homes, but I'll be continuing my role as Sheriff John Vines in the Diamond Bessie play. I predict that I'm going to be exhausted by Sunday evening!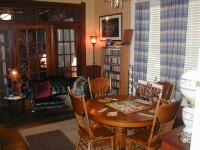 Occasionally something subtle will happen in the house, and I have to stop and wonder whether I saw what I think I did. This month something so real, so dramatic happened that I have no question about it. I was in the room where the stairs are that lead to the attic, and I looked over into the game room and saw a white cat dart by. That is not unusual at all - we have a white cat named Daphne that we adopted years ago. The only strange thing is that she usually stays outside during the day (since our yard is fenced, she is safe from dogs or other predators). A few minutes later I'd gone outside, and spotted Daphne sitting on the back porch. Again, no big thing, she was obviously just darting around quickly like cats tend to do. I'd gone back inside, and as I passed by the game room I saw a white cat walking slowly into the dining room - this wasn't a glimpse, I actually saw the cat, and watched it move past the door, the tail being the last thing that I saw - it was slowly waving. My next thought was, "That was bigger than Daphne..." so I stepped into the game room, looked through the doorway, and there was no cat to be found anywhere. I dashed to the back of the house, looked out the back door window, and there was Daphne still sitting outside on the back porch where I'd seen her before. I can't explain it, but this wasn't one of those things where you say, "Did I really just see that?" No, I watched it walk by - there is no question that I saw a white cat in the house, it just wasn't there a moment later. Conventional religious doctrine says that animals don't have spirits, but this is just another in a long line of such experiences that I've had. I am part Cherokee, and Indian spirituality definitely includes animals, so maybe it's that part of my heritage that attracts this sort of thing.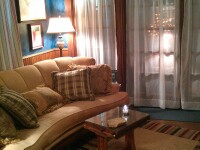 When people come on the tour of The Grove, sometimes they say, "I want something to happen!!!" I always tell them that the supernatural occurrences at The Grove don't happen on schedule or on demand... it's a "right place, right time" kind of thing. There's no question that some tours are more active than others, though, and we had one of those this month. To start with, when we began the tour in the parlor, two people had their camera batteries die within a minute or two of each other. Both ladies had charged them just before the tour, but if you've been reading the GroveZine for a while you know that this has been happening for years, with everyone from visitors on the tour to professional camera crews. One of the cameras started fluctuating, from no battery power at all, to half a charge, then back down again. Oddly enough, this never, ever happens to us - just guests who come into the house. Things got more interesting when we got into the parlor, however. One of the ladies felt a hand on her bottom, but no one was there! This is where our mischievous guy spirit has pulled hair, tapped on the shoulder, and even patted a lady on the butt during Jefferson Candlelight Tour of Homes one year. I guess that he was just getting a little fresh with one of our guests on that tour, but she had a great sense of humor about it.
This last thing is very emotional to me, and I don't know exactly what to make of it. To start with, you need to know that my mother passed away from breast cancer a few years back, in 2011. But when she was alive and healthy, she always wore White Diamonds perfume - she loved it. Several weeks ago, maybe a month or two even, I got into my car and smelled her perfume. I didn't feel her presence, there was no other indication that she might be there, but the scent of perfume was unmistakable. I drove around, just soaking it in. Some time after that I was walking into the dining room of The Grove and got hit with the same odor - it was definitely White Diamonds. It was a weekday when we didn't have visitors to the house, my wife doesn't wear that perfume, so there was no feasible explanation. I couldn't help but wonder if it might be mother. This month, my wife was in the den, and had the same experience. The smell of the perfume is the only indication, but I can't help but wonder if she's looking in on us. It brings tears to my eyes - I'd give anything for the opportunity to give my parents just one more hug. I can only hope that if this is what is happening, I'll start feeling her presence in other ways as well. That would be simply incredible.

As February closes, I'm looking at the five-day forecast and see that we have both rain and snow ahead, with temperatures in the twenties (but also in the seventies), and some sunshine mixed in here and there for good measure. I guess that old saying is true... "If you don't like Texas weather, just wait a minute!" By the next GroveZine, I'm sure that Spring will be a little closer - and we will also have gone through a time-change. Don't forget to "spring forward" this coming Saturday night. We're continuing to get the house ready for Pilgrimage, making lists of things that need to be done, so it's going to be a busy couple of months at The Grove. It's going to be a lot of fun, though, and I should have more stories for you next month. Have a wonderful March!
---
Here's what's coming up around Jefferson...

3/20-3/22/2015 - Route 49 Biker Rally
3/21-3/22/2015 - Jefferson Gun & Knife Show
4/11/2015 - History, Haunts & Legends Spring Paranormal Conference
4/16-4/19/2015 - Diamond Don's Annual AHRMA Vintage Motocross
4/30-5/3/2015 - Jefferson's Annual Pilgrimage
5/16-5/17/2015 - Jefferson Train Days
5/20-5/22/2015 - Paddle Fish Festival
6/5-6/6/2015 - Annual Corvette Show
7/4/2015 - Jefferson Salutes America
8/1-8/8/2015 - Texas Sounds International Country Music Awards
8/15/2015 - Jefferson 4th Annual Civil War Symposium
10/9-10/11/2015 - Burn Run Benefit Bike Rally
11/7/2015 - History, Haunts & Legends Fall Paranormal Conference
12/3-12/5/2015 - Annual Candlelight Tour of Homes
...and much more throughout the coming year!
---

Winner of an Illumination Award for excellance in Christian literature.
---
To repeat our words from the beginning, this is a free subscription ezine for friends of The Grove - in other words, we NEVER arbitrarily add email addresses. We also NEVER sell or share email addresses with anyone else.
Feel free to pass the GroveZine on to your friends - all I ask is that if you forward it, please include the header, trailer and everything. Thanks!
To subscribe, just go to The Grove's Website and put your email in the blank at the left bottom of the page.
To unsubscribe, although we'd sincerely hate to lose you, simply follow the directions at the bottom of the this email.