www.thegrove-jefferson.com March 2015 ISSN 1558-3252
Well, me, I just don't happen to believe in ghosts... particularly. - Don Knotts as Luther Heggs in the movie The Ghost and Mr. Chicken
Welcome to Springtime at The Grove! The cold weather has slowly faded away, and although we've still been getting a good bit of rain, Spring is finally here. In the photo you can see one of our wisteria bushes that is in full bloom, and it's even more beautiful than it looks in the picture. Other flowers are starting to bloom out as well, and this is one of our favorite times of year. Of course, it also means mowing, weeding, and all the other yard work that comes with it... but that's okay.
Now to begin with... uh... is it just me, or is there something disturbing about Bob Dylan appearing on the cover of the AARP Magazine? I mean, Dylan's the icon of an entire generation. His 1969 album Nashville Skyline was called "a striking retrenchment for the fiery protest singer just as the 60s were taking an ugly turn." Dylan was the consummate hippie, a revolutionary in poetry and song. Even though he didn't play Woodstock, Dylan was a giant in that time. But as I unlocked the mailbox in front of The Grove this month, there he was, gracing the cover of AARP Magazine. I laughed about it at first, but then started thinking about all of the ramifications of what it meant. I guess that the years are rolling by for the hippies of the 1960s, and those of use who came just after them. I may have to unsubscribe to AARP Magazine... I'm not sure that I want these reminders of how fast the years are flying!
This is a public service announcement, and is well-worth listening to. In the past I've extolled the virtues of an automatic backup program called Carbonite.com, which takes care of your files without you having to lift a finger. It's saved me on several occasions, and let me be quick to say I'm not a spokesperson for the company, I don't own stock, I don't get a single penny when someone signs up for it. It's simply a product that I believe in so much that I wanted to share it. But now there's an even better reason to consider it. A friend of mine just got hit with the CryptoLocker virus, which you may have heard of. A version of it was even shown on the CBS TV show "The Good Wife" a while back. The virus sneaks onto your computer, encrypts ALL of your data files so that you can no longer open them, and then presents a pop-up window like you see in the photo. You have some brief amount of time - 72 hours - to pay a ransom of several hundred dollars or you will lose all your files. You pay in bitcoins, the internet currency, and try as they have, law enforcement hasn't been able to track these people down... and yes, the criminals getting rich off many, many innocent people. Their encryption can't be broken, they seem to be above the law, and they're very smug about their illicit operation. But enter Carbonite. As it turns out, when CryptoLocker encrypts all the data files, it marks them all as newly-modified, and so the encrypted ones are immediately backed up to Carbonite. But since the backup utility Carbonite.com saves archives, all it takes is a phone call to customer service and they can help you restore your files to the last archive point, without having to negotiate with the cyber-terrorist. There's a security in the arrangement that's very comforting to me, so I'd encourage you to check Carbonite.com out. Just sayin'...
Life around Jefferson was a little sad this month - an old tree in the park toppled over, and most people blame the heavy rains that we've had. There's no telling what this old tree witnessed in its lifetime. The park was once the site of the Jefferson High School, and it is very probable that the tree was there at the time. Before hosting a school, the park was a farmer's market where people sold the produce from their gardens and farms, and at that point the tree might have been just a young sapling. Whatever the case, the tree is gone, and I hope that someone will re-plant in its place. I have a friend who is a Boy Scout leader, so maybe I'll give him a call about that.
The other big thing going on here is the preparation for Pilgrimage Weekend. It's the first weekend in May, and is a jam-packed weekend of things to do. There is the Pilgrimage Tour of Homes, the Civil War Re-enactment, an Heirloom Plant Sale, a Quilt Show, and many other things to make for an enjoyable weekend in Jefferson. The Grove is going to be one of the tour homes, so we've been working like crazy to get the place ready - painting rooms, working the gardens, you name it. We really want the house to be a memorable showplace for the visitors, and to make the Garden Club proud. I really hope that you can come enjoy the weekend - all of the info is on the Pilgrimage Website. The four featured homes are shown below, and they're all both historic and beautiful!

We had a gentleman on the tour this weekend who shared a very interesting experience that happened to him in the Jay Gould room of the Excelsior House Hotel here in Jefferson. That's the room that my wife and I first stayed in years ago when we first came to Jefferson as tourists. After turning in for the evening, he said that he woke up in the night with someone holding his ankles. The person then started shaking them up and down, bucking him up and down in the bed, but when he sat up and took control of the situation there was no one there. He told me that his wife wrote it off as a dream, but he was well-aware that it really happened.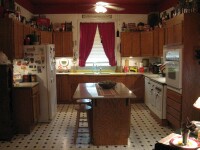 But meanwhile, back at The Grove, we had a small dinner party one night this month with myself, my wife, and a friend. I was grilling steaks - 1" boneless ribeyes custom cut by our local grocer - and I was giving them the last bit of attention on the fire. When I came back in, my wife was sitting at the island in our kitchen, and suddenly stopped. She said, "I just heard someone call my name!" We all sat there silently for a moment, and then our friend who was sitting near her said, "I heard it, too. A woman's voice called your name from over there," looking back into the area of the family room. No one else was in the house, and there was no explanation for the voice. If you read through the archives of the GroveZine, though, you'll find that things like this have happened over the years. I remember shaving one morning, and distinctly hearing a woman's voice call, "Mitchel!" I tracked down my wife and said, "What is it?" She looked confused, and when I told her what I'd heard, she said, "I've been in the kitchen for the last fifteen minutes, and I definitely didn't call you." Voices at The Grove aren't a new thing, but we just never know where they come from, or what they mean.
Along those lines... after living at The Grove for thirteen years, things that some folks might find frightening, I simply find to be interesting. Case in point - a while back we had some friends visiting, and we were sitting in the Den - the "new room" that was added in 1870. I was sitting in a rocking chair, my wife was sitting beside me in a single chair, and our friends were sitting on the sofa. I could see through the French doors leading into the hallway to the French doors leading from there to our bedroom. All of our girls were accounted for - I'd seen one cat asleep on the front porch, another on the back porch, two dogs were in the room, which left only one out roaming. I then saw the bedroom door, which was closed, open up and then close again. I assumed that Lilly, our oldest basset hound and the Grand Dame of the house, had decided to go to bed. I didn't give it a second thought... until a few minutes later when I heard the "flop" of the doggie door and saw Lilly stroll inside. At that point I had an eye on all three dogs, so without making a big deal of it, I stood up and checked both porches. One cat was asleep on the front porch, another was asleep on the back porch. Since the bedroom door, once closed, has to be pulled open from the inside, when one of the pets goes inside they can't get back out without our intervention. But all dogs and cats were accounted for outside of the room. I couldn't help but laugh at the fact that some spirit had been so brazen to walk into our bedroom with all of sitting there across the hall; there's just no other explanation. Witnessing something so definitive like that might freak some people out, but well, after thirteen years at The Grove I just shook my head and smiled.
Finally, I was at the Jeffeson History, Haunts and Legends Spring Paranormal Conference this past weekend, and I've got to say that I had a great time. It's a day full of information about all aspects of the paranormal - every speaker has a presentation that is radically different, so there's a lot to absorb. There were presentations on everything from Energy Vampires, to photographic anomalies in haunted places, to my presentation using historical research in paranormal investigation. The way the months are flying by, the Fall conference will be here before we know it. Put November 7 on your calendars now, and plan on attending - it's a great day of discussing the supernatural, and an evening of investigations led by several noted area groups.
---
Here's what's coming up around Jefferson...

4/16-4/19/2015 - Diamond Don's Annual AHRMA Vintage Motocross
4/30-5/3/2015 - Jefferson's Annual Pilgrimage
5/16-5/17/2015 - Jefferson Train Days
5/20-5/22/2015 - Paddle Fish Festival
6/5-6/6/2015 - Annual Corvette Show
7/4/2015 - Jefferson Salutes America
8/1-8/8/2015 - Texas Sounds International Country Music Awards
8/15/2015 - Jefferson 4th Annual Civil War Symposium
10/9-10/11/2015 - Burn Run Benefit Bike Rally
11/7/2015 - History, Haunts & Legends Fall Paranormal Conference
12/3-12/5/2015 - Annual Candlelight Tour of Homes
...and much more throughout the coming year!
---
---
To repeat our words from the beginning, this is a free subscription ezine for friends of The Grove - in other words, we NEVER arbitrarily add email addresses. We also NEVER sell or share email addresses with anyone else.
Feel free to pass the GroveZine on to your friends - all I ask is that if you forward it, please include the header, trailer and everything. Thanks!
To subscribe, just go to The Grove's Website and put your email in the blank at the left bottom of the page.
To unsubscribe, although we'd sincerely hate to lose you, simply follow the directions at the bottom of the this email.