www.thegrove-jefferson.com May 2015 ISSN 1558-3252
"Ghosts have a way of misleading you; they can make your thoughts as heavy as branches after a storm." - Rebecca Maizel
I hope that you're having a great day, and welcome to the GroveZine! Wow, do I have a tale to spin for you... and this true story falls in the category of "my weird, dumb life." Here's how it all unfolded. A while back my wife's nephew announced his engagement to a wonderful young lady that he'd met while in college. They are a great couple, and we were so very happy for them. We went to the store where they had their bridal registry, and bought them a set of very nice sheets for a wedding gift. When we left for the wedding, which was in Oklahoma, of course the package of sheets was sitting in a chair in the house as we drove away. We realized that fact after a few hours on the road, but hey, no prob - we'd simply get it to them after they got back from their honeymoon. Once we were in the area for the wedding we were doing a little shopping, and found a wonderful glass-blown bride & groom Christmas ornament. This gave us a great idea - we'd buy them the ornament, give it to them at the wedding so that they'd have something to open, and it would be a gift that they could cherish for the rest of their life together as they hung it on their Christmas tree every year. We'd then get the sheets to them after the wedding. We bought it, and then went to another store to get a gift bag and card. Of course, in the mean time, we bought several other things for ourselves. One of them was a glass-blown ornament for the Christmas tree that we put up that is filled with such ornaments we've collected over the years. We have glass-blown mementos from our travels, others that we just thought were cute, and others representing our interests (we even have a glass-blown "Q," 'cause my wife is into Star Trek). Anyway, the ornament that we picked out for our tree was a cute little glass-blown sock-monkey (Google it if you don't know what I'm talking about). When you buy a glass-blown ornament, they wrap them up in paper and bubble wrap to protect it, so it's like a little mummy when they're done.
Fast forward a day, and when we were getting ready for the wedding, my wife prepared the wedding gift; she filled the gift bag with tissue paper, put their ornament-present inside, and then wrote a very personal message on the card that we'd picked out. The impassioned message took up both sides of the card, wishing the newlywed couple eternal happiness, hoping that when they put our gift on the Christmas tree every year it would remind them of how special their wedding day was, etc. We both signed the card, put it on the gift table at the wedding, and had a great time at a wonderful family celebration.
The next day when we got back to The Grove we were unpacking, and I was looking through our purchases... when I pulled out the glass-blown bride & groom ornament. I showed it to my wife, and said, "Well if this is here, then what in the world did we put in their wedding gift?" By process of elimination, we determined that after reading our card where we spoke of eternal love, their beautiful, special, day, and what we hoped would be a yearly reminder of their sacred nuptials... they opened a sock monkey ornament. Oh well, that's just the way that my life seems to go...

It was a very sad day here in Jefferson recently. Those of you who've been to town and enjoyed the wonderful accommodations of White Oak Manor B&B have probably sat out on the porch and read a book, enjoyed a glass of wine, or simply relaxed, unplugged from your everyday life... all in the shadow of the giant White Oak that gave the inn its name. No one knew how old the tree was - 200 years? 300 years? It might have even pre-dated the birth of our country, but certainly it saw some of Jefferson's most famous times: the Civil War, Reconstruction, the Diamond Bessie saga, the Stockade Trial, and many, many more of the city's landmark events. Unfortunately, like an old, beloved horse that had been out to pasture for a while, the tree came to its final days. Parts of it were rotting and falling, and so regrettably, David and Tammy had to make the hard decision to do the unthinkable. They had to have the tree taken down for the safety of the house and the guests there. All of Jefferson mourned its passing. If you want to read a news story about it, just click on this link.
I understand that feeling - a couple of years ago we had to have one of the old Native Texas pecan trees that gave The Grove its name taken down - one that had been here since the time the house was built, and had seen all of the owners over the last 150 years. It was very sad, but I noticed something interesting recently. At the corner of the stump, which we never had removed, there was a shoot of a pecan tree peeking out. It's now about a foot tall, and in my lifetime I hope that it establishes a good root system, and by the time that I'm gone, maybe it will be tall and majestic as the one that we had to cut down.
We've got a couple of great events coming up in Jefferson, and the first is the annual Civil War Symposium on Saturday, August 15. The theme is the Red River Campaign of the Civil War, and the slate of speakers is top notch. If you're a Civil War buff at all, plan on attending this all-day event in Jefferson. You can get more information by clicking on this link.
Also, it's not too early to start planning for the annual History, Haunts & Legends fall conference. There's an incredible slate of speakers, as you may have already seen on Facebook, and the conference promises to be an incredible day. It is a great opportunity for a paranormal weekend in Jefferson - book a haunted room at the Claiborne House, the Delta Street Inn, the Excelsior House, or the Jefferson Hotel; come to the conference held all day on Saturday; attend the investigations on Saturday night; and then come tour The Grove on Sunday morning at 11. It's the perfect chance for a ghostly weekend in Jefferson... come join us!
The first thing that I wanted to share with you ghost-wise this month is an article that I ran across online called "Six Things I Learned Owning A 'Haunted House' On Reality TV." We've been very lucky at The Grove to have worked with some very respectful, sincere production companies. We've been on a number of programs including "My Ghost Story," "William Shatner's Weird or What," "Home Strange Home," "The Daytripper," "America's Creepiest Homes," etc. We have turned programs down before, however, if it seemed like they were going to sensationalize or exploit our ghost stories. From the article that I found, that kind of thing goes on more than you can imagine. The family in the article had genuine supernatural activity in their home, but when the film crew showed up, things got even weirder... read it by clicking on this link, and you'll get an idea why we're careful about who we let into The Grove!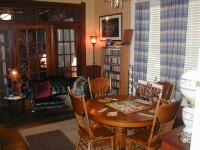 It seems that every couple of months we have the "lady feeling queasy on the tour" story to tell, and it happened again this month. We had a couple on the tour, and when we got to the game room of The Grove, I was telling some of the ghost stories from there when I noticed that the young lady wasn't looking well. She whispered something to the fellow that she was with, and started to leave. Before she could do so, I asked, "Are you feeling a little sick?" She looked a little surprised, and told me that she was. I asked her to have a seat and let me get her a bottle of cold water, and once she was settled down a bit, she told us that she was pregnant and had experienced some nausea, but (as she said) "I've never had it hit so suddenly and so intensely!" I encouraged her to just relax, and that the feeling would probably be gone in the next room... which it was. As I've said before, I think that sometimes people come into The Grove who don't realize their own sensitivity to the supernatural, and it manifests in a queasy feeling. It happens almost exclusively to ladies, though, so I don't know why the men are missing out. Do you think that ladies are more sensitive to the paranormal than guys are? I don't know...
People are always asking what some of the first things that we experienced at The Grove were, and I always relate the story of footsteps in the hallway right after we purchased the house. We were living in the DFW Metroplex at the time, and we brought two cars to Jefferson one of the first weekends after we closed on the house. I arrived first, and started unloading my car. I was in the game room, and heard footsteps in the hallway (which was originally a side porch) along with what sounded like plastic grocery sacks rustling. I assumed that my wife was there, and was carrying in a bunch of sacks. I looked around the corner to greet here, but there was no one there - she didn't show up for another fifteen minutes. When I was telling someone in town about the experience a few days later, they suggested that the rustling noise was petticoats like the ladies of olden days used to wear. Who knows - I certainly can't explain what I heard. Well, a few days ago something very similar happened. After remodeling, we have a large bookcase in the hallway, and I was searching it for a particular notebook that had some research I'd done for an upcoming book. I couldn't find it (still haven't, in fact), so I was going over the bookcase title-by-title. As I did so, I heard footsteps walking down the hall, and I assumed that my wife had come home. I looked up to say something to her, but the hall was empty... much like it was thirteen years ago when I first heard something similar!
And in the realm of ghosts of The Grove, I've got some interesting news. As a writer, I've always wanted to do a book about my home. I've started that book a dozen times, and always thrown it away after a few pages. It just never felt right. I was starting to feel like I couldn't do the old place justice - but thanks to an off-the-cuff, matter-of-fact suggestion from my wife a couple of weeks ago, the gears in my head have been turning wildly. I now have a skeleton of an outline put together, and a few book in line ahead of it, but you know, this feels really, really right. I hope that I'll eventually be able to chronicle both the history, and our lives, at this wonderful, historic, mysterious place known as The Grove. Stay tuned!

Well, the summer's in full swing, and it won't be long 'til 2015 is half over. Am I the only one noticing that time is flying by? The next GroveZine will be coming out in the next week it seems, so I should already be working on it... but here I am just finishing up this one! That seems to be my life - always a little behind, always playing catch up, and giving sock monkeys for confusing wedding gifts. But you know what? Life is a lot of fun, as long as you keep a good sense of humor and learn to laugh at yourself. I'm going to allow myself a few chuckles, and then say goodbye for now. Thanks SO very much for reading the GroveZine - I enjoy getting to share a little slice of life at The Grove with you every month. Talk to you soon!
---
Here's what's coming up around Jefferson...

7/4/2015 - Jefferson Salutes America
7/30-8/9/2015 - Country Music Concerts... Texas Sounds International
8/15/2015 - Jefferson 4th Annual Civil War Symposium
8/22/2015 - Jefferson Gun & Knife Show
9/12/2015 - Classic Car Show
10/9-10/11/2015 - Burn Run Benefit Bike Rally
11/7/2015 - History, Haunts & Legends Fall Paranormal Conference
12/3-12/5/2015 - Jefferson's Candlelight Tour of Homes
1/22-1/24/2015 - Quilts on the Bayou annual quilt show
...and much more throughout the coming year!
---

Click the box above for more information!
| | |
| --- | --- |
| | The Midnight Saint won a Bronze Medal in the 2015 Illumination Book Awards in the category of Religious Fiction! |
| | It also won a 2015 Eric Hoffer Book Award, in the category of Spirituality. |
---
To repeat our words from the beginning, this is a free subscription ezine for friends of The Grove - in other words, we NEVER arbitrarily add email addresses. We also NEVER sell or share email addresses with anyone else.
Feel free to pass the GroveZine on to your friends - all I ask is that if you forward it, please include the header, trailer and everything. Thanks!
To subscribe, just go to The Grove's Website and put your email in the blank at the left bottom of the page.
To unsubscribe, although we'd sincerely hate to lose you, simply follow the directions at the bottom of the this email.