www.thegrove-jefferson.com October 2015 ISSN 1558-3252
"I want to know where we go when we leave this life. I'm just looking for answers to what happens when we move on." - Bonnie Knowles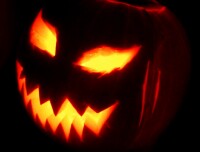 Hi everyone! Well, I know that I'm in trouble when I start getting emails that ask, "Are you still alive and well? The GroveZine is running late!" It definitely is, and for that I apologize. The last several weeks have perhaps been the busiest in the last decade of my life. Not that it's a bad thing, I guess. Anyway, a funny thing happened on the way to the Fudge Shop... What kind of thing? Well, that's a story for the next GroveZine .
Meanwhile, it's been an interesting month here in Jefferson, so I have a number of stories to tell. It's been a while, but it finally happened again... another chupacabra sighting in Jefferson! In this age of social media, I learned about this one because it was exploding on Facebook. I rarely get on Facebook, but I started hearing about it from friends and had to check it out. This creature was spotted in the parking lot of the Methodist church here in town, and someone managed to get a photo of it. I have a friend with a PhD in Animal Science, so I asked him to get on Facebook and take a look. I said, "What the heck is this?!?" His response was "Some kind of weird-looking small coyote." I wish that I could have grabbed the photo, but not being a regular Facebook user, I didn't know how.
A GroveZine reader sent me a link to Roadtrippers.com, and their "Destination Strange" page. In honor of the season, they complied "America's top 20 real haunted places you can actually visit on Halloween." You can imagine that the list contains some of the top American hauntings such as the Lizzie Borden House, The Stanley Hotel, The Myrtles Plantation, Alcatraz, and more. While scrolling down the list, I was delighted to see that one of the locations was the "Stilley-Young House" in Jefferson, Texas. That's the official name of The Grove on the historic register. I'd like to say a special thanks to Roadtrippers.com! You can see their map by clicking here.
I received an email from another GroveZine reader about "The Lineup," a website that listed the top 15 Ghost Tours in America. Like the website I mentioned above, this one had places that you could easily guess off the top of your head: Gettysburg, PA; Savannah, GA; Tombstone, AZ; New Orleans, LA; and more. I've taken a number of these ghost tours myself, and can testify that they are top-notch. The most wonderful thing about this list is that in position #10 is the Historic Jefferson Ghost Walk! In the description, it says, "Jefferson was once an important port town in Texas, its architecture resembles that of New Orleans. The Grove, which many say is the most haunted house in all of Texas, can be found here. Many people have captured strange orbs in digital pictures and reported heavy paranormal activity such as noises, voices, and apparitions." Congratulations to Jodi Breckenridge and her Historic Jefferson Ghost Walk, and thanks to "The Lineup" for giving The Grove a plug as well. You can see the entire list by clicking here.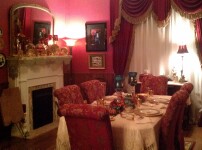 I tell a story on the tour of The Grove about a friend of mine who looked at the house about a year before we did. He said that when they arrived, the real estate agent unlocked the front door and he and his wife walked inside. The stopped in their tracks after only a few steps... he said the house felt suddenly menacing and oppressive - like they weren't welcome or wanted there. They looked at each other, and then immediately turned around and left. As I was relating that story on a recent tour, a gentleman spoke up and said, "The same kind of thing happened to me!" I love hearing impromptu stories about the house from our guests, so I immediately asked him to tell us what happened. He said that he and some folks had been to Jefferson in the 1990s when The Grove was a restaurant, and they stopped in for a meal. While standing inside the front door waiting to be seated, he a terrible feeling came over them - he said it was like the house didn't want them there. They left before the waiter could return. I asked him how the current visit was going, and he said that the house feel nice and welcoming from the time that I came in - something that I was happy to hear. I have no idea what the difference between the visits was, but we want people to feel comfortable in our home.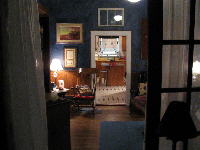 And speaking of Grove tours, we had another interesting incident this past month. We've been giving tours for over a decade now, and while supernatural things don't happen every tour, we've had too many to count over the years. I've become pretty good at picking up on when something strange is going on. The other day we were just finishing up a tour, going from the den into the kitchen, and we'd all moved into that last room but one lady - she was still standing in the den. I noticed that she was having an animated conversation with another lady who had just crossed into the kitchen, so I watched them as I wrapped up the tour. What I later found out was that the woman left in the den felt like there was some kind of invisible barrier that was keeping her out of the kitchen, and every time that she tried to go in she felt this oppressive force, and had a very dizzy feeling. The lady who'd gone in just before her felt it as well, but she is a sensitive who's been to The Grove on a number of occasions. She said that she felt the force as well, but just pushed through it. What was it, and why didn't the rest of us feel it? I don't have any idea at all - just the strange kind of things that happen at The Grove.
It's been a while since I've mentioned the Garden Guy (as we call him), a fellow that we see out in the garden of The Grove. He's always dressed in a black suit, and seems to be walking - I've rarely seen him standing still. He showed up again this month; I was sitting in the den, working on my computer, when I looked over into the bedroom. Some movement caught my eye, and I looked over to see a man walking through the bedroom. The last thing I saw before he disappeared behind the door was the dark material of his pants and his black shoe. So why was he inside? Well, there was once a well room where our bedroom is, and for a number of years it was taken down and there was nothing there - it was basically outside. We believe that's why we occasionally see the Garden Guy in the bedroom - to him, it's still "outside." I found it interesting, but just shrugged my shoulders and went back to work - but I'm glad that he stopped by for a quick visit!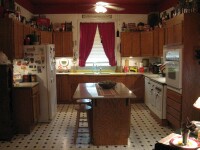 As I've mentioned before, my hobby is homebrewing, and I've been doing it for a long time. I think that my first batch was back in 1984. Anyway, I have a friend here in Jefferson who brews as well, so we get together to cook up a batch every few weeks. My friend is a scientist by trade, so by nature he's very skeptical about supernatural things. We were in The Grove's kitchen brewing a Belgian Tripel a couple of weeks ago, monitoring the boil and just shooting the breeze like we do, when my friend suddenly got very quiet. He was across the room from me, and was just standing there, silent. I said, "You okay, man?" He paused and said, "I'm trying to decide whether to tell you something or not." I asked him what in the world he was talking about, and he said, "I know that your wife isn't home, and you're across the room from me, but someone just came up behind me and grabbed my arm! When I looked around, there was no one there." I just shrugged my shoulders and told him that things like that happen all the time at The Grove. He said, "Yeah, but I'm not sure what I think about that..." Sometimes it's amusing to watch people who are so scientifically-minded and skeptical have an experience that they can't explain. That makes my Halloween season!


Well, that's it for a Halloween edition of the GroveZine... I hope that you really enjoy the rest of the year. It's our favorite season - we start with Halloween, move into Thanksgiving, roll into Christmas, and top it off with New Year's, which starts another period of our life. For the American GroveZine readers (except for those of you in Arizona, and then except for the Navajo Nation), don't forget that we turn the clocks back for Daylight Savings Time this weekend. Here at The Grove, it's only a couple of hours 'til Halloween, so I think that we'll turn off the lights and put on a scary movie. Thanks so much for reading the GroveZine, and being a part of the fun. See you next month!
---
Here's what's coming up around Jefferson...

10/31/2015 - Return of the Living Dead 5K Zombie Chase walk/run
11/7/2015 - History, Haunts & Legends Fall Paranormal Conference
11/28/2015 - Jefferson Annual Christmas Parade
11/28/2015 - Enchanted Forest Christmas Tree Lighting
12/3-12/5/2015 - Jefferson's Candlelight Tour of Homes
12/10-12/12/2015 - Jefferson's Candlelight Tour of Homes
1/14/2016 - A Night at the Museum
1/22-1/24/2016 - Quilts on the Bayou annual quilt show
2/5-2/7/2016 - Jefferson Mardi Gras
3/18-3/20/2016 - Route 49 Biker Rally
4/28-5/1/2016 - Jefferson Historical Pilgrimage Weekend
...and much more throughout the coming year!
---
To repeat our words from the beginning, this is a free subscription ezine for friends of The Grove - in other words, we NEVER arbitrarily add email addresses. We also NEVER sell or share email addresses with anyone else.
Feel free to pass the GroveZine on to your friends - all I ask is that if you forward it, please include the header, trailer and everything. Thanks!
To subscribe, just go to The Grove's Website and put your email in the blank at the left bottom of the page.
To unsubscribe, although we'd sincerely hate to lose you, simply follow the directions at the bottom of the this email.