www.thegrove-jefferson.com January 2016 ISSN 1558-3252
"Remember, they're dead. You're not." - Sara Liskey
As they say in Australia, G'Day! And I really do hope that you're having a good one. This is a bittersweet GroveZine to write - I have good news, I have sad news, but I have some fun things as we wade into 2016. My favorite thing to report is that (drum roll, please...) I lost enough weight to wear the kilt to the Queen Mab Ball! If you remember from the last GroveZine, I bought a kilt only to discover that it was too small, and was going to require some dieting for me to be able to fit into it. At Christmas I started on a diet that my doctor had given me years ago: don't eat anything white. No bread, no potatoes, no rice, etc. It's not quite Atkins, but kinda sorta similar. The hard part was giving up potatoes - you can't cook potatoes in a way that I don't just love them. It was tough, but I did shed a few pounds. Now the challenge will be continuing the effort as the year rolls on, but I'm determined to keep trying.
We walked out one morning to see that The Grove had been "flocked!" Yep, there was a flock of pink flamingos out in front of the house - all shapes and sizes. It turned out that this was a fundraiser for the Jefferson High School Girl's Softball team. The girls came up with a very unique fundraiser. To have the birds moved, you make a $10 donation; to get insurance that they won't be back, it's another five bucks; or you can pay $25 and get the whole package, even getting to say where they're moved to next. We did the latter, and sent the flamingos a few blocks over to our friends' house.
On another fun note, I got to fulfill a lifetime dream and actually be a rock-and-roll roadie for a night! One of my favorite bands, Cody Canada & The Departed, was playing here in town and a friend of mine was the promoter. They had a rider in their performance contract that the venue had to provide security that would also help unload, set up, tear down, and load back up. There are a number of my friends who love the Departed as much as I do, so we volunteered for the task. We got security t-shirts, badges, and had access to all areas from the green room to the equipment trailer, to backstage. As we stood around trying to look tough for the security part, I couldn't help but laugh - the band had no idea that their roadies/security for the evening consisted of an oil man, a Ph.D., an international furniture manufacturer, a rancher, and of course, an author/publisher. That night, though, we were living the rock-and-roll dreams of our youth. I told my wife that at the end of the year if someone asks me what books I published in 2016, I'll just smile and say, "None of that matters at all... because for one glorious evening, I was a roadie for Cody Canada & The Departed!"
And now I unfortunately have some very sad news to share. A number of you met our basset hound Lilly on the tour, when the girls sometimes came out to greet everyone at the end. It pains me to report that Lilly passed away since the last GroveZine; we lost her to a massive stroke. Mercifully, her passing was very quick and seemingly painless. Lilly first came to us when a local family bought her thinking that she was a dachshund; when she kept growing, they decided to get rid of her and go get a real winier dog. Thankfully someone intercepted her on the way to the pound and contacted us. She's been a part of our family and a resident of The Grove for eleven years, and we miss her like I can't even begin to describe. After having her in our lives for over a decade, The Grove seems kind of empty without her.
A lot of weird things have been going on since Lilly's death, and to be honest, I don't know what's supernatural and what's not. Maybe none of it is... but maybe more than we think is. For example, I was over at a friend's house one evening for a cook-out; it was basically the security crew from the Departed concert that I told you about, and we were having a get-together a couple of weeks later to celebrate what a great time we had. Since it was a guy thing, the wives weren't there. In the course of the evening I suddenly felt a huge wave of sadness come over me, and I couldn't stop thinking about Lilly. It had been a couple of weeks since her death, and although I'd shed many a tear when it first happened, the distance in time had taken away the sadness and was slowly replacing it with the wonderful memories of the last 11 years. That evening, though, I was instantly overcome with grief, and I had to turn and walk away from the group because I thought that I was going to burst out in tears. I was about to call my wife, when suddenly my phone rang. It was my her, and she was crying; she said that our other two dogs, Delaney and Deveraux, had heard a bark and were tearing up the house looking for Lilly. Meanwhile, she was fighting this sudden, intense sense of loss. Why had this happened to all of us simultaneously, just out of nowhere? I have no idea, but that night it did.
Our other two girls are Delaney, a basset we also rescued 11 years ago, and Deveraux, a 5-year-old bagel (half beagle, half basset, another rescue). Dev has been having some very strange moments since Lilly died. At the end of our hallway is a laundry room, and there's a doggie door there that the girls use to go out into their back yard. Lilly had the stroke in the laundry room, and when I found here, she had collapsed in the middle of the floor. She didn't die there, though; she died in my arms as I was carrying her into the vet's office. Still, there have been a number of times when Dev is outside, and I've heard her whining. I walk into the laundry room and she has her head sticking in through the doggie door flap, crying to come in, but for some reason she won't walk over the place where Lilly had the stroke. On the other hand, I've also heard her whining, gotten up to investigate, and found her in the hallway looking into the laundry room. She was wanting to go outside, but again, wouldn't cross over the place where Lilly had the stroke. I have no idea what this means; maybe she saw Lilly there and has a bad memory of it - I don't know whether dogs contemplate such things or not. Or perhaps some of Lilly's energy is still there. Who knows. It's not every time, though, just every now and then.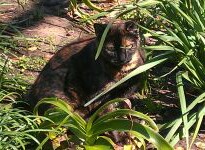 And then there's Elsie the cat. Elsie has a bed in the kitchen; she patrols the property during the day, keeping mice and snakes away, and then comes in for the evening once it gets dark. She and Lilly always got along fine, and for the most part kind of ignored each other. Anyway, for years Lilly has slept on the foot of the bed. She jumped up there for her afternoon nap every day (which sometimes stretched into the evening), and then slept there by my legs at night. Right after Lilly's death, Elsie the cat immediately took over that routine. I'll look into the bedroom in the afternoon and see Elsie curled up there on Lilly's spot on the bed. At night I'll feel something snuggling up against my legs like Lilly used to, and raise up to see that it's Elsie. I have no idea why that is happening; Elsie could have gotten in the bed anytime day or night that she wanted to, but rarely did. Now it's like she's suddenly keeping Lilly's spot warm.
Again, I don't know what parts of all that are supernatural, but they all seem strange. One thing that really does defy explanation happened in the middle of the night this past month. I woke up when my wife yelled, "Stop it!" I could see from the ambient light coming in through the curtains, and everything looked normal, so I said, "What in the world is going on?" She told me that for the past little while, something or someone had been pushing her back, nudging and poking her as if trying to get her to scoot over and give them some room. I said something like, "Are you sure you're not dreaming?" She assured me that she'd been awake for some time, and in fact, it was still going on. Delaney and Dev were on the bed, but they were both lying down and sleepily raising their heads to see what was going on. It had been a couple of weeks since her death, so I did think about Lilly, but that wouldn't be her style; she'd be down by my legs. Delaney would certainly be doing that, but she was comfortably snuggled up to a pillow and was oblivious to everything. So what was it? We have no idea, but it stopped after my wife yelled at it. This is the kind of event that people don't understand; they tell me that if something like that happened to them, they'd run screaming into the night. After 14 years at The Grove, it's pretty routine for us, and something that we don't let interrupt a good night's sleep. It's amazing how the unseen world has become such an ordinary part of our everyday life.

Thank you so much for reading the GrozeZine, and for allowing me to share the news about Lilly. It's been a tough month as you can imagine. If I live to be 100, that would mean that she was a part of my life for over 1/10th of it. She greeted my wife and I with the "welcome home doggie dance" every time we walked through the door, whether we'd been gone for a day or five minutes. Lilly barked whenever anyone came on the property to let us know that something was going on, and yes, she had many supernatural experiences of her own over the years - there were times that she definitely saw things that we didn't.
Oh, and before I close, I want to thank everyone for all of your great comments about the new cookbook. Who would have ever thought that I would have done something like that? Well, you guys have been very kind with your comments... thanks so much! For anyone that wants to check it out, you can get more info by clicking on this link. Okay, that said, please take care, be happy & healthy, and I'll talk to you next month in the GroveZine!
---
Here's what's coming up around Jefferson...

3/18-20/2016 - Route 49 Biker Rally
4/2/2016 - History, Haunts & Legends Conference
4/15-17/2016 - Outlaw Nationals Annual Rod Show
4/16-17/2016 - Jefferson Gun & Knife Show
4/28-5/2/2016 - The Diamond Bessie Murder Trial Play
4/28-5/1/2016 - Jefferson Historical Pilgrimage Weekend
5/14-15/2016 - Jefferson Train Day
6/3-4/2016 - Corvette Car Show
7/4/2016 - Jefferson Salutes America
8/13/2016 - Civil War Symposium
10/7-9/2016 - Burn Benefit Bike Rally
10/8/2016 - Carnegie Library Eggfest
10/16/2016 - Annual Taste of Jefferson
...and much more throughout the coming year!
---
This is a free subscription ezine for friends of The Grove - in other words, we NEVER arbitrarily add email addresses. We also NEVER sell or share email addresses with anyone else.
Feel free to pass the GroveZine on to your friends - all I ask is that if you forward it, please include the header, trailer and everything. Thanks!
To subscribe, just go to The Grove's Website and put your email in the blank at the left bottom of the page.
To unsubscribe, although we'd sincerely hate to lose you, simply follow the directions at the bottom of the this email.