www.thegrove-jefferson.com February 2016 ISSN 1558-3252
"We ask only to be reassured about the noises in the cellar, and the window that should not have been open." - T.S. Eliot
Hello from The Grove in Jefferson, Texas! First of all, I have to say a tremendous "thank you!!!" to everyone who sent such heart-felt words about our basset hound Lilly's passing. It was a tough month, but your thoughts, words, and prayers meant so much to us. We miss our girl so much, but we have eleven years of precious memories that make us smile. By the way, this photo is me & Lilly a few years ago - both she and her dad were much less gray in the muzzle at that time. Anyway, I started out trying to reply to everyone who sent an email, card, or other sentiment but there were so many that I soon fell behind, and resolved to simply bask in the love that you guys surrounded our family with, and say a very sincere thank-you here in the GroveZine. You folks are all so very wonderful. There's no way to adequately way to thank you all, and you have no idea how much it all meant to us during this sad time. God bless you all.
It's been a month of rain here in Jefferson, and all over Marion County. Our rain gauge tops out at eight inches, and I noticed a week or so ago that it was overflowing. I emptied it, and two days later it was at four-and-a-half inches. The rain is still coming, and has caused the Big Cypress Bayou to flood, along with Caddo Lake. Some of the homes near the water have so much water that they're total losses. Even the Jefferson Historical Museum had a foot of water in the basement! During the summer droughts I always promise never to complain about rain, but I believe that we've had enough for a while.
I know that I'm a weird guy, but occasionally I discover something overly strange about myself that I never knew. That very thing happened recently concerning jelly beans. Let me say right up front that I love jelly beans - I have since I was a kid. When my aunt started keeping them at her house in the last month or so, I found myself grabbing a handful whenever I was over there. But then I noticed one day that I was eating them in a very strange way. When I discovered this, I somehow knew that I'd always done it, but just never thought about it. Here's what happens... I'll pour a few jelly beans into my left hand, and then I'll tally up the different colors. I start out by eating every one that there's a duplicate of, and continue on until I have only one of each color in my hand.
To the best of my knowledge I'm not OCD, but just to make sure I did a couple of experiments - I ate the beans in different orders by color/quantity, and it didn't seem to affect my demeanor or rest of the day, so I think that I'm probably okay. Although there are something like 1,500 GroveZine readers our there, and there must be a few psychologists in the group. Those people are probably saying, "Wow, he did an entire entry on the order in which he eats jelly beans... we could do an entire week-long conference on this guy!!! In the photo, I'm eating two of the orange ones, one of the white ones, and one of the yellow ones, which leaves only one of every color, which I will then eat one at a time in no particular order. To be honest, I'm not sure if I'm getting weirder as time goes by, or I'm simply discovering how weird I really am.
I'll start with something ridiculous that happened to me. I always joke that weird, comical things happen to me all the time, and the thing that I'm going to tell you is no exception. In fact, it's so unreal that it could only happen on a TV show or in a movie... except it really happened here at The Grove. If I wasn't a part of it, I wouldn't believe it - nothing so perfectly absurd happens in real life. Still, it did. My wife and I were watching the Academy Awards, but we were DVR'ing it so that we could pause it since we were both doing work. Because of that, we were running about half an hour behind real time. We came up to the pinnacle of the evening, the Best Picture Oscar, and Morgan Freeman was saying, "And the Oscar goes to..." when the picture and audio suddenly froze. My wife and I looked at each other; I thought that she'd paused it as a joke, and she was thinking the same thing about me. But apparently the program had gone over past the record time and simply stopped. A box popped up asking if we wanted to delete the program, and when we saw that, we just died laughing - the timing of it stopping could not have been more terribly perfect if someone had intentionally done it as a joke. Before actually deleting the program, I said, "I have to take a photo for the GroveZine readers... they won't believe it otherwise!" This is Freeman about to announce the winner, and the bar at the bottom is saying that the program has ended, and is asking whether we want to delete it or not.
Speaking of weird things, I was driving down Alley Street the other day headed home. Alley Street was named for one of the co-founders of Jefferson, Daniel Alley. Just across from the stately House of Seasons, I glanced over and saw two chickens walking around the yard of one of the homes. This is in the historic district of one of the most historical cities in Texas; I'm not exactly sure what the livestock laws are in town, but I wasn't aware that a homeowner could let chickens graze in the front yard... but maybe you can. I was laughing at it, and had to stop and take a picure. Only in Jefferson.
Another thing about Jefferson that I find interesting is that there are a couple of small discussion groups that meet to talk about everything you can imagine. Probably the best-known is a group of the elder statesmen of town who meet at City Drug every day for coffee. Their little group had become affectionately known as the "Table of Knowledge." I'm not sure how one could get an invitation to participate, but I don't think that it's the kind of thing where any random person would be welcome. One block over is another group that meets at Henderson's Auto Parts store every morning. It's a completely different group from the Table of Knowledge, but I'm reasonably sure that the same kind of important, world-critical things are discussed. I've referred to both groups kind of tongue-in-cheek over the years, but last week I came to a startling revelation... I'm a part of one of those same groups. A friend and I started meeting at Auntie Skinner's here in Jefferson for lunch every Friday, and we jokingly referred to it as "working lunch." We did no work, which was the joke of the name. Over time people came into the group, a few dropped out, and now it's a full-blown male gossip group that would rival City Drug or Henderson's Auto Supply. We talk about everything from Jefferson history, to local politics, to national topics... every week we strive to solve all the world's problems. When I realized that, I had to stop and laugh. I absolutely love living in Jefferson.
One of the things that fascinates me about living at The Grove is the many ways that the spirits manifest themselves. If you've been reading the GroveZine for a while, you know that we have a corner in the front parlor that sometimes has a very odd feeling to it; there's a lady in a white dress that walks through our house, and a man in the garden in a black suit, both of which look as real as you or me; we hear voices calling our names, visitors are touched, poked, and prodded, and other mischevious manifestions occur. All that makes me wonder why and how the spirits come across in such different ways; I just don't understand... but of course, I'm probably not really able to. At some point I will, but I'm not rushing that eventuality. One thing that has happened a number of times is the smell of pipe tobacco in the dining room. At the end of the tour a week or so ago I was mentioning that fact, and one couple looked at each other, got excited, and spoke right up. "THAT HAPPENED BEFORE THE TOUR!!!" the lady said. She went on to explain that she and her husband were waiting for the tour to begin, and they were walking around out in the garden. She said that at one point, they walked into a cloud of sweet-smelling tobacco smoke, as if someone was smoking a pipe. Her husband commented that someone was smoking, but as they looked around, none of the other visitors were, and there was no explanation for it... unless some unseen man had walked by, smoking a pipe. It happens at The Grove!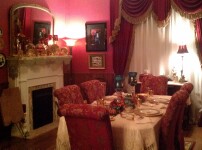 We had some out-of-state guests this weekend, and as we were in the parlor during the tour, I saw one lady looking a little unstable. She whispered something to her friends and they stood beside here, and this seemed to continue into the dining room. I knew that she was probably experiencing the dizzy, sick feeling that many women have in The Grove. The lady was fine by the time that we moved to the next room; when the tour was over, she told me that she had become a little sick, and I said, "If you read back through the GroveZine archives, you'll see that the exact same thing has happened quite often over the years." I think that the people who have experienced this are simply more "in tune" to the supernatural world than most folks, but don't realize it.
If you've toured The Grove in the last few months, we would really appreciate it if you'd take a moment to go to TripAdvisor and give us a review. Everyone's always been so kind to us - we SO appreciate the four-star reviews, but we LOVE the five-star reviews! It only takes a second, so if you'd be so kind, it would mean a lot to us. The Grove says, "THANKS!!!"
---
Hey ghosthunters - click to check this out...


The GroveZine is sponsored by the Haunted Shirt Club...
click the banner above to learn more!
Here's what's coming up around Jefferson...

It's that time of year, and the semi-annual History, Haunts and Legends conference is coming up. It's always a great day for the attendees - there's an all-day conference with speakers on various aspects of the supernatural, and several evening activities to choose from. I'll be taking part in a couple of different things, but for all of the information, including how to register, check out the event Facebook page. It's going to be a fun and educational weekend!

4/2/2016 - History, Haunts & Legends Conference
4/15-17/2016 - Outlaw Nationals Annual Rod Show
4/16-17/2016 - Jefferson Gun & Knife Show
4/28-5/2/2016 - The Diamond Bessie Murder Trial Play
4/28-5/1/2016 - Jefferson Historical Pilgrimage Weekend
5/14-15/2016 - Jefferson Train Day
6/3-4/2016 - Corvette Car Show
7/4/2016 - Jefferson Salutes America
8/13/2016 - Civil War Symposium
10/7-9/2016 - Burn Benefit Bike Rally
10/8/2016 - Carnegie Library Eggfest
10/16/2016 - Annual Taste of Jefferson
...and much more throughout the coming year!
---
This is a free subscription ezine for friends of The Grove - in other words, we NEVER arbitrarily add email addresses. We also NEVER sell or share email addresses with anyone else.
Feel free to pass the GroveZine on to your friends - all I ask is that if you forward it, please include the header, trailer and everything. Thanks!
To subscribe, just go to The Grove's Website and put your email in the blank at the left bottom of the page.
To unsubscribe, although we'd sincerely hate to lose you, simply follow the directions at the bottom of the this email.