www.thegrove-jefferson.com March 2016 ISSN 1558-3252
"There are savages without God in any proper sense of the word, but none without ghosts." - Thomas Henry Huxley
Hello, and welcome to another GroveZine! I was going to talk about how fast 2016 is flying by, but I seem to always be doing that... because IT IS! I was having a conversation about that very fact at the Post Office with a friend the other day, and I told him the theory that another friend of mine has. I think that I shared it a couple of years ago in the GroveZine, but it's interesting enough to repeat. My friend's theory is that the passing of time is relative. For example, if you remember back when you were in the first grade in school, it seemed like the summer lasted forever. At that point in your life, however, the three months of summer represented a fairly significant part of your life experience. Fast forward to the age of 30, 40, 50, or beyond, and three months is just a small bit of time relative to the number of months you've actually been alive... therefore it doesn't seem like a lot of time. The older you get, the smaller a portion of your life three months becomes. Is that why time seems to be flying? I don't know; but it is something interesting to consider!
The Spring History, Haunts, & Legends Conference took place once again here in Jefferson, and we had a great day. I was invited to be one of the speakers, and it was an honor to be a part of it. There was a great line-up of presenters with various paranormal topics, and of course there was an investigation of several haunted places that evening. Jodi Breckenridge, the conference organizer, invited me to do an evening presentation that falls into the History/Legends part of the conference title: the adopted daughter of Jefferson, Diamond Bessie. We had a wonderful time during that special session that was held at the Excelsior House Hotel. Everyone had a wonderful time at the conference, and the great news is that the Fall conference is about six months away. It's going to be held on November 5, 2016, and is already shaping up to be something incredible. Make you plans to be in Jefferson on Nov 5, and be sure to sign up in advance. You can get more info by looking for the History Haunts and Legends Paranormal Conference on Facebook.
Recently I was on my way to speak at another East Texas paranormal conference, the Tyler ParaCon. It's another great gathering here in the pineywoods of East Texas - we're very fortunate to have a couple of first-class paranormal conferences in the area! Anyway, I was driving through Pittsburgh, Texas, when I saw a billboard advertising the city. One of the things shown on the billboard was something called the "Ezekiel Airship." I'd never heard of it before, so when I came to a stop light I sent a quick email to myself from my phone (I really try not to text or email when I'm driving). I looked it up when I got home, and found that while the airship certainly wasn't anything supernatural, it was fascinating! As the story goes, the experimental aircraft was conceived, designed, and built by the Baptist minister Burrell Cannon, an experienced sawmill operator born in 1848 in Coffeeville, Mississippi. Inspired by and named after the Book of Ezekiel, the craft's design featured four "wheel within a wheel" paddle wheels powered by a four-cylinder gasoline engine. There are unverified claims that it was flown in 1902 right there in Pittsburgh, Texas, a year before the Wright Flyer flew at Kitty Hawk, North Carolina. Texans have a world-wide reputation for bragging, so did the airship beat the Wright Brothers to the skies? I have no idea, but I want to know more about it. If you want to get a little more info, check out the Wikipedia page by clicking on this link. As a writer, I keep thinking, "wow, there must be a book in there somewhere..."
If you've been a long-time reader of the GroveZine, you may remember back in July 2013 when I did an entire issue about Colorado haunts, including the Stanley Hotel (if you haven't been subscribing that long, you can always read it in the archives). I was fascinated by the Stanley, and we encountered a bit of supernatural activity there. I recently saw an online report from KUSA Channel 9 News out of Denver about a photograph that was captured on the main stairs of the hotel, which you can see here. According to the story, one paranormal investigation group verified that the photo is real, another declared it as a fake, but to be honest, I think that you have to judge for yourself. Click on this link to check out the entire story - I'm intrigued by it.
And speaking of online reports, you know how you're searching for one thing, which leads to something else, which leads to something else entirely, and you end up on a page that you weren't looking for in the first place? Well, that happened to me the other day - I started out looking for information on the Gurdon Light in Arkansas, and through a series of mouse-clicks I found a YouTube video on the "Top Ten Most Haunted Places in Texas." I had to watch it, of course, and found places that I was very familiar with: The Baker Hotel in Mineral Wells, the Presidio la Bahia in Goliad, and others. Suddenly, there was The Grove! The production was not bad at all, using different photos to fade in and out as the stories of the house are told. I'm watching it, when suddenly this outdoor storage shed fades into the show. That took me by surprise, because I'd never seen it before! The Grove came on again, but only for a slide or two, when suddenly a local Bed & Breakfast named White Oak Manor got into the production. Grove photos continued to be used for the remainder of the narration, but interspersed were the interior of the Excelsior House Hotel and the interior of Jefferson Hotel. You can watch the video by clicking here, but if you've visited The Grove or just explored it online, and see things that don't seem to fit with it, you'll know why. Still, we do appreciate being a part of the Top Ten video!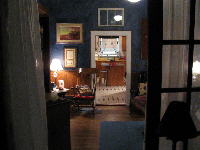 I find it really interesting when something supernatural happens on the tour that has occurred before to different people at a completely different time. One tour this month we had a great group of folks, and we finished up in the den and were heading into the kitchen. I led the group in, and didn't start my kitchen stories until almost everyone was inside. I noticed that one lady had stopped at the doorway. She was staying in the den, and finally came into the kitchen, looking a little bothered. After the tour when everyone was back in the parlor, she told me that as she was walking into the kitchen, she felt a heaviness in her chest, as if something was blocking her from going through the doorway. She finally pushed through it and was fine in the kitchen, but she said that the unseen force was very real. This same thing happened last October, as reported in the GroveZine for that month (you can read about it in the archives on the website). In both cases, the rest of us on the tour didn't feel it at all - a lady was simply singled out for the experience. Very strange; I don't understand why or how things like that happen at the house, but clearly they do.
Hey paranormal enthusiasts - click to check this out...


The GroveZine is sponsored by the Haunted Shirt Club...
click the banner above to learn more!
We usually can't do mid-week tours of The Grove, because my wife and I both work; she's the District Counselor for the school district, and of course, I work in the writing and publishing industry. Still, we occasionally schedule one if we have enough advance notice and if our schedule permits. We scheduled just such a tour this month for four ladies, and I was in the parlor putting the finishing touches on the house when I saw their car pull up out front. I waited for them to get out of the car... and waited... and waited... and waited. Finally the phone rang, and the lady who had booked the tour said, "Ummm, would it be inconvenient if we didn't tour the house?" I didn't know what to say; I'd spent two hours cleaning and polishing, taking time out from my work day. I finally said, "Well, I guess you have to do what you have to do." She hesitated and finally said, "Well, we have one person who... she can't... uh, we have to change our plans." I knew immediately what was going on, because it's happened a number of times before. Some people get to The Grove, and suddenly have a bad feeling about the place. I tell the story on the tour about a friend of mine who looked at the house about a year before we did. He and his wife opened the front door, stepped inside, and stopped after only a couple of steps. He said it felt ominously bad, and that they were not welcome in the house. They turned and left, and have never set foot back inside. Another example was a few years ago, when The Grove was on the Christmas Candlelight Tour of Homes here in Jefferson. I was on the front porch, welcoming people to the house, when a group came up for the tour. One lady was standing out in the street, and I asked her friends why she didn't come with them. They glanced back at her, and then said, "She said the place feels weird, and she won't even come up on the property... much less go into the house." I assume that something similar happened with the four ladies that day, but I can't help but think that if they'd ignored the feelings and simply come inside, they'd find The Grove to be a warm, loving place.
And finally, we were watching TV one evening and I was doing a little work on my computer, when my wife picked up the remote control to the DVR and paused it. "Did you hear that?" she asked, looking around. To be honest, I wasn't even paying attention to the TV show at the time, so I had no idea what she was talking about. She rewound the show and played the last couple of minutes again (we love the DVR that came with the dish system), and said, "I didn't think that it sounded like it was on TV." She then got up and walked from the den out into the hallway, which back in the 1870s was a side porch to the house. When she came back in she explained that she'd heard a whispered conversation taking place out in the hall - just not loud enough to hear what was being said. Of course, no one was there... that she could see, anyway. Voices in the house, or even out in the garden, aren't all that rare. I've pointed out before that many times I've been shaving and heard my wife call my name; it sounds like she's in the bedroom, so I'll walk in there to see that it's empty. I'll then traipse through the house looking for her, trying not to drip shaving cream. When I find her, and ask what she wanted, she'll look at me like I'm crazy, and I just go back to the bathroom. I have no idea why it happens when I'm shaving more than any other time. Maybe the house just has a sense of humor, and enjoys interrupting my morning routine.

We're entering that wonderful time of year where we really don't need to have the heater or the air conditioning running, so we're looking forward to a few low electric bills before the heat of summer kicks in. It's also the time of year when the flowers in the garden start to bloom (on the good side of Spring) and pollen fills the air so that we're sneezing and coughing a lot (on the bad side of Spring). It's all part of life, though. Have a great month, and I'll talk to you next month in the GroveZine... thanks so much for reading!
---
Here's what's coming up around Jefferson...


5/14-15/2016 - Jefferson Train Days
6/3-4/2016 - Corvette Car Show
7/4/2016 - Jefferson Salutes America
8/13/2016 - Jefferson Historical Museum Civil War Symposium
10/7-9/2016 - Burn Benefit Bike Rally
10/8/2016 - Carnegie Library Big Green Eggfest
10/16/2016 - Annual Taste of Jefferson
11/5/2016 - Fall History, Haunts and Legends Paranormal Conference
...and much more throughout the coming year!
---
This is a free subscription ezine for friends of The Grove - in other words, we NEVER arbitrarily add email addresses. We also NEVER sell or share email addresses with anyone else.
Feel free to pass the GroveZine on to your friends - all I ask is that if you forward it, please include the header, trailer and everything. Thanks!
To subscribe, just go to The Grove's Website and put your email in the blank at the left bottom of the page.
To unsubscribe, although we'd sincerely hate to lose you, simply follow the directions at the bottom of the this email.