www.thegrove-jefferson.com June 2016 ISSN 1558-3252
"Truly the universe is full of ghosts, not sheeted churchyard spectres, but the inextinguishable elements of individual life, which having once been, can never die, though they blend and change, and change again for ever." - H. Rider Haggard
Happy Summer from The Grove! It's been a very, very weird month or so... and this is coming from someone who lives in a haunted house! You know, though, it's the human things in life that I find to be so strange and disturbing. The paranormal occurrences seem kind of, well, normal in the general scope of things! Here's what I'm talking about...
For the last several weeks I've been under attack by a spammer, and it's effectively shut my email down. Those spineless, gutless, soulless criminals (can you tell that I'm mad at them?) somehow hacked my email provider and took over a number of accounts - mine included. Every day I was getting hundreds of emails that bounced to me saying "Your email could not be delivered," when it wasn't something that I even sent. It's something that the spammer sent under my name! To top it off, since they continued to use my email address, when I attempted to send a regular email to someone, it wouldn't go out because so many emails have been sent out "from" me that I get an error saying "550: Stop! You're sending too fast" which means that my email addr has been used to send out so many (by the spammer) that I've been cut off. To add insult to injury, I've learned that some internet nodes that look for spam have flagged me as a spammer and won't let my messages (or messages to me) go through. This is so frustrating because the internet is such a nebulous thing that there's no one to complain to, no recourse to address it, and absolutely no way to fix it. I've been so bummed out about it that I've just stayed away from email as much as I can... I have no idea whether this GroveZine can be sent out or not, but I'm at least going to try.
I try do do a good job of using cryptic passwords, but when someone hacks into a mainline system, I guess they are going to get what they want. Thankfully, since all my passwords are different, they only got control of my email, and nothing to do with finances or anything important. Anyway, that terrible chapter of the summer seems to be over, so hopefully we're back to normal... whatever that is!
The big news in Jefferson is that we have a new fine dining restaurant in town - McGarity's Saloon on Dallas Street. The building has been there since around 1860, and it was one of the period's many drinking establishments in Jefferson. As with many of the old buildings in town, it changed ownership and purpose over the years, and during its history it was a Confederate hat factory, a meeting place for a number of different fraternal lodges, and of course the occasional saloon that a proprietor would open there. The building is named for James H. McGarity, who operated a tavern there in 1863 to cater to the city's steamship trade of the day. In today's world, owners Brent and Diana Strawn have transformed the building into a world class restaurant on Dallas Street in downtown Jefferson. Check it out on your next visit to town!
June's full moon this year took place on the Summer Solstice - the first time that it's happened since 1967. It's known as the Strawberry Moon because it was a signal to the Indians that fruits, such as strawberries, were ripe and ready for harvesting. We went out to Moseley Street in front of The Grove to see it, and just stood out there and took it in for a few minutes. Not that it was all that more spectacular than any full moon, but it will be a full forty-six years before the Strawberry Moon occurs on the Summer Solstice - June 21, 2062... mark your calendars.
There's something else that I want to share with you - a movie recommendation. Of course, I know that this isn't some kind of movie review journal and that's not why you're reading the GroveZine, but I ran across a movie that my wife and I really enjoyed: 10 Cloverfield Lane. Most of the movie could probably be categorized as a psychological thriller. It's one of those where you never know exactly what's going on until the end. John Goodman is one of the stars, and that big, lovable fellow plays a character that's extremely unsettling - he does an amazing job. It came out last year, so at this point it's rent-able, download-able, stream-able, etc. While it's not one of the most classic movies ever made like Doctor Zhivago or The Sound of Music, it's just a downright fun film. Check it out if you get a chance.
And of course, we have some ghostly goings-on at The Grove to share... most of them in the afternoon, this time. For some reason (probably the influence of Hollywood) people seem to think that the supernatural manifests only at midnight or some other such late-night benchmark. Over the years we've discovered that just as many things happen during the day as at night, and it's really a case of being at the right place at the right time to have the experience... as you'll see from this month's stories.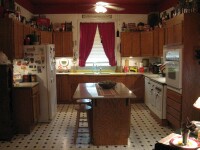 One afternoon I walked from the den into the kitchen like I do many times every day, but on this occasion, I was surprised to see a man standing there in front of me. It was more or less the view that you see in the photo, and the guy was standing on the left side where there's a door leading into the hallway (which used to be a side porch). This startled me, since I was alone in the house, but before I had time to process it he had faded away - so there I stood, thinking, "There was just a man a few feet away from me, and now he's gone!" He was wearing a dark suit, and if you've been reading the GroveZine for any length of time you know that the fellow isn't uncommon. It was kind of like the guy that we see in the garden, although for some reason that fellow rarely comes into the house. I stood there for a minute, and then went on about my business. Living at The Grove for fourteen years has made things like that a part of our everyday lives.
And speaking of the Garden Guy, he did show up again this month. My wife and I had been out for lunch one Sunday, and after a quick stop at the grocery store, we pulled into the driveway of The Grove, and my wife said, "Who's that? There's someone at the house!" I looked but didn't see anyone, so after parking we walked out into the garden; we were completely alone. My wife was laughing at that point, because she knew who he was. "The Garden Guy was back!" she said, and went on to describe how she'd looked into the garden to see a man in a black suit walking along. As we drove in, she lost sight of him and when we got out of the car, he was gone. Keep in mind that The Grove is surrounded by a fence, so it's not that easy for someone just to run away. And in the summer heat, wearing a black suit would definitely impair one's ability to simply bolt. We're sure that she saw our Garden Guy, who is often walking the pathways beside The Grove. And as before, this was an early afternoon occurrence. So much for Hollywood's theories about Midnight!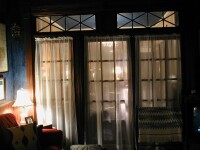 And finally, I have a story that answers a question that we get all the time - do our dogs ever have experiences at The Grove? The answer is yes... yes, they definitely do. Our two girl-dogs, Delaney and Deveraux, seem to have gotten used to all the strange activity over the years, but occasionally something happens that gets their attention. Case in point, we were in the den late one afternoon. My wife and I were both working on our computers, and the girls were both in their beds on the floor. Dev suddenly jumped up and was staring through the sheer curtains from the den into the game room. She's not a barker, so she didn't make any noise, but she was definitely interested in something in the game room. My wife asked, "Did you see that?" I'd been watching Deveraux, so I didn't see anything, but my wife smiled and said, "A lady in a white dress just walked through the game room - our lady in white!" We've seen her a number of times over the years, as have former owners, so this wasn't a new experience... but it was interesting to have her show up again.

Well, it's been an interesting month at The Grove - seeing full-form spirits is always kind of fun, and we'll sometimes go weeks without that happening, but they occasionally seem to become very active. And of course, finally defeating the spammer who hijacked my email was a good feeling. Maybe all that together will allow me to ignore the heat of summer. But thank you so much for reading the GroveZine, and I hope that you enjoyed it. Stay tuned as we continue to roll through 2016 - talk to you next month!
Enjoy haunted places? Then click on the haunted house below to check this out...
Here's what's coming up around Jefferson...


8/13/2016 - Jefferson Historical Museum Civil War Symposium
10/7-9/2016 - Burn Benefit Bike Rally
10/8/2016 - Carnegie Library Big Green Eggfest
10/16/2016 - Annual Taste of Jefferson
11/4-11/5/2016 - 5th Annual Medievel Wine Faire
11/5/2016 - History, Haunts and Legends Paranormal Conf.
11/26/2016 - Jefferson Christmas Parade
12/8-12/10/2016 - Candlelight Tour of Homes
1/27-1/29/2017 - Jefferson Quilts on the Bayou
2/24-2/26/2017 - Mardi Gras Upriver
...and much more throughout the coming year!
---
This is a free subscription ezine for friends of The Grove - in other words, we NEVER arbitrarily add email addresses. We also NEVER sell or share email addresses with anyone else.
Feel free to pass the GroveZine on to your friends - all I ask is that if you forward it, please include the header, trailer and everything. Thanks!
To subscribe, just go to The Grove's Website and put your email in the blank at the left bottom of the page.
To unsubscribe, although we'd sincerely hate to lose you, simply follow the directions at the bottom of the this email.